Charlie Delsman has long had the ability to take it deep on the golf course.
At 18, he shot a 62 to win the WSGA Junior title at Rock River Hills (now Horicon Hills) in Horicon. He once shot a 61 at Naga-Waukee War Memorial Golf Course in Pewaukee, his home course as a youth. He shot a 61 at a course near Orlando that is used for minitour events.
"I'm sure I could find a few other 62s in there, too," the Hartland Arrowhead High School graduate said, "but those kind of get lost now with a couple other good rounds."
Delsman's latest foray into the elusive "zone" occurred May 27, when he flirted with 59 – missing a 4-foot birdie putt on the par-5 18th hole – and settled for a 60 at Mammoth Dunes at Sand Valley Resort, where he caddies in the summer.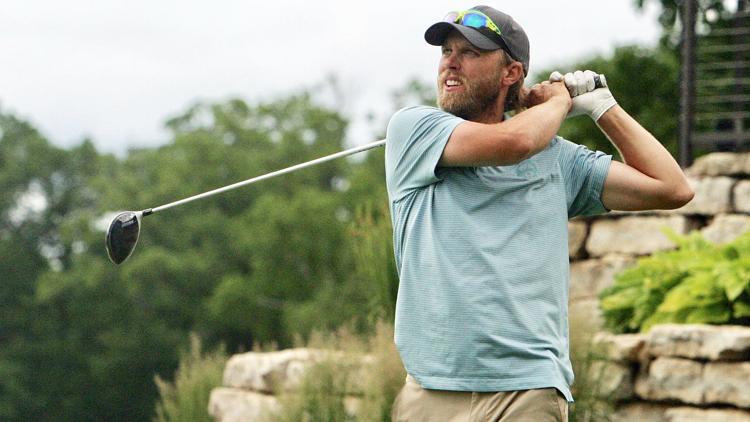 Only two 59s are known to have been shot on Wisconsin courses, both decades ago: Archie Dadian at Grant Park in South Milwaukee and Tommy Veech at North Hills Country Club in Menomonee Falls. Eddie Terasa, now the head PGA professional at North Hills, shot a 60 at SentryWorld prior to the course's 2014 renovation.
For perspective, only nine 59s have been recorded in PGA Tour history. Jim Furyk is the record-holder with a lone 58.
Though Delsman didn't break 60, his score was 13-under par, because par is 73 at Mammoth Dunes.
"Most rounds of 13 under are 59s (on par-72 courses) or even 58s (when par is 71)," he said. "So, 13-under, it was a pretty cool experience."
Delsman, 35, caddies at Sand Valley in the summer and at Streamsong Resort in Bowling Green, Fla., in the winter. He played a full minitour schedule for years and is a perennial contender in the Wisconsin State Open, but will play in only a handful of events this year, he said. Marriage and two children have changed his priorities.
"I've got a daughter who just turned 5 and a daughter who turned 3 in January," he said. "I need to concentrate on the kids. I need to take care of them. I need to raise them. So with that comes a lot more caddying. I knew ever since I was young that my future was going to be in the world of golf. I just didn't know it was going to be caddying."
Obviously, his golf game has not suffered.
"I take it much less seriously than I ever have before," Delsman said. "Maybe that's why I'm starting to play well. Golf is just kind of on the back burner. I still do play a decent amount, but nothing like I used to. I don't take it quite as seriously as I did before and maybe that's kind of freed me up to play pretty good golf. My game has been sharp now for a couple of years."
It couldn't have been much sharper on May 27. The occasion was a qualifying round for a Ryder Cup-style tournament for the caddies at Sand Valley.
"It's kind of funny," he said. "One of my friends shot 8-under (65) that day and he was pretty happy, but he was a little heartbroken when I told him I beat him by five."
Delsman made a 10-footer for birdie on No. 1, just missed a birdie on No. 2, two-putted for birdie on the par-5 third and then nearly made an ace on the par-3 fourth, tapping in from inches. He rolled in a 25-footer for birdie on the sixth hole's "boomerang green," then two-putted for birdie on the par-5 seventh. He closed out the front nine with an 8-footer to shoot 30.
"Anytime you shoot 30 on the front, you know that number of 59 kind of creeps in your mind," Delsman said. "The thing about Mammoth is the back nine is a par-37. To get in the 20s to get that 59 was going to be pretty hard. I would have needed 8 under. But, shoot, I had a chance."
After just missing a birdie on No. 10, he put together a torrid stretch over the next six holes. Not one of his four birdie putts on Nos. 11-14 was longer than 4 feet. Then he eagled the par-5 15th from 12 feet and rolled in an 8-footer on 16.
With two holes to play, he was in rarefied air at 13-under, having made 11 birdies, one eagle and just four pars.
He knew he needed one birdie over the final two holes for 59, but he couldn't attack a tough pin on the par-4 17th and had to settle for a two-putt par from 40 feet. The closing hole on Mammoth Dunes is a long par-5, so Delsman knew he'd have a chance.
"I piped a drive down the left-hand side, which is the shorter way home," he said. "There was a little wind into us and the flag was right above that false front in the middle to right half of the green. I didn't want to miss on the right-hand side, so I bailed out to the left, just off the green. I hit a pretty nice little chip shot to 3½ feet, maybe 4 feet at the most.
"My hands were shaking so bad. I knew it was for 59. I just hit the putt a little too hard and it missed on the high side."
He was disappointed, of course, but not crushed.
"In the long run, the 59 would have been cool, but it's just golf," he said. "It still is a round of 13-under. It's the lowest I've ever shot. Probably the lowest I ever will shoot."
Then again, maybe not.