SALEM – Scott Dawley played big-time Division 1 college golf and toiled on the mini-tours with little success before throwing in the towel and joining his father's financial services business. He went through the motions, led a sedentary lifestyle and gained weight.
"I was almost 200 pounds, sitting in an office all day," Dawley said. "I was like, 'Man, I'm 34 years old. I'm an athlete. I want to compete.' One day my dad came into my office and said, 'I love you and I'm glad you're here, but I can tell you're not happy. Don't waste the best years of your life doing something you don't love.' "
Dawley left his father's business and went into Christian ministry. He started running. He lost weight. Then he discovered speedgolf, a fledgling sport in which competitors race against a clock while trying to shoot the lowest possible score.
"I was like, 'Running and golf at the same time? My lifelong passion and my new passion together in one sport? I've got to try this,' " Dawley said.
Dawley entered his first speedgolf competition in 2013 and was hooked. At the time, the new sport was loosely organized and was being underwritten by golf course developer Mike Keiser. In 2016, Dawley founded Speedgolf USA, which grew from seven events in 2017 to nine in 2018 to 12 in 2019.
And on Sunday, he won his organization's flagship event, the 2020 U.S. Speedgolf Championships, at Spring Valley Country Club.
"It feels really good," he said. "I started Speedgolf USA, I started this tradition. I put out a post on social media where I said, 'I bought this trophy, but I don't own it. It belongs to history. We're building a history with this sport.' I bought the trophy but I wanted my name on it. It's important to me."
Dawley, 42, the national runner-up last year, entered the final round of the 36-hole tournament in third place. But he made up ground on the leaders by running the 18 holes – a distance of 4.35 miles – in 43 minutes 21 seconds while shooting a 5-over 75. That gave him a total score of 118:21 (43:21 plus 75) and a two-day total of 243:24.
Wes Cup of Rome, N.Y., finished second in 244:51 and first-round leader Jason Hawkins of Prospect, Ky., slipped to third place in 251:57. Hawkins, the defending national champion, shot a 78 in 43:40 on Saturday but slipped to an 86 in 44:18 in the final round.
Spring Valley stepped up to host the national championships just weeks after the event, originally scheduled to be held at the Bing Maloney Golf Complex in Sacramento, Calif., was canceled because of the coronavirus pandemic and restrictions in California.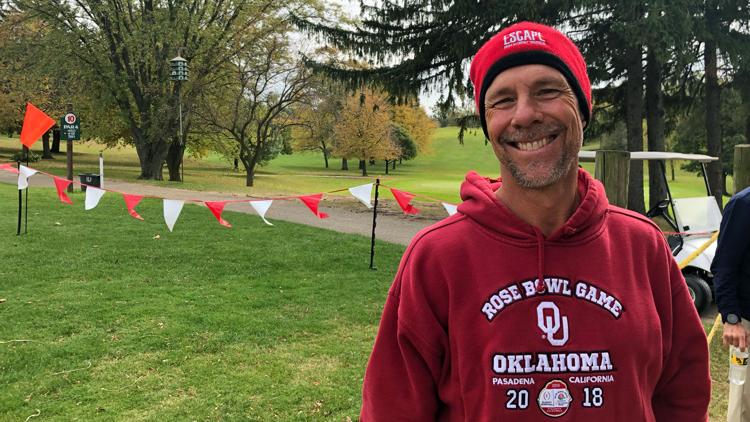 "I was planning to go out to Sacramento and they were going to put the deal to bed," said Jamie Young of Pleasant Prairie, the 2015 world speedgolf champion and a member at Spring Valley. "I reached out to Scott and I said, 'Hey, I think I've got a venue.' (General manager) Dave Wagner here at Spring Valley bent over backwards. We were able to get a few sponsors. It came together pretty quick."
Young, 56, finished fourth overall, running the 18 holes in less than 46 minutes both days and shooting 82-79.
"My goal for this was to be under 50 minutes, so I was real happy with my times," he said. "My golf? Today, I putted really well but I just didn't strike the ball well. I shot 79 today in 45 minutes and change. Yesterday, I shot 82 but I had six three-putts."
Twenty competitors entered the 36-hole open competition, but there also were divisions for women, seniors and amateurs. There also were 18-hole divisions.
In speedgolf, players must carry their own equipment, so most use lightweight bags and limit themselves to five or six clubs. Caddies and pacers are not allowed, though spotters can ride along in carts and supply hydration.
The goal is to find the right balance between running fast and still being able to hit good shots. Go out too hard and your golf will suffer; spend too much time over shots and putts and your time won't be competitive.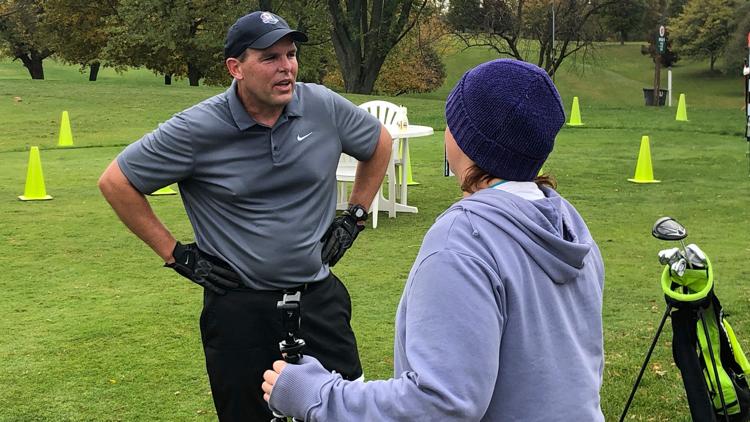 "I've learned over the years that if I slow down a little bit, I play a little better," Young said. "Today, I was so amped up and I was in such good shape, I was like, 'I want to crush this run.' It kind of cost me a couple strokes."
Mark Lang of Sheboygan, an orthopedic surgeon, was making his competitive debut, though he has played speedgolf informally with a few buddies at his home course, Pine Hills Country Club. Lang, a 5-handicap, shot a respectable 80 in 53:31 on Sunday and finished 10th overall.
"The biggest challenge for me is putting, just because you're all jacked up," he said. "Your heart is beating 160 beats a minute and you're trying to slow down and make that 3-footer. I probably miss three or four putts doing this that I normally make. And then just controlling your breathing. By the end of the round your legs are so tired."
Courtney White of Blacklick, Ohio, the only female in the 36-hole open division, finished 13th overall. Brooke Thrall of Oakdale, Minn., was the only entrant in the women's 18-hole division.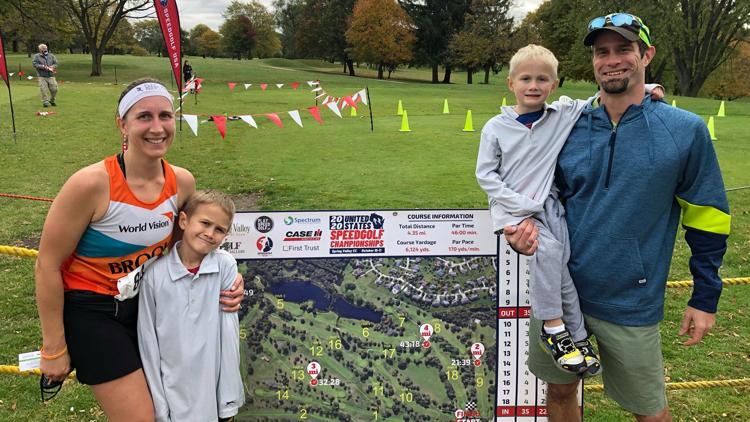 "I thought I invented speedgolf because after my husband and I had our first child, I'd go run nine holes in the morning before he got up for work," Thrall said. "Someone said, 'You know it's a real sport, right?' There was this Minnesota tournament and it's a half-hour from my home. I said, 'I'll go to that.' I've been an addict ever since."
Many people hear "speedgolf" and picture super-fit athletes sprinting up and down fairways, but the sport can be played at a slow jog, even with a pull cart. Entrants at Spring Valley ran the gamut from Kenosha high schooler Thomas Dippel to 72-year-old Jules DeCoster of Canton, Mo.
Matt Kennedy, 62, of Cincinnati was proof that you don't have to be an exceptional golfer or runner to compete in speedgolf. He had scores of 89 and 108 and played both rounds in about an hour.
"You don't have to go around in 40 minutes like these elite guys," Kennedy said. "Yesterday I shot an 89. Today, 108. The wheels absolutely fell off. But you know what? I got a good run in. To me it's a no-lose. I think that's the way a lot of people can look at this.
"I would love to shoot a number, but it doesn't have to be only that. Just take a jog. The super-fast guys are running. The rest of us regular humans are kind of jogging. If you shoot 115 and it takes you two hours, maybe next year you're going to shoot 110 and it will take an hour and a half. And look at all the health benefits you get."
Dawley said his goal for Speedgolf USA in 2021 was to increase participation and to sign up speedgolf-friendly courses. Ultimately, he would like to see speedgolf become an Olympic sport.
"We just want to provide an opportunity for people who want to play faster and have golf fit back into their lifestyle," he said. "We want to attract a different market – runners, and people who never would consider playing a 4½-hour round. So, building the course network, building participation, that's going to be a big push next year."
Dawley still plays "regular" golf, but it doesn't have quite the allure that it once did.
"I'm pretty much checked out after like 10 holes," he said. "I'm like, 'I could have played three times since we started.' There's a time for slow golf. There's a time to get in a golf cart and have a few beers with your buddies and catch up. Love it. Fine. No problem with that. But there's also a time for what we want to do.
"We're not saying this is the only way to play and we're not trying to change the golf course's operation. We're saying 'We think we can grow golf with this unique, cool way to play the game.' "