JANESVILLE – The college kids have been tough to beat in the Wisconsin State Amateur lately – the last eight winners have been 22 or younger – but the birdie-fest better known as the Ray Fischer Amateur Championship has become the domain of the mid-amateur.
That point was underscored Sunday when 34-year-old champion Dustin Schwab hoisted a celebratory beer with defending champion Joe Weber and 2007 winner Garrett Jones behind the clubhouse at Janesville Riverside Golf Course. Weber is 37 and Jones is 36.
Schwab, a former Marquette University golfer, beat 18-year-old Cameron Huss, a rising sophomore at the University of Wisconsin, on the first hole of a sudden-death playoff after the two had tied at 20-under 268 in regulation in the Wisconsin Public Links Association's premier event.
Usually, it's better to be long off the tee than long in the tooth, but experience matters at Janesville Riverside, a 6,500-yard course with tree-lined fairways, sharp doglegs and fast, sloping greens. Counting Schwab, the last five Fischer champs have been mid-ams who know when to throttle back, where to miss and how to take spin off their wedges.
"The younger kids might be able to hit it farther, but the experience of playing here going on almost 15 years helps," Schwab said. "Knowing the golf course, knowing how to control the ball, I think that's the biggest key. You have to be able to control your wedges going into those greens."
Before Schwab birdied the first playoff hole to win – more on that later – the leaderboard was in a constant state of flux over the 36-hole finale Sunday.
Photos: 2021 Ray Fischer Amateur Championship final day
Jones, 36, coming off a victory Thursday in the WSGA Match Play Championship, had a three-stroke lead at the start of the day but shot 37 on his back nine in the morning round and fell off the pace with a 72. Even par is good in a lot of tournaments, but it will get you lapped in the Fischer.
Tony Romo, 41, the Burlington native and CBS' lead color commentator for its NFL games, fired a 64 in the morning round – his lowest-ever competitive round – and took the lead before Schwab played the final four holes in 4-under with an eagle and two birdies to fire a 65 and get in the clubhouse at 16-under 200. Romo was a shot back at 201.
Romo stumbled out of the gate in the final round, however, making a double-bogey on the par-4 second hole after hooking his drive into the trees, punching into a greenside bunker and blading the bunker shot 30 yards over the green. He followed with a bogey on the par-3 fourth hole and never threatened the lead after that, though he did play the final 15 holes in 5-under, shot a closing 70 and finished T-3.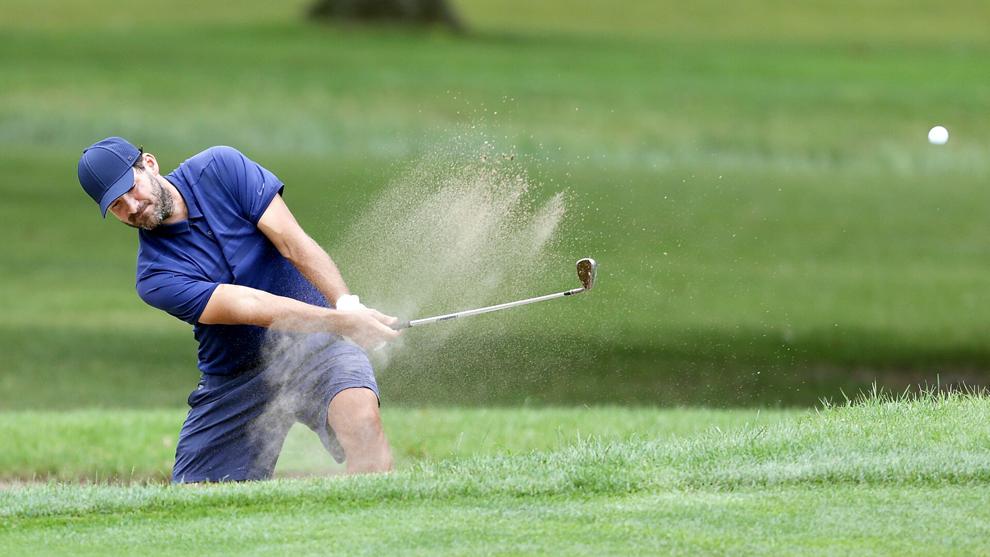 "Making a double-bogey out here just kills you," Romo said. "You get the momentum going and everything, and then from there I was fighting an uphill battle. Every putt was so huge from that point on, it felt like, and obviously you're pressing a little bit."
Jack Schultz, who won the Fischer back-to-back in 2017 and '18, did his thing at Riverside, shooting 67-66 and moving up into a tie for third with Romo at 17-under 271. Over the last five years, Schultz is a cumulative 83-under at the Fischer and has finished 1-1-3-13-3. His scoring average over that span is an impressive 67.63.
"I'm OK with it," he said of his finish. "I had some moments that were really good. There are some holes here that really fit me because I can hit the fade whenever I want. Also, I hit a couple (drives) pretty far out there and that always helps."
As the day wore on, though, the Fischer evolved into a two-man battle between Schwab and Huss.
After a morning 65 left him three shots off the lead, Huss made a big move early in the final round with five consecutive birdies on Nos. 3-7. As he walked off the sixth green, new UW men's golf coach Mike Wilson introduced himself to Huss. They'd spoken on the phone, but never met.
"I saw a couple pictures of him, so I recognized him," Huss said. "He had the Badger gear on. It was just real brief. Shook his hand and he introduced himself. We're all very excited to have him."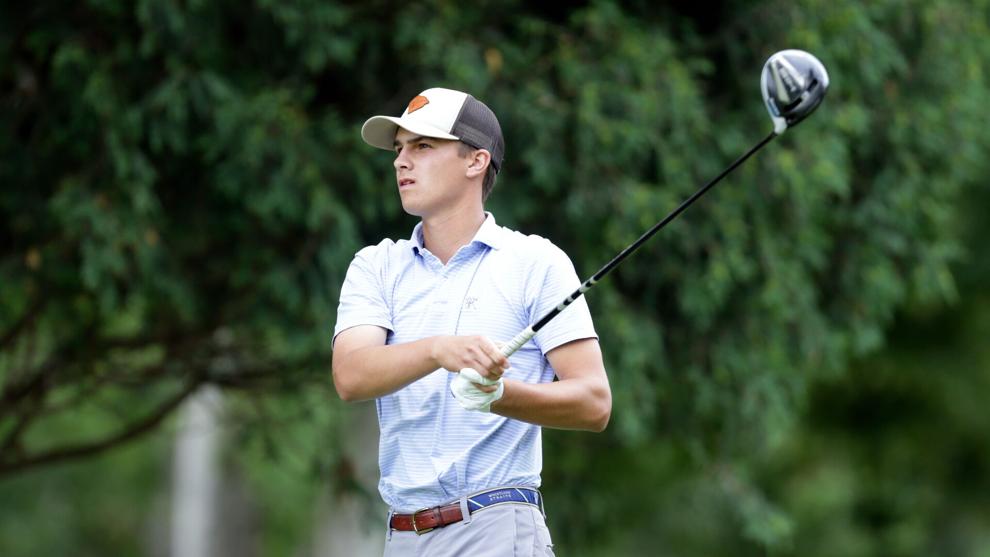 After Huss' run of birdies, he and Schwab pretty much traded places at the top or were tied the rest of the way.
Huss finished first, having put up a pair of matchings 65s – no bogeys and seven birdies in each. He birdied Nos. 4, 5, 6 and 7 in both rounds. Stellar.
Schwab, playing in the final foursome, bogeyed the 16th hole to fall one shot behind Huss but birdied the short par-4 17th to draw even again. He hit the green in regulation on the 415-yard 18th and, with Huss watching greenside, barely missed an 18-foot birdie attempt that would have been the winner. He hadn't checked the live scoring on his phone all day.
"I actually didn't look at a leaderboard," he said. "I was kind of in a zone. I normally do look at leaderboards, but I decided I was just going to play as well as I could. Joe (Weber) gave me a little tip on that last putt, saying, 'You should make this one.' I knew where he was coming from."
The playoff started, and ended, on the 491-yard par-5 10th hole. Huss' drive leaked to the right and rolled to a stop directly behind a tree. He couldn't advance the ball and had to chip out sideways. Then he hit a 7-iron from 180 yards to 30 feet below the pin – a long putt, but makeable.
Schwab, meanwhile, hit a perfect drive but his second shot was long and left of the green. He then hit a superb chip, which trickled slowly down the slope and finished six feet below the hole.
Huss barely missed his birdie attempt and Schwab then rolled his putt into the middle for the victory.
"Cameron caught a bad break," Schwab said. "He hit a good drive. It just got right up against a tree."
It was Schwab's first victory as an amateur since the 2008 WSGA Match Play Championship, though he won a few minitour events before being reinstated.
"It's been a while," he said. "I won a few small events back in my professional days, but nothing big. It feels really good."
Adam Miller of Nekoosa and Ethan Wilkins of Sussex finished in a tie for fifth at 16-under 272 and the group at 15-under included Jones, Nate Thomson of Greendale and Matt Tolan of Eau Claire, who finished second to Jones in the Match Play on Thursday.
Tolan opened with a 74 – hitting three drives out of bounds – but then shot 67-65-67, and his morning round Sunday included a hole-in-one with a pitching wedge on the 136-yard eighth hole.
"It's been a heck of a week of golf, to say the least," he said.
Schwab works at Madison-based Laser Link Golf and doesn't have a big summer tournament schedule mapped out. He didn't even sign up for qualifying for the State Amateur.
"I haven't played in that in a bunch of years," he said.
However, the Fischer victory does give him an exemption into the State Open in August.
"I guess I'll have to play in that," he said with a laugh.
The victory tasted pretty sweet. So, too, did the beer.
POS

 

PLAYER

THRU

R1

R2

R3

R4

 

1

Dustin Schwab

  

Lodi, WI 

(p)

-20
F
-4
65
70
65
68
268
 
2

Cameron Huss

  

Kenosha, WI
-20
F
-7
66
72
65
65
268
 
T3

Jack Schultz

  

Whitefish Bay, WI
-17
F
-6
67
71
67
66
271
 
T3

Tony Romo

  

Dallas, TX
-17
F
-2
70
67
64
70
271
 
T5

Adam Miller

  

Nekoosa, WI
-16
F
-5
69
70
66
67
272
 
T5

Ethan Wilkins

  

Sussex, WI
-16
F
-4
66
72
66
68
272
 
T7

Matt Tolan

  

Eau Claire, WI
-15
F
-5
74
67
65
67
273
 
T7

Nate Thomson

  

Greendale, WI
-15
F
-1
66
70
66
71
273
 
T7

Garrett Jones

  

Fitchburg, WI
-15
F
-3
65
67
72
69
273
 
T10

Matthew Raab

  

Hartland, WI
-14
F *
-7
64
78
67
65
274
 
T10

Joe Weber

  

Onalaska, WI
-14
F
-1
67
69
67
71
274
 
12

Ricky Kuiper

  

Racine, Wisconsin
-13
F
-1
68
71
65
71
275
 
T13

Sam Cianciola

  

Nekoosa, WI
-11
F
-4
70
69
70
68
277
 
T13

Ryonen Faris

  

Fond Du Lac, Wisconsin
-11
F *
-7
73
72
67
65
277
 
T15

Owen Butler

  

Stoughton, WI
-10
F
-3
70
71
68
69
278
 
T15

R.J. Schwalbach

  

Bolingbrook, IL
-10
F
E
69
72
65
72
278
 
T15

Dominic Kieffer

  

Madison, WI
-10
F
-3
72
68
69
69
278
 
T18

Joe Forsting

  

Edgerton, WI
-9
F *
-6
76
67
70
66
279
 
T18
-
Jakob Schroeckenthaler

  

Cottage Grove, WI
-9
F
+1
69
71
66
73
279
 
T18

Christopher Colla

  

Fond Du Lac, WI
-9
F *
-2
70
74
65
70
279
 
T18

Max Pasher

  

Mequon, WI
-9
F
-5
68
70
74
67
279
 
T18

Adam Garski

  

Wauwatosa, WI
-9
F
-1
68
70
70
71
279
 
T23

Cory Aune

  

Lake Geneva, WI
-8
F
-3
69
72
70
69
280
 
T23

Steven Sanicki

  

Menomonee Falls, WI
-8
F
-2
69
71
70
70
280
 
T23

Derrick Meier

  

Waunakee, WI
-8
F
-2
70
70
70
70
280
 
T23

Maxwell Schmidtke

  

Sheboygan, WI
-8
F
+3
63
74
68
75
280
 
T27

Matthew Davidson

  

Mcfarland, WI
-7
F *
E
73
70
66
72
281
 
T27

Matt Behm

  

Valders, WI
-7
F
+1
73
67
68
73
281
 
T27

Nathan Daugherty

  

Lake Villa, IL
-7
F
+5
67
68
69
77
281
 
T30
-
Jed Baranczyk

  

Green Bay, WI
-6
F
-4
69
73
72
68
282
 
T30
-
Tyler Cleaves

  

Kaukauna, Wisconsin
-6
F *
-4
70
72
72
68
282
 
T30

Ben Resnick

  

Rice Lake, WI
-6
F *
-4
71
72
71
68
282
 
T33

Mike D. Mueller

  

Whitefish Bay, WI
-4
F
E
69
73
70
72
284
 
T33

Jacob Beckman

  

Middleton, Wisconsin
-4
F
E
67
74
71
72
284
 
T33

Kevin Cahill

  

Waukesha, WI
-4
F
-1
71
71
71
71
284
 
T33

Austin Gaby

  

Verona, WI
-4
F *
-2
70
73
71
70
284
 
T33

Matthew Buckley

  

Nekoosa, WI
-4
F *
-2
75
70
69
70
284
 
T33

Braeden Resnick

  

Rice Lake, WI
-4
F
+4
70
67
71
76
284
 
T39

Kirk Leitzen

  

Brodhead, WI
-3
F *
E
70
73
70
72
285
 
T39

Bruce Henning

  

Brookfield, WI
-3
F
-1
68
73
73
71
285
 
T39

Derick Disch

  

Greenfield, Wisconsin
-3
F *
+1
71
73
68
73
285
 
T39

Andrew Morrison

  

Edgerton, WI
-3
F
+2
67
71
73
74
285
 
T39

Mark Noonan

  

Vernon Hills, IL
-3
F *
+4
73
72
64
76
285
 
T39

Derek Hilmershausen

  

Wausau, WI
-3
F *
-1
70
76
68
71
285
 
T45

Robert Gregorski

  

Menasha, WI
-2
F *
+1
73
70
70
73
286
 
T45

Ryan Smith

  

Eatonton, GA
-2
F *
-3
71
73
73
69
286
 
T45

Robert Hughes

  

Wauwatosa, WI
-2
F *
-4
72
73
73
68
286
 
T48

Jason Jahnke

  

Kewaskum, WI
-1
F *
+1
71
71
72
73
287
 
T48

Jason Jochem

  

Cambridge, WI
-1
F
+1
68
74
72
73
287
 
T48

Danny Sanicki

  

Menomonee Falls, WI
-1
F *
-3
71
74
73
69
287
 
T48

Brett Tautges

  

Germantown, WI
-1
F *
+1
70
76
68
73
287
 
T52

John Blair

  

Wauwatosa, WI
E
F *
-4
73
71
76
68
288
 
T52

Liam More O'Ferrall

  

River Hills, WI
E
F *
E
77
68
71
72
288
 
T54

Michael Oellerich

  

Brodhead, WI
+1
F *
+2
69
75
71
74
289
 
T54

Thomas Hemphill

  

Madison, WI
+1
F *
E
70
75
72
72
289
 
T54

Christopher Dupuis

  

Naperville, IL
+1
F *
+2
72
74
69
74
289
 
T54

Tom Halla

  

Colgate, WI
+1
F *
E
76
70
71
72
289
 
T54

Noah Kirsch

  

Lancaster, WI
+1
F *
-1
71
75
72
71
289
 
T59

Nick Corban

  

Madison, WI
+2
F
+3
68
74
73
75
290
 
T59

Michael Masik Jr

  

Mount Pleasant, WI
+2
F *
+3
71
74
70
75
290
 
T59

Nathan Schwarz

  

Mooresville, NC
+2
F *
+4
71
74
69
76
290
 
T59

Travis Pronschinske

  

Oconomowoc, WI
+2
F *
E
73
72
73
72
290
 
T59

Daniel Ozga

  

Edgerton, WI
+2
F *
+3
71
75
69
75
290
 
64

Dylan Brown

  

Reedsburg, WI
+3
F *
+1
72
72
74
73
291
 
T65

Tom Schoewe

  

Sun Prairie, WI
+4
F
+5
69
73
73
77
292
 
T65

James Gilmore

  

Middleton, WI
+4
F *
+2
72
72
74
74
292
 
T65

Austin Erickson

  

Sparta, WI
+4
F *
-2
69
76
77
70
292
 
T68

Connor Brown

  

Racine, WI
+5
F
+6
69
71
75
78
293
 
T68

Samuel Nielsen

  

Fond Du Lac, WI
+5
F *
+5
72
72
72
77
293
 
T68

Ramiro Romo

  

Burlington, WI
+5
F *
+4
75
70
72
76
293
 
T68

James DeBoer

  

Onalaska, WI
+5
F *
E
70
76
75
72
293
 
72

Chip Summers

  

Richfield, WI
+6
F
+3
67
75
77
75
294
 
T73

Andy Grinwald

  

Watertown, WI
+8
F *
+1
72
74
77
73
296
 
T73

Zach Dybul

  

Big Bend, Wisconsin
+8
F *
+3
75
71
75
75
296
 
75

Brock Hlinak

  

Kaukauna, WI
+10
F *
+4
68
75
79
76
298
 
76

Joseph Immekus

  

Greendale, WI
+18
F *
+11
70
76
77
83
306