JANESVILLE – After playing 189 holes of tournament golf over seven days, the last thing Joe Weber wanted was a playoff in the 53rd annual Ray Fischer Amateur Championship.
On the other hand, he didn't want to win the Fischer title the way he won it.
Matt Tolan of Eau Claire played brilliantly for 54 holes and took a four-stroke lead into the final round Sunday at Janesville Riverside Golf Course. But he struggled from the start, saw his lead slip away and missed out on a playoff when he bogeyed the 72nd hole after a wayward drive.
Photos: Day 3 at the 2020 Ray Fischer State Amateur Tournament at Janesville Riverside
Weber, who'd finished 30 minutes earlier and was watching from behind the green, was the champion, though his victory celebration was limited to a grin and a couple pats on the back from other players.
"Obviously, I really want to win, but having him bogey 18, I mean, to have that be the way to win, you feel for him," said Weber, a 36-year-old dentist who lives in Onalaska. "I've lost things that way, too. I definitely understand how he feels."
Weber shot 64-68 in the 36-hole finale and finished at 19-under 269.
"Amazing," the former Marquette University player said. "It's been awesome. I mean, awesome. It's some of the best golf I've ever played."
Tolan, who will return to the University of South Dakota for a fifth year after COVID-19 prematurely ended his senior season, held a three-stroke lead after 36 holes and built it to four by ripping off six birdies on his back nine in the morning round and shooting a 64.
But in the afternoon, the mojo – and his lead – disappeared. He started missing fairways with his driver, had to punch out of the trees a couple times, caught a few unlucky breaks and couldn't get putts to drop.
He held a tenuous one-shot lead after making a birdie on the par-3 12th, but he played the last six holes in 1-over and shot a 73. He had chances, too, but misread a birdie putt on the 15th green, burned the edge with a 10-footer on 16 and barely missed chipping in on 17.
Tied for the lead with Weber going onto the 415-yard 18th hole, Tolan's drive sailed right, missing the fairway by some 40 yards. He faced a 150-yard shot over 60-foot-tall trees for his second shot. He had to open up a pitching wedge to clear the trees, but he didn't catch the ball cleanly and it came up 10 yards short of the green and plugged in a bunker.
Tolan got to lift and place the ball and blasted out to 15 feet – a good shot, considering the circumstances – but missed the putt.
"I hit a really bad tee shot on 18 and paid the price for it," he said. "You don't expect 15-footers to roll in on the last hole for par to get in a playoff."
Tolan finished one stroke back at 18-under 270, tied with Chico State golfer Christopher Colla of Fond du Lac and John Kryscio of Lake Forest, Ill., both of whom closed with 67s.
"I look back on those first three rounds and I played the best golf in the field, obviously," Tolan said. "I was on top of the leaderboard. I just couldn't get things going today."
It was the second straight runner-up finish in the Fischer for Tolan, the 2017 State Amateur champion. Last year, Owen Butler shot a 63 in the third round to overtake him and the fourth round was canceled by rain.
"I'm eager to win," Tolan said. "That's why I'm here. I want to win. I'm eager to get in this position again. I've got the (State) Am and South Dakota's match play coming up, so I'm going to take how well I played here and move on with it."
Going into the Fischer, Weber was coming off a runner-up finish in the WSGA Match Play Championship at The Club at Strawberry Creek in Kenosha on Thursday. He played 117 holes over seven matches and lost to Chadd Slutzky of Deer Park, Ill., 4 and 3, in the final.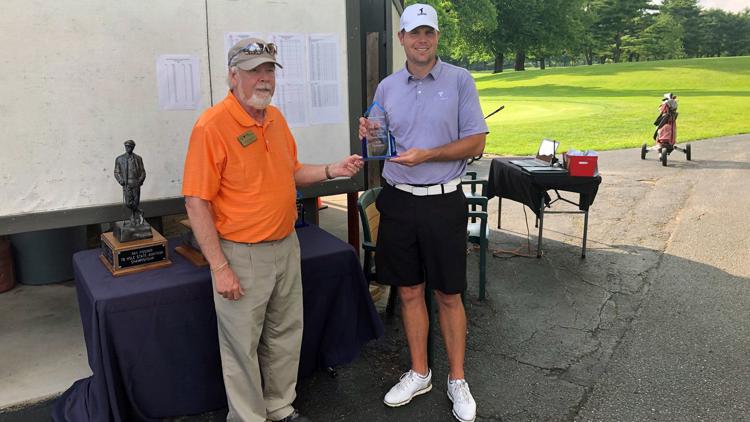 "I'm thrilled about the victory," he said. "Absolutely. It makes the sting from the loss in the match play so much better."
A week ago, Weber said, he had no idea he was about to embark on one of the best stretches of golf of his life.
"No, not at all, if I'm being honest," he said. "I put a new driver in. I played in the Dairyland Open at Lake Wisconsin (before the Match Play) and I hit the driver everywhere. I really struggled. And so I put a new driver in and that course (Strawberry Creek) is really wide, so I got a lot of confidence going.
"My irons are typically good and I had been putting OK, but my driver had been so bad that it was tough to score. All of a sudden, I started hitting fairways. And the putter just stayed hot. Even the last round today, I made so many par putts. A lot from that 8-foot range. I hit it in the crap on 11 and I got up and down. I hit a really bad tee shot on 12 and got up and down. It was a lot of that.
"I just putted really well inside 10 feet."
Colla finished one stroke out of the playoff, despite opening with a 74 in the rain Friday. He went 64-65-67 after that.
"Yes, I'm happy, especially after opening 74," he said. "I was thinking about going home Saturday night. We had to play 10 holes in the rain Friday. There's not a whole lot you can do about that. My rain gear was useless after three holes. It was ugly. It was all you could do to try to hang onto the club."
Kryscio, 20, opened with a 73 and then shot 65-65-67. A mystery to almost everyone in the field, he is a student at Miami of Ohio but does not play on the golf team. With almost all tournament golf canceled in the Chicago area by the coronavirus pandemic, Kryscio decided to enter the Fischer, which is run by the Wisconsin Public Links Association.
He said he knew nothing about the tournament, but looked up the field online and recognized a few names, so he decided to enter. WSGA/WPLA rules stipulate that non-Wisconsin residents can play in tournaments providing they do not compete in "major amateur championships" in their home states and establish handicaps at WSGA member clubs.
Kryscio "joined" Blackstone Creek in Germantown by submitting five scores for handicap purposes.
"I've never played Blackstone Creek," he admitted. "There's nothing to play in Illinois and I wanted some competition. I thought this would be a good tournament to play in."
The morning round produced some fireworks before the pins were moved to more difficult positions and some tees were moved back for the final round.
Nick Nelson of Milwaukee, a former MU player who just finished his first year as an associate at a law firm in Glendale, tied the course record with a 10-under 62, despite missing a 3-footer on No. 17 (his eighth hole).
"It was just one of those things," he said. "Obviously, the course was score-able. A lot of pins were set up for birdies. You hit a couple close, take care of the par-5s, next thing you know you've got some things going. Before you know it, you're stringing a few (birdies) together. You just try to ride the momentum."
Nelson shot a 72 in the final round and tied for fifth place at 15-under 273 with Matthew Davidson of McFarland, Jed Baranczyk of Green Bay, Tyler Beeck of Sheboygan Falls and Butler, the defending champion.
Also, in the morning round, 60-year-old Jim Doing of Verona used a gap wedge to make a hole-in-one on the 107-yard 12th hole and shot a 67. It was Doing's fourth career ace, and the last three have come in tournament rounds.
There was one somber note, however, as one player tested positive for COVID-19 and withdrew after the first round. The player dined earlier in the week with a friend who tested positive for the virus and was tested Thursday, but didn't find out the result until after he completed play Friday. Another golfer in the field who was in close contact with him also withdrew.
The WPLA subsequently sent an email to every player informing them of the positive test. No other player withdrew.
"It was a little shocking," Colla said. "It makes it real. But I knew the way they had (the tournament) structured this year was good. I've been very aware of the situation. My mother works in public health. I caddie at Erin Hills and there's a lot of precautions there. I stayed away. I stayed socially distanced. I didn't go and touch things."
Nelson also said he did not consider pulling out.
"Personally, I wasn't concerned," he said. "Everybody is keeping their distance. It's one of those deals where unfortunately for those guys, if they hang around one person (who has it) … I actually was texting one of them. He said, 'I tested positive. I don't feel any (symptoms).' Good for him for getting tested right away."
At the end of a long day and a l-o-n-g week, Weber faced a 3½-hour drive and couldn't wait to get home to his wife and three daughters.
"I feel wonderful," he said. "It's really cool to get my name on this trophy. It's a really good way to end the week."