TOWN OF ERIN — The finalists in the 41st U.S. Mid-Amateur Championship could have saved time and money and played for the title in Ireland.
Instead, Matthew McClean and Hugh Foley — the only two players from the Republic of Ireland in the field of 264 at the start of the week — traveled some 3,600 miles to battle for the title at Erin Hills. That the course borrows heavily from the Emerald Isle, from its name (Erin means Ireland in Gaelic) to its logo (a shamrock), is a whopper of a coincidence.
It's just the second time in USGA history that two international players from the same country advanced to a championship match. McClean, a 29-year-old optometrist from Belfast, slept on a 2-up lead Friday night as the 36-hole match reached its halfway point.
McClean and Foley, 25, of Dublin, were to play the final 18 holes starting at 7 a.m. Saturday. Heavy rains last Sunday threw a drench in the Mid-Am schedule and the USGA never was able to get it back on track, hence the championship match — which was supposed to be held Thursday — started on Friday afternoon and would end some 24 hours later.
Normally, players take a lunch break between 18-hole rounds. This time, the finalists, friends who traveled to the United States together, were in a somewhat awkward situation, as both were staying with Foley's caddie, Dan Benedum, at his house in Colgate.
"Yeah, it is weird," Foley said. "I've never (played in a 36-hole final) and even weirder that we're in the same house and going to have dinner together. I wonder, will we discuss the shots or not?"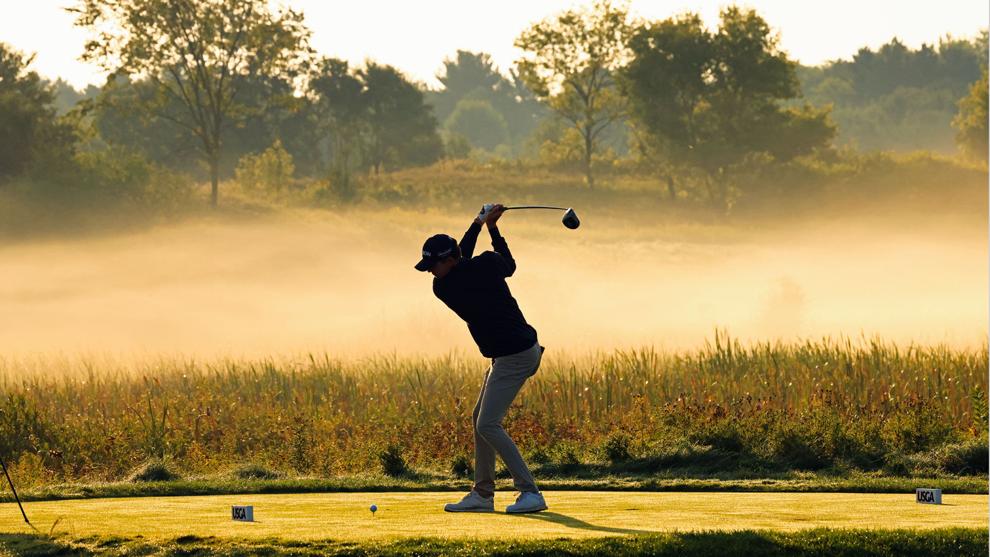 McClean built a 2-up lead after four holes on the front nine, but Foley won Nos. 7 and 10 to tie the match. Starting at the par-4 12th, though, McClean won three straight holes with conceded birdies — the result of him striping iron shots to within 10 feet on all three holes and Foley struggling.
Foley rolled in a 30-foot birdie putt on the par-3 16th, but McClean then made his own 8-footer to maintain his 3-up lead.
"I did say to (Benedum) walking off 15, 'At least I'm only 3-down. Feels like I'm worse,'" Foley said. "Then we holed the putt. I didn't expect him to hole it after me, but at least I didn't go 4-down."
McClean still held a 3-up lead going to the par-5 18th but made a mess of the hole. His third shot went long, down the steep embankment behind the green. Then he played pingpong, pitching long again and then putting over the green and back down the same steep slope. His sixth and seventh shots didn't reach the green, and he conceded Foley's long birdie putt from the front fringe. It was only one hole, and he would sleep on a 2-up lead, but it was not the way he wanted to finish.
"I don't think the pin position was really fair, to be honest," McClean said. "I'm not saying it wasn't my fault. … But with the wind, downgrain, I wouldn't have put it there myself."
Neither McClean nor Foley has ever played a 36-hole final, let alone one that carried into a second day.
"I don't know what it's like to play 36 holes in a final," McClean said. "But it sort of feels like the last round of stroke play. It's basically all square. That's the way I'm looking at it. We both have everything to play for tomorrow."
Before Foley and McClean, only one time in USGA history had two players from the same foreign country met in a championship match. Canadians Judith Kyrinis and Terrill Samuel dueled in the 2017 U.S. Senior Women's Amateur final, with Kyrinis winning at Waverly Country Club in Portland, Ore.
McClean and Foley also are the first male players from Ireland to reach a USGA final.
To get to the championship match, Foley eliminated Bryce Hanstad of Edina, Minn., 3 and 2, in one semifinal earlier Friday while McClean beat Josh Persons of Fargo, N.D., by the same margin in the other semifinal.
The Irishmen traveled to the U.S. together and are sharing a rental car and a house. They played golf in Chicago before the start of the Mid-Amateur and are going back to Chicago for more golf next week, before returning to Ireland.
"Insane," Foley said of both reaching the final. "We've been planning this for months. We heard Stewart Hagestad, No. 8 in the world (ranking) and we were like, 'I don't know, will we make the cut?' You're traveling all that way and hoping you don't miss the cut. Me and Matt have spent every second of the trip together."
Earlier this summer, Foley, ranked 195th in the World Amateur Golf Rankings, edged McClean (No. 120) by two strokes to win the North of Ireland Men's Open Amateur at Royal Portrush. Foley also won the South of Ireland Men's Open Amateur, becoming the first to win both titles since Darren Clarke in 1990.