MARION, Mass. — Jim Doing's week at the 67th U.S. Senior Amateur Championship came to an end Tuesday morning, but 2011 Ray Fischer State Amateur Tournament champion Miles McConnell won two more matches and earned a spot in Wednesday's quarterfinals at The Kittansett Club.
Doing, of Verona, bogeyed the first three holes of his Round of 32 match against Roger Newsom of Virginia Beach, Va., and lost each, going 3 down before eventually dropping a 4 and 3 decision to the 2019 runner-up. Doing won Nos. 4 and 6 to make it a 1 down deficit before Newsom played the next nine holes in 2-under-par, winning Nos. 7, 11 and 13 to take a 4-up lead before closing out the match by halving the par-5 15th hole with pars.
Newsom, 58, an ophthalmic surgeon, eliminated Mitch Wilson, of Kalamazoo, Mich., by a 3 and 2 margin in the Round of 16 match in the afternoon.
McConnell, 56, a University of South Florida graduate and the 2021 Florida State Golf Association Senior Player of the Year, eliminated former PGA Tour player Lee Porter, of Greensboro, N.C., 2 and 1, in the Round of 16. Porter, the runner-up in this year's British Senior Amateur, became reinstated in May after an 18-year hiatus from competitive golf.
"I played poorly this morning (against Bryan Waters), but I was able to score decently and win that match," said McConnell, who fell 2 down early on the front nine and was still 1 down before winning four holes in a row and six of seven starting at No. 8 to take control of the Round of 32 match. "This afternoon I finally was hitting the ball better. I had my swing coach and best friend, Thad Coontz, here. He flew up this morning, along with my wife (Bea). And it was great to have their support. Thad helped me out between rounds, just a couple pointers. He knows my swing really well."
---
Round of 16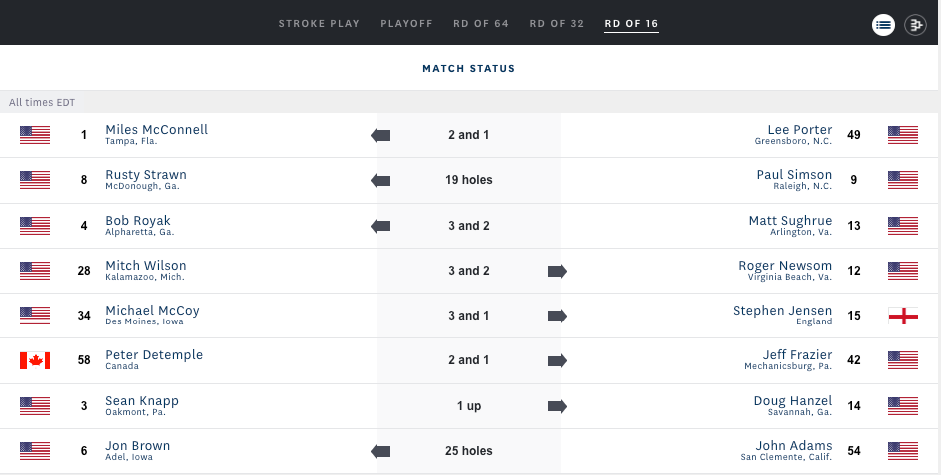 Round of 32