MEQUON — The last time Jordan Niebrugge played in the Wisconsin State Open, he fired a final-round 67 on the Meadow Valleys Course at Blackwolf Run and won. The year was 2011. Niebrugge had just turned 18, was going into his senior year at Homestead High School and became the youngest-ever State Open champion.
That victory foreshadowed the greatest run in the history of amateur golf in Wisconsin.
The highlights: victories in the 2013 U.S. Amateur Public Links, Western Amateur, State Amateur and WSGA Match Play; a Masters appearance; two U.S. Walker Cup teams; low amateur honors at the 2015 Open Championship (where he finished T-6 and shot 11-under 277, the lowest score by an amateur in tournament history), and a standout career at NCAA powerhouse Oklahoma State.
Expectations were understandably sky-high when Niebrugge turned professional. He signed an endorsement contract with TaylorMade, played in PGA Tour events on sponsor exemptions, had a good showing at the 2017 U.S. Open at Erin Hills (T-35) and won on the PGA Tour Canada in 2018.
But somewhere along the way, the road to stardom turned into a maze, every wrong turn ending in disappointment. Niebrugge goes into the 102nd Suter Ward Group at Morgan Stanley Wisconsin State Open, starting Monday at Ozaukee Country Club, with no status on any of the major tours and carrying the burden of unfulfilled potential.
Now 29 and newly married, he has cycled through instructors and swing changes and fought through injuries. He admits the last three years have been difficult.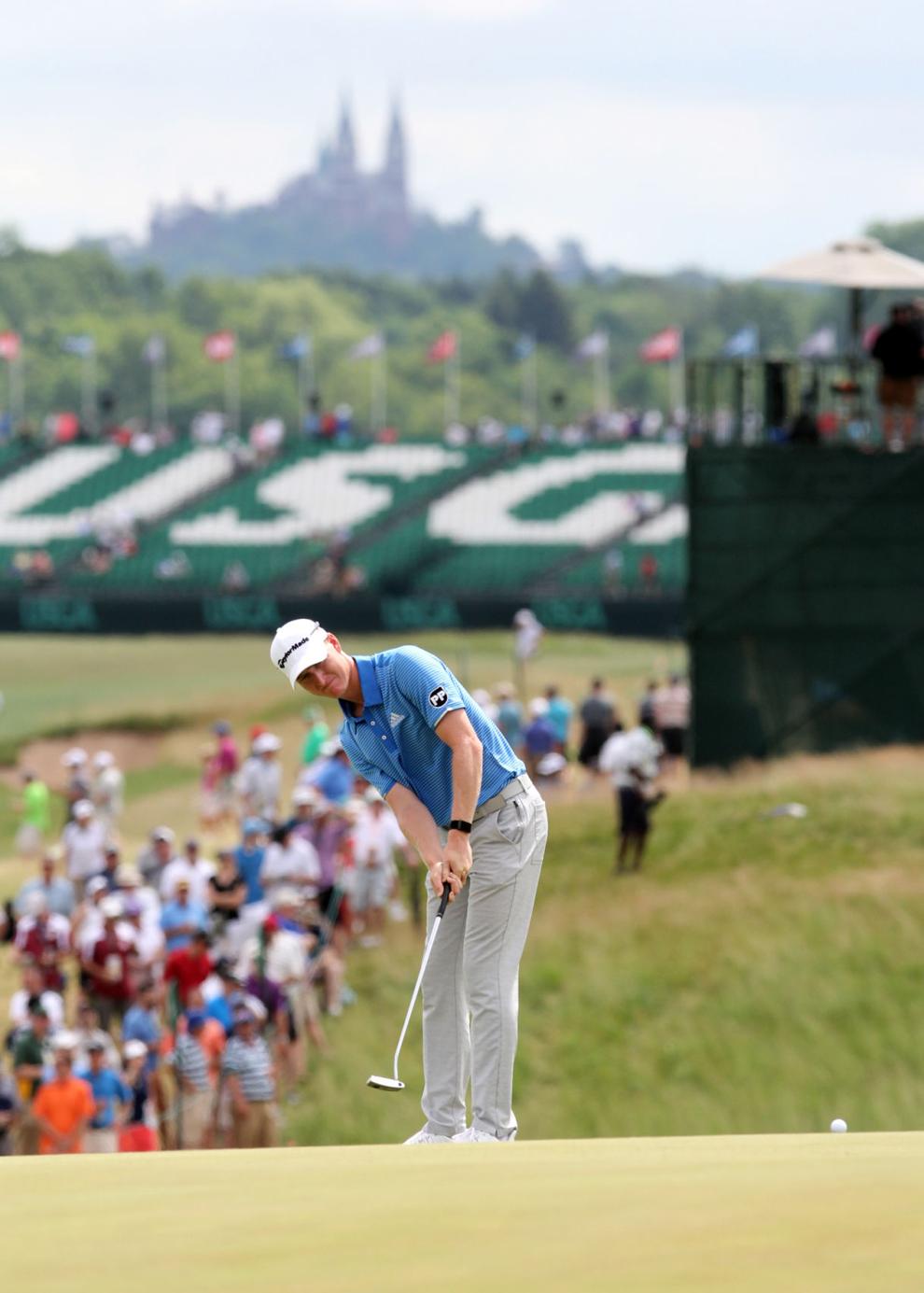 "It's been a little tough," he said over lunch at Ozaukee CC. "Mentally, I feel like I'm stronger and know what I want to do now, instead of listening (to other people). I can still listen and learn from other coaches, but knowing what my identity is has been key for me."
This is undeniably a big week for Niebrugge, who has moved back home and is living in Shorewood after being based in Florida for several years. He has played little tournament golf this summer, and with Korn Ferry Tour Q School looming next month, a strong State Open performance would go a long way.
"I haven't played in many four-round tournaments this year, so obviously it's going to be a good starting point," he said. "I can learn a lot over four rounds instead of just playing Monday qualifiers. A good week would mean a lot. Just playing consistent over four rounds would be huge."
Others in the field may have more momentum and recent successes, but there's no question Niebrugge should be considered a favorite. For one thing, he knows Ozaukee's secrets, having played dozens if not hundreds of rounds on the Langford-Moreau gem as a member through his high school years. Familiarity with the fast, sloping greens is an enormous advantage.
I watched him play a practice round last week, with Ozaukee CC legend Dick Sucher riding along in a cart and pointing out likely hole locations. After a bogey on the first hole and one or two off-line drives early in the round, Niebrugge played nearly flawless golf. He hit shot after shot that were of PGA Tour quality and made a fistful of birdies. He's got prodigious length and a silky putting stroke and knows when to attack and when discretion is the better part of valor. Miss the green on the wrong side and, in Niebrugge-speak, it's an "auto bogey."
"There are so many different ways to play this course," he said. "From day to day, with different wind, you can see a lot of different shots off the tee. Which helps me, because I feel like I know where to hit it around here."
Another reason for optimism — not only for this week but for the future — is that Niebrugge has gone back to the draw that carried him to great heights as an amateur, after trying to perfect a fade for the better part of two years under instructor Jeff Smith.
"The last few years I've been nowhere near the ball-striking I'm capable of," he said. "I've started teaching myself how to hit a draw again. I always kind of hit a push-draw. I wasn't hitting it great and then I started working with (Smith) and he wanted me to move to a fade to be more consistent. I worked on it for probably a year and a half or two years with him. I mean, I learned a lot from him but at the same time, that's not what I'm used to.
"When you go from aiming five to 10 yards right and drawing it in there to aiming five to 10 yards left and fading it, it's like a whole new window you're looking at. So I had a lot of double-crosses left, and getting myself in trouble. I just kind of re-taught myself. I don't care if it draws 15 or 20 yards. If I'm starting it on line and can feel that, I feel like I'm a better player.
"Just staying out of trouble this summer has been huge. Because I'd play great golf for 15 or 16 holes and I'd have two bad tee shots and that shoots me out of it, especially playing Korn Ferry and Monday (qualifiers), where you've got to shoot 6-, 7-, 8-under. You can't be re-teeing on holes."
Niebrugge is back to working with a previous swing coach, Adam Porzak, and is striking the ball with confidence, that right-to-left draw a familiar old friend. He's also gotten past a back issue that hampered him earlier this year and has gained length off the tee, thanks to work in the gym and some added muscle.
Perhaps most importantly, he's taken ownership of his swing and his game.
"I went back to Adam and I pretty much told him what I want to do," Niebrugge said. "He's been great. I send him videos every once in a while but I probably haven't taken a swing video in a very long time. I've always been more of a feel player. The more technical I get, the worse I play. So we work on start line and hitting a draw. Once I can get the start line down, it becomes feel from there."
Niebrugge's slump, if you want to call it that, is something every good player goes through at one point or another. It appears that he's ready to bust out of it, perhaps in a big way.
The State Open would be a good place to start.