WALES – Jason Roberson was scanning through an email from the Health and Wellness Resource Team at the 128th Air Refueling Wing when a notice caught his eye.
The Legend at Brandybrook was offering a free round of golf to active and retired military members Tuesday, preceded by a clinic conducted by PGA professionals. Roberson signed up. The active member of the U.S. Air Force took up golf a couple years ago.
"Apparently, I needed some more anxiety and frustration in my life," he said with a laugh.
Roberson hit balls on the range at Brandybrook as PGA professionals Rob Elliott and Marcus Suelflow took turns offering swing tips, encouragement and hands-on instruction.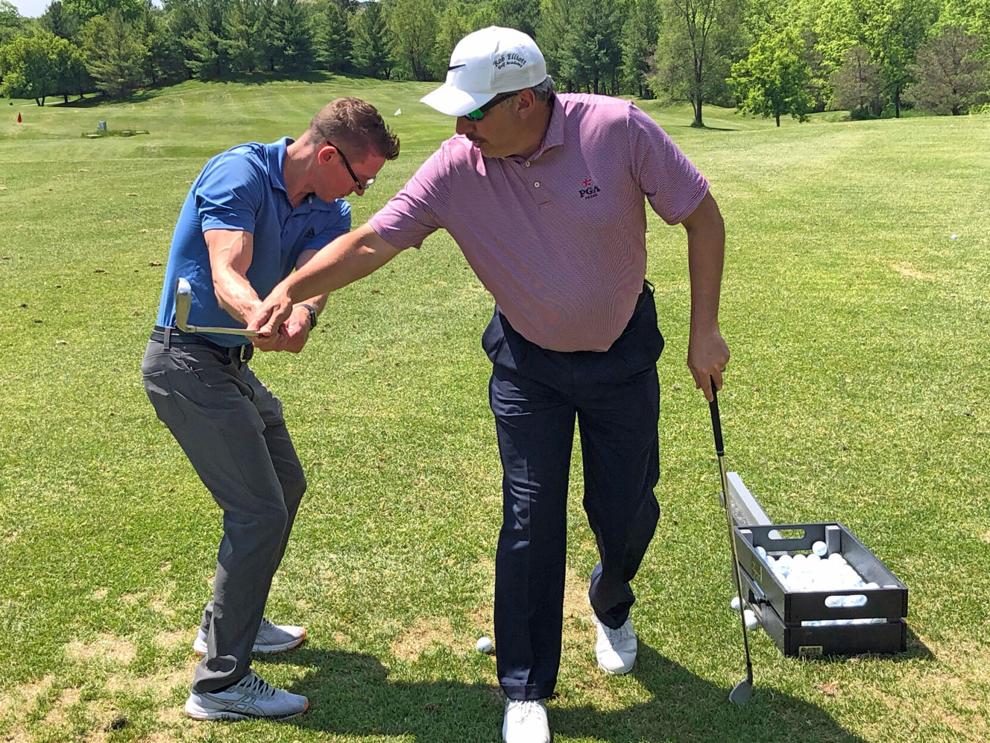 The clinic was part of PGA HOPE (Helping Our Patriots Everywhere), a military outreach program established by the PGA of America that has grown quickly in Wisconsin and nationally. Through PGA HOPE, active and retired military members receive free instruction from PGA professionals who go through an eight-hour training program.
Participants include military veterans living with physical or cognitive challenges such as traumatic brain injury (TBI), post-traumatic stress disorder (PTSD) and amputees.
"I went through the training twice," Elliott said. "You learn if you're in a wheelchair, how do you hit a ball that way? How do you hit a ball one-handed? No left arm, no right arm. One leg. It really makes you think about how you teach the game of golf."
About 25 members of the Wisconsin PGA Section have gone through the training. They then teach at PGA HOPE clinics, which are five- to seven-week programs aimed at teaching veterans the fundamentals of the swing.
"It's been going really well," said Joe Stadler, WPGA executive director. "Milwaukee has been selling out the last few years. It's like 50 or 60 veterans. They started a league in the summer for veterans, so once they graduate from this program, they can play in a league. Our hope is that the league will grow and take up all of Currie (Park) for a day, and we'll hopefully raise money to support it.
"We offer all of this at no charge. It's a way of golf giving back."
Mike Rhodes, a Wisconsin Rapids native who lives in Milwaukee, did five combat tours with the U.S. Army over a 20-year career, two with the 82nd Airborne Division, two with the 25th Infantry Division and one with the 3rd Infantry Division. He suffered a broken neck near the end of his career and is considered 40% disabled.
He started playing golf three years ago and is hooked. After 20 minutes on the range and tips from Elliott and Suelflow, he was hitting his 7-iron 150 yards.
"I've never had a lesson before," Rhodes said. "This has been very helpful. I wish I'd taken up golf when I was a teenager. I played football and baseball instead. I wish I would have invested in golf. For me, you always have that one or two or three really good shots on a course and it's like, 'I did that!'"
Roberson, 40, has no illusions of becoming a scratch golfer. He plays casual rounds with his wife and father-in-law and just wants to enjoy the game.
"This is one of those games you can play in your 70s and 80s," he said. "My father-in-law is 76 and he plays golf with us every week. You can't be playing baseball and basketball when you're in your 70s. I'm looking forward to playing golf for many years. I think the best approach is to get your fundamentals down now so you can enjoy the few and far between good shots you have."
Free instructional sessions will be offered to veterans this summer at Rivermoor Golf Club, The Practice Station, Storm's Golf Range, SentryWorld, Oakwood Park Golf Course, Brown Deer Park Golf Course, Whistling Straits, Tomah VA Course and Green Bay Country Club.
For the full schedule, visit wisconsin.pga.com/pga-hope