LAKE GENEVA — For 54 holes, Dan Woltman played as well as anyone has ever played in the Wisconsin State Open. He put on a ball-striking clinic, making 18 birdies against a lone bogey. He shot 65-67-67 and had a chance to break the tournament's 60-year-old scoring record for 72 holes.
As one Wisconsin PGA Section official put it as he held one hand at eye level and the other a foot below it, Woltman was here and everybody else was there.
"It was kind of absurd," said reigning State Amateur champion Hunter Eichhorn, who was paired with Woltman in each of the first three rounds. "He hit so many shots inside six feet. His ability to flight irons both ways, I mean, he's just … his ball-striking is phenomenal. And it's not like he stuffs it and then struggles putting. He rolls it really well."
A feeling of inevitability, then, hung in the air Wednesday afternoon as Woltman, a native of Beaver Dam and the defending champion, strode onto the first tee of the Trevino Course at Geneva National Resort & Club to begin the final round with a six-shot lead.
In Vegas, they call that a mortal lock. Woltman, 32, was four hours away from becoming a four-time State Open champion and the first to repeat since Steve Stricker in 1991.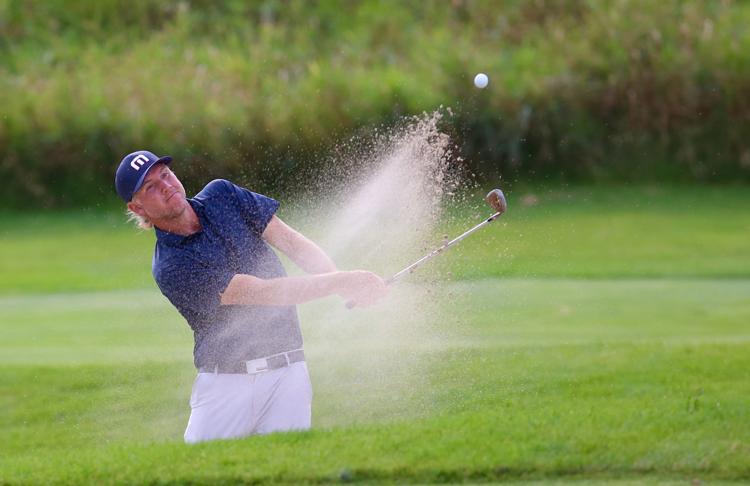 But you know how this game goes. One minute you're in command of your swing and the next minute it's organizing a 14-club mutiny. Woltman pull-hooked an iron into the trees off the first tee, which led to a double-bogey. Oostburg native Patrick Stolpe made a birdie and before you could say "Arnold Palmer, 1966 U.S Open," the lead went from six to three.
"From the first tee, my golf swing was not there," Woltman said. "It was a completely different animal than the first three rounds."
He immediately went into grind mode. And even with his C-minus game, he would not be denied. He scratched and clawed his way to a 1-under 71 and held off Stolpe – the only player with a realistic chance to catch him – to win by three shots with an 18-under 270 total.
It was the second-lowest score in State Open history. Only five-time champion Bobby Brue, who shot 268 at Brown County Golf Course in 1959, has gone lower.
"It's validation for all the work that I've put in," said Woltman, who earned $10,500 for the victory. "Obviously, you guys see the four rounds that I play here. It's so many hours throughout the winter. I live in Wisconsin year-round and I hit so many golf balls in winter and grind on artificial turf. It's a lot of work, and it's validation that I'm making strides in the right direction.
"A couple years ago I don't think I would have held it together this afternoon. I was able to hold it together enough to get the victory today."
Stolpe, whose eight-birdie 29 on the front nine of the Trevino in the second round moved the needle on Twitter, battled hard, too, and shot a 68 to finish second at 15-under 273. Almost any other year, that would have been good enough to win the State Open.
"Yeah, but not this year," said Stolpe, who earned $7,500. "I'm definitely encouraged by my play. I always want to win, but Dan played good. All credit to him."
Madison native Jim Schuman, who shot 271 at Kenosha Country Club in 1996 to win the first of his two State Open titles, closed with a 71 and finished a distant third at 280.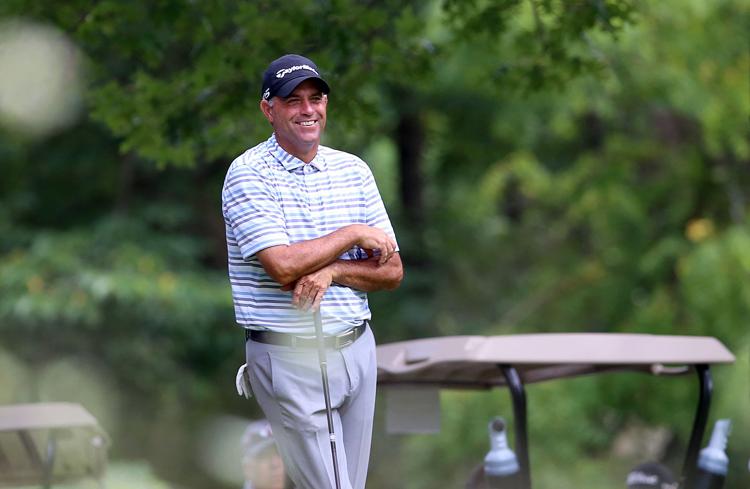 Eichhorn, who starts his junior year at Marquette University on Monday, shot a 72 and finished fourth at 282. He was low amateur, and it was four more shots back to Greendale's Nate Thomson, who leaves Thursday for his senior year at the University of Toledo.
Stolpe got off to just the start he needed, especially with Woltman fighting his swing. He birdied Nos. 1, 3, 5 and 7 to pull to within one stroke. And he might have been in the lead if not for a humongous break Woltman got on the par-5 fifth.
After a good drive, Woltman had 232 yards to the green and decided to go for it with a 3-iron. He hit a low pull and his ball one-hopped into a creek in front of the green … and then magically reappeared, bounding onto the putting surface after caroming off a rock.
He rolled in the 15-foot eagle putt and even though Stolpe made a birdie, it felt like Woltman stole a couple strokes and Stolpe got robbed.
"Ironically, I hit a low pull that just covered the hazard in the morning (round of the 36-hole finale)," Woltman said. "I said, 'Just don't hit the same shot.' And what do I do? I hit this low pull. Obviously, when you win golf tournaments, things have to go your way. That was a nice break."
Said Stolpe, "That was huge right there. That's what happens when you win, right? You get good breaks."
Stolpe was one shot off the lead after his birdie on the par-4 seventh but made a costly mistake on the par-5 eighth with a three-putt bogey – after needing just six putts on the first seven holes. Woltman birdied Nos. 8 and 9 and his lead was back up to four.
"I got off to a hot start and he stumbled a little right out of the gate there so he gave me a little chance," Stolpe said. "That bogey I made on eight really hurt me."
But he narrowed the gap to three with a birdie on the 10th hole and picked up another stroke when Woltman bogeyed the par-3 13th after failing to get up and down from a greenside bunker.
The pivotal hole, Woltman said, was the 608-yard par-5 16th, where Stolpe rolled in a 10-foot birdie putt and Woltman made an 8-footer on top of him.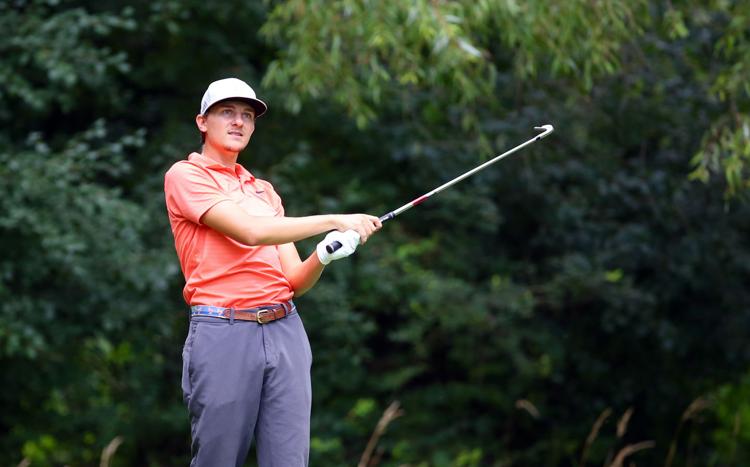 "He made birdie and I was like, 'I've got to make this,'" Woltman said. "It was a little double-breaker and it was nice to be able to slide that one in there. I needed that one because obviously only having a one-shot lead with two to go … and he gets the tee on 17, so if he would have stuffed one it would have been a little different ball game."
As it was, Stolpe three-putted on the par-3 17th, missing a 3-footer for par, and Woltman took a three-shot lead to the 18th hole. When he got his tee shot in the fairway, it was over.
"I haven't hit it that poorly in a while and to be able to get a couple good breaks, make a couple good putts and be able to still shoot under par, it's a testament for how much I grinded today," he said.
However, his final round cost a friend a bit of money.
"I have a certain individual mad at me because he had some money on me getting to 20 under," Woltman said. "I won't name who that is, but he's not going to be extremely happy with me. I thought I had a good chance after going bogey-free this morning, shooting 5-under, and there's no place where I could have made a bogey. Every single par putt I had was within three feet.
"I mean, I played really solid golf and that's why it was just such a stark contrast for what I did this afternoon. I'm thankful that I had a large margin going into the final round. I needed most of it."
Woltman, who has had status on the Korn Ferry and European tours, is playing in the Nebraska Open in a couple weeks and then will get ready for Korn Ferry Tour qualifying. Last year, he missed advancing to the final stage by one stroke.
Winning the State Open is nice, but there's someplace he'd rather be.
---
POS

PLAYER

THRU

R1

R2

R3

R4

 

1
Daniel Woltman [TR]

  

Beaver Dam, WI
-18
F
-1
65
67
67
71
270
 
2
Patrick Stolpe [TR]

  

Scottsdale, AZ
-15
F
-4
69
67
69
68
273
 
3
Jim Schuman [TR]

  

Scottsdale, AZ
-8
F
-1
70
70
69
71
280
 
4
Hunter Eichhorn (a) [TR]

  

Carney, MI
-6
F
E
69
70
71
72
282
 
5
Nate Thomson (a) [TR]

  

Greendale, WI
-2
F
+2
69
73
70
74
286
 
T6
Tyler Leach (a) [TR]

  

Spring Valley, WI
-1
F
+1
72
74
68
73
287
 
T6
Garrett Jones (a) [TR]

  

Madison, WI
-1
F
E
75
72
68
72
287
 
T6
Kevin Van Rossum (a) [TR]

  

Hartland, WI
-1
F
E
70
75
70
72
287
 
T6
Austin Kendziorski [TR]

  

Germantown, WI
-1
F
-2
76
69
72
70
287
 
T6
Peter Webb [TR]

  

Madison, WI
-1
F
-2
70
73
74
70
287
 
T6
David Bach [TR]

  

Cleveland, WI
-1
F
-2
72
69
76
70
287
 
T12
Max Hosking [TR]

  

Tucson, AZ
E
F
-2
75
71
72
70
288
 
T12
Michael Bielawski (a) [TR]

  

Waukesha, WI
E
F
E
73
72
71
72
288
 
T12
Chad Sandee [TR]

  

Sheboygan, WI
E
F
+2
70
75
69
74
288
 
T12
Piercen Hunt (a) [TR]

  

Hartland, WI
E
F
E
74
69
73
72
288
 
T12
Emmet Herb (a) [TR]

  

Middleton, WI
E
F
+1
71
72
72
73
288
 
T17
Garrett Loomis [TR]

  

RIver Falls, WI
+1
F
E
69
75
73
72
289
 
T17
Ryan Isaacson [TR]

  

Eau Claire, WI
+1
F
-2
73
75
71
70
289
 
T19
Jeffrey Kaiser [TR]

  

Verona, WI
+2
F
+1
74
73
70
73
290
 
T19
John Langhoff [TR]

  

Pewaukee, WI
+2
F
E
73
75
70
72
290
 
T19
John Gullberg [TR]

  

Franksville, WI
+2
F
-1
70
73
76
71
290
 
T19
Austin Gaugert [TR]

  

Lake Geneva, WI
+2
F
+6
70
73
69
78
290
 
T19
Joe Du Chateau (a) [TR]

  

Fond du Lac, WI
+2
F
E
73
76
69
72
290
 
T24
Pete Kuhl (a) [TR]

  

Madison, WI
+3
F
-5
74
73
77
67
291
 
T24
Mark Voeller [TR]

  

Pewaukee, WI
+3
F
+1
71
74
73
73
291
 
T26
Andrew Buege [TR]

  

Abrams, WI
+4
F
+2
74
73
71
74
292
 
T26
Zach Burry [TR]

  

Appleton, WI
+4
F
-2
76
71
75
70
292
 
T26
Jim Lemon (a) [TR]

  

Verona, WI
+4
F
E
78
70
72
72
292
 
T26
Michael Crowley [TR]

  

Fox Point, WI
+4
F
E
73
75
72
72
292
 
T26
Owen Butler (a) [TR]

  

Stoughton, WI
+4
F
+2
71
73
74
74
292
 
T26
Jack Schultz (a) [TR]

  

Milwaukee, WI
+4
F
+2
68
75
75
74
292
 
T26
Matt Polivka (a) [TR]

  

Muskego, WI
+4
F
+5
73
67
75
77
292
 
T33
Matt Tolan (a) [TR]

  

Eau Claire, WI
+5
F
+4
75
73
69
76
293
 
T33
Kaylor Steger [TR]

  

Mt pleasant, WI
+5
F
E
70
72
79
72
293
 
T35
CJ Swift [TR]

  

Naples, FL
+6
F
+5
69
78
70
77
294
 
T35
Mick Smith [TR]

  

Summit, WI
+6
F
E
71
75
76
72
294
 
T35
Phillip Johnson (a) [TR]

  

Colgate, WI
+6
F
+3
70
76
73
75
294
 
T35
Tom Boockmeier [TR]

  

Oak Creek, WI
+6
F
-1
73
71
79
71
294
 
T35
Andrew Steinhofer [TR]

  

Madison, WI
+6
F
+3
68
76
75
75
294
 
T40
Kraig Joy [TR]

  

Neenah, WI
+7
F
+3
69
79
72
75
295
 
T40
Brent Quade [TR]

  

Madison, WI
+7
F
+2
72
76
73
74
295
 
T40
Thomas Burton [TR]

  

Milwaukee, WI
+7
F
-1
73
75
76
71
295
 
T40
John Freeman [TR]

  

Muskego, WI
+7
F
+3
71
73
76
75
295
 
T44
Joe Leonard [TR]

  

Cambridge, WI
+8
F
+3
75
72
74
75
296
 
T44
Jonathan Duggan Jr. (a) [TR]

  

Lake Geneva, WI
+8
F
+6
72
71
75
78
296
 
T44
Christopher Colla (a) [TR]

  

Fond du Lac, WI
+8
F
+1
76
73
74
73
296
 
T47
Ryan Helminen [TR]

  

Menasha, WI
+9
F
+2
73
73
77
74
297
 
T47
Kyle Driscoll [TR]

  

Pewaukee, WI
+9
F
-1
74
74
78
71
297
 
T47
Jim Doing (a) [TR]

  

Verona, WI
+9
F
+6
70
73
76
78
297
 
T47
Kevin Cahill (a) [TR]

  

Waukesha, WI
+9
F
-1
72
77
77
71
297
 
T47
Zachary Gaugert [TR]

  

Scottsdale, AZ
+9
F
E
76
73
76
72
297
 
T52
Benjamin Gilles (a) [TR]

  

Madison, WI
+10
F
+4
72
76
74
76
298
 
T52
Kyle Henning [TR]

  

Sussex, WI
+10
F
+4
73
76
73
76
298
 
T52
Michael Higgins [TR]

  

Madison, WI
+10
F
+4
74
75
73
76
298
 
T52
Erik Stenseth [TR]

  

Madison, WI
+10
F
+3
76
73
74
75
298
 
56
Joe Weber (a) [TR]

  

Onalaska, WI
+11
F
+4
73
72
78
76
299
 
57
Bryce Burke [TR]

  

Jackson, WI
+12
F
+7
73
71
77
79
300
 
58
Evan Wartgow [TR]

  

Fitchburg, WI
+13
F
+10
77
70
72
82
301
 
T59
Eddie Terasa [TR]

  

Waukesha, WI
+15
F
+5
74
74
78
77
303
 
T59
Keith Buntrock [TR]

  

Franklin, WI
+15
F
+2
80
69
80
74
303
 
T61
Jack McKinney (a) [TR]

  

Milwaukee, WI
+16
F
+6
73
73
80
78
304
 
T61
Keegan Drugan [TR]

  

Onalaska, WI
+16
F
+7
73
75
77
79
304
 
T63
Craig Czerniejewski [TR]

  

Hartford, WI
+20
F
+9
69
79
79
81
308
 
T63
Cameron Huss (a) [TR]

  

Kenosha, WI
+20
F
+7
76
73
80
79
308
 
T63
Jason Summers (a) [TR]

  

Richfield, WI
+20
F
+4
72
77
83
76
308