Golf is a difficult game because the field of play and the conditions are ever-changing and because the ball is stationary, which gives us time to think. The golf swing, however, should not be difficult. A child can swing a club successfully, as can an octogenarian.
That, in a nutshell, was the foundation of the teaching of Manuel de la Torre, who died in 2016 after a long and distinguished career at Milwaukee Country Club. His method was based on swinging the club in the direction of the target, a concept he learned from his father, Angel de la Torre, Spain's first golf professional.
Though de la Torre has been gone five years, those who apprenticed under him, took lessons from him or have discovered him through YouTube or his classic instructional book, "Understanding the Golf Swing," are dedicated to preserving his teaching concepts.
A group of them will gather for a three-day seminar, Oct. 4-6 at Western Lakes Golf Club in Pewaukee. It's in essence a refresher course for de la Torre devotees who want to sharpen their teaching and playing skills, and to share stories about the Hall of Fame teacher whose impact on them was profound. De la Torre would have turned 100 on Oct. 6.
The group, led by John Hayes, a Florida-based teaching professional, first gathered in Milwaukee, months after de la Torre's death and has met annually since (except in 2020 because of COVID). The group also has a website, manueldelatorregolfteaching.com, which is a repository for videos, excerpts from his book and magazine and newspaper articles devoted to him.
"It's important to keep his ideas going," said Hayes, who first met de la Torre in 1983 and "glommed onto him," fascinated not only by his concepts but by the masterful way he presented them. "The most important people are the young people who say, 'I heard about this guy,' or, 'I saw that on YouTube and I'd like to hear about some of this stuff.' … It's a place where especially newer teachers can get together and see it and say, 'OK, this is what it's all about.'"
Martha Nause, a Sheboygan native who took her first lesson from de la Torre in 1977 and went on to win three times during a long career on the LPGA Tour, will be one of the presenters at the seminar.
"In a word, his teaching is timeless," she said. "It really is a concept that helps everybody. Lots of other people have developed ways of teaching the golf swing – and there are other ways to teach the golf swing – but his methods of teaching and this concept really transcends all of it.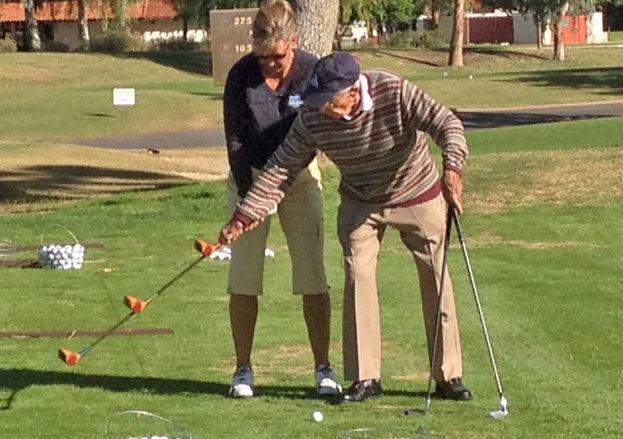 "It will always be relevant. There are a million other ways to swing the golf club, but most of those ways require lots and lots and lots of work to keep it grooved. Not to say that they don't work, but especially for people who aren't a professional, when you don't have a lot of time to practice or you don't like to practice, it's a perfect method for being able to still swing the club and enjoy the game."
Nause will talk about what it was like to take lessons from de la Torre, who also taught, among others, Sherri Steinhauer, Masters champion Tommy Aaron and World Golf Hall of Fame member Carol Mann. In a video posted on the website, the great Canadian ball-striker Moe Norman called de la Torre "the best teacher in the world, ever."
De la Torre, who gave thousands of lessons on the practice range at Milwaukee CC, was dismayed by golf instruction that focused on body positions and technical minutiae. The beauty of his concept was its simplicity. Loren Roberts made it a point to see de la Torre just before he played in the Greater Milwaukee Open to de-clutter his mind and get back to what he knew worked. Roberts won the GMO twice and had two runner-up finishes.
"If you look at what's popular among tour pros, a lot of them are going back to the same principles that Manuel taught," Nause said. "But for so many years in the '80s and '90s, people were pooh-poohing him as 'This is just an old guy teaching old-fashioned stuff.' It really isn't. As he always said, it's based on practical scientific principles."
De la Torre believed, as do his followers, that once a golfer learns to swing the club correctly, there is no reason to change anything. It's simply a matter of perfecting what works through repetition.
"The first lesson I had with him, I told him why I was there, that I wanted to try to get on the tour," Nause said. "He said, 'Do you like to practice?' I said, 'Not really.' And he said, 'Well then, this will be perfect for you because once you understand this concept, you just are going to keep trying to perfect it. It's not a difficult concept, and the more you do it, the better you'll get at it. But it's not going to be something that you have to change.'"
"I give lessons infrequently now but I always talk about the same things that Manuel talked to me about, and they work. People constantly are saying to me, when I'm giving them a lesson, 'It can't be this easy.' But it is. It's a simple, simple concept. We're human beings, so we don't make it easy."
Other seminar topics will focus on set-up and alignment, the grip and corrections for slicing, hooking, topping and shanking.
"Manuel didn't believe that if someone was swinging way left and slicing, that you should get him to swing way right and hook it as a correction," Hayes said. "He just wanted them to do it correctly so that as they went along in their golf life, they could get better and better and better without these wild swings."
Hayes and others are committed to preserve de la Torre's teaching legacy.
"In talking to Manuel those last years (of his life), it was, you guys have got to keep this going and, you know, we will," he said. "I know what it's done for my teaching. Basically, I've based a career on it. And not just his teaching stuff but his advice on a lot of other general things in the golf business. So, you feel that obligation."
Those interested in attending the seminar can register here. The cost is $125.