Eric Popovich started tearing up in the 17th fairway at Reedsburg Country Club and had to force himself to snap out of his reverie. He had 1½ holes to play before he could finally grab the carrot that had been dangling in front of him for 30 years.
"I thought, 'Don't do this now. You've got 15 minutes of golf left,'" said Popovich, an assistant professional at Cherokee Country Club in Madison.
He'd played well through 34½ holes of the PGA of America's Player Ability Test, a one-day, two-round, pressure-packed mini-tournament with two possible outcomes: pass or fail. Those aspiring to become Class A members of the PGA must pass.
Talented players often breeze through the PAT on their first try. Others, less gifted, more nervous or both, often need several attempts. The PAT has no room for sympathy or humor. Its purpose is to weed out those who can't play the game they're supposed to represent.
At some point, players who can't pass the PAT typically stop pursuing PGA membership, find other jobs inside or outside the golf industry or become non-affiliated pros. They can teach lessons, run golf shops and sell merchandise, but they cannot call themselves Class A members of the PGA of America. It's a badge of honor, worn by some 29,000 members nationwide.
A simple formula is used to determine the PAT's pass-fail line of demarcation. It's the course rating times two, plus 15 strokes. For example, if the course rating is 70, the player must shoot 155 or better over 36 holes in order to pass the PAT (70 x 2 + 15).
On Aug. 5, at Reedsburg CC, the 51-year-old Popovich was taking his 94th shot at the PAT. By his count – the number could not be verified by the Wisconsin PGA Section, because accurate records go back only to 1995 – he'd tried and failed 93 times.
If at first you don't succeed, try again. Or in Popovich's case, keep trying, over and over and over. He was Don Quixote, tilting at windmills. Call him stubborn or even crazy, but he never believed that passing the PAT was out of reach, though mounting evidence suggested otherwise.
"It's been so long and it's been such a Mount Everest-type hill to climb," Popovich said. "I kept telling everybody, 'You can't bury me when I pass on until I pass this PAT.'"
Dead man golfing? Figuratively speaking, that was, on occasion, Popovich. Time after time, he returned home to be greeted by his wife at the door. "Did you pass?" she'd say, her voice filled with hope.
"Not even close," he'd say, hating in that moment the game he loved.
* * * *
On that steamy Thursday at Reedsburg, Popovich shot a 3-over 75 in the first round, with a double-bogey on the final hole. In the scoring area, his playing partners marveled at Popovich's eight one-putt greens. He didn't want to hear it. A jinx. He went to his van in the parking lot, ate a couple bananas and an apple, tried to relax.
And, for once, his good play carried over into the second round. Through 14 holes, he was 2-over.
"Standing on the 15th tee box, I remember thinking, 'All you have to do is bogey in. You're done. It's finished,'" he said. "And, of course, I took a bogey on 15. I took a three-putt bogey on 16. I got to 17 and I said, 'Just get the ball in the fairway and you're done.' The 17th is a fairly tight par-4 and I split the center of the fairway. And I actually threw my hands in the air."
Popovich's quest to pass the PAT began in 1991. During his first few attempts, his game wasn't ready. He had played one year of high school golf at Madison La Follette, but had a lot to learn about tournament golf – how to handle his nerves, manage his game, overcome the self-doubt that turns to full-fledged choking when the bogeys come, as they inevitably do.
Through the 1990s and 2000s, he got better, but better wasn't good enough. He took a job as the head pro – non-affiliated, of course – at Sun Prairie Golf Course and learned the business. After 10 years, he left to take another job, as manager of a strip club.
"That's where the story gets interesting," he said with a laugh.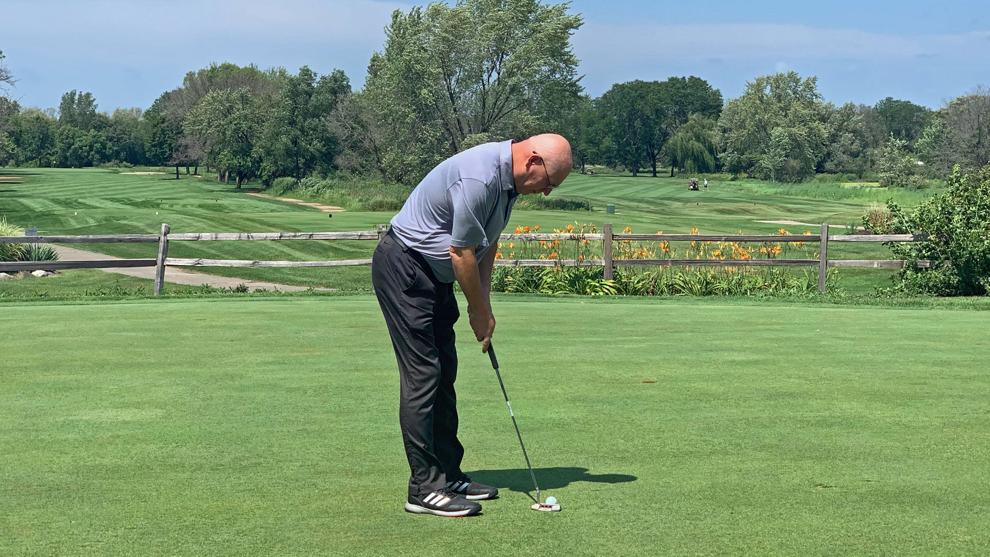 Last year, he decided to get back into the golf business and was hired as an assistant at Cherokee. On Fridays and Saturdays, he closes the pro shop and heads to Club Bristol Gentleman's Club in Sun Prairie, where he is still employed, but perhaps for not much longer.
"To be honest, I'm 51 and it's time to get out of the strip club business," he said. "It's starting to get a little dangerous. The hours are long, staying up until 3, 3:30 in the morning. So, I thought, well, I can get a lot of the (PGA) bookwork done during the (coronavirus) lockdown. And the PAT, well, we've been doing that forever, so it will just happen when it happens, I guess."
Dennis Tiziani, who owns Cherokee, said Popovich is a model employee.
"He's got a lot to offer in the golf business," Tiziani said. "He's been in management – it's a strip club, but it's still management. He's good at it. He's good with the members here. He's very observant. He knows how to do the bar stuff. He knows how to do the kitchen stuff. He's just a good guy."
Over the years, as he changed jobs, divorced, remarried and raised a family, one thing was constant: Popovich kept trying and failing to pass the PAT.
"The interesting thing is, I can go play golf with my friends, I can go to almost any golf course and shoot 74, 75, 76," he said. "And I kept thinking, why can't I do that in this PAT? I can shoot these numbers all day long, but what is it about this tournament?
"Then I had this really long streak, it might have been 20 or 25 PATs, where every one I took, it rained. It would rain somewhere throughout the tournament, and I don't play good in the rain. I think somewhere along the line, 15 or 20 years ago, a series of PATs where it rained on me or whatever the case was, I think it got in my head."
* * * *
Popovich had 151 yards to the flagstick on No. 17. The hole played slightly uphill, so he figured it was a 158-yard shot. He pulled his 8-iron.
"For the first 10 feet that ball looked like it was going to go in the hole," he said. "Now, on that 11th foot, it went 60 yards left, out of bounds. I hit a big old snap-hook. So, all of a sudden, the tears dried up real quick. I made a fantastic 6-foot putt for double-bogey. I got to the 18th tee box and my legs were shaking so bad, I could hardly stand. I waited my whole life for this."
There's more to passing the PAT than hitting good shots and making putts. The weather can be a factor. Popovich has played in PATs when snow was falling and he's played in them when the thermometer pushed 100. There's also the matter of taking care of his body, no insignificant factor as he aged.
"Last year, one of the PATs was at Dretzka Park and that's a course that sets up really well for me," he said. "I played that one five weeks after gall bladder surgery. I somehow, some way, having only played four holes of golf the whole year, shot 77 in the first round and I thought, 'Am I playing on adrenaline? What's going on here?'
"And on the third or fourth swing of the second round, I tore my top stitch open. There was a little blood. I thought, 'My doctor is going to kill me.' I shot 82 or 84 and I was in some pretty severe pain when I got done. I thought to myself, 'Maybe I shouldn't have played this one.'"
Two years ago, in a PAT at Odana Hills in Madison, Popovich shot a 77 in the first round. He made the mistake of sitting down to eat lunch and getting a little bit too comfortable. He neglected to go to the range to warm up for the second round and paid the price.
"I'm an old geezer at this point in PATs," he said. "I stiffened up and I started the second round going double-triple-double-double. So, I was on the fifth tee box and I had already shot myself out of it. I can remember thinking somewhere in that second round, 'Well, I guess we're doing this next year.'"
Then there are the playing partners. Some have textbook swings, while others have no business teeing it up in a PAT. Some show up with college golf pedigrees. Others are the product of run-down driving ranges and munis. Their ability or lack thereof can help or hurt.
"I played with a kid three years ago who was probably as close to a tour player as I've ever seen," Popovich said. "But every time he would mishit a shot, he would hit himself as hard as he could with his fist in his forehead. We got to the 16th and 17th holes and this (lump) was the size of a softball and it was purple and black.
"The other playing partner and I, we discussed, what are we going to do? I'm in the middle of a tournament and I'm actually playing halfway decent. I'm not prepared to play doctor. I believe I shot 78 in the first round, so I was right on the number. I needed maybe another 78 or a 77, something like that. And he just kept hitting himself. I got so focused on whether or not the guy was going to split his head open, I forgot to play golf."
Earlier this year, in a PAT at Edgewood Golf Course in Big Bend, Popovich was paired with a player who couldn't bust a grapefruit.
"Nicest guy you'd ever meet, but had no reason to be at a PAT," Popovich said. "He shoots 104, 105 in the first round. He had no range finder. He doesn't know the rules of golf, how to drop a golf ball. Get to the second 18 and he shoots, I think, 96. And he looks at me and he goes, 'Well, at least this time I broke 100.' Like he was surprised that he did it.
"I'm babysitting his yardages and helping him look for golf ball after golf ball after golf ball. I believe I bogeyed 14 of the 18 holes in that second round. I was so frustrated. I told the official, 'If this guy ever plays in another PAT and I'm paired with him, I want my money back, because I just wasted $150.'"
Oh, yeah, that's the other thing about the PAT. It costs $150 to enter. Every time.
Popovich anticipated the next question.
"Fourteen thousand, one hundred," he said.
Some dreams are more expensive than others.
* * * *
Popovich arrived on the tee of the short par-4 18th hole at Reedsburg and recalled the advice from Matt Kennedy, the head PGA professional at Cherokee. Kennedy told him the hole was easy. Hit a 7-iron off the tee and a 7-iron into the green. Simple.
"So, I put the 7-iron in my hands and I thought to myself, 'Matt, if you're wrong, you and I are going to have some really big words.' And I hit the best 7-iron of my life."
The day before the Reedsburg PAT, Popovich dropped off his 16-year-old daughter at O'Hare International Airport for her flight home to Charlotte, N.C. She had visited for four days. Because of COVID, he had spent precious little time with her over the past 18 months.
On the drive back to Madison, Popovich was melancholy. He needed to practice at Cherokee to get ready for the next day, but he wasn't in the mood to play golf.
"I haven't hit a golf ball in six days," he said. "Who knows what I'm going to play like? I thought, 'I'd better go play a few holes.' Well, I doubled the first hole, tripled the second hole, doubled the third hole. I had no desire to be there. None. So, screw this, I'm going home."
He stopped in the bag room on his way to the parking lot. A few days earlier, Steve Stricker had dropped off some items, telling Popovich to "give them to somebody who needs them." One of the items was a black Titleist carry bag. Surely, it had been used by Stricker or his wife, Nicki, or one of their daughters, Bobbi or Izzi.
"I don't know whose it was, but it's got the Stricker aura," Popovich said. "My friend came in after I brought it in the pro shop and he goes, 'What's that?' So, I tell him the story and he goes, 'You should use that bag for your PAT. I'll bet you there's some Stricker mojo left on it.'"
Popovich had stashed the bag in a corner, just in case. Now, he eyed it. Maybe his friend was right.
"Somehow, some way, my brain put all my clubs in the Stricker bag," he said. "I'm not a guy who believes in that stuff but, you know what, my door is open. If you want to talk about mojo, I'll listen to you."
* * * *
From the middle of the 18th fairway, Popovich hit another 7-iron to the green. His ball stopped 20 feet from the hole, pin-high to the right. Kennedy was right: 7-iron, 7-iron. Simple.
He lagged his birdie attempt to within 2 feet.
"And that par putt, I hit about three inches," he said. "I was shaking so bad I almost whiffed it."
With tears filling his eyes, he gathered himself and knocked in the bogey putt. He finished with a 79 and a 154 total.
On his 94th attempt, he'd passed the PAT with three shots to spare.
"This, to me, is like winning my U.S. Open," said Popovich, who still must take online courses and pass qualifying tests to become a Class A PGA member. But the hard part is over. After 30 years and countless tumbles into crevasses, he finally reached the summit of his personal Mount Everest.
"That's a long time to try to pass your PAT," said Joe Stadler, executive director of the Wisconsin PGA Section. "I don't know of anyone who's taken it more times than that and passed. I was happy for him."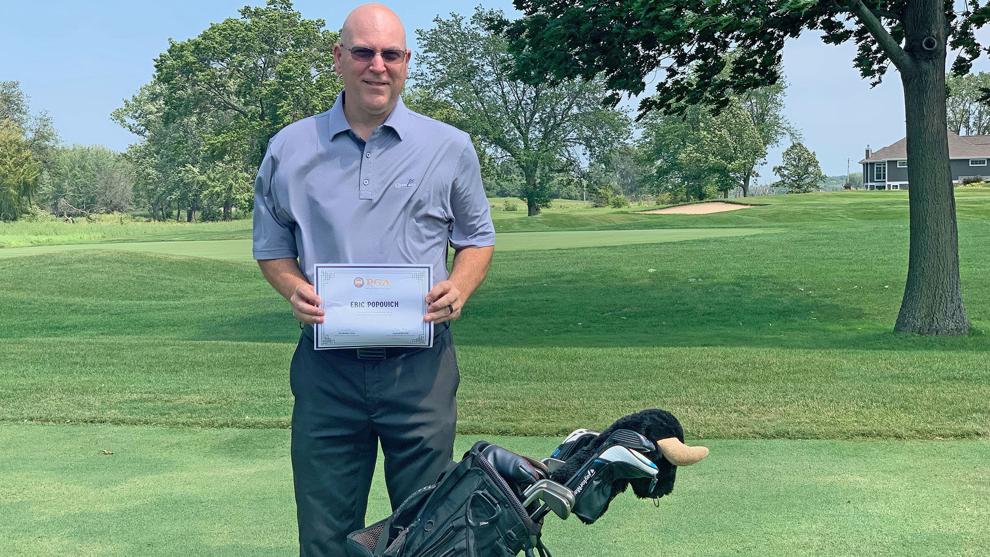 Cherokee members who know the story have gone out of their way to slap him on the back or give him a hug. One handed him a congratulatory card, which touched him.
"I'll be honest, I'm a bit shocked or weirded out, whatever the term is, that so many people have taken an interest in this," he said. "I just kind of assumed this was my battle. Honestly, I'm really proud that I hung in there for 30-plus years. I can't imagine how many people would have given up."
But why did he put himself through it? Why did he keep going, when the prudent thing would have been to quit, to look for something else to do?
"Being Class A means everything to me," he said. "It's hard to explain. When you get to a golf course at six in the morning to unlock the golf shop and there's nobody there and you walk up that cart path and you smell the grass that's being cut and you hear the mowers in the distance and the sun is coming up … and at Cherokee, you get the fog off of the water. I could stand there for an hour and just stare at it."