When David Roesch joined playing partners Jim Schuman and Joe Leonard at the scorer's table Tuesday after the final round of the WPGA Professionals Championship, the 2015 champion offered Leonard his congratulations.
"I don't think he even knew (he had won)," Roesch said of the head pro at The Oaks GC in Cottage Grove. "When we got done, I told him 'Great playing! I think you have a great chance to win.' He looked at me like I was crazy."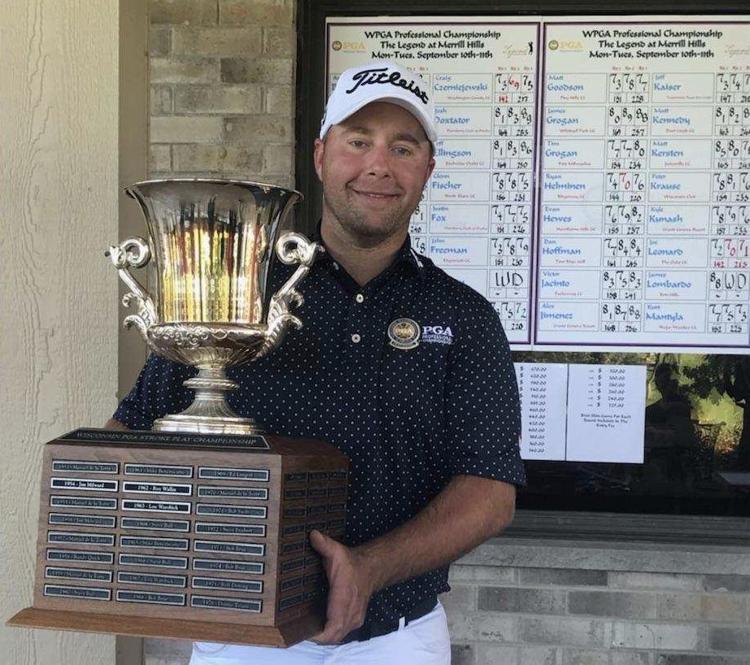 To be fair, there was still one group left to finish on a day that began with nine golfers within five shots of the lead. At the same time, Leonard wasn't used to hearing his name and "win" in the same sentence since it had been so long.
But there he was at The Legend at Merrill Hills CC in Waukesha, hoisting a trophy with names of some of the greatest club professionals in Wisconsin history. And now the guy best known for winning the rain-shortened 1999 WIAA Division 1 state championship while at Madison La Follette added his to the list.
Leonard's birdie at the par-5 17th hole was part of a critical two-shot swing with Roesch, who bogeyed the hole not knowing he'd taken a one-shot lead after Leonard bogeyed No. 14 on the heels of back-to-back birdies by Roesch at Nos. 12 and 13. That helped Leonard surge to a two-shot win over Roesch with Schuman, the defending champ, another shot back after a closing 73.
"It seems like I'm always in the mix and I'm a pretty good player," Leonard said. "I'm usually in the thick of things, but I usually never really win anything big. This was huge for me and all the work I put in. It's not easy. Like all of us, you have to work and you're playing on the side. This feels really good."
After starting the day in a three-way tie for second place, one shot behind second-round leader Brad Munn of Cottage Grove, Leonard birdied Nos. 2 and 4, a pair of par-5s, to vault into the lead. However, he gave both shots back with bogeys at the par-3 fifth and par-4 eighth holes to make the turn in even-par 36.
The give-and-take continued into the back nine, where Leonard birdied No. 10 only to bogey No. 14 and fall one shot behind Roesch. Not that Roesch knew where he stood in relation to Leonard.
"What I didn't realize and, certainly hindsight is 20-20, but I didn't even realize that I was in the lead or even close to the lead," Roesch said. "It's probably my fault for not looking. ... I really wish I would have looked or known. I think it would have brought a little different energy to the last couple holes for me."
Instead, Roesch faltered down the stretch, bogeying No. 16 and three-putting at No. 17. That was the same hole where Leonard got up-and-down from just in front of the green for birdie to take a one-stroke lead to the final hole.
"For me, I really didn't get ahead of myself today," Leonard said. "I know the old saying, 'One stroke at a time, one hole at a time.' As much as we talk about it, that is what we're trying to do and not starting to think about winning a tournament or shooting a score. (Tuesday) was probably the best I've ever done at that."
For Leonard, the victory caps a whirlwind year in which he left Bulls Eye CC in Wisconsin Rapids after more than five years and took a job as the general manager at Watertown CC. An opportunity to work under friend Shawn Finley, the director of golf at The Oaks, and get back to the business of playing and teaching the game proved too good for Leonard to pass up.
"I've been at The Oaks for about six weeks now and I absolutely love it," Leonard said. "I'm really thankful I was able to get the last two days off because we are so busy. Shawn and (general manager) Jessica (Blaska) have been really great and given me time to practice my game and I'm very appreciative of that.
"I love being back on the golf side and I think it's really helped me from a playing standpoint, just being around golf more."
---