Michael Crowley admitted he was mildly amused over the weekend when he saw rain predicted for Madison, knowing his title defense at the Wisconsin State Senior Open would begin Tuesday at Blackhawk Country Club.
It was a year ago this week the Fox Point golfer braved the elements a few miles away at Nakoma Golf Club, pulled away from Kurt Mantyla and put a halt to Jim Schuman's two-year reign in this event for golfers 50 and older.
"I laughed when I saw the rain in the forecast and I thought 'Well, this definitely plays to my advantage,'" Crowley said, remembering how he one-putted six of the last eight greens at Nakoma as the sky opened and the rain came pouring down before he birdied Nos. 17 and 18 to topple Schuman by one stroke and Mantyla by two to prevail in his State Senior Open debut.
But as good as Crowley was Tuesday in making three birdies in a row starting at No. 10 on his way to a 2-under-par 70, Mantyla was just a skosh better.
Mantyla, 51, the teaching professional at Naga-Waukee War Memorial GC in Pewaukee, went birdie-eagle-par-birdie during the middle of the back nine after an hour-long rain delay and shot 4-under 68 to open up a two-shot lead over Crowley, 51, the head professional at Morningstar Golfers Club in Waukesha and amateurs Rocky Sperka of New Berlin and Chip Summers of Richfield. Franklin amateur Brian Brugger (71) was the only other golfer (of the 93 in the field) to break par, although Pewaukee amateur John Kestly, Menasha amateur Bob Gregorski, the newly minted Wisconsin State Senior Amateur champion, and Schuman, a three-time champion, matched it.
"I didn't play well at the State Open (in Kohler) or, really, not that well for the past few weeks or so," Mantyla wrote in a text to Wisconsin.Golf. "I've played a hold-on fade for a long time, and have made a concerted effort to swing the club freely, which in turn has me hitting it a little straighter, even hitting more of a draw. That has been a huge change, so we will see how it holds up under pressure. (Tuesday) was good, so hopefully I can do it again (Wednesday)."
With 12 golfers within five shots of the lead — including Madison native Mario Tiziani, the Minnesota State Senior Open champion, and Brookfield native Tim Cantwell, who won the Wisconsin State Amateur at Blackhawk in 1993 — and a sun-splashed day expected Wednesday, Mantyla and Crowley expect a fair amount of traffic as they chase each other on the leaderboard in the finale.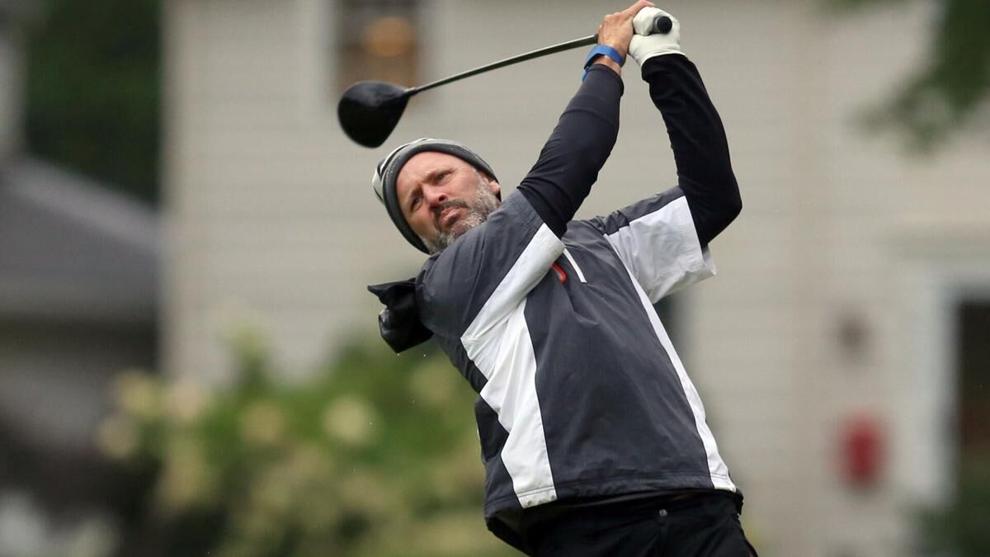 "There are a lot of good players that are all within striking distance," Crowley wrote via text message. "And Blackhawk is a golf course that can surrender some birdies, but you have to be careful on a few holes out there for sure." 
Indeed, Summers and Sperka found out first-hand Blackhawk's tendency to giveth as quickly as it taketh when it comes to surrendering low numbers. 
Summer, 50, making his State Senior Open debut, bogeyed three of his first four holes before righting the ship. He made a birdie at No. 7 to turn in 38 and then added four more birdies on the back nine, starting birdie-birdie at Nos. 10 and 11 and finishing with a pair of 2s at Nos. 16 and 18, rolling in birdie putts of 7 and 15 feet to pull within two of Mantyla, his old college rival when Summers competed at UW-Stevens Point and Mantyla teed it up for UW-Eau Claire.
"I started out a with a few bogeys, but hit a solid shot into (No.) 5 that started to turn things around," Summers wrote via text to Wisconsin.Golf. "I felt good about my game coming into this event and will head into (Wednesday) with the same mindset … play the best golf that I can. I like where my short game is and feel good about my chances with the putter in my hands."
Sperka, who matched Kestly and Greendale's Jeff Lister for low-amateur honors last year at Nakoma, began his opening round this year on No. 10 and parred his first five holes before going birdie-bogey-birdie en route to a 1-under 35 on his opening nine. He finished much the same way, going bogey-birdie-bogey-birdie starting at No. 6, but likes his position entering the final round.
"(The) birdie on (No.) 9 was a nice finish," wrote Sperka, who hit a lob wedge from 70 yards to within a foot for a tap-in birdie and a "stress-free finish" to his round. "I need to make confident swings and make some putts tomorrow. Kurt is a really good player but lots of other guys who are very capable of shooting a good score at Blackhawk."
Recent history suggests Mantyla and Crowley will be at the front of that line. 
After battling down the stretch a year ago at Nakoma, the two were involved in a three-player playoff for individual honors at the WPGA Senior Professionals Championship on Crowley's home course at Morningstar GC. Mantyla won that one over Crowley and John Freeman of Edgewood GC in Big Bend with a birdie on the first extra hole after all three finished 36 holes of regulation at 6-under 138.
"I suspect the pins will be in some good spots (Wednesday), so it could definitely play more difficult," wrote Mantyla, whose goal is to take what the course gives him and wear a smile while he does it. "I haven't been playing with a very good attitude as of late, and as a result I haven't been playing as well as I would like to play, and most importantly, I have been miserable out on the course. My goal is to play golf like I did as a kid, when I couldn't wait to get out there to play golf! Whatever the outcome is, I'm going to enjoy being out there and give it my best shot!"
POS

PLAYER

TOTAL

WEDNESDAY
TEE TIME

 

R1

R2

SCORE

 

1
Kurt Mantyla (p)  Wauwatosa, WI
-4
10:30a
68
 
68
 
T2
Michael Crowley (p)  Fox Point, WI
-2
10:30a
70
 
70
 
T2
Rocky Sperka  New Berlin, WI
-2
10:30a
70
 
70
 
T2
Jason Summers  Richfield, WI
-2
10:30a
70
 
70
 
5
Brian Brugger  Franklin, WI
-1
10:20a
71
 
71
 
T6
Robert Gregorski  Menasha, WI
E
10:20a
72
 
72
 
T6
John Kestly  Pewaukee, WI
E
10:20a
72
 
72
 
T6
Jim Schuman (p)  Scottsdale, AZ
E
10:20a
72
 
72
 
T9
Kevin Cahill  Waukesha, WI
+1
10:10a
73
 
73
 
T9
Mario Tiziani (p)  Shorewood, MN
+1
10:10a
73
 
73
 
T9
Marshall Gavre (p)  Fairfield, IA
+1
10:10a
73
 
73
 
T9
Timothy Cantwell (p)  Palm Beach Gardens, FL
+1
10:10a
73
 
73
 
T9
JT Johnson  Eden Prairie, MN
+1
10:00a
73
 
73
 
T14
Derek Schnarr (p)  Middleton, WI
+2
10:00a
74
 
74
 
T14
Dave Spengler (p)  Sobieski, WI
+2
10:00a
74
 
74
 
T14
Charlie Brown (p)  Sturtevant, WI
+2
10:00a
74
 
74
 
T17
Timothy Torkelson  Delavan, WI
+3
9:50a
75
 
75
 
T17
Todd Schaap  Kenosha, WI
+3
9:50a
75
 
75
 
T17
Bruce Henning  Brookfield, WI
+3
9:50a
75
 
75
 
T17
Jason Samuelian (p)  Franklin, WI
+3
9:50a
75
 
75
 
T17
James Walkley Jr  Onalaska, WI
+3
9:40a
75
 
75
 
T17
Eddie Terasa (p)  Waukesha, WI
+3
9:40a
75
 
75
 
T17
Jim Doing  Verona, WI
+3
9:40a
75
 
75
 
T17
Todd Westrich  DePere, WI
+3
9:40a
75
 
75
 
T25
Mark Voeller (p)  Pewaukee, WI
+4
9:30a
76
 
76
 
T25
Brian Buss  Eau Claire, WI
+4
9:30a
76
 
76
 
T25
Steve Krause (a.r.)  Waterford, WI
+4
9:30a
76
 
76
 
T25
Ramiro Romo  Waterford, WI
+4
9:30a
76
 
76
 
T25
John Freeman (p)  Muskego, WI
+4
9:20a
76
 
76
 
T30
Mark Dalebroux  Madison, WI
+5
9:20a
77
 
77
 
T30
Bill Crinzi  Milwaukee, WI
+5
9:20a
77
 
77
 
T30
Jim McNicoll  Green Bay, WI
+5
9:20a
77
 
77
 
T30
Brook Schmitt (p)  Oregon, WI
+5
9:10a
77
 
77
 
T30
Jeff Fox  Greenville, WI
+5
9:10a
77
 
77
 
T35
Mike Aumann  Blue Mounds, WI
+6
9:10a
78
 
78
 
T35
Chad Behrends (p)  Pewaukee, WI
+6
9:10a
78
 
78
 
T35
Jim Rollefson  Franklin, WI
+6
9:00a
78
 
78
 
T35
Ernest Kocs (p)  McFarland, WI
+6
9:00a
78
 
78
 
T35
Jeff Lister  Greendale, WI
+6
9:00a
78
 
78
 
T35
Chuck Garbedian  Waukesha, WI
+6
9:00a
78
 
78
 
T41
Brian Liddy  Green Bay, WI
+7
8:50a
79
 
79
 
T41
Norm Schultz  Menomonee Falls, WI
+7
8:50a
79
 
79
 
T41
Mitchell Bowers  Mineral Point, WI
+7
8:50a
79
 
79
 
T41
Bob Pyle  Green Bay, WI
+7
8:40a
79
 
79
 
T41
Jason Zahradka  New Richmond, WI
+7
8:40a
79
 
79
 
T41
Tom Chambers  Union Grove, WI
+7
8:40a
79
 
79
 
T41
John Cyboran (p)  Wisconsin Rapids, WI
+7
8:30a
79
 
79
 
T41
Scott Lunde (p)  Manhattan, IL
+7
8:30a
79
 
79
 
T41
Paul Johnson  Kenosha, WI
+7
8:30a
79
 
79
 
T41
Matthew Stottern (p)  Fish Creek, WI
+7
8:30a *
79
 
79
 
T51
Pat Gorman (p)  Madison, WI
+8
8:30a *
80
 
80
 
T51
Paul Zarek  Burlington, WI
+8
8:30a *
80
 
80
 
T51
John Uekert  West Bend, WI
+8
8:30a *
80
 
80
 
T51
Steve Etrheim  Plover, WI
+8
8:41a *
80
 
80
 
T55
Mike Smith  Pewaukee, WI
+9
8:41a *
81
 
81
 
T55
John Golden  Verona, WI
+9
8:41a *
81
 
81
 
T55
Mike Murphy  Minocqua, WI
+9
8:41a *
81
 
81
 
T55
Dick Regenberg  Madison, WI
+9
8:52a *
81
 
81
 
T55
Scott Jens  Madison, WI
+9
8:52a *
81
 
81
 
T55
Todd Cook  Beaver Dam, WI
+9
8:52a *
81
 
81
 
T55
Rob Remitz (p)  Muskego, WI
+9
8:52a *
81
 
81
 
T62
Jamie Young  Kenosha, WI
+10
9:03a *
82
 
82
 
T62
Lu Yang (p)  Milwaukee, WI
+10
9:03a *
82
 
82
 
T62
John Blau (p)  Elm Grove, WI
+10
9:03a *
82
 
82
 
T62
Kevin Schoppe (p)  Kronenwetter, WI
+10
9:03a *
82
 
82
 
T62
Simon Clough (p)  Burlington, WI
+10
9:14a *
82
 
82
 
T62
Steve Schreck  New Berlin, WI
+10
9:14a *
82
 
82
 
T68
Dave Ullenberg  Milwaukee, WI
+11
9:14a *
83
 
83
 
T68
Mark Krause (p)  Franklin, WI
+11
9:14a *
83
 
83
 
T68
Bill Schneider  Appleton, WI
+11
9:25a *
83
 
83
 
T68
PJ Murphy  Middleton, WI
+11
9:25a *
83
 
83
 
T68
Peter Krause (p)  Milwaukee, WI
+11
9:25a *
83
 
83
 
T68
Timothy Kramer  Suamico, WI
+11
9:25a *
83
 
83
 
T68
Daniel Mueller  Kenosha, WI
+11
9:36a *
83
 
83
 
T75
Joe Stadler (p)  Wauwatosa, WI
+12
9:36a *
84
 
84
 
T75
Jim Gaugert (p)  Lake Geneva, WI
+12
9:36a *
84
 
84
 
T75
Jon Palmen  Kenosha, WI
+12
9:36a *
84
 
84
 
T78
Sterling Haumont (p)  Williams Bay, WI
+13
9:47a *
85
 
85
 
T78
Clark Eichstedt (p)  Keeaskum, WI
+13
9:47a *
85
 
85
 
T80
Mike Lazzeroni  Delavan, WI
+14
9:47a *
86
 
86
 
T80
Keith Luedtke  South Milwaukee, WI
+14
9:47a *
86
 
86
 
T80
Bruce Hansen  Racine, WI
+14
9:58a *
86
 
86
 
T83
Jeffrey Campbell (p)  Sturgeon Bay, WI
+15
9:58a *
87
 
87
 
T83
Mike ONeil  Muskego, WI
+15
9:58a *
87
 
87
 
T85
Peter Weber  Cedarburg, WI
+16
9:58a *
88
 
88
 
T85
Jim Massey  Menominee, MI
+16
10:09a *
88
 
88
 
T85
Scott Price (p)  Milwaukee, WI
+16
10:09a *
88
 
88
 
88
John McNeil  Hartland, WI
+17
10:09a *
89
 
89
 
T89
Eric Popovich (p)  Beaver Dam, WI
+18
10:09a *
90
 
90
 
T89
Joel Weitz (p)  Madison, WI
+18
10:20a *
90
 
90
 
91
David Andrews (p)  Waukesha, WI
+19
10:20a *
91
 
91
 
92
Terry Schilz  Cambridge, WI
+20
10:20a *
92
 
92
 
93
Didier Ibar  New Berlin, WI
+26
10:20a *
98
 
98
 
DID NOT FINISH
WD
John Cavaiani  Dousman, WI
+13
 
 
85
 
85
 
WD
Tom Potter  DeForest, WI
+24
 
 
96
 
96
 
WD
Tracey Ahlborn  Minocqua, WI
 
 
 
 
 
 
 
WD
Martin Buehler  Arbor Vitae, WI
 
 
 
 
 
 
 
WD
Doug Cheever (p)  Schofield, WI
 
 
 
 
 
 
 
WD
Glenn Dahl  Madison, WI
 
 
 
 
 
 
 
WD
Pat Griffin  Madison, WI
 
 
 
 
 
 
 
WD
Brian Hale  Sherwood, WI
 
 
 
 
 
 
 
WD
Jon Oaks  Wales, WI
 
 
 
 
 
 
 
WD
Marcus Smith  Janesville, WI
 
 
 
 
 
 
 
WD
Michael Wemmert  West Bend, WI
 
 
 
 
 
 
 
WD
John Wittkowske  Shorewood, WI
 
 
 
 
 
 
 
NS
Tim Grogan (p)  Milwaukee, WI