MADISON – After the first round of a rain-plagued, waterlogged Wisconsin State Senior Open, Michael Crowley said he "loved playing in the mud and the slop."
OK, but this was getting ridiculous. The weather for the final round Wednesday was no better, and probably worse. The rain was at turns misty, drizzly and downright nasty, the wind blew and gusted and the air was see-your-breath chilly. Puddles formed in the fairways at Nakoma Golf Club.
How bad was it? Thirty-two players surrendered and withdrew at various stages of the tournament.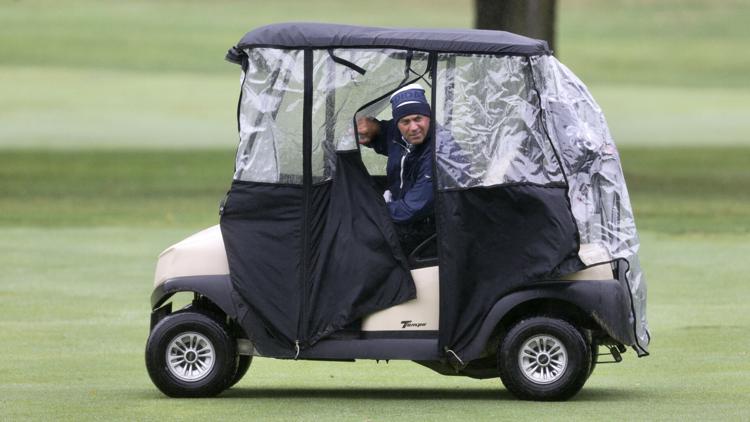 And Crowley? He backed up his words, playing the final six holes in 3-under par – an incredible feat, given the conditions – and rolling in birdie putts on Nos. 17 and 18 to overtake two-time defending champion Jim Schuman and claim the title by one shot.
"Well, in the beginning I didn't like the weather so much," said Crowley, a Fox Point resident and the head PGA professional at Morningstar Golfers Club. "I kept making bogeys (on Nos. 2, 4, 6 and 7). But I kept having fun and smiling."
Crowley, who turned 50 in January and was playing in his first State Senior Open, shot a 73 and finished at 3-over 143.
"It's got to be the biggest (victory) so far in my career," he said. "I won the (state) assistants championship one year, but this is by far the biggest. I got in my cart and I just kind of lost it a little bit."
Schuman, the director of instruction at Blue Mound Golf & Country Club, also shot a 73 and finished at 144. Since 2015, when he won the first of his three State Senior Open titles, Schuman has never finished worse than second. His line reads 1-2-2-1-1-2.
"Mike played great," said Schuman, who worked in the bag room at Nakoma while he attended Madison Edgewood High School. "Mike's a good player and it's a good thing seeing these 'young' 50-year-olds get out and play, and play well, and win some golf tournaments."
Kurt Mantyla of Wauwatosa, the PGA teaching professional at Naga-Waukee War Memorial Golf Course, was tied for the lead with Crowley going into the final round and was tied with Crowley, Schuman and Charlie Brown of Sturtevant with nine holes to play.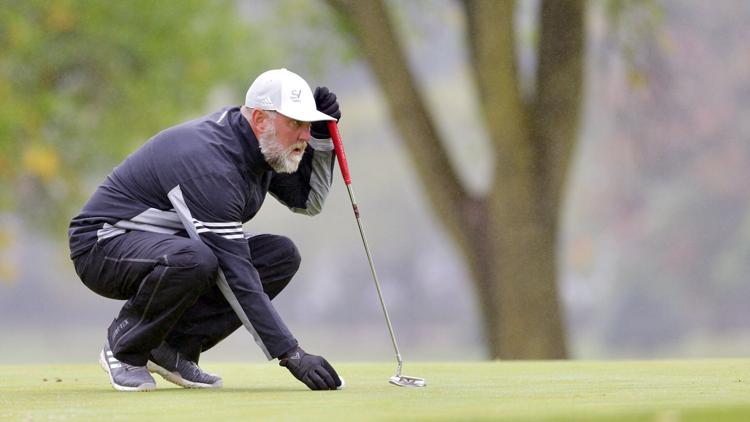 Mantyla could have taken the lead on No. 15, but failed to convert an 8-foot birdie putt after a splendid recovery shot from the trees. He shot a 75 and finished third at 145. Brown, the head professional at Geneva National Resort & Spa, also closed with a 75 and finished fourth at 146.
"I had some chances," Mantyla said. "If I could have made that putt (on 15) after the punch-out, it would have been a game-changer."
Crowley fell two shots behind Schuman and one behind Mantyla when he double-bogeyed the 10th hole, the result of an errant tee shot that sailed left and out of bounds.
"I stood on that tee and I didn't want to hit driver but I felt like I needed to," Crowley said. "I'm like, 'You know, I'm hitting it good. Go ahead and hit it.' I just stopped (turning) and pulled it. I haven't hit one left all week like that. After that, I just tried to hang in there because the elements weren't getting any better. I just tried to keep making pars and hopefully a couple putts would fall, and they finally did."
Did they ever. He got up and down for par on Nos. 11 and 12, rolled in a short birdie putt on the par-3 13th and saved par again after missing the green on No. 15.
Schuman, meanwhile, kept plodding along, making seven consecutive pars – including four saves – to start the back nine.
"The golf course was a little deteriorated in the end," he said, "but everybody played in it."
With two holes to go, Mantyla and Schuman were tied for the lead and Crowley was one back.
The 184-yard par-3 17th was the pivotal hole. Schuman and Mantyla found the left greenside bunker and Crowley hit an excellent shot, 8 feet above the hole.
"I hit a really good shot (Tuesday) on 17," Crowley said. "It was the same line, just one more club. I'm like, 'Just hit that same shot,' and I did."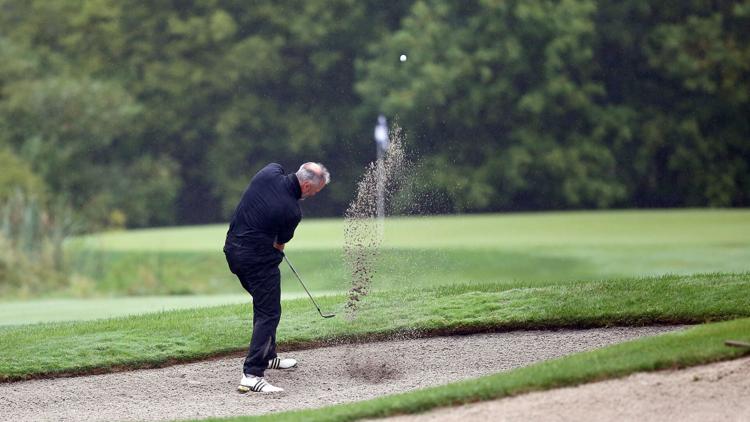 Mantyla blasted out to 8 feet. Schuman made an uncharacteristic error, leaving his first shot in the bunker. But he made up for it by holing his next shot for an unlikely par.
"I mean, what a shot," Crowley said. "Unbelievable. And you don't expect anything less from him, either. The first one was an oops, but the second one, you know it's going in."
After watching that, Crowley gathered himself and rolled in his birdie putt to tie Schuman for the lead. Mantyla missed his par putt, had to settle for a bogey and fell one behind.
Crowley smashed his drive on the 490-yard, par-5 18th and was some 50 yards ahead of Schuman, whose second shot finished in the rough short and right of the green. Crowley hit his second shot into a greenside bunker.
Then Schuman made another mistake, pitching his 40-yard shot some 45 feet above the hole. With plenty of green to work with, Crowley blasted out to 6 feet.
"Jim is standing over that putt on 18 and I'm like, 'He makes this all the time. All the time, he makes this on me,' " Crowley said.
Not this time. Schuman's putt slid harmlessly past the cup, but he rolled in the nervy 7-foot comebacker for par.
Now it was up to Crowley.
"I didn't know where I stood, but I kept telling myself I have to make it either way," he said. "I didn't know what anybody else did (ahead) of me. I told myself, 'Just get it on line and do what you've been doing and roll it in.' "
That's exactly what happened, and Crowley was the champion. He'd one-putted six of the last eight greens and birdied Nos. 13, 17 and 18 in the pouring rain.
Schuman and Mantyla didn't lose this tournament. Crowley won it.
"I'm happy for Mikey," Mantyla said. "I mean, I would have been happier for me. But he finished birdie-birdie. He took it on the last two holes."
Photos: Wisconsin State Senior Open final round
POS

PLAYER

THRU

R1

R2

 

1
Michael Crowley (p)

  

Fox Point, WI
+3
F
+3
70
73
143
 
2
Jim Schuman (p)

  

Scottsdale, AZ
+4
F
+3
71
73
144
 
3
Kurt Mantyla (p)

  

Wauwatosa, WI
+5
F
+5
70
75
145
 
4
Charlie Brown (p)

  

Sturtevant, WI
+6
F
+5
71
75
146
 
T5
John Kestly

  

Pewaukee, WI
+9
F *
+3
76
73
149
 
T5
Rocky Sperka

  

New Berlin, WI
+9
F
+6
73
76
149
 
T5
Jeff Lister

  

Greendale, WI
+9
F
+7
72
77
149
 
T8
John Freeman (p)

  

Muskego, WI
+10
F
+1
79
71
150
 
T8
Jim Doing

  

Verona, WI
+10
F
+7
73
77
150
 
T8
Brian Liddy

  

Green Bay, WI
+10
F
+9
71
79
150
 
T11
Brian Buss

  

Eau Claire, WI
+12
F
+3
79
73
152
 
T11
Jeff Bisbee (p)

  

Green Bay, WI
+12
F *
+5
77
75
152
 
T11
JT Johnson

  

Eden Prairie, MN
+12
F
+8
74
78
152
 
T14
Mike Smith

  

Pewaukee, WI
+13
F
+4
79
74
153
 
T14
Mike Murphy

  

Fitchburg, WI
+13
F
+7
76
77
153
 
T14
Kelly Berger (p)

  

Mosinee, WI
+13
F *
+7
76
77
153
 
T14
Steve Krause (p)

  

Waterford, WI
+13
F
+8
75
78
153
 
T14
Jason Zahradka

  

New Richmond, WI
+13
F *
+6
77
76
153
 
T14
Paul Zarek

  

Burlington, WI
+13
F
+9
74
79
153
 
T20
Paul Schwarz

  

Appleton, WI
+14
F *
+7
77
77
154
 
T20
John Aufderhaar

  

Watertown, WI
+14
F
+11
73
81
154
 
T22
Mike Aumann

  

Blue Mounds, WI
+15
F
+9
76
79
155
 
T22
Chuck Garbedian

  

Waukesha, WI
+15
F
+10
75
80
155
 
T22
Paul Williamson

  

Holmen, WI
+15
F
+12
73
82
155
 
25
Rich Tock (p)

  

Mequon, WI
+16
F
+4
82
74
156
 
T26
Brian Brugger

  

Franklin, WI
+17
F
+12
75
82
157
 
T26
Jeffrey Budd

  

Waupun, WI
+17
F
+12
75
82
157
 
T28
Jim Humbert

  

Waukesha, WI
+18
F
+8
80
78
158
 
T28
Dave Spengler (p)

  

Sobieski, WI
+18
F
+13
75
83
158
 
T28
Kevin Schoppe (p)

  

Mosinee, WI
+18
F
+14
74
84
158
 
T28
Brad Peck (p)

  

Madison, WI
+18
F *
+10
78
80
158
 
T28
Bruce Henning

  

Brookfield, WI
+18
F *
+10
78
80
158
 
T28
Jim Gaugert (p)

  

Lake Geneva, WI
+18
F *
+10
78
80
158
 
T28
Mark Dalebroux

  

Madison, WI
+18
F *
+9
79
79
158
 
T35
Bob Pyle

  

Green Bay, WI
+19
F
+7
82
77
159
 
T35
Paul Borek

  

Greenville, WI
+19
F *
+11
78
81
159
 
T37
Tom Chambers

  

Union Grove, WI
+20
F
+10
80
80
160
 
T37
Eddie Terasa (p)

  

Waukesha, WI
+20
F *
+13
77
83
160
 
T39
Steve Schreck

  

New Berlin, WI
+21
F
+12
79
82
161
 
T39
Sterling Haumont (p)

  

Williams Bay, WI
+21
F
+12
79
82
161
 
T39
Michael Drugan

  

Holmen, WI
+21
F *
+13
78
83
161
 
T42
Daniel Moore

  

Nekoosa, WI
+22
F
+10
82
80
162
 
T42
Tim Torkelson

  

Delavan, WI
+22
F
+10
82
80
162
 
T42
Mark Krause (p)

  

Franklin, WI
+22
F
+13
79
83
162
 
T42
Doug Cheever (p)

  

Schofield, WI
+22
F *
+16
76
86
162
 
T42
Jamie Young

  

Pleasant Prairie, WI
+22
F *
+14
78
84
162
 
47
Steve Scheel (p)

  

Sun Prairie, WI
+23
F *
+8
85
78
163
 
T48
Bill Crinzi

  

Milwaukee, WI
+24
F *
+10
84
80
164
 
T48
Darin Saari (p)

  

Plymouth, WI
+24
F
+13
81
83
164
 
T48
Peter Krause (p)

  

Milwaukee, WI
+24
F *
+16
78
86
164
 
T51
Randy Warobick

  

Muskego, WI
+25
F *
+11
84
81
165
 
T51
John Wallrich (p)

  

Sheboygan, WI
+25
F *
+10
85
80
165
 
53
Jeff Knudtson

  

Delafield, WI
+26
F
+13
83
83
166
 
T54
Timothy Christensen

  

Brookfield, WI
+27
F *
+12
85
82
167
 
T54
Mike Landry

  

Waukesha, WI
+27
F
+17
80
87
167
 
T56
Mike Peterson

  

New Richmond, WI
+29
F
+16
83
86
169
 
T56
Steve Nibbe

  

Madison, WI
+29
F *
+15
84
85
169
 
58
Robert Elliott (p)

  

Delafield, WI
+30
F
+18
82
88
170
 
T59
Evan Hewes (p)

  

Cedarburg, WI
+32
F
+21
81
91
172
 
T59
Steve Babcock

  

Brodhead, WI
+32
F *
+13
89
83
172
 
61
Didier Ibar

  

New Berlin, WI
+33
F *
+15
88
85
173
 
62
Jeffrey Campbell (p)

  

Sturgeon Bay, WI
+34
F *
+18
86
88
174
 
T63
Keith Luedtke

  

South Milwaukee, WI
+35
F *
+21
84
91
175
 
T63
Scott Semingson

  

Strum, WI
+35
F *
+20
85
90
175
 
T65
Todd Cook

  

Beaver Dam, WI
+36
F *
+19
87
89
176
 
T65
Michael Wemmert

  

West Bend, WI
+36
F *
+19
87
89
176
 
67
Mark Knackert

  

Brookfield, WI
+37
F *
+17
90
87
177
 
68
Eric Popovich (p)

  

Beaver Dam, WI
+38
F *
+14
94
84
178
 
69
Bryan Schreck

  

Brookfield, WI
+45
F *
+16
99
86
185
 
70
Bill Walter

  

Wind Lake, WI
+47
F *
+22
95
92
187
 
71
Scott Price (p)

  

Milwaukee, WI
+48
F *
+20
98
90
188
 
72
Martin Cherney

  

Brookfield, WI
+52
F *
+29
93
99
192
 
DID NOT FINISH
WD
Ron Hyde

  

Waukesha, WI
+7
 
 
77
 
77
 
WD
Robert Gregorski

  

Menasha, WI
+7
 
 
77
 
77
 
WD
Richard Rasmussen (p)

  

Oconomowoc, WI
+8
 
 
78
 
78
 
WD
Timothy Kramer

  

Suamico, WI
+8
 
 
58
 
58
 
WD
Pat Gorman (p)

  

Madison, WI
+9
 
 
79
 
79
 
WD
Kevin Cahill

  

Waukesha, WI
+9
 
 
79
 
79
 
WD
Scott Lauerman

  

Menominee, MI
+9
 
 
62
 
62
 
WD
Richard Regenberg

  

Madison, WI
+10
 
 
80
 
80
 
WD
Tom Mcclintock

  

Onalaska, WI
+10
 
 
80
 
80
 
WD
Clark Eichstedt (p)

  

Kewaskum, WI
+10
 
 
69
 
69
 
WD
Mark Basch

  

Sturgeon Bay, WI
+10
 
 
59
 
59
 
WD
Ramiro Romo

  

Burlington, WI
+11
 
 
81
 
81
 
WD
Jim Rollefson

  

Franklin, WI
+11
 
 
68
 
68
 
WD
Tim Grogan (p)

  

Milwaukee, WI
+12
 
 
82
 
82
 
WD
Chris Goodwick (p)

  

West Bend, WI
+12
 
 
61
 
61
 
WD
Matthew Stottern (p)

  

Fish Creek, WI
+12
 
 
62
 
62
 
WD
Thomas Halla

  

Colgate, WI
+13
 
 
83
 
83
 
WD
Jim Sigel

  

Sussex, WI
+13
 
 
83
 
83
 
WD
John Wittkowske

  

Shorewood, WI
+13
 
 
83
 
83
 
WD
Kevin Walsh

  

Oshkosh, WI
+13
 
 
83
 
83
 
WD
Michael ONeil

  

Muskego, WI
+13
 
 
83
 
83
 
WD
Tim Johnson

  

Beloit, WI
+13
 
 
83
 
83
 
WD
Fred Weigandt

  

Lake Geneva, WI
+15
 
 
85
 
85
 
WD
Eric Peter

  

Elm Grove, WI
+16
 
 
86
 
86
 
WD
Gregory Dick (p)

  

Glendale, WI
+16
 
 
86
 
86
 
WD
Robert Feller (p)

  

Reedsburg, WI
 
 
 
 
 
 
 
WD
Marshall Gavre (p)

  

Fairfield, IA
 
 
 
 
 
 
 
WD
Mark Hansen (p)

  

Mequon, WI
 
 
 
 
 
 
 
WD
Mike Muranyi (p)

  

Monroe, WI
 
 
 
 
 
 
 
WD
PJ Murphy

  

Middleton, WI
 
 
 
 
 
 
 
WD
Todd Schaap

  

Kenosha, WI
 
 
 
 
 
 
 
WD
Dan Stahlkopf

  

Oak Creek, WI