RACINE – No paper scorecards. No printed hole location sheets or local rules. No warm-up on the range. No touching the flagstick. One rider per golf cart. No handshakes or high fives.
It wasn't exactly business as usual, but it was tournament golf. No one was complaining about the new normal Tuesday at the Wisconsin PGA Section's Pro-Pro Better Ball, the first statewide competition of the 2020 golf season.
The coronavirus pandemic forced the postponement or cancellation of countless tournaments at all levels, from junior golf to the PGA Tour. But the sun was shining at Meadowbrook Country Club, and 84 WPGA members were happy to finally get the competitive season started.
"It's good to get out and see the guys again," said Ryan Helminen, who teaches at Ridgeway Country Club in Neenah and recently was named WPGA Player of the Decade for 2010-'19. "Even though we've got a different set of rules, I think everybody can get over that.
"I'm just thankful we're out here playing. There's a lot of other people that are in a lot worse circumstance than we are. It's just great to get out here."
Foy Swenson of Golf Galaxy and Daniel Romero of Morningstar Golfers Club shot an 8-under 63 in the better ball format and edged Helminen and his partner, Jon Gaschke of Nakoma Golf Club, by one shot. Swenson and Romero split $1,280.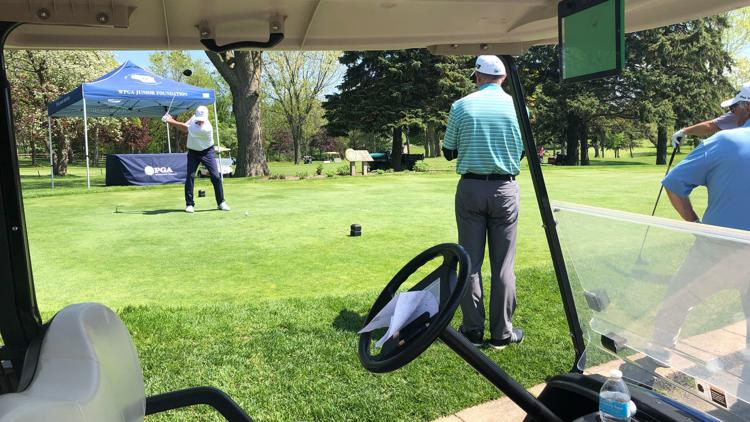 Two teams tied for third at 6-under 66: Andy Hansen of University Club and Keith Buntrock of Tuckaway CC, and Evan Wartgow of Koshkonong Mounds CC and Erik Stenseth of University Ridge.
The top 16 teams advanced to the WPGA Four-Ball Match Play Championship bracket, which begins Saturday at multiple facilities.
Stroke-play qualifying and first-round matches in the WPGA Match Play Championship were scheduled for May 18 and 19, but both days were rained out. The qualifier now will be held June 8 in conjunction with the Hornung's Classic at South Hills Golf & CC in Fond du Lac; because of the condensed summer schedule, 32 golfers will advance to match play instead of the normal 64.
That made the Pro-Pro Better Ball the first true statewide competition on the Wisconsin calendar, though the Chippewa Valley Golf Association held the New Richmond Open on May 11.
There were a few notable differences in the way the tournament was conducted. The new normal included paperless scoring, with the competitors keeping score on their phones.
"I had to remind myself to keep grabbing my phone," said Craig Czerniejewski, the head professional at Washington County Golf Course. "We don't grab phones in events; now I'm grabbing it to (record) our team score. I just had to remind myself to keep doing it over and over."
The traditional scorer's table was gone. Chris Hoel, the WPGA's assistant executive director – and the only one wearing a mask – read back each team's score from his laptop. There were a few glitches, but by and large, scoring was not an issue.
"It's gone pretty smoothly," Hoel said. "Everybody has embraced technology and felt good about the paperless aspect. Other than that, for us it feels like a normal golf tournament. Yeah, you're taking some different precautions and doing some things slightly differently in addition to that, but it's going well. People seem to be really happy to be playing a competition and be outside."
The players were grouped in foursomes – two teams of two – but it was one to a cart. About half the players carried their clubs or used a pull-cart. Tee times were set at 12-minute intervals, so groups were spread apart and social distancing was not a problem.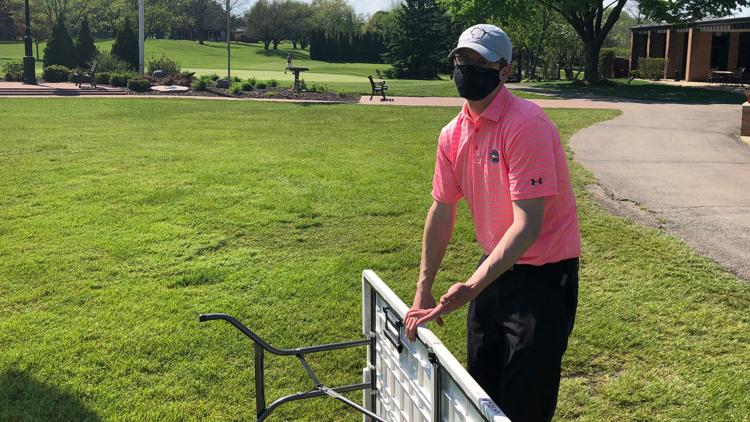 "I don't like these guys, anyway," Czerniejewski joked.
Flagsticks could not be removed, but that's been the norm during the pandemic. There would have been no penalty for removing a flag, but the WPGA would have issued a warning.
"I don't normally leave it in, but I have obviously the last month," Helminen said. "It's just the new normal. It took a little while to get used to it. But now that you've played, you've just got to realize it's something to aim at."
Nobody complained about the practice range being closed or any of the guidelines. The players were just happy to be competing again.
"It's nice to be out here," said Jim Gaugert of Harris Golf Cars. "There was nothing really unusual. One person per cart makes it a little less social, but it's fine. You know me. The glass is always half full and you can always refill it. I'm grateful to play. We'll get through this. It's not a big deal."
---