WAUWATOSA – With its wall-to-wall carpet of perfect turf and its greens acquiring a whitish sheen and stressing the Stimpmeter, some are calling Blue Mound Golf & Country Club the "Augusta National of the Midwest."
The massive greens, double-cut and rolled twice daily by superintendent Alex Beson-Crone's crew, are Blue Mound's first and last lines of defense. How fast were they Monday in the first round of the 100th Wisconsin State Open? Let's just say there's more friction on linoleum.
"They're faster than Milwaukee's," said Thomas Longbella, who won the State Amateur by 10 shots last month at Milwaukee Country Club. "They're speedy. They're firm. Some dicey pins, too."
"I've got to say they're every bit as fast as (PGA) Tour speed," said Skip Kendall, who has made more than 700 starts in PGA Tour-sanctioned events. "I think they might even be faster. Once, at Memorial, they had them at 15 (feet on the Stimpmeter). But that was just one year. Other than that, I haven't played greens faster than this, anywhere."
Fitting, then, that the leaderboard was loaded with some of the biggest names in Wisconsin golf. Almost mini-Masters-like, you could say.
Two-time defending champion Dan Woltman, a Beaver Dam native who is trying to become the first golfer to win the State Open in three consecutive years, fired a 4-under-par 66 to share the lead with minitour pro Kaylor Steger of Mount Pleasant.
A trio of golfers with impressive resumes shot 67s and were tied for third: Brookfield's Harrison Ott, who has had a monster summer and reached the Round of 16 at the U.S. Amateur last week; Longbella, the University of Minnesota standout from Chippewa Falls; and CJ Swift, a former Marquette University golfer who played for two years on the PGA Tour Latinoamerica.
Among those lurking just three shots off the lead with 69s were the 55-year-old Kendall, a native of Fox Point, and five-time PGA Tour winner Mark Wilson, a native of Menomonee Falls.
The cream always seems to rise to the top at Seth Raynor-designed Blue Mound, a course on which Walter Hagen, Gene Sarazan, Babe Didrikson Zaharias and Cary Middlecoff all won tournaments. Why would the State Open be any different?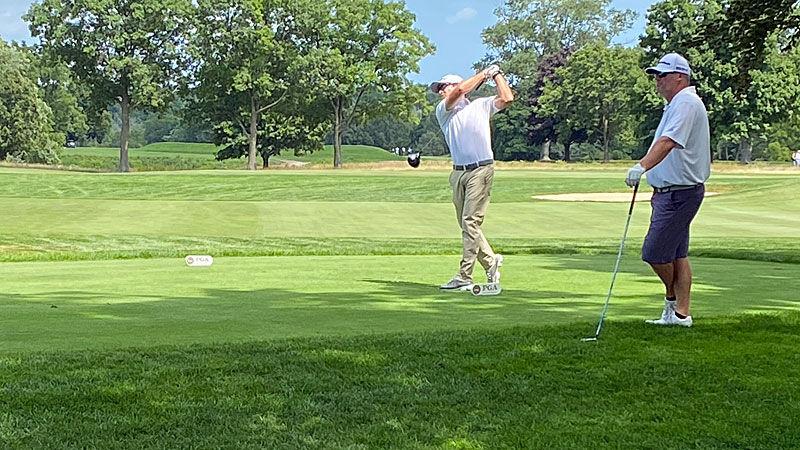 Woltman, who has status on the Korn Ferry Tour, is trying to join the tournament's four other five-time winners (Francis Gallett, Bobby Brue, Manuel de la Torre and Steve Stricker). He got off to a good start, but that's all it was.
"Obviously, this is only a quarter of the way home," he said. "I've got three more rounds to go. It was a solid round. It wasn't great. I luckily made some (par) saves that kept some momentum going in the middle parts of the round. Overall, I'm happy."
The key save occurred on No. 11, when he missed the green with a wedge but got up and down, rolling in a slippery 12-footer for par.
"I had just hit it under the lip of the fairway bunker on 10 and made my only bogey of the day," Woltman said. "There was a two-group backup on No. 12, so I would have had to stand around for 20, 25 minutes thinking about back-to-back bogeys. So, to make that putt was nice."
He then birdied Nos. 16 and 18 to join Steger atop the leaderboard.
"The golf swing didn't feel good today," he said. "I had a couple loose swings. But I saved some shots when I needed to. Hit some good bunker shots. Was able to hit the driver well on a couple holes that got me greenside and I was able to get up and down for birdies. I took advantage of the two par-5s and didn't really get into that much trouble, which obviously is really easy to do out here.
"Overall, it was good. It wasn't great, but obviously anytime you shoot 66 around this place you've played some good golf."
Steger, 24, who has played minitour events mostly in the Midwest this summer, would have had the lead alone if not for a bogey on the par-5 18th. The left-hander had just 169 yards for his second shot but missed the green pin-high right with an 8-iron and needed four more shots to get down.
"Yeah, that one hurts a little," he said. "That stings, especially after having 8-iron into the green. I just pulled it a bit and made it a little sloppy finish, but oh well. I played well throughout otherwise. Hit my driver well and the putter was pretty hot through the beginning and middle stretches."
Vanderbilt University's Ott has played a lot of golf this summer and had strong showings in the Western Amateur and the U.S. Amateur, both of which have grueling stroke play-to-match play formats. Burnout, however, is not an issue.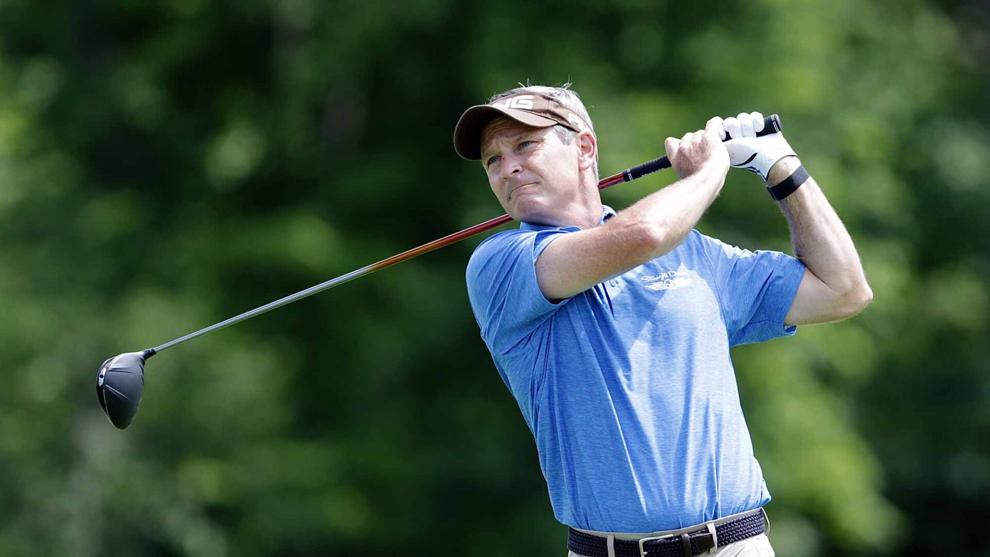 "It's not too bad, honestly," he said. "I took a break. I didn't do anything Saturday except for go to the pool. I'm not too bad. It could be worse, for sure."
Ott said he benefited from being paired with Wilson, who eagled the par-4 sixth, their 15th hole, and finished with a birdie on No. 9 to get into red numbers.
"We were having a good time," Ott said. "Mark was talking to us, being really friendly. He's really cool. Really nice guy. Super down to earth."
Longbella picked up where he left off at Milwaukee CC three weeks ago, despite having not played a practice round at Blue Mound. He made six birdies and three bogeys.
"I showed up today and my game was the same as it was in the final round at Milwaukee," he said. "I didn't know the course at all. I played it probably either in eighth grade or freshman year of high school. I got out here and I didn't really recognize it. My dad does a lot of research on the computer and he kind of drew me out a little plan. Playing with Dan (Woltman) was helpful, too. He knew the course and he helped me out in some spots."
For Swift, 28, who has played on various minitours and on the PGA Tour Latinoamerica, this is his final tournament as a professional. He is applying for amateur reinstatement Thursday.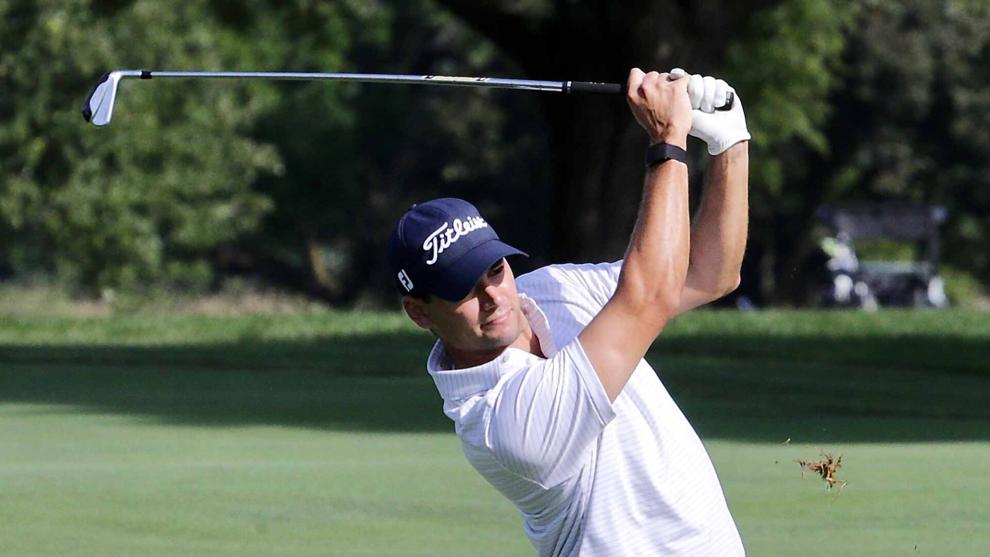 "One, I'm getting married and, two, I kind of fell into some bad habits with the swing and kind of lost passion for it," he said. "It's tough. If you're not shooting 68 consistently, it's tough to make money, it's tough to make a living. It was just the right time. I'm ready to get my amateur status back, play a couple amateur events and just enjoy it again.
"I wanted this to be my last one because it's Blue Mound. I only got to play here once in college. It's truly special."
Peter Webb, a minitour player from Madison, and former Marquette standout Austin Kendziorski of Germantown shot 2-under 68s.
Besides Kendall and Wilson, the others at 69 were Marquette's Tyler Leach, who tied for second at the State Amateur; fellow amateur Danny Behm of Hubertus, and club professional Kraig Joy of Appleton.
Kendall, who counts Raynor among his favorite architects, could have spoken for many in the field when he said he was impressed with Blue Mound.
"I love this course," he said. "It's right there in front of you but it's so difficult. The green complexes are very difficult. It's a test. It's great. It's what it should be."
POS

PLAYER

THRU

R1

R2

R3

R4

 

T1
Kaylor Steger

  

Mount Pleasant, WI
-4
F
-4
66
 
 
 
66
 
T1
Dan Woltman

  

Beaver Dam, WI
-4
F
-4
66
 
 
 
66
 
T3
CJ Swift

  

Naples, FL
-3
F *
-3
67
 
 
 
67
 
T3
Thomas Longbella (a)

  

Chippewa Falls, WI
-3
F
-3
67
 
 
 
67
 
T3
Harrison Ott (a)

  

Brookfield, WI
-3
F *
-3
67
 
 
 
67
 
T6
Peter Webb

  

Madison, WI
-2
F
-2
68
 
 
 
68
 
T6
Austin Kendziorski

  

Germantown, WI
-2
F *
-2
68
 
 
 
68
 
T6
Danny Behm (a)

  

Hubertus, WI
-2
F
-2
68
 
 
 
68
 
T9
Kraig Joy

  

Appleton, WI
-1
F
-1
69
 
 
 
69
 
T9
Tyler Leach (a)

  

Spring Valley, WI
-1
F *
-1
69
 
 
 
69
 
T9
Skip Kendall

  

Windermere, FL
-1
F *
-1
69
 
 
 
69
 
T9
Mark Wilson

  

Elmhurst, IL
-1
F *
-1
69
 
 
 
69
 
T13
Jim Schuman

  

Scottsdale, AZ
E
F *
E
70
 
 
 
70
 
T13
Thomas Burton

  

Fox Point, WI
E
F
E
70
 
 
 
70
 
T13
Chris Johnson

  

Wisconsin Rapids, WI
E
F *
E
70
 
 
 
70
 
T13
Matt Behm (a)

  

Valders, WI
E
F
E
70
 
 
 
70
 
T13
Mitch Steiner

  

Argyle, WI
E
F
E
70
 
 
 
70
 
T13
John Gullberg

  

Franksville, WI
E
F *
E
70
 
 
 
70
 
T13
Zach Burry

  

Appleton, WI
E
F *
E
70
 
 
 
70
 
T13
Andy Hansen

  

Germantown, WI
E
F
E
70
 
 
 
70
 
T13
David Spengler

  

Verona, WI
E
F
E
70
 
 
 
70
 
T13
Evan Wartgow

  

Fitchburg, WI
E
F
E
70
 
 
 
70
 
T13
Robbie Morway (a)

  

Mequon, WI
E
F *
E
70
 
 
 
70
 
T24
John Langhoff

  

Pewaukee, WI
+1
F
+1
71
 
 
 
71
 
T24
Hunter Eichhorn (a)

  

Carney, MI
+1
F *
+1
71
 
 
 
71
 
T24
Tom Boockmeier (a.r.)

  

Oak Creek, WI
+1
F
+1
71
 
 
 
71
 
T24
Garrett Jones (a)

  

Madison, WI
+1
F *
+1
71
 
 
 
71
 
T24
Joe Leonard

  

Cambridge, WI
+1
F *
+1
71
 
 
 
71
 
T24
Cameron Huss (a)

  

Kenosha, WI
+1
F
+1
71
 
 
 
71
 
T24
Samuel Weber

  

Hartland, WI
+1
F
+1
71
 
 
 
71
 
T24
Hunter Pipik (a)

  

New Berlin, WI
+1
F *
+1
71
 
 
 
71
 
T32
Cory Aune (a)

  

Lake Geneva, WI
+2
F
+2
72
 
 
 
72
 
T32
Patrick Stolpe

  

Scottsdale, AZ
+2
F
+2
72
 
 
 
72
 
T32
Samuel Anderson (a)

  

Stoughton, WI
+2
F
+2
72
 
 
 
72
 
T32
Stuart Larus

  

Wisconsin Rapids, WI
+2
F
+2
72
 
 
 
72
 
T36
Cody Strang

  

Sun Prairie, WI
+3
F *
+3
73
 
 
 
73
 
T36
Kyle Henning

  

Sussex, WI
+3
F *
+3
73
 
 
 
73
 
T36
Mick Smith

  

Summit, WI
+3
F
+3
73
 
 
 
73
 
T36
Adam Miller (a)

  

Nekoosa, WI
+3
F *
+3
73
 
 
 
73
 
T36
Brandon Cloete (a)

  

Madison, WI
+3
F
+3
73
 
 
 
73
 
T36
Matthew Davidson (a)

  

McFarland, WI
+3
F
+3
73
 
 
 
73
 
T36
Josh Grisa

  

Sheboygan, WI
+3
F
+3
73
 
 
 
73
 
T36
Timothy Cantwell Jr

  

Palm Beach Gardens, FL
+3
F *
+3
73
 
 
 
73
 
T36
Kyle Bengtson (a)

  

Woodruff, WI
+3
F *
+3
73
 
 
 
73
 
T36
Mark Voeller

  

Pewaukee, WI
+3
F
+3
73
 
 
 
73
 
T36
Nate Thomson (a)

  

Greendale, WI
+3
F *
+3
73
 
 
 
73
 
T36
Andy Buege

  

Palm Beach Gardens, FL
+3
F
+3
73
 
 
 
73
 
T36
Joe Du Chateau (a)

  

Fond du Lac, WI
+3
F
+3
73
 
 
 
73
 
T36
Jamie Christianson

  

Egg Harbor, WI
+3
F
+3
73
 
 
 
73
 
T36
Brent Quade

  

Madison, WI
+3
F *
+3
73
 
 
 
73
 
T36
Keith Buntrock

  

Franklin, WI
+3
F *
+3
73
 
 
 
73
 
T36
Kari Hannula Jr. (a)

  

De Pere, WI
+3
F
+3
73
 
 
 
73
 
T36
Jack Anderson (a)

  

Brookfield, WI
+3
F
+3
73
 
 
 
73
 
T36
Sam Schlosser

  

West Bend, WI
+3
F
+3
73
 
 
 
73
 
T55
Jack Schultz (a)

  

Milwaukee, WI
+4
F
+4
74
 
 
 
74
 
T55
David Bach

  

Cleveland, WI
+4
F *
+4
74
 
 
 
74
 
T55
Max Hosking

  

Fitchburg, WI
+4
F *
+4
74
 
 
 
74
 
T55
Jordan Elsen

  

Wellington, FL
+4
F
+4
74
 
 
 
74
 
T55
Dylan Kline (a)

  

Neenah, WI
+4
F *
+4
74
 
 
 
74
 
T55
Christopher Colla (a)

  

Fond Du Lac, WI
+4
F
+4
74
 
 
 
74
 
T55
Kevin Van Rossum (a)

  

Hartland, WI
+4
F *
+4
74
 
 
 
74
 
T55
Matt Ellis (a.r.)

  

South Milwaukee, WI
+4
F *
+4
74
 
 
 
74
 
T63
Mike Johnston

  

Chandler, AZ
+5
F
+5
75
 
 
 
75
 
T63
Erik Stenseth

  

Madison, WI
+5
F
+5
75
 
 
 
75
 
T63
Randall Hill (a)

  

Wisconsin Rapids, WI
+5
F *
+5
75
 
 
 
75
 
T63
Eddie Terasa

  

Waukesha, WI
+5
F *
+5
75
 
 
 
75
 
T63
Zach Gaugert

  

Scottsdale, AZ
+5
F
+5
75
 
 
 
75
 
T63
Jeffrey Kaiser

  

Verona, WI
+5
F *
+5
75
 
 
 
75
 
T63
Kyle Kunash

  

Woodstock, IL
+5
F *
+5
75
 
 
 
75
 
T63
Brian Morris (a)

  

Shorewood, WI
+5
F
+5
75
 
 
 
75
 
T63
Andrew Knoll

  

New Berlin, WI
+5
F *
+5
75
 
 
 
75
 
T63
Michael Crowley

  

Fox Point, WI
+5
F
+5
75
 
 
 
75
 
T63
Kurt Mantyla

  

Wauwatosa, WI
+5
F *
+5
75
 
 
 
75
 
T63
Piercen Hunt (a)

  

Hartland, WI
+5
F *
+5
75
 
 
 
75
 
T63
Charles Delsman

  

Nekoosa, WI
+5
F *
+5
75
 
 
 
75
 
T63
Craig Czerniejewski

  

Hartford, WI
+5
F *
+5
75
 
 
 
75
 
T63
Cole Stark (a)

  

Altoona, WI
+5
F
+5
75
 
 
 
75
 
T78
Rocky Sperka (a)

  

New Berlin, WI
+6
F *
+6
76
 
 
 
76
 
T78
Jim Lemon (a)

  

Verona, WI
+6
F
+6
76
 
 
 
76
 
T78
Owen Butler (a)

  

Stoughton, WI
+6
F
+6
76
 
 
 
76
 
T78
Tyler Siech

  

Plymouth, WI
+6
F
+6
76
 
 
 
76
 
T78
Isaac Prefontaine (a)

  

New Franken, WI
+6
F
+6
76
 
 
 
76
 
T78
Andrew Steinhofer

  

Madison, WI
+6
F *
+6
76
 
 
 
76
 
T78
Ryan Duffey (a)

  

Brookfield, WI
+6
F *
+6
76
 
 
 
76
 
T78
Matt Sabol

  

Sheboygan, WI
+6
F
+6
76
 
 
 
76
 
T78
Bryan Brotchie

  

Williams Bay, WI
+6
F
+6
76
 
 
 
76
 
T78
Ryan Isaacson

  

Eau Claire, WI
+6
F *
+6
76
 
 
 
76
 
T78
Michael Bielawski (a)

  

Waukesha, WI
+6
F
+6
76
 
 
 
76
 
T78
Neal Grusczynski

  

Athens, OH
+6
F
+6
76
 
 
 
76
 
T78
Tim McCormick

  

Madison, WI
+6
F *
+6
76
 
 
 
76
 
T78
Neil Johnson

  

River Falls, WI
+6
F *
+6
76
 
 
 
76
 
T78
Jason Rasmussen

  

Grafton, WI
+6
F *
+6
76
 
 
 
76
 
T78
John Freeman

  

Muskego, WI
+6
F *
+6
76
 
 
 
76
 
T78
Max Pasher (a)

  

Mequon, WI
+6
F
+6
76
 
 
 
76
 
T78
Marty Swab (a)

  

Menomonee Falls, WI
+6
F *
+6
76
 
 
 
76
 
T78
John (Jack) Blair (a)

  

Wauwatosa, WI
+6
F *
+6
76
 
 
 
76
 
T97
George Kneiser

  

Oconomowoc, WI
+7
F
+7
77
 
 
 
77
 
T97
Joe Weber (a)

  

Onalaska, WI
+7
F *
+7
77
 
 
 
77
 
T97
Ryan Siegler (a)

  

Brookfield, WI
+7
F
+7
77
 
 
 
77
 
T97
David Brock (a)

  

Mequon, WI
+7
F
+7
77
 
 
 
77
 
T97
Ryan Franklin

  

Oconomowoc, WI
+7
F *
+7
77
 
 
 
77
 
T97
Phillip Johnson (a)

  

Colgate, WI
+7
F
+7
77
 
 
 
77
 
T97
Dan Hastreiter

  

Sheboygan, WI
+7
F *
+7
77
 
 
 
77
 
T97
Joe True (a)

  

Milwaukee, WI
+7
F *
+7
77
 
 
 
77
 
T97
Ryonen Faris (a)

  

Fond Du Lac, WI
+7
F *
+7
77
 
 
 
77
 
T97
Ryan Helminen

  

Menasha, WI
+7
F
+7
77
 
 
 
77
 
T97
Bennett Swavely (a)

  

Hudson, WI
+7
F
+7
77
 
 
 
77
 
T97
Ricky Kuiper (a)

  

Racine, WI
+7
F
+7
77
 
 
 
77
 
T97
Aidan Lafferty (a)

  

Downers Grove, IL
+7
F *
+7
77
 
 
 
77
 
T110
Sam Osborne (a.r.)

  

Williams Bay, WI
+8
F
+8
78
 
 
 
78
 
T110
Kevin Cahill (a)

  

Waukesha, WI
+8
F *
+8
78
 
 
 
78
 
T110
Jed Baranczyk (a)

  

Green Bay, WI
+8
F
+8
78
 
 
 
78
 
T110
Brian McCall (a)

  

Middleton, WI
+8
F
+8
78
 
 
 
78
 
T110
Alex Okray (a)

  

Stevens Point, WI
+8
F *
+8
78
 
 
 
78
 
T110
Chad Sandee

  

Plymouth, WI
+8
F
+8
78
 
 
 
78
 
T110
David Roesch

  

Menomonee Falls, WI
+8
F
+8
78
 
 
 
78
 
T110
Matt Taken

  

Franklin, WI
+8
F
+8
78
 
 
 
78
 
T110
Ben Shafer (a)

  

Brookfield, WI
+8
F *
+8
78
 
 
 
78
 
T110
Dylan Brown (a)

  

Reedsburg, WI
+8
F *
+8
78
 
 
 
78
 
T120
Michael Higgins

  

Madison, WI
+9
F *
+9
79
 
 
 
79
 
T120
John Gaschke

  

Oregon, WI
+9
F
+9
79
 
 
 
79
 
T120
Nick Nelson (a)

  

Milwaukee, WI
+9
F
+9
79
 
 
 
79
 
T120
Drew Sagrillo (a)

  

Mequon, WI
+9
F *
+9
79
 
 
 
79
 
T120
Jacob Beckman (a)

  

Middleton, WI
+9
F
+9
79
 
 
 
79
 
T120
Brad Munn

  

Cottage Grove, WI
+9
F *
+9
79
 
 
 
79
 
T120
JT Johnson (a)

  

Eden Prairie, MN
+9
F *
+9
79
 
 
 
79
 
T120
Andrew Podolak

  

West Bend, WI
+9
F *
+9
79
 
 
 
79
 
T120
Nathan Joy (a)

  

Franklin, WI
+9
F
+9
79
 
 
 
79
 
T120
Paul Zarek (a)

  

Burlington, WI
+9
F *
+9
79
 
 
 
79
 
T130
Eric Schroeckenthaler

  

Waukesha, WI
+10
F
+10
80
 
 
 
80
 
T130
Robert Gregorski (a)

  

Menasha, WI
+10
F *
+10
80
 
 
 
80
 
T130
Aiden Cudney (a)

  

Appleton, WI
+10
F
+10
80
 
 
 
80
 
T130
Joe DeRosa

  

Onalaska, WI
+10
F
+10
80
 
 
 
80
 
T130
Sam Cianciola (a)

  

Nekoosa, WI
+10
F
+10
80
 
 
 
80
 
T130
Christopher Vendl

  

St. Germain, WI
+10
F *
+10
80
 
 
 
80
 
T130
Mason Schulz (a)

  

Mukwonago, WI
+10
F
+10
80
 
 
 
80
 
T130
Jim Gaugert

  

Lake Geneva, WI
+10
F *
+10
80
 
 
 
80
 
T130
Robert Hughes (a)

  

Wauwatosa, WI
+10
F *
+10
80
 
 
 
80
 
T139
Josh Teplin (a)

  

Mequon, WI
+11
F
+11
81
 
 
 
81
 
T139
Scott LeMire

  

Appleton, WI
+11
F
+11
81
 
 
 
81
 
T139
Tyler Cleaves (a)

  

Kaukauna, WI
+11
F *
+11
81
 
 
 
81
 
T139
Joshua Haunty (a)

  

Middleton, WI
+11
F *
+11
81
 
 
 
81
 
T139
J.T. Thompson

  

Wisconsin Rapids, WI
+11
F
+11
81
 
 
 
81
 
T144
Charlie Brown

  

Sturtevant, WI
+12
F *
+12
82
 
 
 
82
 
T144
Matt Goodson

  

Beaver Dam, WI
+12
F
+12
82
 
 
 
82
 
T144
Kyle Smith (a)

  

Grafton, WI
+12
F
+12
82
 
 
 
82
 
T147
Jason Samuelian

  

Franklin, WI
+13
F *
+13
83
 
 
 
83
 
T147
Sam Strachan

  

New Richmond, WI
+13
F *
+13
83
 
 
 
83
 
149
Gunnar Stapp

  

Jackson, WI
+14
F *
+14
84
 
 
 
84
 
150
Kyle Figlmiller (a)

  

Appleton, WI
+15
F *
+15
85
 
 
 
85
 
T151
Ryan Zonski

  

Sheboygan Falls, WI
+16
F *
+16
86
 
 
 
86
 
T151
Michael ONeil (a)

  

Muskego, WI
+16
F *
+16
86
 
 
 
86
 
T151
Peter Kaufmann (a)

  

Milwaukee, WI
+16
F
+16
86
 
 
 
86
 
154
Dave Kemnitz

  

Minocqua, WI
+17
F *
+17
87
 
 
 
87
 
T155
Andrew Sharafinski (a)

  

Greendale, WI
+19
F *
+19
89
 
 
 
89
 
T155
Shaun Finley

  

Sun Prairie, WI
+19
F
+19
89
 
 
 
89
 
* denotes a 10th hole start