Round of the day
Photos: Another battle into the back nine on Championship Thursday at the 2019 Wisconsin State Amateur
Pete Kuhl. There were 22 rounds in the 60s over the first three days, including 13 during Wednesday's third round, but the University of Wisconsin golfer was one of only two golfers (among the 73 who made the cut) to break 70 in the final round of the 118th Wisconsin State Amateur on the Links Course at The Golf Courses of Lawsonia in Green Lake. And it wasn't easy. Two-under as he stood on the 18th tee, Kuhl hit a driver / 3-iron about 90 yards short of the green on the 569-yard, par-5. He knocked a wedge to 12 feet and made the putt to finish off his 3-under-par 69 and finish alone in eighth place at 3-under 285. "My play this week was a little inconsistent," the Badgers' rising senior wrote via text to Wisconsin.golf. "My game has been trending in the right direction, but I kinda got away from my game plan in Round 3, which ended up costing me a chance at the championship. Overall, it was an awesome week, (though), with a lot of positives."
Shot of the day
Johnny Decker.  After the field combined to make 35 eagles over the first three rounds, a tough course set-up yielded just two Thursday (both on the 539-yard, par-5 11th hole — one by Decker, a former University of Wisconsin golfer from Madison, and one by Lake Geneva's Gabe Dahl). Decker ripped his drive 324 yards and then hit a "high cut 6-iron" from 215 yards to 10 feet just behind the pin. "Good read and drilled the putt down the hill," Decker wrote in a text message of his eagle putt that helped him salvage a 74. He finished in a tie for 14th.
Best comeback
Daniel Ozga. The former UW-Green Bay golfer says he still gets to tee it up "three or four times a week," even now that he is a 27-year-old credit officer at the Bank of Milton. But the game sometimes comes and goes the way that it did the final two days at the State Am, where he closed 77-69 to finish 25th at 7-over 296. He earned the last exempt spot in the 2020 State Am, which will be played July 27 through 30 at famed Milwaukee Country Club. "I have been playing pretty well so I knew I could shoot an under-par round somewhere during the week," Ozga wrote in a LinkedIn message. "(Wednesday), I didn't play my best and, with the heat, it was pretty difficult, I thought. Just making sure your grips were dry and trying to stay cool was quite the process. I had two doubles (Wednesday) and made bogey on two par-5s so that didn't help. (Thursday), I knew it was kind of a long shot but thought that a 7- or 8-over total might have a shot at the top 25 which is important for (qualifying for) next year." Ozga said he hit every green in regulation on the back nine. At No. 12, he stuffed his approach to within a foot and made the second of back-to-back birdies and the last of five on his round. "Just being in good position off the tee let me be more aggressive to some of the hard pins out there," Ozga wrote.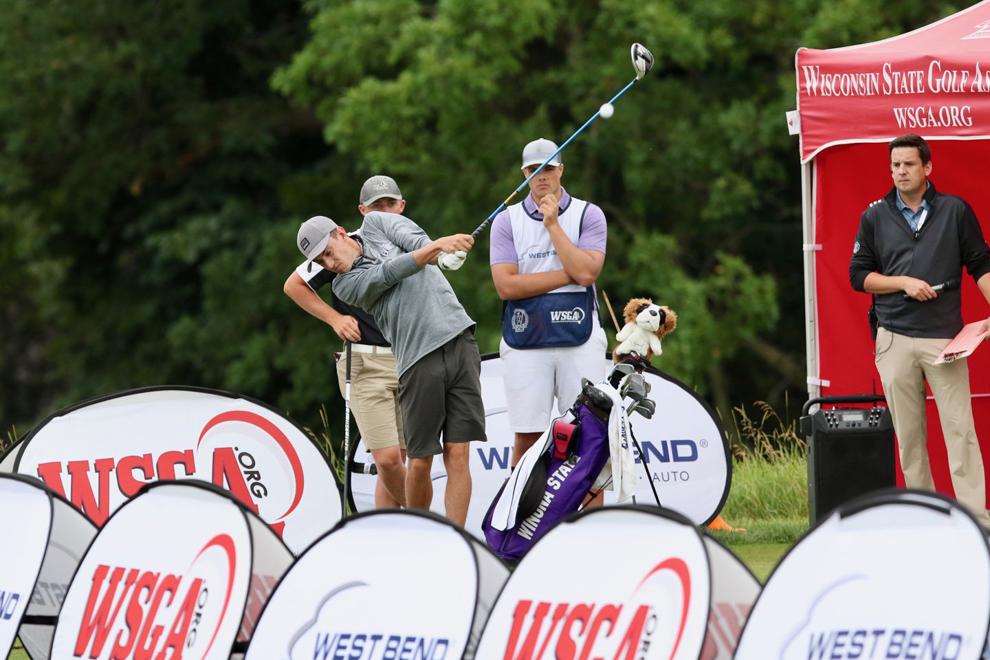 4 state am Emmet Herb.jpg
Middleton's Emmet Herb finds a spot amongst the signage to hit his first tee shot on Thursday.
Best start
Emmet Herb. The University of St. Thomas (Minn.) golfer from Middleton opened his final round with back-to-back birdies and, by the time he walked off the 13th green, he had made five birdies and was 5-under for the day. Unfortunately for Herb, he bogeyed four of his last five holes around a birdie on the par-4 17th to finish with a 2-under 70. His 3-over 291 total was good for a tie for 17th place, his third top-20 finish in four career State Amateur starts. "I hit the ball well all week, hit 15 greens in Rounds 1, 3 and 4 and 16 (greens in) Round 2, but my putting was just absolutely awful," Herb wrote in a text to Wisconsin.golf. "I changed putters for (Thursday) and liked looking down at something different and made a couple of putts in the first 13 holes and that was the difference. The last five (holes) included two three-putts and a misjudged iron shot on 15, but I really feel good about how I played. I kept it to 32 putts, which was better than the 39, 38 and 35 previously in the week."
Best finish 
Garrett Jones.  The former University of Wisconsin golfer who now calls Madison home didn't shoot the lowest score on the back nine Thursday, but his birdie-birdie-birdie finish was an eye-opener as difficult as the finishing stretch proved to be for those at the top of the leaderboard. For Jones, whose sizzling finish salvaged a 3-over 75 and a 16th-place finish from a final round that could have been much, much worse, it was a stark contrast to the bogey-bogey-bogey stretch he had just endured the three holes previous to that. "I guess it just kind of exemplified my week in a way," Jones wrote in a text to Wisconsin.golf. "A lot of silly misses on the wrong side of the holes. I never had the speed of the greens all week, and not hitting great iron shots left either long, difficult birdie putts or chips from hard positions. ... I lost my temper a little through the middle of the round and I had to try to collect myself after the bogey train. I haven't played up to my expectations in this tournament since getting my amateur status back, but I guess technically I've placed better each year — 25th at Oconomowoc, 18th at Minocqua, and now 16th. I just want to play so well in this tournament since it's one of my favorite weeks of the year."
---
Scotland, here they come!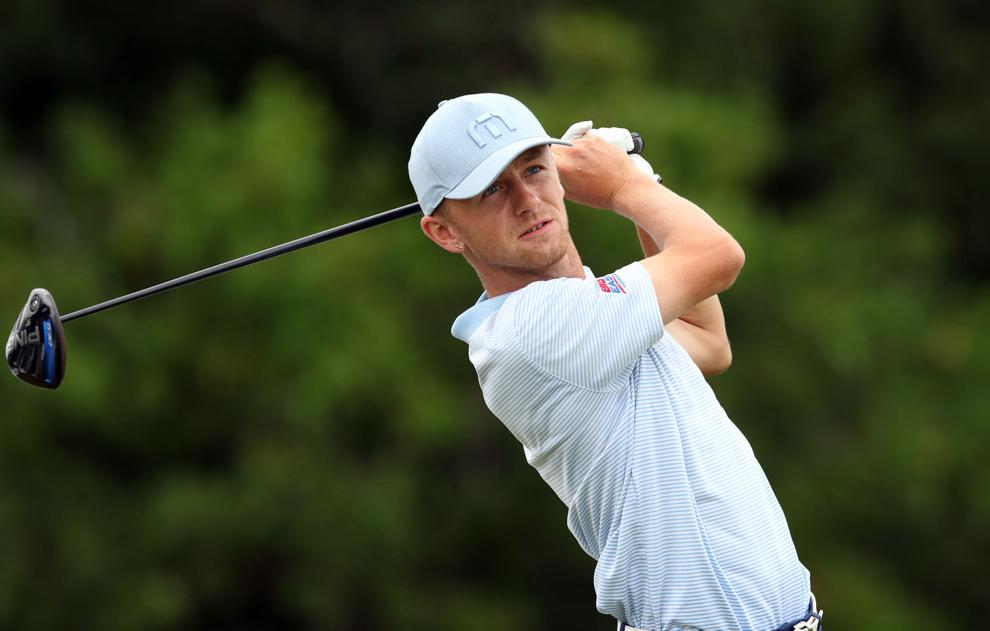 4 state am Matthew Bachmann.jpg
Matthew Bachmann hits his opening tee shot Thursday to start his final round at the Wisconsin State Am.
Hey, Hunter Eichhorn, you just won the Wisconsin State Amateur. Where are you going?
Well, the rising junior at Marquette University and his Golden Eagles men's golf teammates are departing Aug. 2 for Scotland, where they will play some of the world's most famous seaside links courses. To say the players are stoked would be an understatement.
"I'm really excited," said rising sophomore Tyler Leach, who tied for 10th at the State Am. "I've never played links golf but I've heard a lot about it and seen it on TV, the Open Championship, so I'm excited to see how different it is."
Former MU player Charlie Maleki, who missed the cut at the State Amateur and then caddied for former teammate Matthew Bachmann, said he gets to go on the trip, too, along with Austin Kendziorski and Oliver Farrell, who also have exhausted their eligibility.
"There's going to be 11 of us there, because the three (incoming) freshman are coming, too," Maleki said. "It will be awesome."
The Golden Eagles will play seven of the world' top 64 courses as ranked by Golf Digest magazine in 2018. The team departs from Chicago and arrives in Glasgow on the morning of Aug. 3, before heading north to the Scottish Highlands and Inverness, where they will play Castle Stuart.
Other courses on the itinerary include Royal Dornoch, Trump International, Carnoustie, Kingsbarns, the Ailsa Course at Turnberry, North Berwick and Craigielaw. At Turnberry, the Golden Eagles will play a match against the University of Stirling.
"I'm pretty excited," Eichhorn said. "I've never been over there. It's going to be sick."
---
Quotable
Badgers senior-to-be Pete Kuhl, a Morton, Ill., native who is working an internship this summer at R.W. Baird in Middleton, was glad to try the Wisconsin State Amateur for the first time. His brother, Tommy, a rising sophomore at Illinois, finished 19th at the Illinois State Amateur, which was reduced to a 54-hole event in Wheaton, Ill., due to weather delays. "I haven't talked to my brother much about the setup (there) or anything,  but from past experience I can say that the WSGA puts pins in a lot tougher spots!" Kuhl wrote. "They are both great tournaments every year and I look forward to continuing to compete in this every year."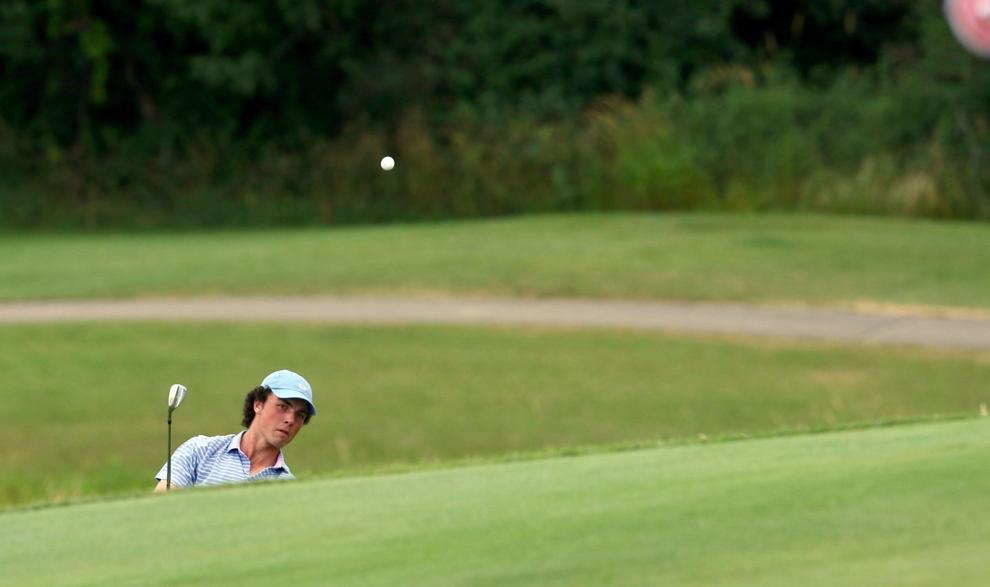 4 state am Piercen Hunt chip.jpg
Piercen Hunt keeps a close eye on the ball as he chips to the 13th green on Thursday.
Crossing the tees
The final-round scoring average (76.41) was more than three strokes more difficult than it was Wednesday (73.32) for the 73 golfers that made the 36-hole cut. ... Former Madison resident Brent Bartels, 33, the survivor of a firefight with ISIS in which four of his friends died, capped a memorable week on leave from Fort Bragg, N.C., with a final-round 82. He finished tied for 69th at 23-over 311 in his first State Am in 15 years after making the 36-hole cut on the number. ...  The battle for low high schooler didn't produce a finish as high as a year ago when Kaukauna's Brock Hlinak (third) edged Hartland's Piercen Hunt (fourth) for the honor. But the volume of golfers to finish in the top 25 and earned a berth in the 2020 State Am was impressive. Hunt again led the way, shooting his second straight 70 to finish at 4-under 284 in a tie for sixth. Middleton's Jacob Beckman, the reigning Wisconsin PGA Junior champion, birdied his final hole to shoot 75 and finish ninth in his State Am debut. UW commit Cameron Huss, a rising senior at Kenosha Tremper, shot 73 and tied for 10th; Sheboygan Lutheran senior-to-be Drake Wilcox shot 71 to finish tied for 14th; and West De Pere rising senior Jamozzy Skenandore shot 76 and tied for 19th. ... UW high jumper Zach Dybul of Big Bend closed with an 81 and Tweeted: "In the market for (a) new Scotty Cameron putter ... mine ran out of makes apparently."  ... University of South Dakota golfer Matt Tolan of Eau Claire made the most birdies over the four days (21) to edge Eichhorn (20) and Hunt (19).