Round of the day
Tyler Leach, Spring Valley. The redshirt sophomore on the Marquette men's golf team made his birdies in bunches Monday at Milwaukee Country Club and has the first-round lead at the 119th Wisconsin State Amateur Championship to show for it. Starting on the front nine, Leach made birdies at Nos. 11 and 12 early in his round to make an appearance on the leaderboard only to have a bogey at No. 17 drop him into a large group at 1-under as he made the turn. However, three straight birdies starting at No. 3 got him to 4-under and into the lead, which is where the two-time WIAA Division 3 state champ finished after a 3-under 67.
Shot of the day
Joe DuChateau, Fond du Lac. The former UW-Green Bay golfer wasn't pleased with his score (77), but he hit one of the best shots of the day to save par on No. 9, his closing hole. After flying the green with his approach from a fairway bunker on the 325-yard par-4, DuChateau was left with a downhill chip to a slick green that sloped away from him. The hole was cut just over a false front, so DuChateau faced the prospect of chipping his ball an ounce too hard and watching it roll off the green and into a bunker. Instead, he pulled off a phenomenal touch shot, with his ball rolling to a stop inches from the hole for a tap-in par.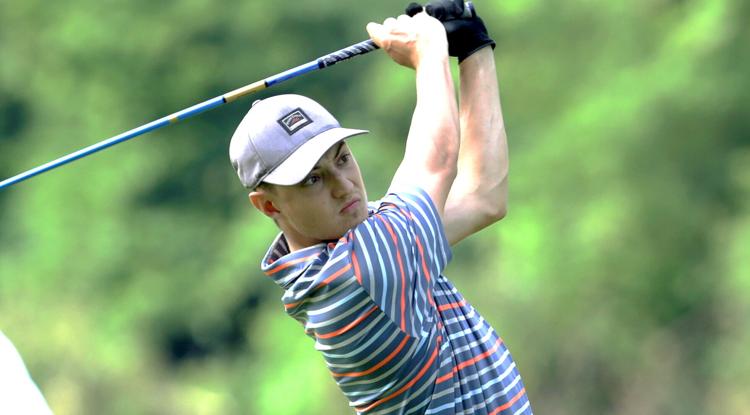 Best start
Emmet Herb, Middleton. The NCAA Division III first-team All-American at St. Thomas (Minn.) birdied No. 1 out of the gate and played his first 11 holes bogey-free to get to 3-under. Herb, who has three top-20 finishes in his last four State Ams (including a T10 in 2018 at Oconomowoc GC), bogeyed Nos. 12 and 14 to slip into a tie for second place at the end of the end of the day with a 1-under 69. Zach Place of Roselle, Ill., also had 11 consecutive bogey-free holes on his scorecard, but he started on No. 10 and that stretch included nine straight pars to end his round.
Best finish
Ryan Schmus, Brookfield. In the 156-man field as the reigning club champion at Milwaukee CC, Schmus — the CEO at Precision Cable Assemblies & GEP Power Products in Milwaukee — needed nine holes to really feel like he was at home during the first round of the State Am. Schmus made four double-bogeys during a rollercoaster front-nine 43 before shooting 2-under 33 on the back to finish with a 76. This is the first State Am appearance since 2012 at The Club at Strawberry Creek for Schmus, who holds dual membership at Milwaukee CC and Westmoor CC in Brookfield (site of the 2024 State Am).
Stat of the day
At 325 yards, No. 9 played as the shortest of Milwaukee CC's dozen par-4s on Day 1, but it was the second-hardest hole statistically (+0.69) and shared with the 435-yard, par-4 sixth hole the distinction of allowing the fewest birdies (four). The pin on the hole was cut 14 paces in from the front and 7 paces in from the right behind a bunker and just over a false front.
It hurts to withdraw
Menasha's Bob Gregorski, who won the State Amateur the last time it was played at Milwaukee CC (1995), had to withdraw due to a broken foot, an injury he suffered May 15 when he fell while putting a boat in a lake.
"It's called a Lisfranc injury," said Gregorski, who added a second State Amateur title in 1998 and is a member of the Wisconsin Golf Hall of Fame. "It's been a nightmare. In football, it can be career-ending."
Gregorski tried to hit balls on two occasions recently, once with his foot in a boot and once with it wrapped.
"It didn't go very well," he said. "Right now, I can't put full weight on it, so to try to swing is kind of silly."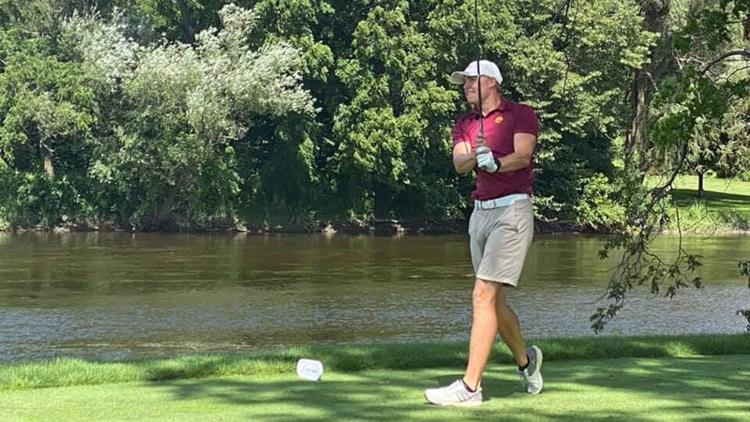 Motivation in Minnesota
Thomas Longbella of Chippewa Falls, twice a runner-up in the State Amateur (2016, 2018), hasn't played much competitive golf this summer because of COVID-19. But he did find some inspiration last week at the 3M Championship, where he caddied for University of Minnesota teammate Angus Flanagan. 
Longbella shot a 1-under 69 in the first round and was tied for second, two shots off the lead.
"It was really motivating," he said of caddying for Flanagan, who got in on a sponsor exemption. "Just observing (PGA Tour players) and seeing what they do and kind of trying to apply that to myself when I'm on the golf course. I wouldn't say all of a sudden I'm going to be this great golfer because I watched them play, but there's little bits and pieces you can take away." 
He said he didn't meet any of the tour's star players, but added, "I was parked in between Tommy Fleetwood and Tony Finau in the parking lot. I was pretty pumped about that."
Longbella plans to return to the Gophers this fall for a fifth year of eligibility granted by the NCAA following the cancellation of the 2020 spring season due to the coronavirus pandemic. 
Holding the trophy
It was only the first round, but Joe Weber of Onalaska, who opened with a 74, already was holding the trophy.
No, not the State Am trophy. It was the Ray Fischer Amateur Championship trophy. Weber won the Wisconsin Public Links Association tournament last month at Janesville Riverside GC and received the trophy Monday, engraved with his name. He gets to keep it for a year
Asked if the trophy gave him special privileges at the State Am, Weber laughed and said, "It should. I wish it reduced my score by a shot."
More or Less
Jordan Less of Elmhurst, Ill., who tied for second at the 2019 Illinois State Am, fought back from a double-bogey on his fourth hole and a bogey on his fifth to get to 1-under, but he gave back three shots with a bogey, double-bogey finish on Nos. 8 and 9
He shot a 2-over 72 and was tied for 13th place.
"I was 1-under through 16 holes," he said. "I played pretty smart. Middle of the greens. Made a few putts. I kind of judged the wind wrong on the last two, but I'm pretty happy."
Less graduated from Northern Illinois this spring but plans to return for a fifth year of eligibility granted by the NCAA because of COVID-19.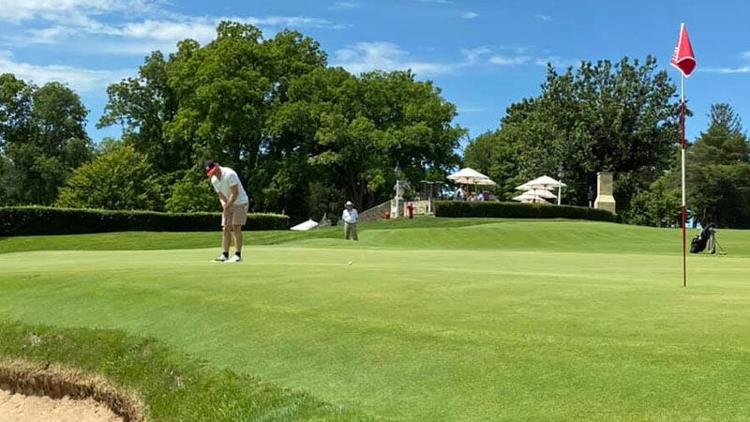 Quotable
Whitefish Bay's Jack Schultz, who plays out of nearby Brown Deer Park Golf Club and usually passes Milwaukee CC to get there: "It is so weird to be at home, to be able to drive 15 minutes and get here. I drive up this way to go to Brown Deer (Park Golf Course) all the time. It felt so normal."
Crossing the tees
Leach was the only golfer in the 156-man field to make three birdies in a row Monday. Only seven golfers were able to make back-to-back birdies. ... There were no eagles in the first round. ... Eau Claire's Matt Tolan, the 2017 State Am winner,  led the contingent of six past champions in the field. Former Marquette golfer Nick Nelson of Milwaukee, the 2016 champion, shot 71, while 2015 champion Eddie Wajda III of Brookfield shot 73, 2007 champion Travis Meyer of River Falls shot 77, 2011 winner Mike McDonald of West Bend an 81 and two-time champion Pat Boyle of Greendale an 83. ... Wajda, a former University of Wisconsin golfer, completed his post-graduate work at the University of Michigan this spring with one Master's Degree in Accounting and another in Supply Chain Management. He will start as an auditor at KPMG in Chicago later this summer after spending the first half of the summer taking his CPA exams. ... Badgers commit Jacob Beckman, 16, of Middleton, the youngest golfer in the field, opened with a 73. Fitchburg's Mike Murphy, 64, the oldest golfer in the field, struggled to an 86. ... Murphy is one of just three golfers who made the cut at the 1995 State Am at Milwaukee CC in this year's field. Colgate's Tom Halla, who finished T9 in 1995, opened with an 80 while West Bend's John Uekert, 57, the reigning WSGA Senior Amateur champion, shot 84. ... Two 60-year-olds in the field — Waukesha's Kevin Cahill and Verona's Jim Doing — were among 14 golfers tied for 31st with opening 74s. ... The top 70 plus ties after Tuesday's second round will play the final two rounds. ... Sheboygan's Drake Wilcox, the 2019 WIAA Division 3 state champion headed to Queens University of Charlotte (N.C.) in the fall, withdrew after shooting 79.