Round of the day
Thomas Longbella, Chippewa Falls. The redshirt senior at the University of Minnesota bogeyed the par-3 fourth hole Tuesday at Milwaukee Country Club and didn't make another mistake the rest of the way, firing a 3-under-par 67 to take a one-stroke lead at 4-under 136 through 36 holes of the 119th Wisconsin State Amateur Championship. Longbella held a share of the lead after one round of the 2018 State Am at Minocqua CC and the outright lead after 54 holes of the 2016 State Am at North Shore GC in Menasha, finishing runner-up both times. In five State Am starts, he has three top-five finishes.
Shot of the day
Nate Thomson, Greendale. The pin was near the front of the green on the par-3 12th hole — seven paces in from the front and seven paces in from the right — and Thomson made "not a very good swing" and deposited his ball in the front bunker. Short-sided, he opened the face of his sand wedge and splashed the ball out to one foot to save par. "That was a really good one," he said. Thomson, a University of Toledo golfer from Greendale, shot a 68 and was in second place alone at 3-under 137.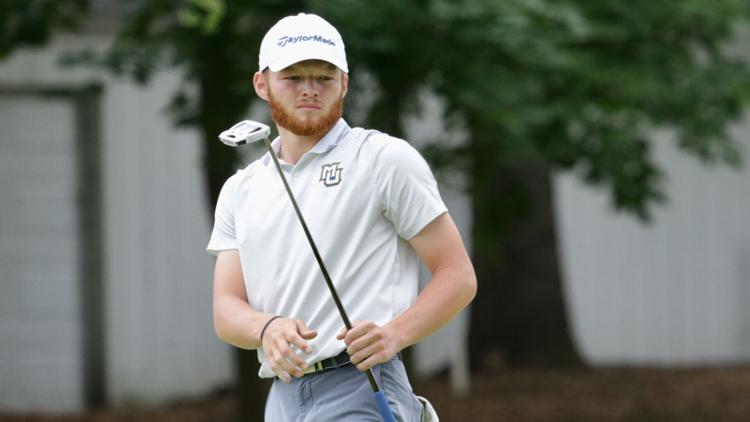 Best start
Tyler Leach, Spring Valley. The redshirt sophomore at Marquette, who led by two shots after an opening 67, birdied Nos. 1 and 3 to get to 5-under for the week before his day went sideways. Leach bogeyed No. 4 before closing the front nine birdie/double-bogey/birdie to turn in 1-under. From there, he shot 5-over 40 on the back nine, dropping him into sole possession of fifth place at 1-over 141 and five strokes behind Longbella.
Best finish
Evan Myers, Northbrook, Ill. The redshirt freshman at Texas A&M struck the first tee shot of the day off the first tee Tuesday, but it was the way Myers ended his round that kept him in contention. After making bogeys at Nos. 4 and 13 in and around 14 pars, he finished birdie-par-birdie to shoot 70 and move from a tie for 31st into a tie for sixth at 4-over 144, eight shots back.
Best comeback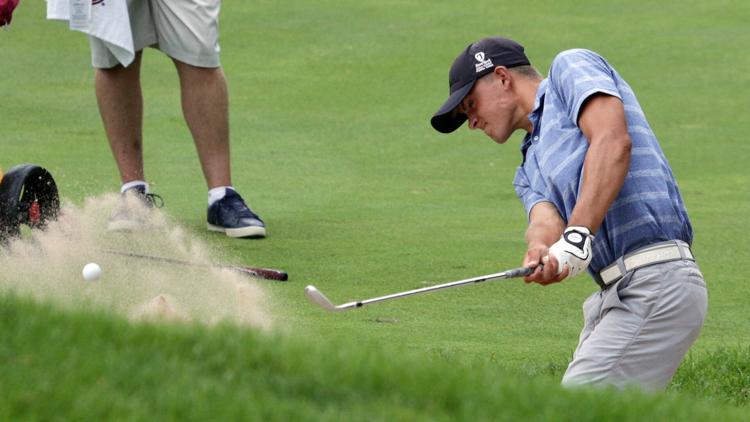 Ricky Kuiper, Racine and Ty Kretz, Marinette. Kuiper, 23, a former Butler University golfer, followed up his opening 79 with a 1-over 71 to hurdle 61 golfers and move into a tie for 36th at 10-over 150 while Kretz, 17, a rising senior at Marinette High School, also improved eight strokes from Day 1 to Day 2 with a 2-over 72 that helped him make the cut at 12-over 152.
Stat of the day
The 36-hole cut was sitting at 9-over-par Tuesday when the morning wave completed play. It moved to 14-over by the end of the day, the highest score in relation to par since 2015 when 16-over made it to the final two rounds at Erin Hills near Hartford. There will be 78 golfers competing over the final 36 holes with the last nine — including UW recruit Cameron Huss of Kenosha and UW-Green Bay golfer Zak Kulka of Beaver Dam — getting there only after Michael Fastert of Wheeling, Ill., playing in the final group of the day, made a 9 on the par-3 17th hole and then bogeyed No. 18 to go from 10-over and four shots clear of the cutline to 17-over and three shots shy of playing Wednesday and Thursday.
Mid-Ams power past 36-hole cut
Mike Bielawski of Waukesha and Kevin Van Rossum of Hartland were among a handful of mid-amateurs who made the 36-hole cut. Van Rossum, 42, shot 72-75 and was tied for 23rd and Bielawski, 35, shot 75-74 and was tied for 32nd.
"This is the first time I've played in the State Am in three years," said Bielawski, a former Marquette University player and assistant coach. "I didn't play at Minocqua (in 2018), didn't play at Lawsonia (in 2019). I like being home. I really do. And I feel bad if I leave my wife for four days. We have two (children) now, so it's a handful.
"It feels good to get back out here and make the cut with what I feel are pretty tough conditions."
The sweet-swinging Van Rossum said his putter let him down.
"I didn't putt real well," he said. "That's the downside. But I hit it well enough to be within striking distance for sure. And I'm not, so that's disappointing. But you never know. Shoot something real low (Wednesday), have a special day, and you never know."
By the way, it's been good week for senior amateurs, too. Waukesha's Kevin Cahill (T36) and Verona's Jim Doing (T70), both 60, also made the cut. 
Race from Dubai turns out well for Johnson
Have the fortune of playing in what will be my 9th @WSGAGolf State Amateur Championship this week. It's always an amazing experience and I'm excited to see how Milwaukee CC plays for us this week. Also exited to see if my game is any good anymore 😂 pic.twitter.com/hlsZDFYi5y

— Phillip Johnson (@PhillipJohnson7) July 27, 2020
Former University of Dayton golfer Phillip Johnson, certainly the only golfer in the field — ever — with a camel in his Twitter profile picture, didn't exude confidence coming into his ninth State Am, did he?
As it turned out, after spending most of the last year in Dubai working for a strategic advisory and implementation company, Johnson only needed 18 holes to shake off the rust and play his way into the final two rounds. Johnson bounced back from an opening 78 with a 2-over 72, playing his final 10 holes in even-par, to move up 56 spots and get to the 36-hole mark at 10-over 150, four shots ahead of the cut mark.
His reaction?
GRITTY 72 today in some high winds. Moved from T92 to T36. See if we can get real Kuchar-esque and backdoor a top 10 this week

— Phillip Johnson (@PhillipJohnson7) July 29, 2020
Fair but some really dicey pins, and its a 7000 yd par 70 so scores were high. Also the bunkers are all 8 feet deep and I was in all of them

— Phillip Johnson (@PhillipJohnson7) July 28, 2020
Quotable
Two-time State Am champion Pat Boyle, 55, of Greendale, who developed bad swing habits while fighting a chronic back condition: "Like I'm fond of saying, nobody is ever fighting good habits in golf. It's not like, 'Darn it, would I just hook one into the rough once, instead of piping it right down the middle? Dang it!' Nobody is ever fighting good habits."
Crossing the tees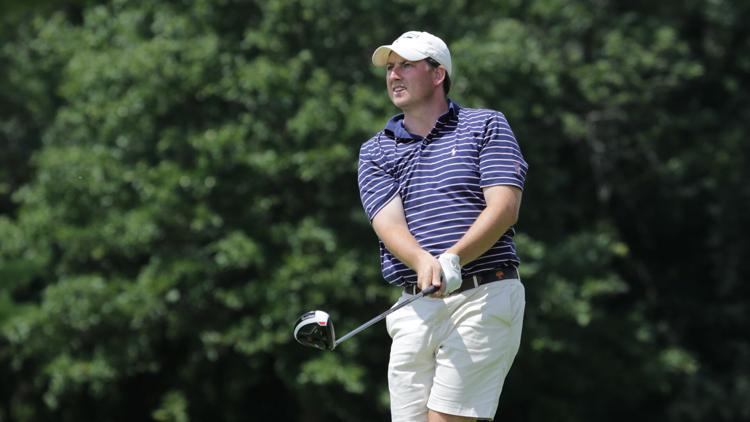 Eleven of the 20 Illinois golfers in the field made the cut, including seven among the top 15. ... Newly minted Madison City champion Adam Miller, who won the 2015 WIAA Division 2 state championship while leading Lodi to the team title, shot 70 in the second round to move up 47 spots into a tie for 23rd. Making the cut at the State Am guarantees that Miller, who works at Sand Valley Golf Resort near Nekoosa, will play eight straight days of competitive golf. He completed his 72-hole Madison City victory on four courses in four days Sunday at The Meadows of Six-Mile Creek GC in Waunakee. ... Four of the six former State Amateur champions in the field made the cut: Eau Claire's Matt Tolan, the 2017 State Am winner, is T3 at even-par 140; former Marquette golfer Nick Nelson of Milwaukee, is T6 at 4-over 144; former University of Wisconsin golfer Eddie Wajda III, the 2015 champion, is T30 at 8-over 148, and Travis Meyer of River Falls, who won in 2007, is T47 at 11-over 151. ... UW commit Jacob Beckman, 16, the youngest golfer in the field, made the cut despite a second-round 79 that dropped him into a tie for 36th place at 10-over 154. ... Onalaska native Tim Ertmer, who now calls Orono, Minn., home, withdrew after his morning 78, perhaps skeptical that his 14-over total would be good enough to play the final two rounds. However, he did tell WSGA officials he also had another tournament to play Wednesday.