Round of the day
Christopher Colla, Fond du Lac. The fifth-year senior at Chico (Calif.) State was plodding along at 2-over-par for day Wednesday at the 119th Wisconsin State Amateur when he did something not often done on the tight fairways and slick greens of Milwaukee Country Club: He birdied four holes in a row.
Colla's run began at No. 13 and helped him rally to shoot 2-under-par 68 and move up 34 spots into a tie for 20th at 10-over 220. It all started with him holing a 25-foot putt for birdie at No. 13 and it only got better from there.
The 2014 WIAA Division 2 state champion from Winnebago Lutheran Academy then attacked the 440-yard, par-4 14th hole — saying he "mashed a drive" and "stuffed a sand wedge" — and made a kick-in birdie to get back to even-par for the day. He laid up on the par-5, 15th hole, hit a wedge to 10 feet and made that. The "real bonus," he said, came at the 489-yard, par-4 16th hole where his approach was tracking at the flag only to hit and release to the back fringe 15 feet away — but makable, as Colla proved by holing it down the slope.
"Getting on a roll at any course is nice," Colla said, "but especially out here when big numbers are possible on every hole, and you're usually just looking for pars."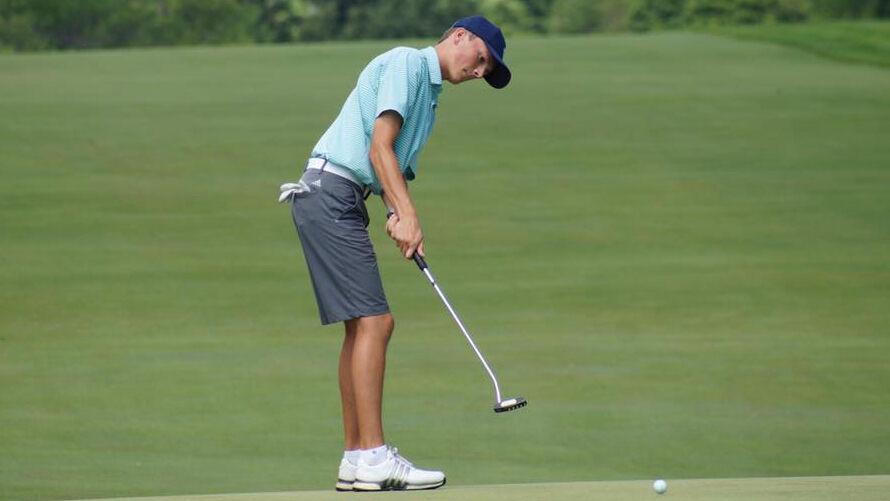 Shot of the day
Zak Kulka, Beaver Dam. It didn't take long for the drivable, 270-yard par-4 ninth hole to produce the first eagle of the championship. Kulka, playing in the first group off No. 1 at 8 a.m., hit a 3-wood onto the green and rolled in a 15-foot downhill slider.
"No one even clapped," said Kulka, a rising sophomore on the UW-Green Bay golf team who made the cut on the number after it moved from 13-over to 14-over due to struggles of a golfer in the final group. "There was nobody out there yet. It was just us (players) out there."
It's been a memorable summer for Kulka, who played the final 36 holes of the Ray Fischer Amateur Championship with former Dallas Cowboys quarterback Tony Romo of Burlington. Romo was forced to withdraw from this week's State Am with a wrist injury that might require surgery.
"He was a really nice guy to play with," Kulka said. "It's been a good summer."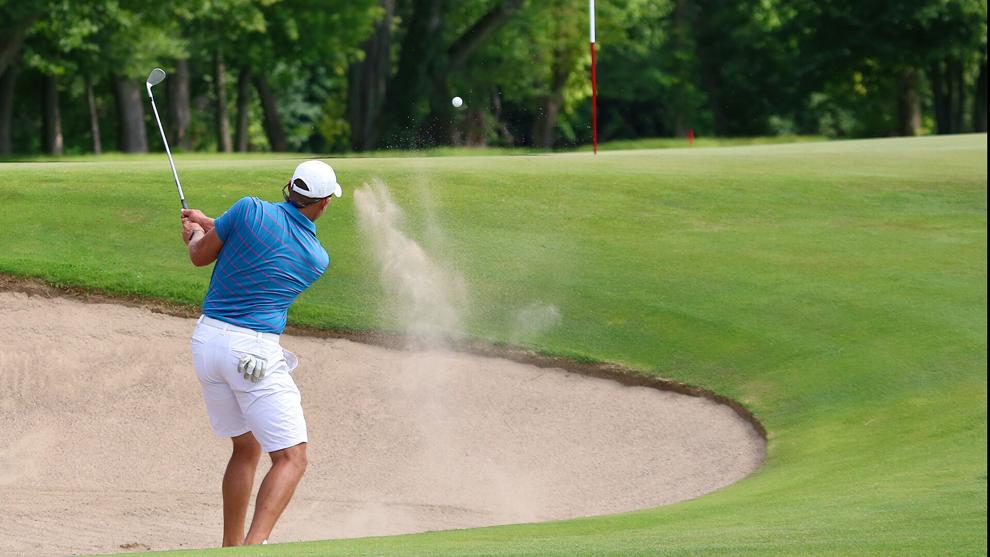 Best start
Travis Engle, Kenosha. For the third consecutive day, Engle's tee shot on No. 1 found the right fairway bunker. The third time, however, was the charm.
"It was a little bit into the wind, 167 yards," Engle said. "I hit a little cut 7-iron. It landed perfectly and released and went in for eagle. I wasn't sure for a second if it just disappeared behind the flag, then I heard (playing partner) Nick (Nelson) say, 'It went in!'"
Engle shot a 74 and was tied for ninth at 8-over 218. The Kansas native played on the Bethany College golf team and finished runner-up in the 2001 Kansas State Amateur. He moved to Wisconsin in 2007.
Best finish
David Brock, Mequon. The 33-year-old Brock made just one birdie in the third round, but he picked a good time to do it, rolling in a 40-footer on the 18th hole and earning applause from a small group of spectators behind the green.
"It was the only hole with spectators," he said, "so it was nice to make a birdie there."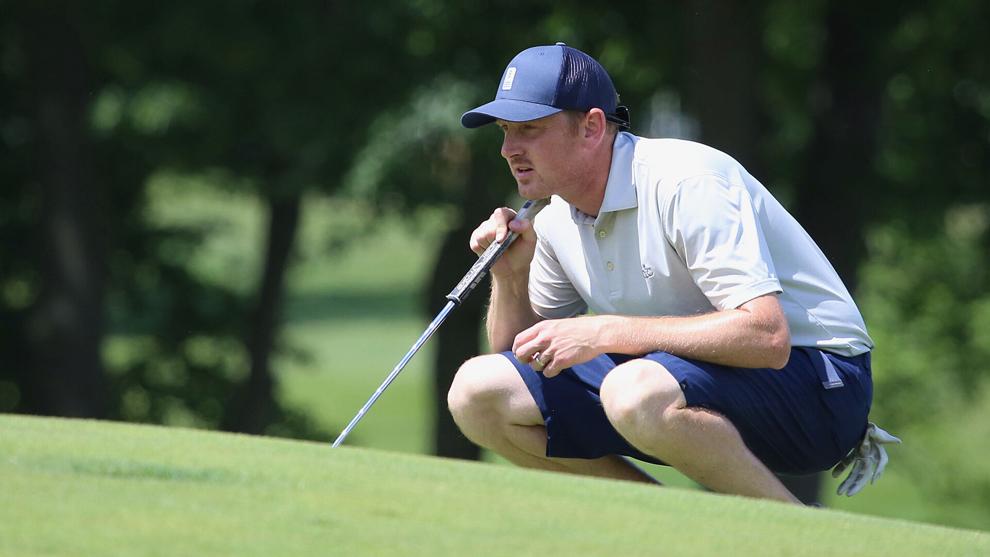 Brock, who shot a 75 and was tied for 20th at 10-over 220, has an interesting story. The Ozaukee Country Club member is playing in his first tournament as an individual. He helped Milwaukee Marquette High School win a pair of state tennis titles and didn't take golf seriously until after he graduated from Purdue University.
"I didn't play golf in high school," Brock said. "I was like an 18-handicapper when I graduated high school. I was like a 9-handicapper after college."
When he took a job with Rockwell after college, his handicap went from 9 to plus-2 in 18 months at now-defunct Andover Golf & Country Club in Lexington, Ky. How did he do it?
"Just played with the same group of guys a lot and did a little bit of gambling," he said. "There was OB on both sides of 16 holes. You start figuring out how to drive it straight and make some pars."
Though this is his first tournament as an individual, Brock played in the 2019 U.S. Amateur Four-Ball Championship with teammate and fellow Ozaukee member Brian Thiet.
Brock was one of just two golfers to birdie the finishing hole. Middleton's Jacob Beckman, 16, a University of Wisconsin commit and the youngest golfer in the field, hit a pitching wedge to 15 feet and made the birdie putt.
Best comeback
Josh Teplin, Mequon. Kulka's eagle played a big part in him improving seven shots over his second-round 80 and helped him match Teplin, who shaved seven strokes off his 77, for the largest comeback during Wednesday's third round. Teplin's approach was as simple as learning from his mistakes.
"Honestly I just found more greens (and) held them better," the recent Mequon Homestead graduated wrote via text to Wisconsin.Golf. "I was more used to and prepared for the firmness of the greens when I went out (Wednesday). I knew if I got it anywhere on the green, I could get it down in two putts."
So far, that has been the recipe for a memorable week at Milwaukee CC for Teplin, who will attend UW this fall, but not as a member of the golf team.
"Monday I hit 15 greens (in a first-round 70) and (Wednesday) I hit 16 greens so in that (way) both days were quite similar," Teplin wrote. "I two-putted every hole (Wednesday) except for (No.) 17, which I birdied. Although 35 putts sounds like a lot and usually it is, I wasn't hunting for pins and was very happy with pars all day. I knew if I found the green I'd get it down in two.
"All week, I haven't three-putted so each hole I've been gaining more and more confidence with the putter."
Stat of the day
The 18th hole at Milwaukee CC has broken many a heart at the State Am over the years, but Nos. 6 and 10 — a pair of long and tough par 4s — are not to be overlooked on the way there. No. 6, measuring 439 yards Wednesday, and No. 10, a hefty 471 yards, allowed one birdie apiece — to South Milwaukee's Aaron Gavin and Green Bay's Isaac Prefontaine, respectively — in the third round as both played more than a half-a-shot over par on average. 
Former champions go 1-1 at Western Am
The two most recent State Amateur champions went 1-1 in making the 36-hole cut at the Western Amateur Championship at Crooked Stick GC in Carmel, Ind.
Brookfield's Harrison Ott, who won the 2018 State Am in an eight-hole playoff over current State Am leader Thomas Longbella, shot 68 and is tied for 11th heading into Thursday's 36-hole stroke-play qualifying finale. The top 16 golfers after Thursday's marathon advance to the match-play portion.
Things didn't go as well for Marquette golfer Hunter Eichhorn, the 2019 State Am champion from Carney, Mich. He improved four shots with a 73, but — at 6-over 150 — was one of two Wisconsin golfers to miss the 36-hole cut (144), joining Hartland's Piercen Hunt, who shot 74-81.
Tyler Leach glad for ex-Marquette assistant
Marquette golfer Tyler Leach was busy playing golf Wednesday while Trake Carpenter — the Golden Eagles' assistant coach his freshman year in 2018-19 — was being introduced as the head coach at the University of Denver.
Leach couldn't think of a better person for the job. 
"Really? I hadn't heard. Oh, wow, good for him," Leach said. "I enjoyed having him as an assistant. He's kind of a golf nerd. Being around him as much as I was, I got a good feel for how knowledgeable he was about the game and I think that will definitely translate as he moves onto the next chapter."
Bad back sidelines Drake Wilcox
Sheboygan's Drake Wilcox, the 2019 WPGA Junior Boys player of the year, said Wednesday that he withdrew from the State Am to give himself — and his ailing back — the best chance to compete in next week's WSGA Junior Boys Championship at the Legend at Brandybrook Golf Club in Wales.  
"I unfortunately pulled a muscle in my back a few days before the State Am" Wilcox wrote in a text to Wisconsin.Golf, two days after being forced to call it a week after an opening 79. "I tried resting and healing it by icing and exercising ... and I re-injured it the first day of the State Am. The front nine (Monday) was was good. My back was a little tight but it ended up really bad towards the back where I couldn't even swing. I'm trying to heal now for the State Junior."
Next week marks the end of the junior-golf era for Wilcox, who leaves soon for Queens University of Charlotte (N.C.). He tied for third at last year's WSGA Junior Boys Championship in New Glarus, three weeks after his 14th-place showing at the State Am, which earned him his 2020 exemption.
"It was unfortunate because I was playing really well the week before," Wilcox said, adding he had shot 69 in a practice round. "I didn't want to make it any worse to put me out for longer."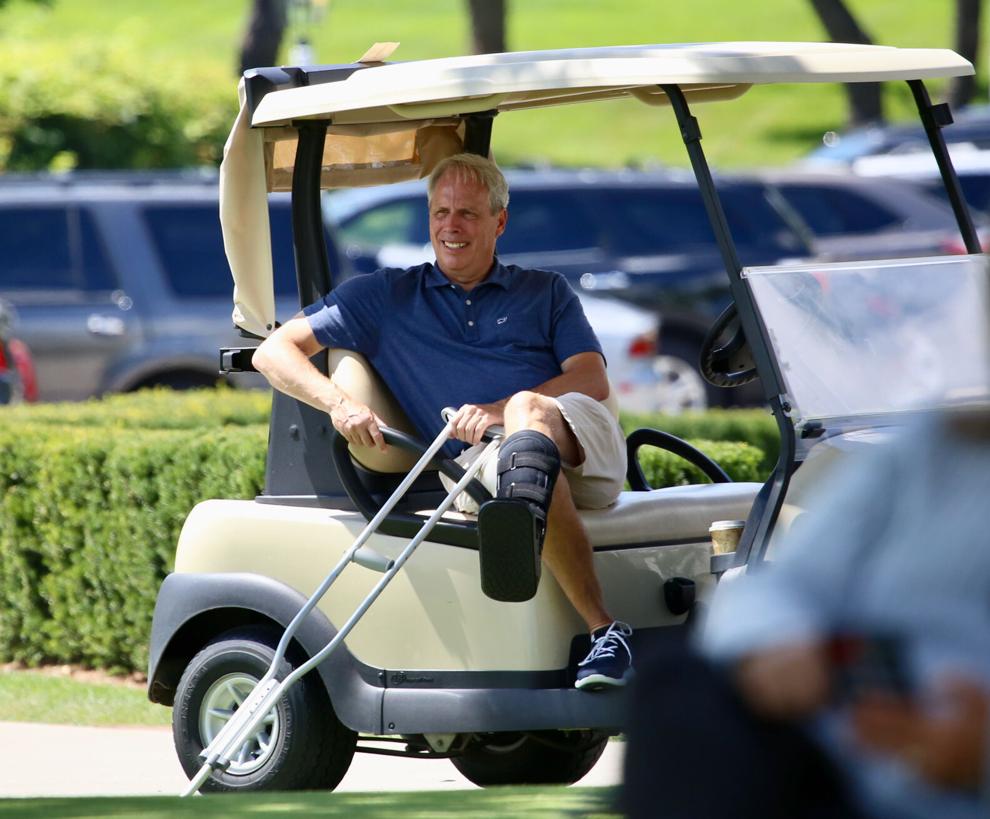 Quotable
Two-time State Amateur champion champion Bob Gregorski, whose first title came in 1995 the last time the State Am was played at Milwaukee CC, is sidelined by a broken foot. However, the Menasha golfer turned out to watch the third-round action and later Tweeted that he was impressed with what he saw.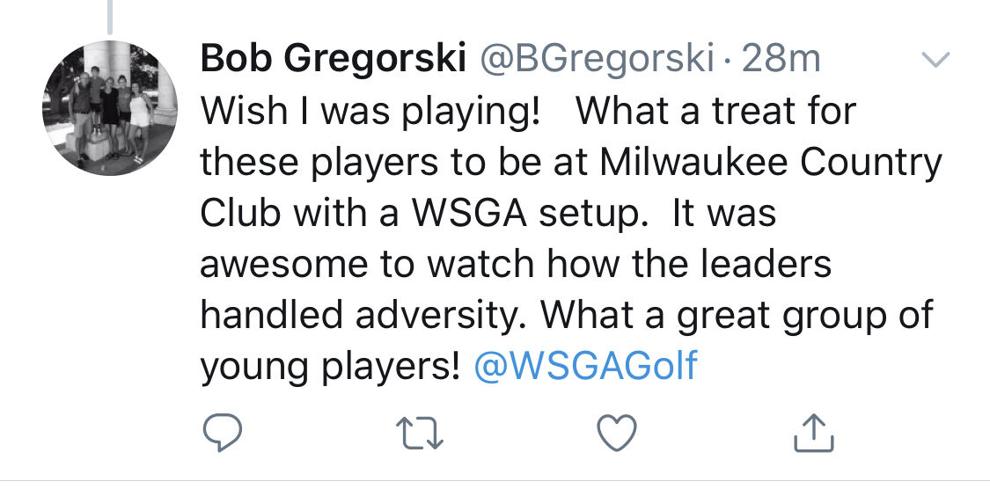 Crossing the tees
Big Bend's Zach Dybul (74-79-78), who has spent two seasons at UW as a high jumper (college best: 6-9¾), said at last month's Ray Fischer Amateur Tournament that he's trying to persuade men's golf coach Michael Burcin to give him a tryout. Well, he'll get an audition Thursday in front of two current Badgers: incoming freshman Cameron Huss of Kenosha and redshirt freshman Chip Savarie of Winnetka, Ill. ... Of the 11 Illinois golfers who made the cut, only Northern Illinois redshirt freshman Zach Place is within 10 shots of the lead ... Four of the six former State Amateur champions in the field made the cut and all are inside the top 50 entering the final round. Eau Claire's Matt Tolan (73), the 2017 winner, slipped into sole possession of fourth at 3-over 213; former Marquette golfer Nick Nelson of Milwaukee, the 2016 champ, is still T6 at 6-over 216; former University of Wisconsin golfer Eddie Wajda III (73), the 2015 champion, inched up seven spots to T23 at 11-over 221, and former UW-Green Bay golfer Travis Meyer of River Falls, who won in 2007, is T49 at 17-over 227. ... Wauekesha's Kevin Cahill, 60, the oldest golfer to make the cut, shot 74 and is tied for 35th at 14-over 224. ... Through 54 holes, Leach leads the field in birdies (12) by one over Longbella (11). Tolan (nine) is tied for third in that category with Sparta's Austin Erickson of Sparta, an Iowa Central Community College recruit.