Round of the day
Thomas Longbella, Chippewa Falls. Considering the last two golfers to come to the 18th tee at Milwaukee Country Club with the lead in a Wisconsin State Amateur triple-bogeyed the hole and watched someone else hoist the trophy, Longbella's bogey Thursday to finish his first State Am victory must have felt like an eagle.
Or at least a monkey off his back.
The bogey left the two-time State Am runner-up with a 1-under-par 69 — his third of the week around a 67 in the second round — and gave him a 10-shot victory over Spring Valley's Tyler Leach. Longbella, who will be a fifth-year senior this fall at the University of Minnesota, became just the second golfer since the State Am went to a stroke-play format in 1971 to break 70 all four rounds, joining 2002 champ Ryan Quinn of Galesville (67-69-69-68) at Nakoma Golf Club in Madison in the second of back-to-back wins over Jon Turcott of Middleton.
Longbella's round matched Milwaukee's Billy McKay and Cal Meyers for low round of the day, but his clearly had more at stake. He birdied Nos. 3 and 5 before making the first of his three bogeys at No. 6 and, after a bogey at the par-3 12th hole, got to 8-under again with birdies at Nos. 14 and 15. 
The victory made Longbella the second Gopher to win the event — Alex Gaugert of Lake Geneva won it in 2014 — and came with a lifetime exemption for the State Am as well as a five-year exemption for the Wisconsin State Open. Longbella, who was not among the exempt players for next month's 100th State Open before Thursday, confirmed he will be in the field at Blue Mound G&CC in Wauwatosa and is "excited to come back down" and play.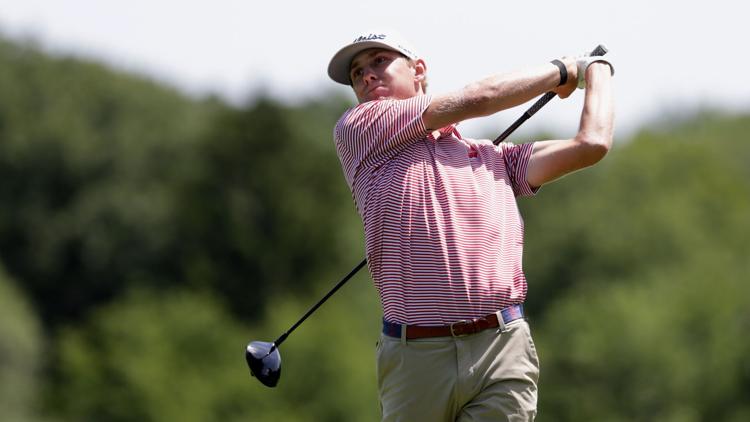 Shot of the day
Sam Anderson, Stoughton. The fourth hole at Milwaukee CC yielded just 31 birdies to the 464 golfers who passed through the long par-4 over the four days of the State Am, so what the University of Wisconsin golfer did there Thursday was even more improbable. With No. 4 playing as long as it had all week (435 yards), Anderson holed his second shot from 124 yards for eagle en route to a 1-over 71 and a tie for sixth place at 10-over 290 — his fourth straight top-10 finish in as many career State Amateur starts.
"I noticed it was into the wind so I hit driver for the first time all week and hit a nice one," Anderson wrote in a text to Wisconsin.Golf. "I had 124 (yards) with a slight across wind and hit a hard 54-degree (wedge). I couldn't really tell if it went in because there was a shadow near the flag, but I saw the ball disappear. I really had no reaction; (I) just tossed my arms in the air. I hit it pretty decent (all week); just made nothing. ... I'd hit a bunch of shot to 12-15 (feet) and didn't make putts."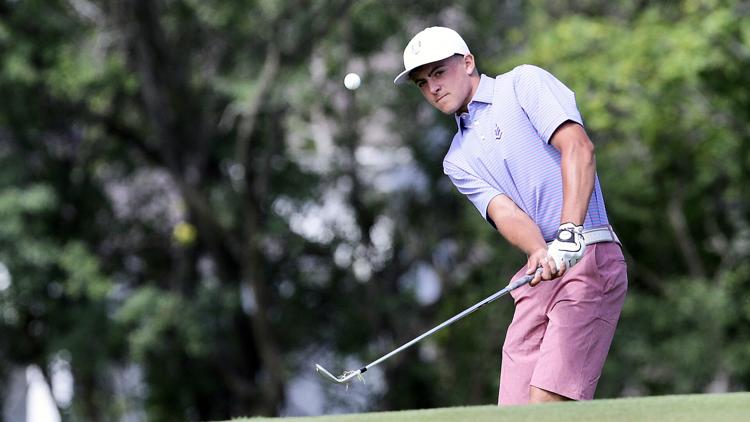 Best start
Ty Kretz, Marinette. The rising high school senior shot 63 twice in one week this summer to win events on the Wisconsin PGA Junior Tour so he knows anything is possible, but birdieing the first three holes at Milwaukee CC to begin the final round of the State Am? It was a matter of getting a grip.
"(Wednesday) night I adjusted my grip a little bit because I struggled putting in Round 3," Kretz wrote in a text message to Wisconsin.Golf. "The first hole I hit it to the middle of the green like I was doing all week and my dad (Pete) and I made a great read and rolled a good putt. I did the same thing on the the second hole. The third hole, I hit a great wedge to 8 feet and made the putt."
His birdie binge ended on the par-3 fourth hole, where he dumped his tee shot into a greenside bunker and lipped out a 15-footer for par. While Kretz didn't make another birdie the rest of the way in his closing 72, he felt good about the state of his game entering next week's WSGA Junior Championship.
"All-in-all, I played solid golf," Kretz wrote. "Milwaukee CC is a very challenging course and it put my game to the test. This tournament helped me figure out my weakness that other tournaments haven't so I feel very confident going into the boys championship."
Kretz, who finished 38th, was one of five juniors to make the cut who will be teeing it up Monday at the Legend at Brandybrook GC in Wales. Middleton's Jacob Beckman (T32), Mequon's Ty Mueller (T53), Delafield's Benjamin Pausha (T57) and De Pere's Jamozzy Skenandore (76th) will also be trying to dethrone Hudson's Bennett Swavely, who shot 82-76 here and missed the cut.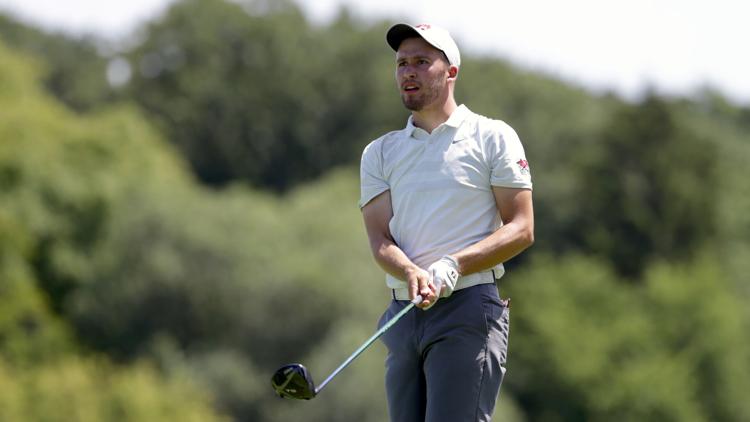 Best finish
Chris Colla, Fond du Lac. The fifth-year senior at NCAA Division II Chico (Calif.) State always finds a way to be part of the conversation at the State Am and Thursday was no exception. Colla was the only golfer among the 76 who played the final round to birdie No. 17 — a 233-yard par-3 — and he closed with a par on No. 18 to shoot 1-over par 71 and finish in a tie for eighth place at 11-over 291.
"I hit a solid 4-iron to 30 feet, pin-high left," Colla wrote in a text message to Wisconsin.Golf. "That pin was impossible to get close to with the wind, and I just happened to make the putt."
Playing his final five holes in 1-under gave Colla his third top-10 finish in eight State Am starts. Colla, who won the 2014 WIAA Division 2 state title at Winnebago Lutheran Academy the same year that Longbella won Division 3 at McDonell Central, has finished in the top-25 in each of his State Am appearances and Thursday's eighth-place showing matched his best finish in the event (he also finished T8 at Erin Hills near Milwaukee in 2015).
"One of my better performances for two rounds," Colla wrote via text message after bouncing back from an opening 78-74 with rounds of 68-71 to earn an exemption into the 2021 State Am at Westmoor CC in Brookfield. "Obviously, (I'm) disappointed to play that poorly the first day, but managed to get it together to keep the exemption streak going for another year. So definitely not my best, but overall a great comeback after some bad golf the first two days.
"Hopefully I can figure out how to put four good rounds together to get into contention in this event in the future. (I) always love playing it, and the host courses never disappoint. (It's) one of my favorite events of the year."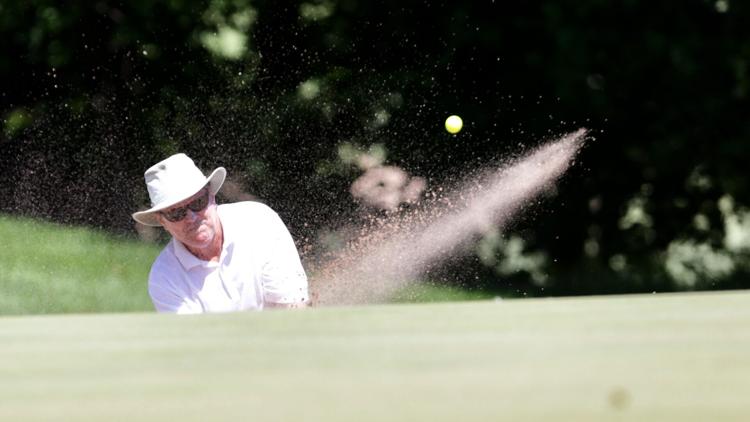 Best comeback
Jim Doing, Verona. A classically trained singer who toured Europe for years as a professional opera singer, Doing hit every note in a final-round 70. Coming off of back-to-back 80s, he vaulted up 27 spots on the leader board and finished in a tie for 48th place at 24-over 304.
Doing, 60, had to play Milwaukee CC differently than the bombers half his age, considering he carries his driver about 235 yards in the air and a good one rolls out to maybe 260. That leaves him shots of 200 or more yards into many of the par-4s.
"I'm hitting a lot of lumber," he said. "Absolutely. It's brutal."
Doing made the cut on the number at 14-over after a second-round 80, then shot another 80 in the third round. It was a different story Thursday as he made an estimated 91 feet worth of putts on the front nine. He got up and down for par six times in his round and birdied Nos. 3 and 16 during a 16-hole bogey-free stretch that was the longest in a single round of anyone in the tournament.
Unfortunately, he finished with bogeys on Nos. 17 and 18. On 17, the long par-3, he missed the green left with a 3-hybrid and didn't get up and down. On 18, his second shot from 222 yards, again with a 3-hybrid, found the left greenside bunker and he blasted out to 9 feet — with a 9-iron — but missed the putt.
"I wanted to be in the red today so bad," he said. "It could have been really low, but I was super happy. I was super pumped to be even."
Stat of the day
As the leaders began their round just after noon Thursday, there had been 19 birdies and one eagle at the par-5 third hole. It was the 15 holes after that which were giving golfers fits as, at that point, the field had combined for just 20 birdies on Nos. 4 through 18 combined. Fortunes flipped, however, after the last groups hit the course. None of them birdied Nos. 1 or 2, but seven of the 12 golfers in the final four groups birdied No. 3. There were then 43 birdies and two eagles made on Nos. 4 through 18 after the leaders got underway. 
Hair today, gone tomorrow
After shooting an 84 in the third round of the 2020 Wisconsin State Am, he decided to make some changes for the final round, including shaving a beard he'd been growing since the beginning of the COVID-19 pandemic.
It seemed to do the trick.
Bachmann closed with a 4-over 74 in the final round and moved up 19 spots to finish in a tie for 48th place at 24-over 304. All-in-all, it wasn't a bad week for the former Marquette golfer, who shot 72-74-74 around his Wednesday 84.
And now he looks more like the guy who won the 2016 WIAA Division 2 state championship for Sheboygan Falls and the 2017 Big East Conference championship for the Golden Eagles.
"I had been growing it (rough estimate) since mid spring, around when quarantine began," Bachmann wrote of his beard in a text to Wisconsin.Golf. "I started cleaning it up the last two weeks mostly because I didn't like the color as strange as that sounds lol. After the 84, I figured it was a perfect time to shave it up and start clean."
Bachmann, who graduated from Marquette this spring, was a big part of the Golden Eagles earning Golf Coaches Association of America Team Academic honors for the ninth year in a row. He had a 4.0 grade-point average in the fall and a 3.95 GPA in the spring. Bachmann said he is "actively looking for jobs and looking to start the next chapter," likely in the area of marketing.
"As for golf," he wrote, "I'm looking forward to a long amateur career and really enjoying the game to its fullest potential."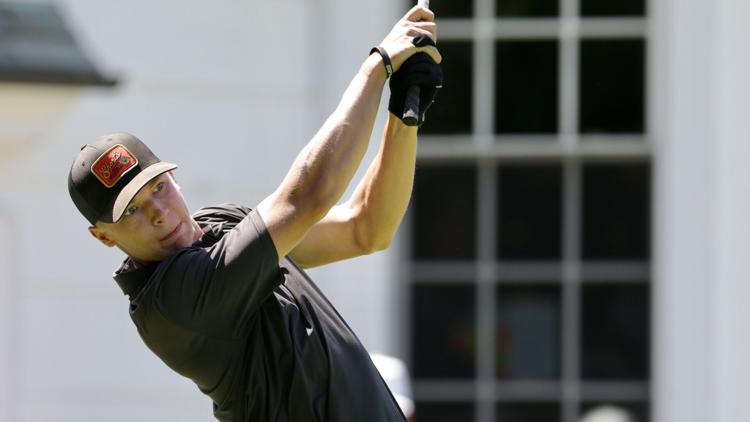 Appreciative IWU trio finishes in top 25
Carl Christiansen of Naperville, Ill., and two Illinois Wesleyan teammates took advantage of WSGA eligibility rules to enter and qualify for the State Amateur, and all three finished among the top 25.
Christiansen finished 13th at 12-over 292, Jimmy Morton of Sugar Grove was another shot back in a tie for 14th and William Nunny of Winnetka tied for 24th at 297.
They were part of a larger contingent of Illinois golfers who satisfied eligibility requirements by joining a WSGA member club and agreeing not to play in other states' corresponding amateur tournaments. The Chicago District Golf Association canceled or postponed all of its events this summer because of the coronavirus pandemic.
"It was awesome," Christiansen said. "Great experience. I'm thankful to the (WSGA) for allowing me to come up here and play. The course was in great shape and played very, very tough. The greens are extremely firm but they're running really pure.
"Three of us came up and all three of us made the cut. I think we all finished among the top 25, so it's exciting for the whole team for the three of us to play well."
At the trophy presentation, Bill Linneman, director of rules and competitions for the WSGA, concluded his remarks by joking that he was glad a Wisconsin player won, which drew lighthearted laughter and applause.
Eight of the 11 Illinois golfers who made the cut finished in the top 25 in all, making them eligible to return for the 2021 State Am as WSGA rules exist right now. That means they would have to commit to not playing in major championships in Illinois next year, assuming COVID-19 restrictions allow the CDGA to run them again after this year's hiatus.
Northern Illinois redshirt freshman Zach Place of Roselle, Ill., shot 74 in the final round and led the Illinois contingent with a fifth-place showing (289).
Christiansen, though, said none of the Wisconsin players gave him a hard time.
"They were pretty welcoming," he said. "Good people."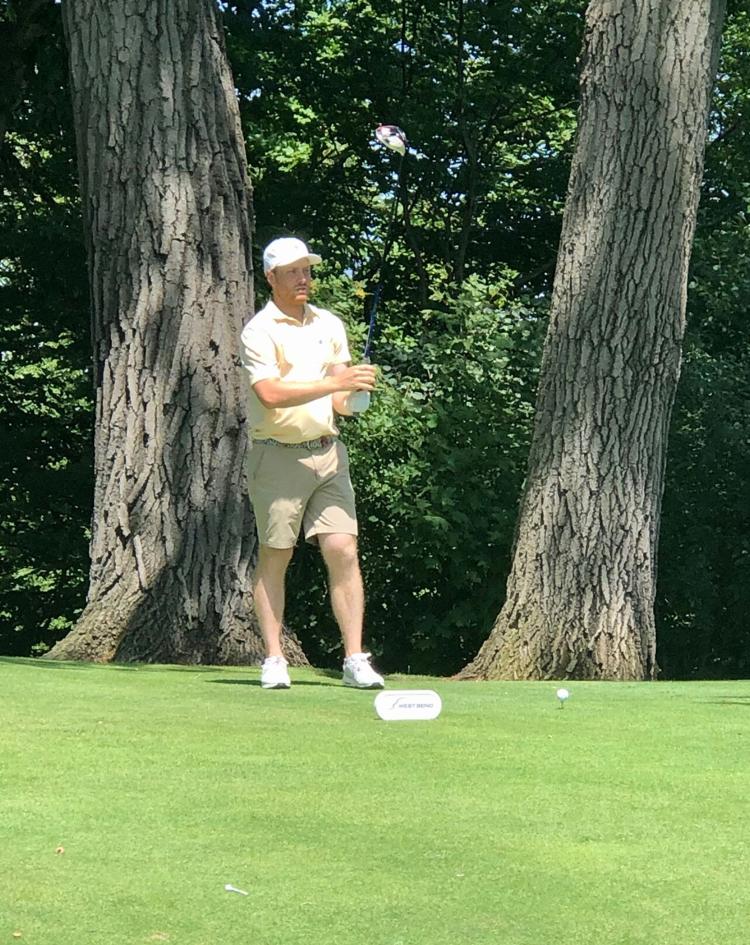 Billy McKay has tall Tiger tale
When Madison native Jerry Kelly begins his title defense Friday at the Ally Challenge during the PGA Tour Champions' first event since the start of the COVID-19 pandemic, at least one interested observer will be keeping tabs on the action at Warwick Hills CC in Grand Blanc, Mich., from a distance much further than he did as a boys growing up in the shadows of the course.
Former University of Michigan golfer Billy McKay, who now calls Milwaukee home, has a special connection to the course and the PGA Tour event that spent 51 years at Warwick Hills — the Buick Open. In 2005, at age 17, McKay became the youngest golfer ever to qualify to compete in the event.
"Warwick Hills will always be a special place to me," McKay said Thursday via text a message to Wisconsin.Golf. "I grew up across the street from Warwick and played there everyday as a kid growing up. When I was 17, I qualified for the Buick Open ... and tied Tiger (Woods) in the first round (with a 71)."
Unfortunately for McKay, the second round was a different story. Woods fired a 61 and eventually finished in a tie for second, four shots behind winner Vijay Singh while McKay struggled to an 84 and missed the cut by 15 strokes.
McKay, who left Grand Blanc after his junior year of high school and graduated from the David Leadbetter Academy in Florida, played 45 rounds in 16 events over his four-year career with the Wolverines. He doesn't play nearly as much competitive golf as he once did — he even took a hiatus from the game — but days like Thursday, when he shot a closing 69 to finish alone in 18th place at 14-over 294, 20 shots off the pace, remind him how exhilarating golf can be.
"I took about five years off from golf just doing scrambles here and there in the summer, but got the itch back thanks to friends that I grew up playing the game with," wrote McKay, who moved to Milwaukee four years ago and works in medical device sales. "So now I play a few competitive amateur events each summer when my work schedule will allow it. My approach nowadays is just to try to have fun. It can still be a very frustrating game, but I just don't put as much self worth into my golf score as I used to, which has made it a much more enjoyable game for me."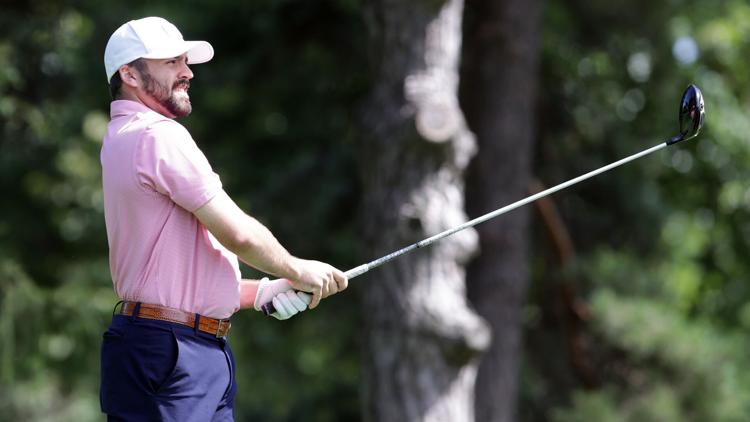 Numbers add up to 2021 berth
Life keeps getting in the way of Cal Meyers' efforts to play more tournament golf, but Thursday's closing performance at the 119th State Am was one the former Slinger golfer won't mind sleeping on for the next year. And why not?
After playing his final 14 holes in 4-under, Meyers will be coming back for the 2021 State Am at Westmoor CC in Brookfield. His 1-under 69 boosted him 32 spots into a tie for 24th at 17-over 297 to secure his top 25 exemption.
"I now work in public accounting at Ernst & Young's Milwaukee office, so unfortunately that schedule will prohibit me from playing in too many other tournaments the remainder of the summer," Meyers wrote in a text, saying he started full-time work there in September after graduating from Bentley University near Boston, where he played golf for the NCAA Division II Falcons. "But I really look forward to playing in the Am next year."
His final round didn't start the way Meyers had hoped. He double-bogeyed the first hole and was 4-over for the day after a bogey on the par-3 fourth left him 21-over for the week and on the verge of falling out of the top 40. 
"The momentum really swung when I hit a great iron into (No.) 5," wrote Meyers, who made the 15-footer for birdie on that par-4 before rolling in a 40-footer at No. 6 and a 6-footer at No. 7 to get back to even-par. "But what was just as important was an up-and-down from the front bunker on No. 8 to keep the momentum going. The back nine was just sticking to the plan and making sure the ball-striking was solid. That 4-under through (a birdie at) 14 was certainly an extremely solid stretch. And it felt good to close the round out (with pars) knowing how tough of a finish (Nos.) 16 through 18 are.
"(I'm) proud of the way I battled and stayed with it after a poor start. Like I said, Milwaukee CC has a way of magnifying mistakes. And I'm happy that I didn't make too many on those final 14 holes."
Quotable
Former Marquette golfer Michael Bielawski of Waukesha, the 2018 WSGA Match Play champion who finished T41 this week, was thoroughly impressed with what he saw from Longbella: "That's a clinic. He always has been a very, very good player and he's showing it this week. To win by that much and to honestly be under par with this being a par-70 (course) is really impressive. His golf has been outstanding and he's been so close the last couple years. You like to see a guy like that close the door finally."
Crossing the tees
This marked the 15th year in a row the State Amateur champion was younger than 25. The late Mark Bemowski was the last golfer north of that age to win the State Am. He was 58 when he won the 2005 title. ... Brookfield's Harrison Ott, who beat Longbella in an eight-hole playoff to win the 2018 State Am, made his decision to skip this year's tournament in favor of the Western Amateur Championship a wise one. Ott, who will be a redshirt junior at Vanderbilt this fall, shot rounds of 71 and 73 at Crooked Stick GC in the final two rounds of a 72-hole stroke play qualifier for the match play portion of the five-day event. He will play No. 5 seed Ricky Castillo of Yorba Linda, Calif., in the Round of 16 at 8:36 a.m. Friday. ... Nate Thomson's runner-up finish was his first top-10 showing in a State Am in eight starts. His previous best was a 13th-place finish at the 2019 Stat Am at the GCs of Lawsonia in Green Lake. ... Two of the four past State Am champions who made the cut finished in the top 10: Eau Claire's  Matt Tolan, the 2017 winner, shot 73 and held his position, placing fourth at 6-over 286 while former Marquette golfer Nick Nelson of Milwaukee, the 2016 champ, shot 74 and also finished where he started at T6 (10-over 290). Former University of Wisconsin golfer Eddie Wajda III, the 2015 champion, struggled to an 80 and ended up T39 (301) while ex-UW-Green Bay golfer  Travis Meyer of River Falls, the 2007 winner, shot 75 and finished T41 (302). ... Former UW golfer Pete Kuhl and Green Bay's Gabe Dahl withdrew before the final round due to family situations. ... After going to Westmoor CC in Brookfield in 2021, the State Am goes to Sand Valley Golf Resort near Nekoosa in 2022, Erin Hills near Hartford in 2023 and Legend at Merrill Hills in Waukesha in 2024.