HONOR ROLL
Round of the day
Jed Baranczyk, Green Bay. It was hard to say what was more impressive about the North Dakota State golfer's second round at the 120th Wisconsin State Amateur Championship — the birdie-birdie stretch at Nos. 16 and 17 nearing the turn that got him into red figures Tuesday or the 10 straight pars to end his round that kept him there. Either way, Baranczyk tip-toed through a menacing Westmoor Country Club with a 1-under-par 69 and wound up in sole possession of third place at 1-over 141 after 36 holes.
"It was not easy with the wind picking up and the pins, I thought, were a little bit harder (Tuesday)," Baranczyk said after saving par from a tricky lie in the fringe behind the ninth green to finish his round. "I didn't get up-and-down once (Monday). I was 0-for-4 or something scrambling. And (Tuesday) I only missed one or two. The one on (No. 9) helped a lot. I had kind of butchered the hole up to that point so to get up-and-down was big. And then I got up-and-down out of the right, front bunker on (No.) 5, the par-3. I almost holed that one; I hit it to two or three inches. I was happy to walk away with par."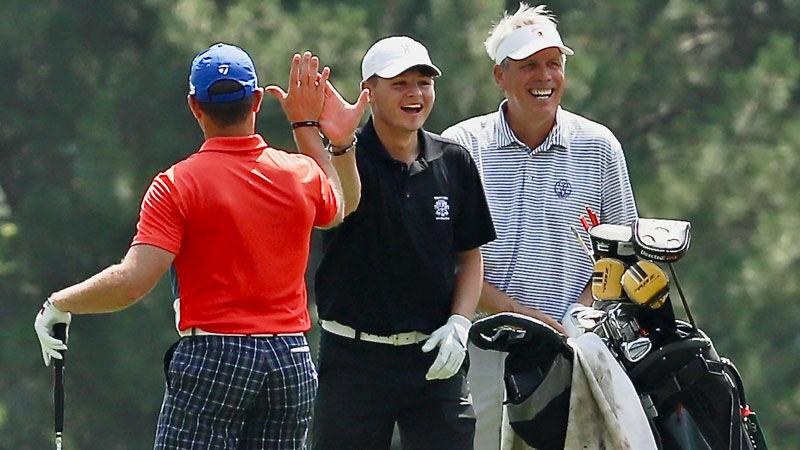 Shot of the day
Drake Wilcox, Sheboygan. Steve Wilcox held a 2-0 advantage in career holes-in-one over son Drake until the 2019 WIAA Division 3 state champion from Sheboygan Lutheran came to the 17th hole Tuesday at Westmoor CC and hit a 6-iron from 217 yards onto the green with a hole location cut 27 paces in from the front in the back, right corner.
"I was nervous about the cut," said Wilcox, who was 12-over for the week as he stood on the tee box of his penultimate hole of the day. "I'm coming to a tough par-3, and it's pretty long. (It's) 215 (yards), playing downwind and I was thinking I could just mash a 7(-iron). My caddie, Evan Spaulding, was like 'Just hit a soft 6(-iron)' so I hit a soft 6 dead at the pin. I know it's pretty cocky, but I gave it a little twirl because I knew it was going to be good. It rolled all the way up there and it went in. I didn't see it go in, but I got one clap from the official and that showed, I guess, that it went in."
The ace capped a wild, four-hole stretch in which the rising sophomore at Queens University of Charlotte (N.C.) went double-bogey/birdie/double-bogey/hole-in-one. Wilcox parred his final hole for a 77 and, with scores soaring during the second round, made the 36-hole cut with ease.
"It's kind of sad when you think about it — 1-over in four holes with a hole-in-one," Wilcox said, laughing about his rollercoaster finish after the round. "But it was a grind out there. I had a lot of fun. I'll never forget it."
Best start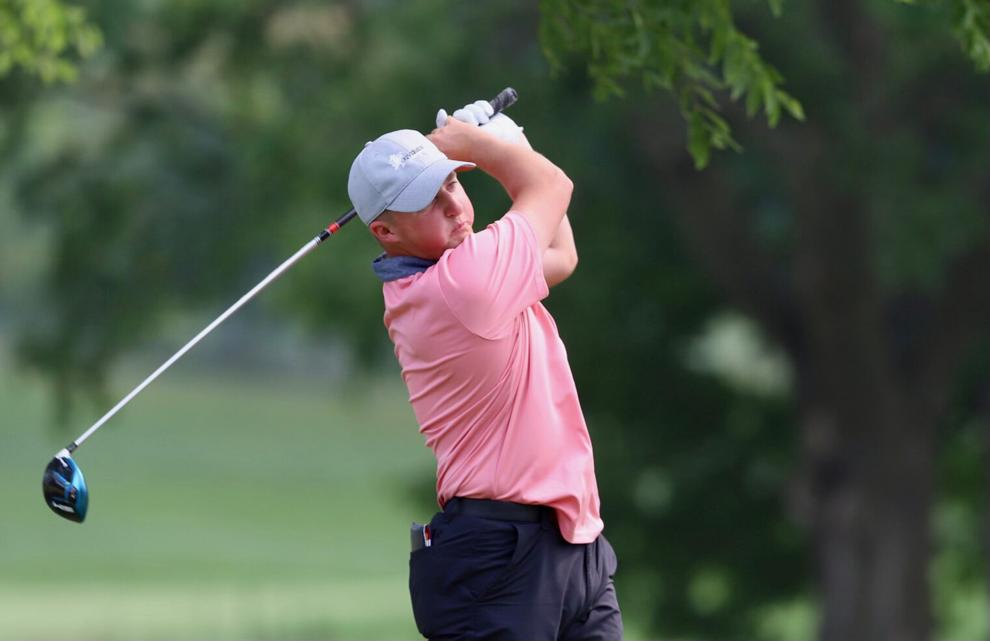 Dylan Brown, Reedsburg. The only mistake the Winona State golfer made on his opening nine Tuesday came on his first approach shot of the day from the 10th fairway where he misjudged the wind, flew the green and couldn't get up-and-down, making bogey on the short par-4.
"The next six holes on that first nine I just gave myself good looks," Brown said. "Hit fairways. Hit greens. Gave good runs at putts."
The result was the first run of three straight birdies by anyone in the 156-player field, starting at No. 13. He eventually shot 1-over 71 and, at 3-over 143 after two trips over Westmoor CC, finds himself tied for third place in just his second State Amateur start.
"I could tell with the amount of birdies I was making," Brown said. "I was hitting them to 10 feet and making birdies. If they'd have accelerated a little, another 15 more feet it was off the back of the green and you're looking at bogey or double. I was fortunate enough to make five birdies and do what you can around here and try to keep it around par out here the best you can." 
Best finish
Cameron Huss, Kenosha; Piercen Hunt, Hartland. The Big Ten Conference rivals — Huss plays for the Badgers, Hunt for the University of Illinois — and playing partners over the first 36 holes uncorked what, on a challenging day, could best be defined as a sizzling finish when they combined to go 7-under over the final four holes Tuesday.
Huss got the birdie party started with one on the par-5 15th hole before Hunt went birdie-birdie at Nos. 16 and 17 — the latter being the only hole on which they matched birdies before Huss added another at the par-4 18th. Hunt's finish left him with a 2-over 72 and, with an even-par 140 total, earned him a one-stroke lead at the midway point of this 72-hole championship while Huss jumped 20 spots with a 1-under 69 and wound up in a tie for fourth place at 3-over 143 and just three strokes off Hunt's lead.
"He struggled to start and then he started making some birdies and we just kind of fed off each other there," said Huss, who just completed his first freshman season at UW. "We both hit it to about 8 feet on (No.) 17, which was playing about 220 and we both made the putts. ... I just played kind of solid all day. I was ultra-conservative to some of those pins. Some of those pins you just had to take medicine and go 30 feet and be dialed on lag putting and I did that today. I happened to birdie three of the last four to get it under par, which was nice."
It changed the complexion of the tournament for both golfers, Hunt said.
"The closing three holes are actually pretty tough, especially with where the pin is on (No.) 16," Hunt said. "It's got a bunch of slope around it and I made a really good putt down the hill. I think, based on how the averages looked on those holes (Monday), I probably picked up four or five shots on the field. That's big for me."
Best comeback
Joe DuChateau, Fond du Lac. The former UW-Green Bay golfer bounced back from an opening 83 with a 73 to rocket 61 spots up the leaderboard (the biggest jump of the day) and, at 16-over 156, make the 36-hole cut on the number.
"After how I played (Monday), not really," DuChateau said, when asked if he expected to be playing Wednesday after making eight bogeys, a double-bogey and a quadruple-bogey in the opening round. I've been playing well. I've been hitting it good. It doesn't altogether at once.
"I just got a couple better breaks (Tuesday). Yesterday, I had some bad breaks and some big numbers because of it. (Tuesday), I just managed it a little bit better and kept it in front of me more so I could get it around easier."
---
SEEN AND HEARD AROUND WESTMOOR CC
Warm reception for Harrison Ott's sub
Timothy Johnson was thrilled to get the call last Friday from Geoff Pirkl, the WSGA's assistant director of rules and competition, saying a spot had opened up and he was in the 120th Wisconsin State Amateur as the first alternate.
And then Pirkl started a sentence "By the way ... ." And, suddenly, Johnson was asking Pirkl if there was anyway he could switch up the pairings.
"And whenever anybody says 'By the way,' you know that's bad news," Johnson said, referring to the part after he was told he would be the replacement for 2018 State Am champion Harrison Ott of Brookfield. "He said 'You're going to be playing with these two guys.'"
These two guys were Thomas Longbella of Chippewa Falls and Hunter Eichhorn of Carney, Mich. Longbella won the 2020 State Am at Milwaukee CC and recently wrapped up his college career at the University of Minnesota; Eichhorn — the 2019 champion — is returning to Marquette University this fall for another season with the Golden Eagles.
As for Johnson, he is a 54-year-old pastor at Rock Valley Church in Beloit. He plays to a +1.3 handicap at Krueger-Haskell GC, the local muni that is a long way from greens rolling 14 on the Stimpmeter like they were Monday and Tuesday at Westmoor, let alone in the company of two decorated college golfers with aspirations of playing the game for a living.
"My reaction, to answer your question, was panic," Johnson said. "And I'm not kidding; I didn't sleep for a couple of days. I don't know them; I just know their names. I don't have anything remotely close to their games. Plus, I don't know how to play on a course like this.
"So I was a little worried that I would be a distraction, to be perfectly frank. I just tried very hard to get out of their way."
In other words, it was a long, awkward couple of days for Johnson, who shot 82-85 and missed the cut by 11 shots? Nothing could be further from the truth.
"But they are such class guys," Johnson said. "They treated me like I was just ... Harrison, I guess. And I don't know that guy, either. They just treated me so well. Very encouraging. If I'd make a good putt for bogey, they'd be like 'Dude, that was great.' It wasn't condescending. They were just really classy guys to play with. They were just fun."    
Longbella contending in State Am swan song
Thomas Longbella of Chippewa Falls ran away to a 10-shot victory at the 2020 State Am at Milwaukee CC. He goes into the third round six shots off the pace after shooting a pair of 73s.
"This golf course, it's all a game of patience," he said. "I was 5-over after nine holes today and I was pissed but I told myself, 'You shoot a couple under on the back, it goes a long way.' I shot 2-under on the back, so I finished 3-over, same as yesterday. It's close. If I can get a couple more putts to drop, hit a couple better lag putts …"
Longbella said Westmoor CC was playing more difficult than Milwaukee Country Club.
"I think it's harder than last year," he said. "It's trickier. There's definitely more things to think about out here. You've got to make sure your mind is in the right spot, otherwise you compound errors. It's close, though. It's a similar style of golf."
Longbella has finished his eligibility at the University of Minnesota and plans to turn pro for the State Open next month.
'Late bloomer' Ryonen Faris makes a move
Ryonen Faris, a self-described "late bloomer" in golf, keeps improving every year. At this rate, he's going to be a player to be reckoned with someday – if not this week.
Faris, a Marian College graduate who owns a popular restaurant in Fond du Lac – 11:11 Burgers & Beignets – shot a 2-over 72 and moved up 52 spots into a tie for 19th going into the third round.
"The last couple years, I've actually started to dial in to more of the mental side of things, because I've kind of found out I hit it the same every day," he said. "I hit it just as good as a lot of guys out here."
Faris played baseball at Ripon High School but switched to golf at the suggestion of a friend.
"I'd shoot 90, but I was naturally good at it," he said. "And then I got a job at Lawsonia (in Green Lake). I lived about 10 minutes away. I worked there five years and got obsessed. I went from about an 8 or 9 (handicap) to about scratch or 1 in one summer.
"I try to work on one or two things a year. Driver's been a struggle, but that's getting better. That was this year's goal. I used to be a terrible putter, now it's the best part of my game."
Every time he tees it up in a state-level tournament, he gains invaluable experience. This week, he and his caddie, Travis Heyroth, are focusing on staying patient.
"Yesterday, we made two mistakes," Faris said. "We hit two clubs that had a chance of going long and last night we were talking, we said, 'Tomorrow, nothing goes long.' If it has a chance of going long, I'd rather have the 40-footer up the hill. ... I love making birdies, man, but in an event like this, if you're in between numbers you've just got to take your medicine."
PHOTOS OF THE DAY
BucksMania on display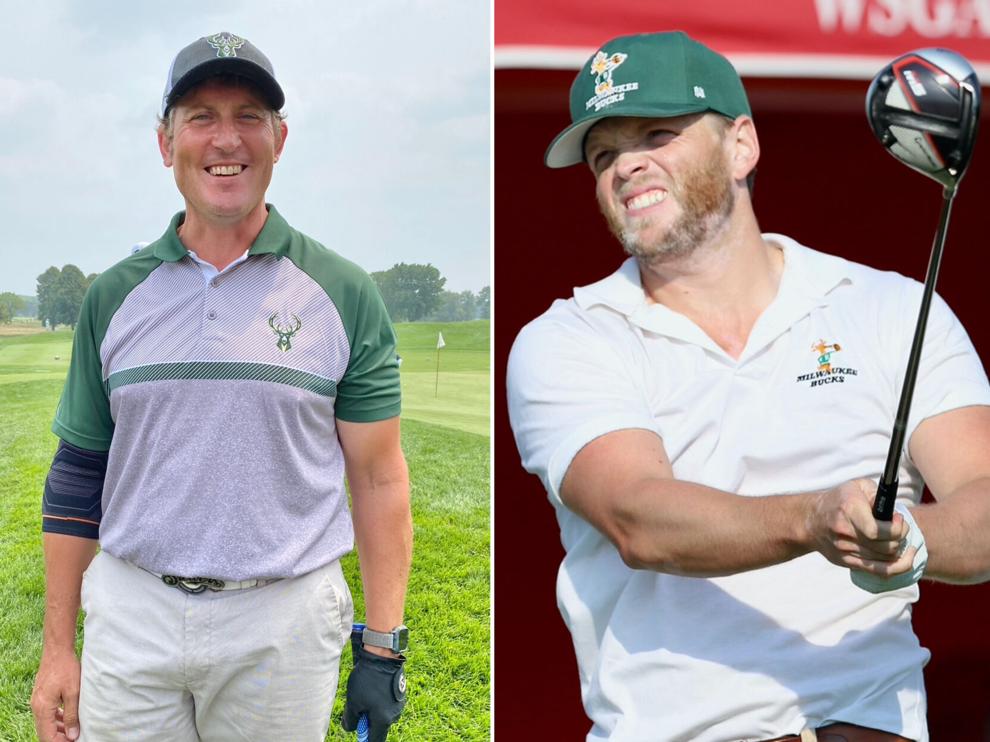 Quotable
Long-time WSGA executive director Gene Haas, a long-time member at Westmoor CC, followed 22-time club champion Ed Dzirbik during the second round, which means he got a front-row seat to the 1-under 69 fired in tough conditions by North Dakota State golfer Jed Baranczyk of Green Bay. "I thought I was watching Bobby Brue out there," Haas told a reporter, referring to the late Milwaukee golf legend who won five Wisconsin State Open championships and enjoyed a stint on what is now PGA Tour Champions.
Haas also spent time talking to Baranczyk's sister and caddie Jo, a three-time WIAA Division 1 state champion who is also headed to NDSU this fall. "He gave me a little history of the course, like the highest point on the (course) on one hole and how there used to be willows on No. 9, I think," Jo Baranczyk said.
As she was talking to a reporter, Haas approached once again and said: "I'll tell you what — whoever wins this thing is going to have to go through these guys."
Crossing the tees
The team of Marquette golfers Hunter Eichhorn and Aidan Lafferty and Milwaukee's Jack Schultz, playing out of Brown Deer Park GC in Milwaukee, won the Yule Cup team championships. There were 13 clubs that had at least three golfers in the State Am field, making them eligible for the competition. Brown Deer Park GC won with a score of 450, seven strokes better than Fox Valley GC in Kaukauna, represented by Jon Sauer, Luke Karakas and Gabe Dahl. ... Sheboygan's Max Schmidtke (2-under) won the par-3 contest on Westmoor CC's five-hole short course, topping Edgerton's Joe Forsting by one stroke for the informal title. Pewaukee's Drew Sagrillo (even-par) was third. ... Six of the nine former State Am champions made the cup with defending champion Thomas Longbella of Chippewa Falls (73-146) and 2017 champion Matt Tolan of Eau Claire (77-146) leading the way. ... Neither the oldest golfer in the State Am field — 65-year-old Mike Murphy of Minocqua (86-82) — nor the two youngest — 15-year-olds William Schlitz of Eau Claire (80-85) and Jack Rubo of Minocqua (87-83) — made the 36-hole cut. ... There were 72 golfers that made the cut of 16-over 156 or better, including 12 that made it on the number. Wednesday's third round will feature a one-tee start with the first group starting at 8 a.m. and the final group of Piercen Hunt of Hartland, Jed Baranczyk of Green Bay and Cameron Huss of Kenosha starting at 11:50 a.m.