HONOR ROLL
Round of the day
Hunter Eichhorn, Carney, Mich. The redshirt senior at Marquette University hasn't been quite as sharp the past two summers as he was in 2019 when he won the Wisconsin State Amateur on the Links Course at the Golf Courses of Lawsonia in Green Lake and was low amateur at the Wisconsin State Open, finishing fourth to Dan Woltman at Geneva National GC in Lake Geneva.
COVID-19 was among several factors that exacerbated pauses in his 2019-20 and 2020-21 college seasons and have led to inconsistency in his golf game.
His fortunes might have finally changed over the final two days of the 120th State Am at Westmoor Country Club, however. Eichhorn shot a bogey-free 66 in Thursday's final round on the heels of a promising 71 the day before to cap a tidy jump of 12 spots through the contenders atop the leaderboard and end his week in a tie for second place 5-over-par 285 — six strokes behind champion Hartland's Piercen Hunt (69), who won his first State Am title with ease.
"I actually drove the ball better than I did the first three days," Eichhorn said after posting his fourth top-10 finish in as many State Am appearances. "I hit a lot of greens (Thursday). I hit a lot of smart shots when I was in the rough. It becomes kind of a lag-putting game from there, when you give yourself opportunities you hope to capitalize on those. I didn't miss many greens and when I did ... I got myself into positions where I knew I could make par." 
Eichhorn, who earned Big East Conference player-of-the year honors this past spring for the second time, averaged 72.0 for Marquette in 21 rounds, 13 of which were par or better (low of 68). He also made his third NCAA regional appearance, but that momentum didn't carry over to the summer with average finishes at the Sunnehanna Amateur (T-65) in Pennsylvania and the North-South Amateur (T-96) at Pinehurst (N.C.) Resort around a T-17 at the 36-hole U.S. Amateur qualifier.
Anything but average in the final round with only the second bogey-free round of the week, Eichhorn embraced the mantra that par was a good score at difficult Westmoor and made eight of them around a birdie at the par-3 fifth hole to start his round. He added birdies at Nos. 10, 15 and 16 to climb into a share of second place with Lodi native Adam Miller (68).
"Me playing a little smarter," Eichhorn said when asked the difference between his 71-66 finish and his 72-76 start. "I'd hit good shots that would cost me and I knew I had to dial that back a little bit. I did that the last two rounds and I was able to play a little bit better. ... I knew I was playing well after (Wednesday). I could put together a good round (Thursday).
"It was good to have a final round like this. It's definitely a confidence-booster going forward."
Shot of the day
Bob Gregorski, Menasha. The two-time State Amateur champion hit a 5-iron from 208 yards inches from the cup on the par-3 14th hole for one of two birdies in a closing 74 that left him at T-37 with a 28-over 308 total. His were not the only fireworks from golfers in the 8:50 a.m. group. Former Cardinal Stritch golfer Tyler Church of Holmen hit a 7-iron to 10 feet and made the birdie putt and ex-Northern Michigan golfer Logan Haight of Hartland made it a birdie sweep for the group.
Best start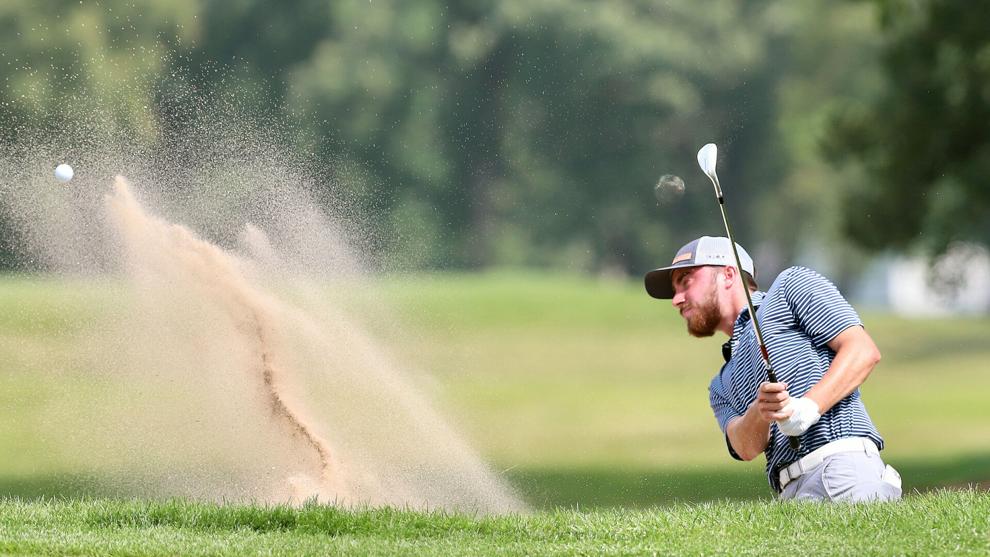 Matt Tolan, Eau Claire. No one among the 156 golfers in the State Am field played the front nine as well as the 2017 champion and that trend continued in Thursday's final round. Tolan bounced back from a bogey 5 on the opening hole to birdie Nos. 5 and 6 en route to a 1-under 34, his third sub-par round in four laps around the front this week, to shoot 71.
The former University of South Dakota golfer also went birdie-birdie on Nos. 5 and 6 in the opening round to shoot 34 on the front nine. When he shot 3-under 33 on the front on Wednesday, Tolan birdied the par-4 first, par-3 third and par-5 ninth. 
Best finish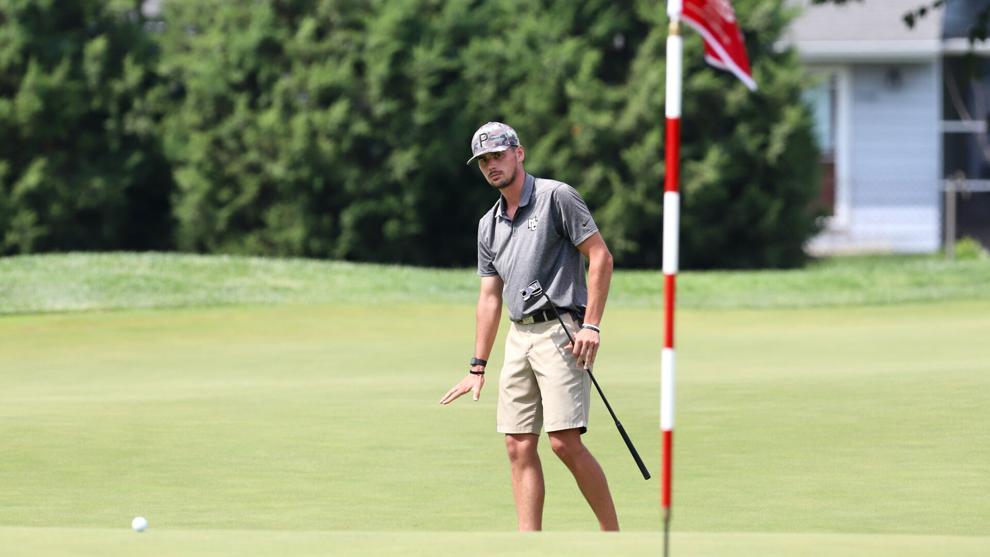 Hunter Eichhorn, Carney, Mich. The stage was set for back-nine drama Thursday during the final round of the State Am as seven golfers broke par and three more matched it. But Hunt was not going to turn the home stretch into a house of horrors.
Nonetheless, Eichhorn gave it his best run with a 3-under 32 to finish off his final-round 66 and climb into a share of second place with Sand Valley caddie Adam Miller of Nekoosa, whose 33 on the back nine left him with a 68. It was the first time all week that Eichhorn shot par or better on the closing nine at Westmoor CC where he averaged 1-over 36 for the week.
Not surprisingly, Hunt (34.5) and Miller (34.8) finished 1-2 on the back nine. In fact, Hunt's average was nearly a full stroke better on the back than the front (35.2), helping him win his first State Amateur trophy.
Stat of the day
Evan Myers, a Texas A&M golfer from Northbrook, Ill., made sure there was an eagle on the final day of the 120th State Am, hitting a 6-iron from 211 yards at the 555-yard, par-5 15th hole onto the green and making a 50-foot putt up the hill. But that would be the lone eagle during the final round, bringing the total for the week to three — five fewer than a year ago at Milwaukee CC, which had been the fewest in a State Am since the WSGA started scoring the event on BlueGolf software.
Before Myers sat down to lunch with playing partner Zach Place, a Northern Illinois golfer from Roselle, a few Wisconsin golfers had been analyzing scores at the Illinois State Amateur that wrapped up Thursday at Mistwood CC in Romeoville, Ill. A 13-under score won the event and 16 golfers broke par (vs. one at the Wisconsin State Amateur).
Place cautioned that the State Am in his home state could not have been more different than the one he chose to play in Wisconsin. "(Mistwood) has wide-open fairways twice as big (as Westmoor) and not as much rough," he said. "A 380-yard hole here, you're just trying to make par. There, you'd be upset about it."
Myers said that's why the two of them were among nine Illinois golfers to go through the trouble of joining the WSGA via a member course so they could tee it up at Westmoor. "I think we both feel the competition up here is better on much tougher courses," Myers said. "It's a much better gauge of where our games are at" as they prepare for their upcoming college seasons. 
Photo of the day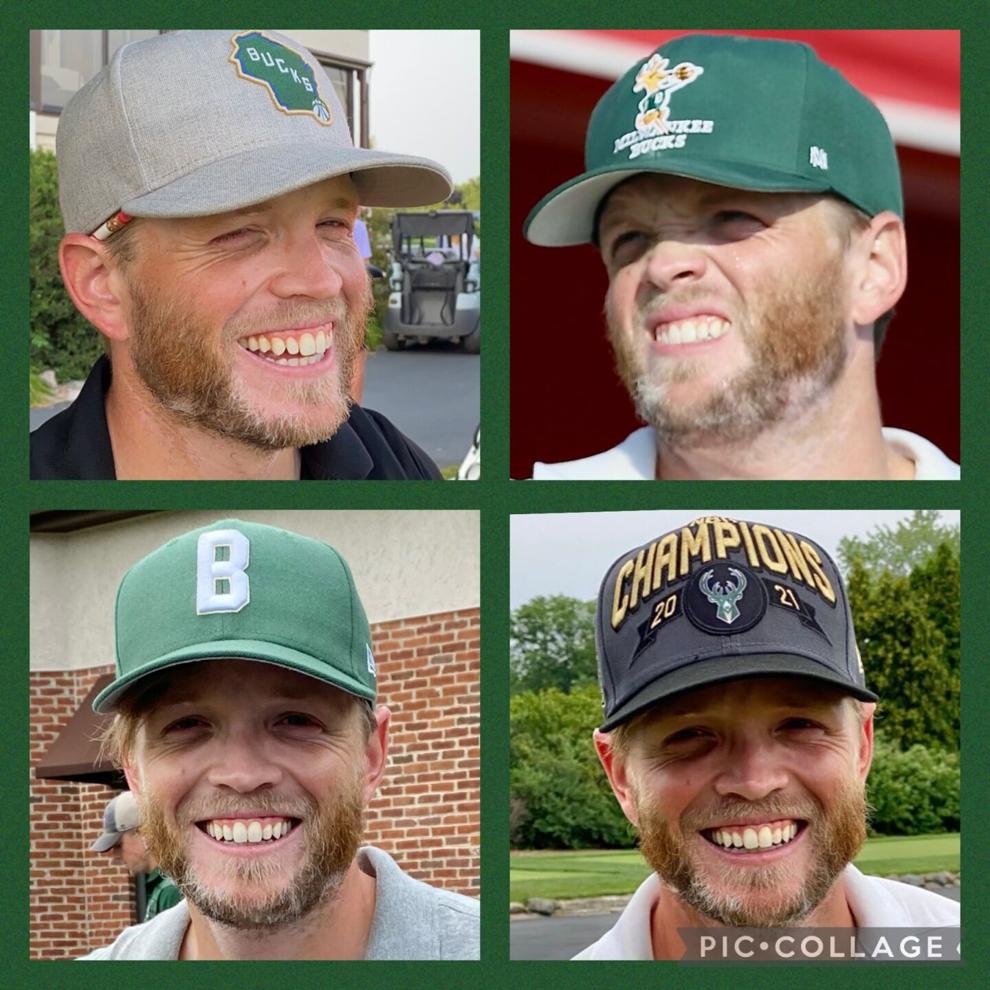 ---
SEEN & HEARD AROUND WESTMOOR CC
Birthday boy Sebastian Kasun gets stiff test of golf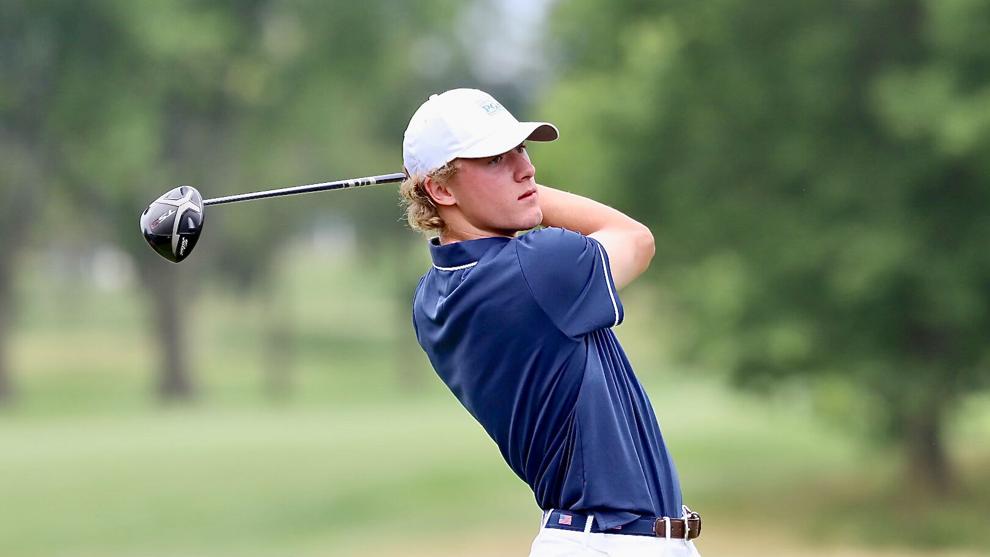 As a member at Westmoor CC, Sebastian Kasun of nearby Elm Grove knows how difficult his home course can play and the rising senior at Milwaukee Marquette also knows how much different that is than courses most golfers his age play.
That difference, Kasun agreed, couldn't have been more significant than it was this week at the 120th State Am.
"I knew it was going to be a hard golf course; even playing it normally, it's hard," said Kasun, who celebrated his 17th birthday Thursday by shooting 2-over 72 to finish the 72-hole event at 22-over 302 in sole possession of 25th place — the cutoff for an exemption into the 2022 State Am, which will be played at Sand Valley Golf Resort near Nekoosa.
"I knew they would amp up the conditions — make it firmer, faster and grow the rough longer," he said. "It was a tough week, but I ultimately shot 72 (Thursday) and I enjoyed it. So that's all that mattered."
Kasun laughed when it was suggested his 72 in the final round of a State Am felt must have felt like shooting 67 at last week's National PGA Junior Championship. As tough as the course set-up was, however, it wasn't far from the truth.
"Even when I shot 82 on Tuesday, I struck the ball really well and felt like I could have made up five or six shots, easily," Kasun said. "But it's a tough track and anything from even-par (70) to 75 is a great score."
Unlike many of the courses Kasun plays during the high school season in the spring and, again, on the WPGA Junior Tour, Westmoor and its narrow fairways made those who favor a "bomb-and-gouge" approach off the tee think twice about it.
"This totally changed my game-plan in comparison to the high school season," Kasun said. "Like instead of hitting drivers on (Nos.) 4, 6, 10 (and) 11, I always hit a 2-iron or maybe a 3-wood, but 2-iron just to get it in the fairway. If you are in the rough, it's tough to hold the green. Especially just when you miss the fairway? Some areas are really thick in there."
Kasun likes the precision required to play a course such as Westmoor CC in an event as demanding at the State Am. 
Adam Garski's drive gives Piercen Hunt's a nudge 
It's not unusual for a player's chip shot to hit another player's unmarked ball on a green. When it happens on a 300-yard drive, however, that's another story.
After Piercen Hunt's tee shot came to rest on the right side of the fairway on No. 16, playing partner Adam Garski hit a carbon copy drive. Garski's ball rolled up to Hunt's ball and nudged it forward about three inches, like the cue ball hitting an object ball in billiards.
"That never happened to me before," Garski said. "It was completely new to me."
Bill Linneman, director of rules and competitions for the WSGA, was summoned for a ruling. Hunt had to move his ball back to its original resting place and Garski marked his ball a few inches to the side.
"Piercen replaced his ball, which would have been behind mine," Garski said. "I moved my mark, so when Piercen took his divot, he wouldn't move my mark. Then from there, where my ball was originally would have been in his divot, so you have to put the ball back in the nearest position with the same lie it had before we did all that. So, I just moved it a little right and went from there."
The weirdest thing is that in Round 2, Hunt's ball on the 16th green was struck by an approach shot hit by playing partner Evan Myers of Northbrook, Ill.
"Evan's ball took a couple of big hops and then it landed on top of my ball," Hunt said. "His ball shot to the back of the green and my ball rolled a few feet up the green. I said to Evan at the time that I can't remember my ball or one of my playing partner's balls hitting each other, and then it happens twice within three days on the same hole."
Zak Kulka's opening 64 confirmed as Westmoor CC course record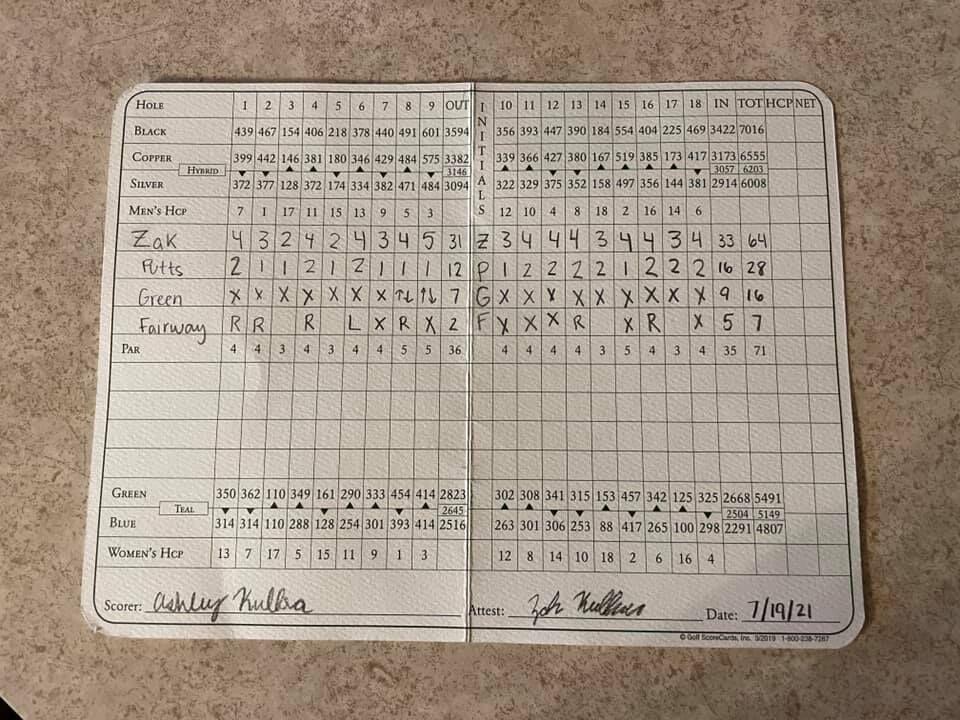 Brad Kulka wasn't able to watch the first round of the State Am in person, but the father of the first-round leader did get his first look at Westmoor in Thursday's round and even he couldn't believe son Zak opened with a 64 on the treacherous track.
"I had no idea how hard the State Am course was until I went (Thursday). WOW!" the elder Kulka posted to his Facebook page along with a detailed scorecard tracking putts and greens and fairways hit in regulation signed by Zak Kulka and sister Ashley, like her brother a UW-Green Bay golfer and and his caddie all four rounds as Zak finished T-9 (64-79-79-72).
As it turns out, Kulka's round was also a course record, Westmoor head professional Vince Pulizzano confirmed. The previous record, a 67, was shared by 22-time club champion Ed Dzirbik and Eric Schleicher.
Video: Catching up with former Lodi golfer Adam Miller
Quotable
UW-Stout men's golf coach Andrew Delong, the former Sheboygan North coach, caddied for Mason Schmidtke, a rising junior at North, for the final four holes Thursday after going all 18 with Mason's brother and his former North player, University of South Dakota-bound Max. He had this to say after the younger Schmidtke had set down his water and a bag of pretzels and tried to chip up the slope from just off the green on the 18th hole: "You better pick your crap up because it's coming back to you."
Sure enough! Schmidtke's chip shot didn't travel far enough up the slope to stay there and he was forced to give it another try — but not before he had time to down three pretzels out of that bag while the ball traveled back toward him. 
Crossing the tees
There were only two par-5s on the par-70 Westmoor CC layout and Fond du Lac's Joe DuChateau birdied six of the eight he played and parred the other two. Unfortunately for the former UW-Green Bay golfer, he was 36-over on the other 16 holes over the 72-hole event. ... Twelve golfers had at least 10 birdies over the 72-hole event with Hunt (14) making one more than Reedsburg's Dylan Brown, Jack Schultz and Ethan Wilkins, who all had 13. ... Former WSGA executive director Gene Haas, a longtime Westmoor member, was the honorary observer following the final group. ... Muskego's Matt Polivka had nine putts through his first seven holes and was even-par to that point before losing balls in the rough on Nos. 8 and 9 to finish the front nine triple-bogey/double-bogey and shoot 40. ... Sites have been chosen for four of the next five State Ams. It will go to Sand Valley Golf Resort near Nekoosa in 2022, Erin Hills near Hartford in 2023, The Legend at Merrill Hills in 2024 and West Bend CC in 2026. A venue for the 2025 State Am has yet to be finalized.