GREEN LAKE – So many crazy things happened over the last two holes of the 118th Wisconsin State Amateur that Hunter Eichhorn's head was spinning. And he was the champion.
"I didn't really know what was going on there the last 10 minutes or so," he said. "It was just crazy."
When Eichhorn removed his ball from the cup on the 18th hole of the Links Course at The Golf Courses of Lawsonia on Thursday, his celebration was so muted – no fist pump, no putter raised, a smile that was more grim than grin – that his mother, Barb Poupore, thought her son might be headed to a playoff. She turned to one of his teammates at Marquette University and asked, "Did he just win?"
Yes, he did. And you didn't know whether to cheer or cry.
After making a double-bogey on the par-4 17th hole to cough up a one-stroke lead over Phillip Johnson – "I thought it was over there, to be honest with you," Eichhorn said – he watched Johnson make a double-bogey mess of the par-5 18th and hand him back the title.
"It's not how you want to win anything," Eichhorn said. "I mean, Phil played great all week. It's unfortunate that it ended like that."
Eichhorn, of Carney, Michigan, and a rising junior at MU, closed with a 74 and finished at 7-under 281. Johnson shot a 77 and tied for second at 282 with 2017 State Amateur champion Matt Tolan of Eau Claire. Tolan shot a closing 73.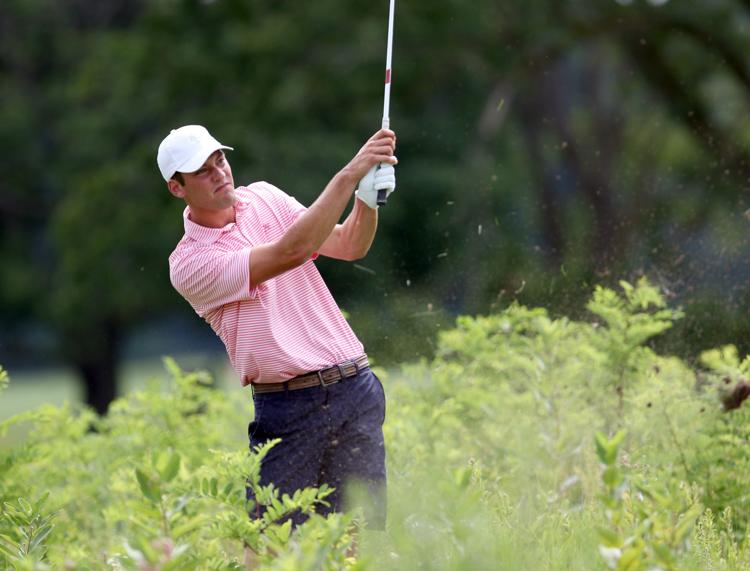 Minutes after signing his scorecard, Johnson spotted a reporter and immediately walked toward him, the smile on his face masking what surely was crushing disappointment.
"It's OK," Johnson said, but it really wasn't. If you didn't feel for him, you had no heart.
Johnson, a former University of Dayton golfer from Colgate, had played beautifully for 54 holes, getting to 11-under and taking a two-stroke lead over Eichhorn into the final round. Tolan and University of Minnesota golfer Thomas Longbella of Chippewa Falls were four back.
Eichhorn had blown a chance to win the 2018 State Amateur when he took a one-shot lead into the final round and stumbled to a 78. And early on Thursday, he didn't appear ready to seize the opportunity in front of him. He three-putted for bogeys on Nos. 1 and 3 and three-putted for par on the par-5 fifth. He also would three-putt for bogeys on Nos. 10 and 12.
"Oh, yeah, I had a pile of them," he said. "On a couple, I put myself in a really bad spot on the green. I had a couple really, really bad ones, though. I missed a couple short ones but I had the right attitude about it and I just kind of hung in there and was able to make a few coming down the stretch."
Johnson, meanwhile, made a double-bogey on the par-4 sixth and bogeyed the par-3 10th when he short-sided himself but otherwise played steady golf through the middle of the back nine.
But let's get right to the last five holes, because that's when the roller-coaster started climbing that first big hill. Just ahead were the stomach-in-your-throat descents and the grip-the-bar hairpin turns.
Johnson was still two ahead going to the short par-3 14th. He made a routine par but Eichhorn almost knocked down the flagstick and tapped in a 2-footer for birdie. Now, he was one down.
Johnson made another solid par on the 15th, but Eichhorn hit another spectacular approach to 4 feet and made that putt for birdie. Now, they were tied.
On the 16th, Eichhorn made a routine par and Johnson three-putted from 45 feet for bogey. Now, Eichhorn was one stroke ahead. He'd picked up three strokes in three holes.
"When we were on the tee at 17, I kind of figured Hunter is really playing well on this back nine and I haven't been able to get it going," Johnson said. "I was maybe not resigned to the fact that he was going to win, but …"
We'll finish that sentence: It wasn't looking good for Johnson.
And then, suddenly, it was.
From the left rough on the 17th, Eichhorn caught a flyer, his ball glancing off the back-left side of the green and bounding into nasty, thigh-high fescue. He took a mighty slash and his ball popped out of the thick stuff but stopped at the base of the steep-walled green. He then chipped on and two-putted for a double-bogey.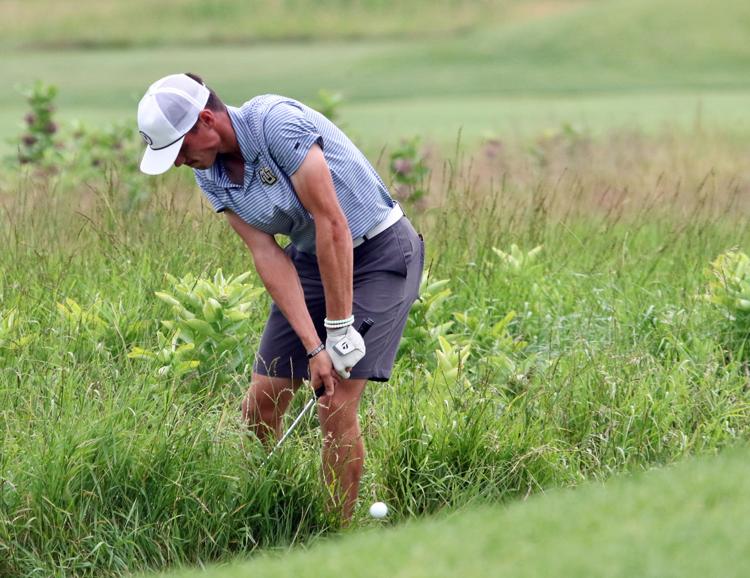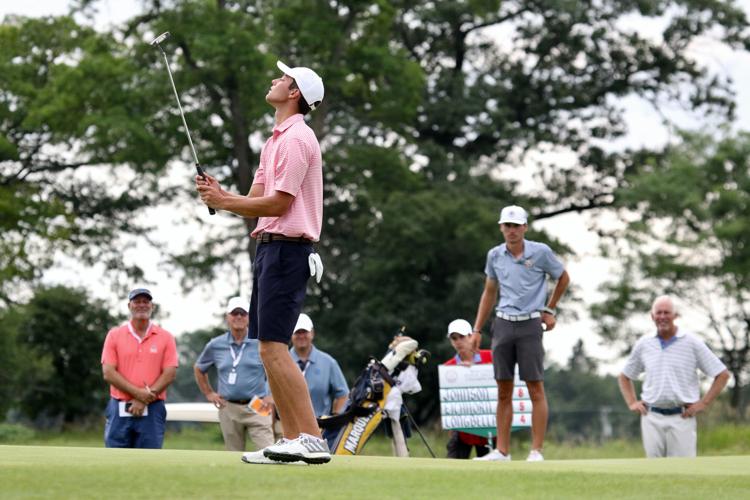 "It was a terrible lie," he said. "I was just lucky to get it out. Bad timing."
Johnson barely missed a 12-foot birdie putt, his ball burning the edge. Had he made it for a three-shot swing, the outcome might have been different. As it was, he took a one-shot lead to the final hole.
Eichhorn split the fairway on the 580-yard par-5 and pulled his second shot just left of the green. From the left rough, Johnson debated whether to go for the green with 3-wood from 284 yards but decided to lay up with his 6-iron.
Unfortunately, he made the cardinal sin of laying up into the fairway bunker some 60 yards short of the green. As soon as the ball left the face of his club, he said, "Get down! Oh, my God!"
"I definitely caught a flyer," he said. "It was probably the first big mental mistake I made all day and maybe even all week. I was really debating hitting 3-wood at the green because the lie was pretty good. I was just worried that in case it didn't come out well, that bunker is a 225 carry into the wind. It was like 210 to get to the bunker and it just came out super-hot."
The long bunker shot is among the most difficult in golf in the best of circumstances, and Johnson did not have a good lie. His shot came out a bit chunky and stopped a few yards short of the green. After Eichhorn pitched his third shot about 10 feet past the hole, Johnson faced a relatively straightforward chip shot … and cold-shanked it.
"Obviously, the elephant in the room was the shanked chip, which I'm not afraid to talk about," Johnson said. "It was an uncomfortable chip. I've never done that before. Maybe in practice. I was standing over it thinking that I should be hitting a different club, a higher-lofted club. The worst thing in golf is an indecision. I hit a gap wedge. I was thinking about going back for a sand wedge.
"I went and pulled the trigger, even though I wasn't sure about it. Obviously, what happened, happened."
Johnson gathered himself and hit his next chip, his fifth shot, about 8 feet from the hole. Eichhorn missed his 10-footer and if Johnson could make his putt for bogey, the players likely would be headed to a playoff.
"It looked like it had to be left edge, maybe even more break," Johnson said. "It started at the left edge and just ran right over the edge. I thought it was in when I hit it. It went dead straight, unfortunately."
Eichhorn made his par putt and it was over. The 30 or so spectators gathered around the green almost didn't know how to react. There was applause, but it wasn't enthusiastic – not because Eichhorn wasn't a deserving champion but because of Johnson's collapse.
"Heart-wrenching," said Poupore. "Just heart-wrenching. When it ended, I felt terrible. I mean, yes, I'm happy for Hunter. But Hunter has been on the other end of that, too, when you're not the one who wins. And it's hard."
Tolan, who had finished his round, walked over to the 18th green and caught the end.
"You feel bad for the guy," he said. "It happens to everyone, though. He still played phenomenal golf this week. He got it to 11-under after three rounds and that's crazy good out here. He's a great golfer and he's going to get his title. There's no doubt about that. He's a phenomenal player."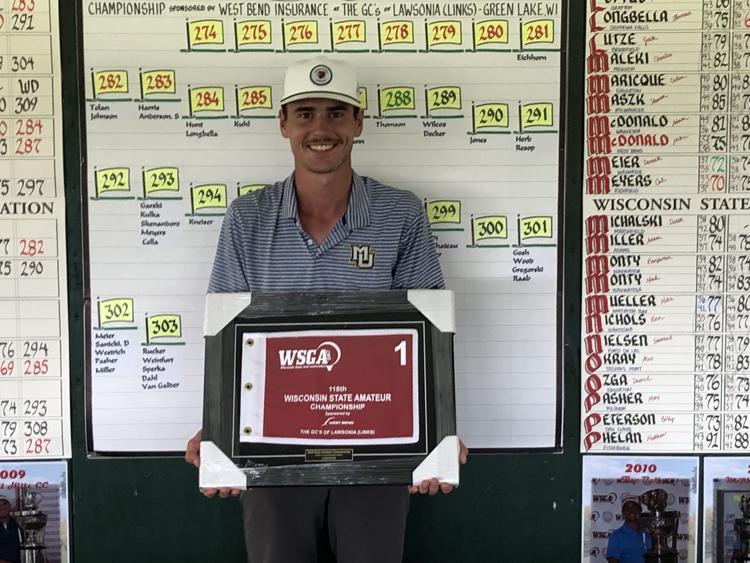 What made Eichhorn's victory even crazier was that he was playing so poorly in the weeks leading up to the State Amateur that he considered withdrawing. After missing the cut at the Trans-Mississippi Amateur in Dallas last week, he texted his mother: "Is it OK if I withdraw?" She urged him to sleep on it and by Friday he'd decided he would play, after all.
"I knew if he slept on it, he'd realize that this is important," Poupore said. "This is where the learning and growth comes in. This is tough, but I feel all of those little things led up to this moment and here we are. It's emotional for mom."
Eichhorn didn't want to win this way. But he did want to win, and now his name will be on the trophy alongside those of Steve Stricker, Andy North, Mark Bemowski, Bob Gregorski, Mark Wilson and a host of other Wisconsin Golf Hall of Famers.
"It's an honor to put my name on the trophy with some of the great players who have come through Wisconsin, especially after last year," Eichhorn said. "It means the world to me. It's really cool, it's really special and it's an honor to be the champion."
Later Thursday night, Johnson tweeted, "I won't let one hole define who I am. I'm heartbroken but I had a great week & learned a lot about myself finishing runner-up at the state am. I wish life's best lessons weren't the ones that are so painful. Thank you @WSGAGolf for running yet another world-class golf tournament."
It appears the future of amateur golf in Wisconsin is in good hands.