Joe Weber's success in the Wisconsin State Men's Mid-Amateur Championship is starting to become legendary. Or, better yet, Legend-ary.
The West Salem golfer won the eighth annual championship for golfers age 25 and older for the second time Tuesday at the Legend at Bristlecone Golf Club in Hartland, catching Milwaukee's Jack Schultz down the stretch to finish with matching 3-under-par 68s before edging him in a playoff with a birdie on the first extra hole. Weber, who birdied Nos. 16 and 17 after Schultz bogeyed the latter hole to force a tie at the top, made an incredible par on No. 18 during regulation to give himself a chance at his first Mid-Am title since 2017 when he shot 65-68 at The Legend at Bergamont in Oregon to win by three shots.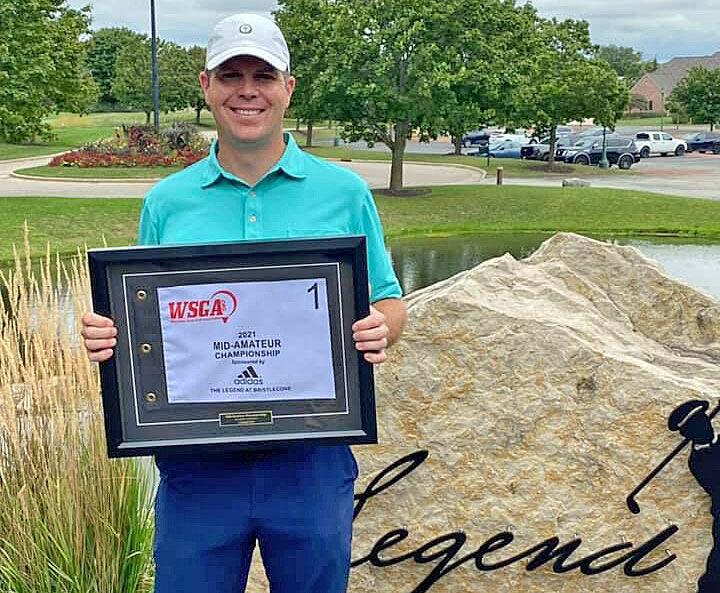 "I do like both of those courses," Weber joked in a text to Wisconsin.Golf after surviving what became an 18-hole shootout following the cancellation of the opening round Monday due to severe weather and heavy rain. "I was looking forward to playing (Bristlecone) twice. It's always unfortunate when weather changes an event, but it happens. My mindset never really changed.
"(The reduction to 18 holes) just makes it harder to come back from big mistakes so my goal was to minimize them as much as possible."
Weber, 37, who has finished inside the top 10 at all eight Mid-Ams including two runner-up finishes to go with, now, his two victories, made six birdies and three bogeys during regulation. However, his work the final two holes of regulation to catch Schultz was, indeed, the stuff of legends.
"I didn't look at the leaderboard until after I hit my tee shot on (No.) 17," wrote Weber, who birdied the hole moments after Schultz pulled his tee shot on the par-3, chipped to 10 feet and missed the par putt. "Before that, I wasn't hitting it well enough to care. I was just trying to get it in play off the tee and get it on the green. That wouldn't have changed if I was (3-)up or 3-down. 
"But when I looked I was 1-down so I knew I needed to make it so that, if Jack made birdie on 18, I would still have a chance. It was a very tough putt that broke over 5 feet so it was kind of lucky it went in."
Luck proved to be on Weber's side again on No. 18 where he snap-hooked a 3-wood off the tee and toward the fairway for the first hole.
"Then I had to play it over the pool and (out-of-bounds area) to try to get it on the green," Weber wrote. "After I hit it, I wasn't sure I was in play. I found it short left (of the green) and then hit a great chip to get it to 8 feet and made the (par) putt. Very stressful."
Weber took the stress out of the proceedings in the playoff, splitting the fairway playing No. 18 a second time with a hybrid instead of a 3-wood and hitting his approach shot to 10 feet before rolling in the birdie putt. Schultz's drive kicked into the rough behind a tree branch, a tough break. He hit his approach shot over the green and chipped back to 6 feet but never got to putt the ball after Weber made his birdie putt for the victory. 
"Until (No.) 9, I had five putts from five to 20 feet slide by that could have gone in," Schultz wrote via text after making birdies at Nos. 10, 12, 13 and 15 to get to 4-under before his bogey at No. 17. "I had a few other putts in that range that missed on the back nine, too. I started off a little shaky with some not great approaches, but I started hitting it better and better as the round went on to the point where I had birdie looks on every hole for a good stretch. I felt like the 3-under I shot was as high as I could have scored (Tuesday)."
But that was the point of entering the Wisconsin Public Links Association 36-hole championship Saturday and Sunday and this event, which was to have been another two-day event until Mother Nature had other ideas Monday morning.
"I wasn't too happy with how the State Open ended, so I signed up for these after to try to show to myself that I can be better than I was there," wrote Schultz, who shot 72-72-74-72 to finish 15 strokes behind repeat champion Harrison Ott of Brookfield. "The timing of WPLA and the Mid-Am were great so I was able to play for a few days in a row with expectations to get better each day because I'm able to see how the game is and make adjustments and learn. (I) definitely had that going (Tuesday) with so many good shots, but I left a ton out there.
"It's disappointing to not do as well as I could have."
Weber knows the feeling. He finished tied for 10th in his defense of his Ray Fischer Amateur Championship in June, finished T-43 at the Wisconsin State Am in July and T-39 at the Wisconsin State Open in August. Tuesday's win earns him a berth in the 2022 Wisconsin State Amateur at Sand Valley Golf Resort near Nekoosa and the 400 WSGA player-of-the-year points combined with the 100 he got for finishing fourth at the Wisconsin Publinks Championship, virtually locked up a spot for him on the WSGA squad for the 2022 Nelthrope Cup matches.
"It means a great deal to me to win any WSGA championship," wrote Weber, who will play with partner James DeBoer next week at Washington County GC in Hartford in the WSGA Two-Man Team Championship — an event he won twice with partner Josh Dirks, the last time in 2016 at (you guessed it) The Legend at Bergamont. "There are only a few of them and anytime I can get a win, it's always very special."      
---
Overall gross
POS

PLAYER

THRU

TOTAL

STROKES

 

1
Joe Weber  West Salem, WI (p)
F
-3
68
 
2
Jack Schultz  Milwaukee, WI
F
-3
68
 
T3
Tom Halla  Colgate, WI
F
E
71
 
T3
Jack McKinney  Milwaukee
F
E
71
 
T5
Nathan Boltz  Elkhorn, WI
F
+1
72
 
T5
Cory Aune  Lake Geneva, WI
F
+1
72
 
T5
Kevin Cahill  Waukesha, WI
F
+1
72
 
T8
Garth Gilster  Minocqua, WI
F
+2
73
 
T8
Jim Doing  Verona, WI
F
+2
73
 
T8
Derrick Meier  Waunakee, WI
F
+2
73
 
T8
Gabe Dahl  Green Bay, WI
F
+2
73
 
T8
Joe DuChateau  Fond Du Lac, WI
F
+2
73
 
T8
Ryonen Faris  Fond Du Lac, Wisconsin
F
+2
73
 
T8
Robert McCloskey  Hartland, WI
F *
+2
73
 
T8
Jade Royston  Wisconsin Dells, WI
F
+2
73
 
T8
James Gunsalus  Brookfield, WI
F
+2
73
 
T8
Travis Pronschinske  Oconomowoc, WI
F
+2
73
 
T18
Sam Cianciola  Nekoosa
F
+3
74
 
T18
Chip Summers  Richfield, WI
F
+3
74
 
T18
Mike D. Mueller  Whitefish Bay, WI
F
+3
74
 
T18
Joe Habecker  Menomonee Falls, WI
F
+3
74
 
T18
Jason Jahnke  Kewaskum, WI
F
+3
74
 
T23
Robert Gregorski  Menasha, Wi
F
+4
75
 
T23
Thomas Hemphill  Madison, WI
F
+4
75
 
T23
Ryan Schmus  Brookfield, WI
F
+4
75
 
T23
Nathan Daugherty  Lake Villa, IL
F
+4
75
 
T23
John Stravinski  Windsor, WI
F
+4
75
 
T23
Kari Hannula Jr  De Pere, WI
F
+4
75
 
T23
Jeff Glisch  Middleton, WI
F
+4
75
 
T23
Benjamin Shafer  Brookfield, WI
F
+4
75
 
T23
Matt Ellingson  Stoughton, WI
F
+4
75
 
T32
Ryan Zikeli  Hartland, WI
F
+5
76
 
T32
Brad Finger  Waukesha, WI
F
+5
76
 
T32
Daniel Benedum  Colgate, Wisconsin
F
+5
76
 
T32
Matthew Mattioli  Milwaukee, Wisconsin
F *
+5
76
 
T32
Mike Gustafson  Verona, WI
F
+5
76
 
T32
Ryan Hurab  Oconomowoc, WI
F
+5
76
 
T32
Bill Crinzi  New Berlin, WI
F
+5
76
 
T32
Billy Strey  Genoa City, WI
F
+5
76
 
T40
Nick Kulig  Arcadia, WI
F
+6
77
 
T40
Bruce Henning  Brookfield, Wi
F
+6
77
 
T40
Jeffery Lister  Greendale
F *
+6
77
 
T40
Jason Schroeder  Oregon, WI
F
+6
77
 
T40
Joe Knapton  Mount Pleasant
F
+6
77
 
T45
Craig Cerbins  Waukesha, WI
F
+7
78
 
T45
Dave Ullenberg  Milwaukee, Wi
F
+7
78
 
T45
Scott Semingson  Strum, WI
F
+7
78
 
T45
Brian Klein  Sussex, WI
F
+7
78
 
T45
Chris Wood  Mount Pleasant, WI
F
+7
78
 
T45
Alexander Fons  Milwaukee, WI
F
+7
78
 
T45
Chris Kleine  Middleton, WI
F
+7
78
 
T45
Jarod Leslie  Fall Creek, WI
F
+7
78
 
T45
John Golden  Verona, WI
F
+7
78
 
T54
Michael Bastian  Milwaukee, WI
F
+8
79
 
T54
Robert Hughes  Wauwatosa, WI
F *
+8
79
 
T54
Brian Hopfensperger  Milwaukee, WI
F
+8
79
 
T54
Chris Palmer  Hartland, WI
F
+8
79
 
T54
Marcus Williamson  Onalaska, WI
F
+8
79
 
T59
Christopher Weinfurt  Waukesha, WI
F
+9
80
 
T59
Jeremy Wesemann  Merton, WI
F
+9
80
 
T59
Kyle Smith  Grafton, WI
F
+9
80
 
T59
Matthew Schmit  Verona, WI
F
+9
80
 
T59
Bob Pyle  Green Bay, WI
F
+9
80
 
T64
Jonathon Oaks  Wales
F
+10
81
 
T64
Robert Martin  Eau Claire, WI
F
+10
81
 
T64
Peter Clemency  Milwaukee, WI
F *
+10
81
 
T64
Kyler Royston  Wisconsin Dells, WI
F
+10
81
 
T64
Anthony Brown  Eau Claire, WI
F
+10
81
 
T64
Dan Wick  Waukesha, WI
F
+10
81
 
T70
Patrick Gorman  East Troy, WI
F
+11
82
 
T70
David Strackbein  Sussex, WI
F
+11
82
 
T70
Mike Workman  Ripon, WI
F
+11
82
 
T70
Craig Tautges  Shorewood, WI
F
+11
82
 
T74
Jim Rollefson  Franklin, WI
F
+12
83
 
T74
Gregory Wagner  Cambridge, WI
F *
+12
83
 
T74
Kevin Truebenbach  WI
F *
+12
83
 
T74
Gregg Jaeger  Waukesha, WI
F *
+12
83
 
T74
Ryan Gulden  Middleton, WI
F
+12
83
 
T74
Justin Kutz  Ripon, WI
F
+12
83
 
T80
Steve Brault  Hartford
F
+13
84
 
T80
Montana Stewart  Onalaska, WI
F
+13
84
 
T80
Derek Westrum  McFarland, WI
F
+13
84
 
T80
John Triller  Green Lake, WI
F
+13
84
 
T80
John Kestly  Pewaukee, WI
F
+13
84
 
T85
Brett Boyer  Bayside, WI
F
+14
85
 
T85
Nicholas Malahy  Wauwatosa, WI
F
+14
85
 
T85
Daniel Mueller  Kenosha, WI
F
+14
85
 
88
Walter Nusslock  Glendale, WI
F
+15
86
 
T89
Jacob Schmitt  Hartford, WI
F
+16
87
 
T89
Travis Galston  Fort Atkinson, WI
F
+16
87
 
T91
Aaron Gavin  South Milwaukee, WI
F
+18
89
 
T91
Auroon Thapa  Mequon, WI
F
+18
89
 
93
Scott Bellefeuille  Stoughton, WI
F
+21
92
 
94
Keith Wood  Milwaukee, WI
F
+22
93
 
DID NOT FINISH
WD
Daniel Conti  Mount Pleasant, WI
+9
 
 
 
WD
Matt Elstad  Oconomowoc, WI
+11
 
 
 
WD
Dan Hogan  Waukesha
+14
 
 
 
WD
Alex Elrod  West Bend, WI
+18
 
 
 
WD
Andrew Bottoni  River Hills, WI
 
 
 
 
WD
Jacob Mayer  Delafield, WI
 
 
 
 
WD
Geoff Pirkl  Oconomowoc, WI
 
 
 
 
WD
Zack Siefert  Madison, WI
 
 
 
 
Directors Cup (gross)
POS

PLAYER

THRU

TOTAL

STROKES

 

T1
Jack Schultz  Milwaukee, WI
F
-3
68
 
T1
Joe Weber  West Salem, WI
F
-3
68
 
3
Jack McKinney  Milwaukee
F
E
71
 
T4
Nathan Boltz  Elkhorn, WI
F
+1
72
 
T4
Cory Aune  Lake Geneva, WI
F
+1
72
 
T6
Derrick Meier  Waunakee, WI
F
+2
73
 
T6
Gabe Dahl  Green Bay, WI
F
+2
73
 
T6
Joe DuChateau  Fond Du Lac, WI
F
+2
73
 
T6
Ryonen Faris  Fond Du Lac, Wisconsin
F
+2
73
 
T6
Jade Royston  Wisconsin Dells, WI
F
+2
73
 
T6
Travis Pronschinske  Oconomowoc, WI
F
+2
73
 
T12
Sam Cianciola  Nekoosa
F
+3
74
 
T12
Mike D. Mueller  Whitefish Bay, WI
F
+3
74
 
T12
Joe Habecker  Menomonee Falls, WI
F
+3
74
 
T12
Jason Jahnke  Kewaskum, WI
F
+3
74
 
T16
Thomas Hemphill  Madison, WI
F
+4
75
 
T16
Jeff Glisch  Middleton, WI
F
+4
75
 
T16
Matt Ellingson  Stoughton, WI
F
+4
75
 
T19
Ryan Zikeli  Hartland, WI
F
+5
76
 
T19
Daniel Benedum  Colgate, Wisconsin
F
+5
76
 
T19
Ryan Hurab  Oconomowoc, WI
F
+5
76
 
T19
Billy Strey  Genoa City, WI
F
+5
76
 
T23
Nick Kulig  Arcadia, WI
F
+6
77
 
T23
Joe Knapton  Mount Pleasant
F
+6
77
 
T25
Craig Cerbins  Waukesha, WI
F
+7
78
 
T25
Chris Wood  Mount Pleasant, WI
F
+7
78
 
T25
Alexander Fons  Milwaukee, WI
F
+7
78
 
T25
Jarod Leslie  Fall Creek, WI
F
+7
78
 
T29
Robert Hughes  Wauwatosa, WI
F *
+8
79
 
T29
Chris Palmer  Hartland, WI
F
+8
79
 
T29
Marcus Williamson  Onalaska, WI
F
+8
79
 
T32
Christopher Weinfurt  Waukesha, WI
F
+9
80
 
T32
Kyle Smith  Grafton, WI
F
+9
80
 
T32
Matthew Schmit  Verona, WI
F
+9
80
 
T35
Peter Clemency  Milwaukee, WI
F *
+10
81
 
T35
Kyler Royston  Wisconsin Dells, WI
F
+10
81
 
37
Craig Tautges  Shorewood, WI
F
+11
82
 
T38
Gregory Wagner  Cambridge, WI
F *
+12
83
 
T38
Ryan Gulden  Middleton, WI
F
+12
83
 
40
Nicholas Malahy  Wauwatosa, WI
F
+14
85
 
41
Walter Nusslock  Glendale, WI
F
+15
86
 
T42
Jacob Schmitt  Hartford, WI
F
+16
87
 
T42
Travis Galston  Fort Atkinson, WI
F
+16
87
 
T44
Aaron Gavin  South Milwaukee, WI
F
+18
89
 
T44
Auroon Thapa  Mequon, WI
F
+18
89
 
DID NOT FINISH
WD
Daniel Conti  Mount Pleasant, WI
+9
 
 
 
WD
Matt Elstad  Oconomowoc, WI
+11
 
 
 
WD
Dan Hogan  Waukesha
+14
 
 
 
WD
Alex Elrod  West Bend, WI
+18
 
 
 
WD
Jacob Mayer  Delafield, WI
 
 
 
 
WD
Geoff Pirkl  Oconomowoc, WI
 
 
 
 
WD
Zack Siefert  Madison, WI
 
 
 
 
Governor's Cup (gross)
POS

PLAYER

THRU

TOTAL

STROKES

 

1
Tom Halla  Colgate, WI
F
E
71
 
T2
Garth Gilster  Minocqua, WI
F
+2
73
 
T2
Robert McCloskey  Hartland, WI
F *
+2
73
 
T2
James Gunsalus  Brookfield, WI
F
+2
73
 
5
Chip Summers  Richfield, WI
F
+3
74
 
T6
Ryan Schmus  Brookfield, WI
F
+4
75
 
T6
Nathan Daugherty  Lake Villa, IL
F
+4
75
 
T6
John Stravinski  Windsor, WI
F
+4
75
 
T6
Kari Hannula Jr  De Pere, WI
F
+4
75
 
T6
Benjamin Shafer  Brookfield, WI
F
+4
75
 
T11
Brad Finger  Waukesha, WI
F
+5
76
 
T11
Matthew Mattioli  Milwaukee, Wisconsin
F *
+5
76
 
T11
Mike Gustafson  Verona, WI
F
+5
76
 
14
Jason Schroeder  Oregon, WI
F
+6
77
 
T15
Brian Klein  Sussex, WI
F
+7
78
 
T15
Chris Kleine  Middleton, WI
F
+7
78
 
T17
Michael Bastian  Milwaukee, WI
F
+8
79
 
T17
Brian Hopfensperger  Milwaukee, WI
F
+8
79
 
19
Jeremy Wesemann  Merton, WI
F
+9
80
 
T20
Jonathon Oaks  Wales
F
+10
81
 
T20
Robert Martin  Eau Claire, WI
F
+10
81
 
T20
Anthony Brown  Eau Claire, WI
F
+10
81
 
T23
Patrick Gorman  East Troy, WI
F
+11
82
 
T23
David Strackbein  Sussex, WI
F
+11
82
 
T23
Mike Workman  Ripon, WI
F
+11
82
 
T26
Kevin Truebenbach  WI
F *
+12
83
 
T26
Gregg Jaeger  Waukesha, WI
F *
+12
83
 
T26
Justin Kutz  Ripon, WI
F
+12
83
 
T29
Steve Brault  Hartford
F
+13
84
 
T29
Montana Stewart  Onalaska, WI
F
+13
84
 
T29
Derek Westrum  McFarland, WI
F
+13
84
 
T29
John Triller  Green Lake, WI
F
+13
84
 
33
Brett Boyer  Bayside, WI
F
+14
85
 
34
Scott Bellefeuille  Stoughton, WI
F
+21
92
 
DID NOT FINISH
WD
Andrew Bottoni  River Hills, WI
 
 
 
 
Seniors (gross)
| POS | PLAYER | THRU | TOTAL | STROKES |   |
| --- | --- | --- | --- | --- | --- |
| 1 | Kevin Cahill  Waukesha, WI | F | +1 | 72 |   |
| 2 | Jim Doing  Verona, WI | F | +2 | 73 |   |
| 3 | Robert Gregorski  Menasha, Wi | F | +4 | 75 |   |
| 4 | Bill Crinzi  New Berlin, WI | F | +5 | 76 |   |
| T5 | Bruce Henning  Brookfield, Wi | F | +6 | 77 |   |
| T5 | Jeffery Lister  Greendale | F * | +6 | 77 |   |
| T7 | Dave Ullenberg  Milwaukee, Wi | F | +7 | 78 |   |
| T7 | Scott Semingson  Strum, WI | F | +7 | 78 |   |
| T7 | John Golden  Verona, WI | F | +7 | 78 |   |
| 10 | Bob Pyle  Green Bay, WI | F | +9 | 80 |   |
| 11 | Dan Wick  Waukesha, WI | F | +10 | 81 |   |
| 12 | Jim Rollefson  Franklin, WI | F | +12 | 83 |   |
| 13 | John Kestly  Pewaukee, WI | F | +13 | 84 |   |
| 14 | Daniel Mueller  Kenosha, WI | F | +14 | 85 |   |
| 15 | Keith Wood  Milwaukee, WI | F | +22 | 93 |   |
| POS | PLAYER | THRU | TOTAL | STROKES |   |
| --- | --- | --- | --- | --- | --- |
* denotes a 10th hole start