WEST BEND – It had been seven years since Ben Shafer put together a good run in the Wisconsin State Golf Association Match Play Championship, reaching the Round of 16 at Hidden Glen during a week when the wind blew hard, the course played firm and the greens were hide-the-Stimpmeter fast.
This week, conditions at West Bend Country Club were "eerily similar," Shafer said, with wind raking the splendid William Langford-Theodore Moreau design and the slick, roller-coaster greens turning every putt outside tap-in range into an adventure.
Wouldn't you know it? Shafer, of Brookfield, had the best week of his career, turning back Jakob Schroeckenthaler of Cottage Grove, 3 and 2, in the championship match Thursday to win his first state-level tournament.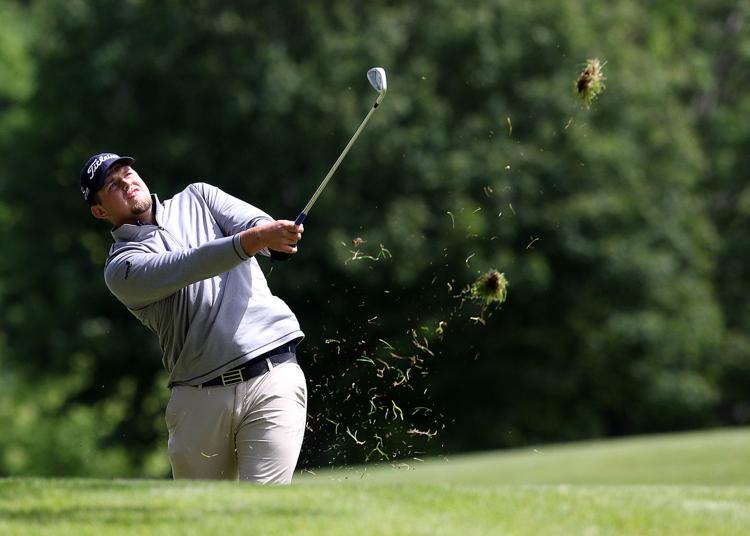 At 45, Shafer is the oldest Match Play champion since Kevin Cahill won the title at 49 in 2009.
Asked if it was his finest moment as a golfer, Shafer said, "Absolutely. No question about it. I've won club championships at (The Legend at) Bristlecone but, yeah, no doubt about it. It feels great. It really hasn't hit me yet."
His game was trending in the right direction going into the week. Last month, Shafer and partner Kevin Van Rossum missed qualifying for match play by one stroke at the U.S. Amateur Four-Ball Championship at Bandon Dunes. On Sunday evening, the day before stroke-play qualifying for the WSGA Match Play, he made a hole-in-one while playing at Bristlecone, his home course.
"Officially, that's my first ace," Shafer said. "I made one with no witnesses once, so I don't know if that counts."
After tying for second with a 73 in brutal conditions in stroke-play qualifying, Shafer won his first two matches on the 19th hole to reach the Round of 16. Then he beat Ben Resnick of Rice Lake, 1-up, to advance to the quarterfinals, where he missed 10 greens but saved par nine times in a 3 and 2 victory over Adam Garski of Wauwatosa.
In the semifinals Thursday morning, Shafer was 1-down to Matt Polivka of Muskego but won five consecutive holes (Nos. 9-13) and the match, 4 and 3.
Schroeckenthaler won his semifinal on the 20th hole, edging hard-luck Travis Engle of Kenosha. That match appeared to be over when Schroeckenthaler's tee shot on the first extra hole sailed wide right into a hazard, but he was able to scrape out a bogey and the match continued when Engle three-putted, missing a 3-footer for par.
"I knew it was going to come down to who makes the first mistake," Schroeckenthaler said. "I made the first mistake and to be honest I thought it might have been over, but I was able to grind it out."
That set up a showdown between Shafer and the 6-foot-7 Schroeckenthaler, 19, who played on the basketball and golf teams at Viterbo University this past year but plans to transfer to MATC.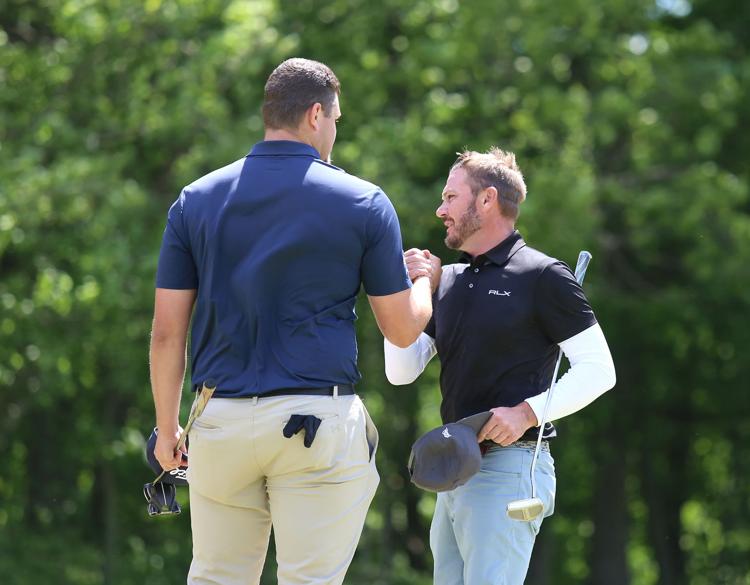 The final was tied after six holes, but Shafer won the next three holes, two of them with bogeys and the other with a par, to go 3-up at the turn.
"I kind of played off what he was doing," Shafer said. "I got the lead and I was just trying to make pars. All week that was my objective. I thought par was king on this golf course."
Schroeckenthaler had chances to cut into the lead, but his putter let him down. He missed an 8-footer for birdie on No. 11, lipped out a 6-foot par putt on No. 12 and then lipped out another par putt, this one from 3 feet, on No. 13.
"I can't complain," he said. "I played really well all week. I made a few mistakes. I missed a couple putts that could have changed the tide of the match. But I gave myself an opportunity on Thursday to win it. I can't really ask for anything more, even though I didn't play as good as I know I could have."
For Shafer, the victory was validation that he can play with the best in the state and erased the memory of his last start in the Match Play, when he shot a 91 in qualifying at The Bull at Pinehurst Farms in 2015.
"It was awful, no doubt about it," he said with a laugh. "But that's golf. I can play really good and, like anybody, I can play bad, too."
This week at West Bend CC, nobody played better.