Count Harrison Ott of Brookfield among the many college athletes whose plans were altered by the coronavirus pandemic.
2020 WSGA Men's Player of the Year: Top 10
Pos.
Player
Points
1
Harrison Ott
Brookfield, WI
1,410.00
2
Joe Weber
Onalaska, WI
1,257.50
3
Christopher Colla
Fond Du Lac, WI
1,227.00
4
Travis Engle
Kenosha, WI
1,074.50
5
Thomas Longbella
Chippewa Falls, WI
965
6
Matt Tolan
Eau Claire, WI
925
7
Tyler Leach
Spring Valley, WI
885
8
Rocky Sperka
New Berlin, WI
857.5
9
Garrett Jones
Madison, WI
846.25
10
Nate Thomson
Greendale, WI
835
The senior member of Vanderbilt University's golf team likely would have turned professional sometime this summer, after graduating in May with a degree in human and organizational development. Instead, he's opted to return to Vanderbilt in the fall for a fifth year of eligibility, granted by the NCAA because of the pandemic.
Ott will use the extra year to pursue a Master's degree while he continues to work on his game and gains more experience in college tournaments.
"It's another opportunity to get free – well, my parents would say it's not free, obviously – but to get free practice facilities and tournaments," Ott said. "I graduate in May and then I'm going into a Master's program. But it would not have been a goal of mine before getting granted an extra year."
All of which means the 2020 Wisconsin State Golf Association Player of the Year will get a chance at a rare repeat. Since the award was instituted in 1973, only five men have repeated as the WSGA's top points earner: John Pallin (twice), Bob Gregorski, Jordan Niebrugge, Nick Nelson and Jack Schultz.
Ott earned player of the year honors on the strength of a 25-day period in which he reached the quarterfinals of both the Western Amateur and the U.S. Amateur and then won the Wisconsin State Open by six strokes at Blue Mound Golf & Country Club.
His ball-striking carried him at the Western and U.S. Amateur, then his putter got red-hot on the lightning-fast, sloping greens at Blue Mound. He needed just 10 putts over the final nine holes of a closing 68 and finished at 10-under 270.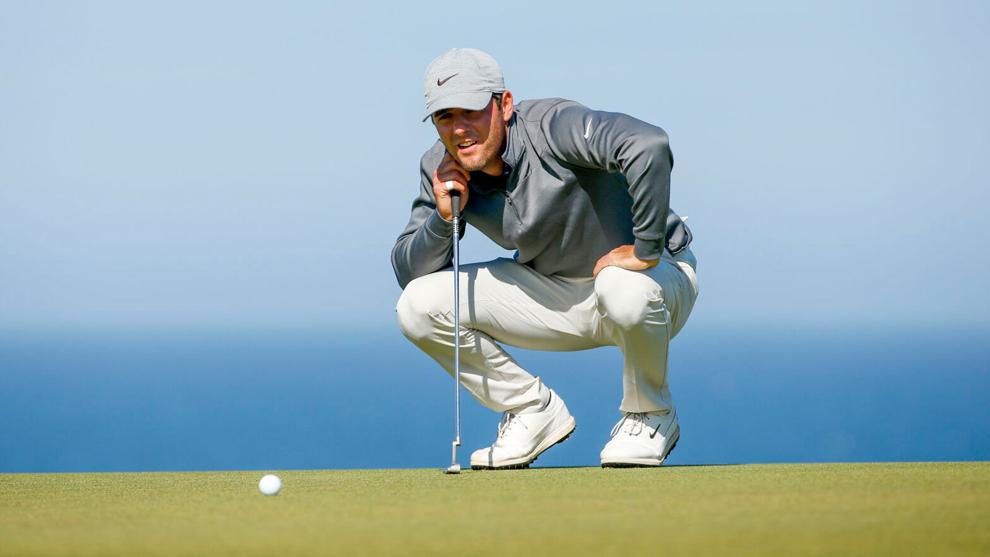 "I know I missed one on No. 5, the par-5," he said. "I hit one of my best iron shots of the week to 12 feet for eagle. I had a really fast downhiller and I almost made it. Then I had a 3-footer coming back and I hit a pretty bad putt and missed it. But other than that, I don't know if I missed many from close range."
Ott will be one of the players to beat in any tournament he enters in Wisconsin in 2021, but his schedule is up in the air.
"I'll start in the Master's program this summer and I'll be done in the spring (of 2022)," he said. "I'm hoping that the summer semester is online so that I can have a full schedule of tournaments. I guess we'll have to wait and see on that, how much leeway I can get to play tournaments.
"If nothing else, I'm hoping to play the big ones as much as I can: the Western, the Sunnehanna, hopefully the U.S. Amateur. I'll probably do the State Open if we're not back at school and the State Amateur, if it doesn't conflict with the Western (the dates are July 19-22 for the former and July 26-31 for the latter)."
Ott has made steady progress at Vanderbilt, with his stroke average dropping each year – from 74.77 as a freshman to 72.59 as a sophomore to 71.91 as a junior. He credits improvement in two areas – accuracy off the tee and putting – but also has made strides on the mental side of the game.
"I think it's just figuring out who I am," he said. "When you get to school it's really easy to say so-and-so hits it so much farther than me; that's definitely saving him shots. Or so-and-so hits his irons higher than me; that's definitely saving him shots. How do I figure out how to hit it higher and further? It's easy to think like that.
"But also, you have to realize that they probably watch me and say, 'Harrison putts it so good' or 'He hits it so straight.' It's about realizing, OK, those are my strengths and they have their own strengths. It's about who's going to use their strengths and game-plan around them better. I think realizing that is where I've made the most growth."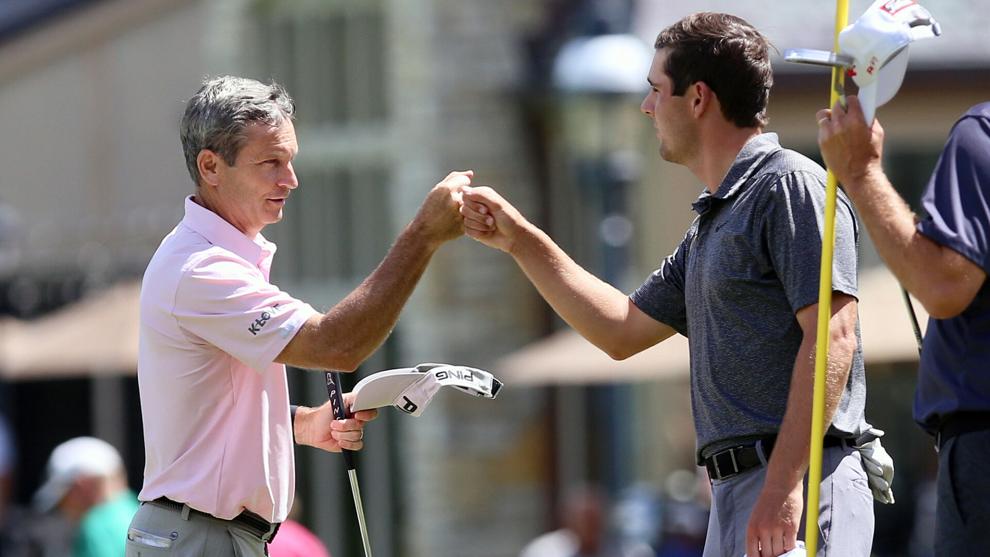 The Commodores opened their spring season last week at the Florida Gators Invitational; Ott finished in a tie for 24th but was just one of seven players in the field to break 70 in all three rounds (69-69-68).
"It was solid," he said of his play. "It was a big field so I think it was good for all of us to go down there and get a baseline for where we're at. It was our first tournament since November."
Ott, who also won the 2018 State Amateur to go along with his State Open title, now plans to turn pro sometime in the summer of 2022. He has stayed in touch with former teammate John Augenstein, the 2019 U.S. Amateur runner-up who is getting his third PGA Tour start this week at The Genesis Invitational.
"I would love it if my path looked like his," Ott said. "Good golf will take care of all of that. I definitely talk to him about what he's seen out there and what he's learned about himself being around (tour players). It's a lot of what I've been talking about. They're successful because they know how to put their score together."
2020 WSGA Men's Player of the Year Standings
RANK
PLAYER
EVENTS
POINTS
1
 Harrison Ott
 Brookfield, WI
3
1,410.00
2
7
1,257.50
3
5
1,227.00
4
5
1,074.50
5
2
965.00
6
3
925.00
7
3
885.00
8
8
857.50
9
6
846.25
10
3
835.00
(Top 10 golfers qualify for the 2021 Nelthorpe Cup Team)
11
5
746.00
12
2
730.00
13
5
657.00
14
3
642.00
15
3
610.00
16
9
602.50
17
10
601.25
18
2
585.00
19
4
555.00
20
4
537.25
21
5
523.33
22
7
517.50
23
3
471.00
24
4
462.50
25
1
460.00
Top 25 golfers are exempt for 2021 State Amateur
26
3
458.50
27
4
452.50
28
4
442.50
29
6
440.00
30
4
413.75
31
2
410.00
32
6
365.00
33
5
331.25
34
4
330.00
35
8
319.06
T36
4
310.00
T36
4
310.00
38
2
295.00
39
3
292.50
40
4
290.00
41
1
281.00
42
3
280.00
T43
2
270.00
T43
4
270.00
45
4
257.50
46
1
252.00
T47
2
250.00
T47
2
250.00
T49
2
245.00
T49
2
245.00
51
2
242.50
52
3
237.50
53
2
232.50
54
2
225.00
55
3
223.75
56
3
220.83
57
3
217.50
58
8
216.75
59
1
210.00
60
2
202.50
T61
1
200.00
T61
3
200.00
63
2
193.75
64
1
190.00
65
5
187.50
T66
3
185.00
T66
1
185.00
T66
5
185.00
T69
4
180.00
T69
2
180.00
T69
3
180.00
72
2
176.25
73
3
175.00
74
3
171.67
T75
2
170.00
T75
3
170.00
T75
2
170.00
T78
4
160.00
T78
2
160.00
T78
2
160.00
81
6
156.56
82
2
155.83
T83
3
155.00
T83
1
155.00
85
2
151.00
86
4
146.56
87
1
145.00
T88
2
142.50
T88
2
142.50
T90
2
140.00
T90
2
140.00
T90
2
140.00
T90
3
140.00
T94
2
137.50
T94
2
137.50
96
1
136.25
97
3
132.50
T98
2
130.00
T98
2
130.00
T98
2
130.00
101
2
125.83
T102
4
125.00
T102
1
125.00
104
5
123.75
105
5
123.00
106
4
122.67
T107
3
122.50
T107
3
122.50
109
6
121.25
T110
2
120.00
T110
3
120.00
T110
2
120.00
T113
1
110.00
T113
4
110.00
T113
1
110.00
T116
1
107.50
T116
1
107.50
118
2
105.00
T119
2
102.50
T119
2
102.50
T121
2
100.00
T121
4
100.00
123
2
97.50
124
2
95.00
T125
2
90.00
T125
2
90.00
127
2
88.75
T128
2
85.00
T128
2
85.00
130
3
82.50
T131
2
80.00
T131
2
80.00
T131
1
80.00
T131
1
80.00
T131
2
80.00
T131
2
80.00
T131
1
80.00
T131
1
80.00
T131
2
80.00
T131
2
80.00
T131
1
80.00
T131
2
80.00
T131
1
80.00
T131
1
80.00
T131
1
80.00
T131
1
80.00
T131
1
80.00
T131
1
80.00
T131
2
80.00
T131
1
80.00
T131
2
80.00
T131
1
80.00
153
2
78.75
T154
3
77.50
T154
4
77.50
156
4
76.25
T157
1
75.83
T157
2
75.83
T159
2
75.00
T159
1
75.00
161
2
73.12
162
2
72.50
T163
2
70.00
T163
2
70.00
T163
2
70.00
T163
2
70.00
T163
2
70.00
T168
2
68.75
T168
2
68.75
T168
1
68.75
T171
2
67.50
T171
2
67.50
T173
2
65.00
T173
1
65.00
175
2
64.06
176
2
63.75
T177
3
63.12
T177
3
63.12
179
2
62.50
T180
2
61.25
T180
2
61.25
T182
1
60.00
T182
3
60.00
T182
1
60.00
T182
1
60.00
T182
1
60.00
T182
1
60.00
188
1
55.00
T189
2
51.00
T189
3
51.00
T191
1
50.00
T191
2
50.00
T191
1
50.00
T191
1
50.00
T191
1
50.00
T191
4
50.00
T191
1
50.00
T191
1
50.00
T191
1
50.00
T191
1
50.00
T191
1
50.00
T191
1
50.00
T191
1
50.00
T191
1
50.00
T191
1
50.00
T191
1
50.00
T191
1
50.00
T191
1
50.00
T191
1
50.00
T210
2
47.50
T210
3
47.50
212
2
46.67
T213
4
45.00
T213
1
45.00
T213
2
45.00
T213
1
45.00
T213
1
45.00
T213
1
45.00
219
2
43.75
220
1
41.67
221
3
40.62
T222
1
40.00
T222
1
40.00
T222
1
40.00
T222
1
40.00
T222
1
40.00
T222
1
40.00
T222
2
40.00
T222
1
40.00
T222
1
40.00
T222
4
40.00
T222
1
40.00
T222
1
40.00
T222
1
40.00
T222
4
40.00
T222
1
40.00
T222
3
40.00
T222
1
40.00
T222
1
40.00
T222
1
40.00
T241
1
35.00
T241
1
35.00
T241
1
35.00
244
2
33.00
T245
1
32.50
T245
1
32.50
247
2
31.25
248
3
31.00
T249
3
30.00
T249
1
30.00
T249
1
30.00
T249
1
30.00
T249
1
30.00
T249
5
30.00
T249
1
30.00
T249
1
30.00
T249
1
30.00
T249
1
30.00
T249
1
30.00
T249
1
30.00
T249
1
30.00
T249
1
30.00
T249
2
30.00
T249
1
30.00
T249
1
30.00
T249
1
30.00
T249
1
30.00
T249
1
30.00
T249
1
30.00
T249
1
30.00
T249
1
30.00
T249
1
30.00
T249
1
30.00
T249
1
30.00
T249
1
30.00
T249
1
30.00
T249
3
30.00
T249
1
30.00
T249
1
30.00
T249
1
30.00
T249
1
30.00
T249
1
30.00
T249
2
30.00
T249
1
30.00
T249
1
30.00
T249
1
30.00
T249
1
30.00
T249
1
30.00
T249
1
30.00
T249
1
30.00
T249
1
30.00
T249
1
30.00
T249
1
30.00
T249
1
30.00
T249
1
30.00
T296
1
27.50
T296
1
27.50
T296
2
27.50
T299
3
26.00
T299
2
26.00
301
3
25.62
T302
1
25.00
T302
1
25.00
T302
4
25.00
T302
1
25.00
T302
1
25.00
307
2
23.75
T308
2
23.12
T308
3
23.12
T308
1
23.12
T311
2
22.50
T311
1
22.50
T313
1
20.00
T313
1
20.00
T313
1
20.00
T316
1
18.75
T316
1
18.75
T316
1
18.75
T316
1
18.75
T320
3
17.50
T320
2
17.50
T320
1
17.50
T323
2
15.00
T323
1
15.00
T325
3
14.06
T325
1
14.06
T325
2
14.06
T325
1
14.06
T325
1
14.06
T325
1
14.06
T325
1
14.06
T325
1
14.06
T325
1
14.06
T325
1
14.06
T325
1
14.06
T325
1
14.06
T337
1
13.75
T337
1
13.75
T339
3
12.50
T339
1
12.50
T341
1
11.25
T341
1
11.25
T341
1
11.25
T341
1
11.25
T345
3
10.00
T345
3
10.00
T345
1
10.00
T345
1
10.00
T345
2
10.00
T345
1
10.00
T345
2
10.00
T345
5
10.00
T345
2
10.00
T345
1
10.00
T355
1
8.75
T355
3
8.75
T355
1
8.75
T355
2
8.75
T355
1
8.75
T355
1
8.75
T361
1
7.50
T361
1
7.50
T361
3
7.50
T361
1
7.50
T365
1
5.00
T365
1
5.00
T365
1
5.00
T365
1
5.00
T369
1
3.75
T369
1
3.75
T369
2
3.75
T369
2
3.75
T373
1
3.00
T373
1
3.00
T373
1
3.00
T376
1
2.50
T376
3
2.50
T376
3
2.50
T376
1
2.50
T376
1
2.50
T381
1
1.67
T381
1
1.67
T383
1
1.25
T383
1
1.25
T385
1
1.00
T385
1
1.00
T385
1
1.00
T385
1
1.00
T385
1
1.00
T385
2
1.00
T385
1
1.00
T385
1
1.00
T385
1
1.00
T385
2
1.00