GREEN LAKE — Phillip Johnson knows a two-stroke lead going into the final round of the 118th Wisconsin State Amateur is hardly safe, especially on a golf course that punishes even the slightest error in judgment or execution.
He also knows that being in front by two is preferable to trailing by any amount.
"Mathematically," Johnson said, "it's way better to be leading."
The former University of Dayton golfer from Colgate will start the final round on the Links Course at The Golf Courses of Lawsonia with that two-shot margin, thanks to his closing eagle in the third round Wednesday. Johnson shot a 4-under 68 and was at 11-under 205 through 54 holes.
His lead would have been bigger, but Marquette University rising junior Hunter Eichhorn kept pace with birdies on Nos. 17 and 18 to finish off a 69. He was at 207.
And it's hardly a two-man race. University of Minnesota rising senior Thomas Longbella of Chippewa Falls and 2017 State Amateur champion Matt Tolan of Eau Claire shot 66s to climb into contention at 209. Both have posted identical scores of 75-68-66.
Joining them in a three-way tie for third, four shots back, was Wisconsin golfer Sam Anderson of Stoughton, who started the day with a one-shot lead and battled to a 71.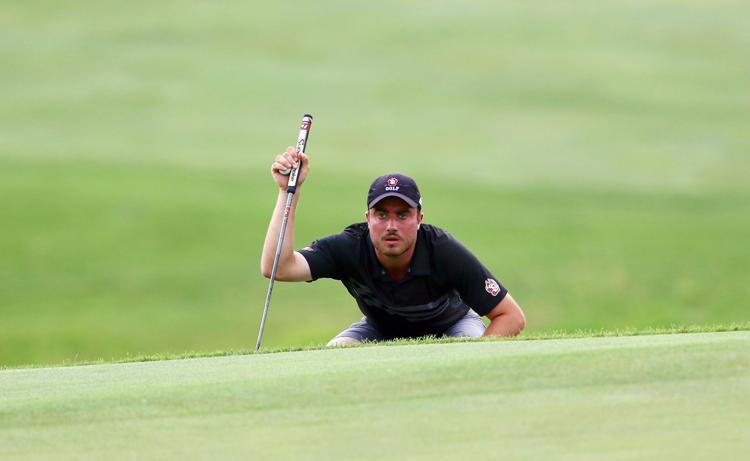 When the dust had settled, helped by a late-afternoon burst of rain with accompanying lightning that caused a 50-minute suspension in play, the State Amateur was looking like a five-man race.
But Johnson, runner-up in the 2017 State Open and winner of the Milwaukee District Match Play Championship earlier this summer, can't worry about who's behind him if he wants to win his first major Wisconsin title. Instead, he can only concentrate on what's immediately in front of him.
"If Hunter comes out and shoots a 64 or something, I can't do anything about that," Johnson said. "I'm just going to go out there and keep playing the game that I've been playing. I'm just going to keep doing the same stuff."
There's no reason to change a game plan that has resulted in 45 of 54 greens hit in regulation. Johnson has made nine birdies and three eagles – one each day – and has bogeyed just two of his last 40 holes.
On Wednesday, he escaped potential disaster when he had to hit a provisional ball off the par-5 fifth tee after slicing his first drive into foul territory. But his first ball was located, inches from a road – another foot and it would have been on the pavement and out of bounds – and he hacked back into the fairway and went on to make par. He followed with a bogey on the sixth hole but then settled down.
"Obviously, it was a little stressful out of the gate," Johnson said. "I mean, if it wasn't, you'd almost be concerned. There were a couple holes where I wasn't comfortable. The wind direction was a little different today so I kind of second-guessed a couple club choices off the tee.
"I really calmed down on the back nine and played some better golf."
Eichhorn pulled to within one with an 18-foot birdie putt on the 17th and then birdied the par-5 18th, but Johnson trumped him with the eagle, rolling in a 15-footer after hitting the green with a 4-iron from 228 yards.
"It was just kind of a ho-hum day," Eichhorn said. "I didn't hit a lot of shots inside makeable (birdie) range. I hit a decent amount of greens but I was hitting it to like 30 feet all day. You're just kind of two-putting from there and being patient. I was happy the way I finished and I'm looking forward to tomorrow."
In the 2018 State Amateur, Longbella and Vanderbilt golfer Harrison Ott tied after 72 holes and Longbella eventually lost on the eighth hole of sudden death.
"It's always a good experience to be near the final group or in the final group and to have a chance," he said. "I think the more I can give myself those chances, the better golfer I'm going to become, whether I win or not. It's just gathering experiences and how I play under pressure and in different situations. I'm excited. Really excited."
Tolan played the last 14 holes in 8-under and finished birdie-birdie to join the chase. On the par-5 11th hole, he hit a 6-iron from 208 yards to 18 inches for a kick-in eagle, then birdied Nos. 12 and 13.
Photos: Another hot, humid day under tournament heat in Round 3 of 2019 Wisconsin State Amateur
"I've really been getting in a groove on the back nine," he said.
Tolan is just two years removed from winning the State Amateur.
"It's definitely a big confidence boost, knowing that I have done it before and it wasn't that long ago," he said. "It's definitely a boost in the right direction that a lot of people don't have, obviously. It's one of the biggest tournaments in Wisconsin to win and to say that I've won it, I'm super humbled."
Anderson made only a couple mistakes Wednesday but one of them was costly. With the flagstick tucked on the extreme left portion of the green on the par-3 10th, he short-sided himself in a greenside bunker and went on to make a double-bogey. He bounced back with birdies on the par-5 11th and 18th holes to fight his way into the mix.
Michael Harris, 41, of Brookfield, and 15-year-old Jacob Beckman of Middleton High School were tied for sixth place at 5-under 211. Harris shot a 69 and Beckman a 72. Matthew Bachmann of Sheboygan Falls, a rising senior at Marquette University, was alone in eighth at 212 after a 72.
---
Pos

Player

Thru

R1

R2

R3

R4

 

1
Phillip Johnson

  

Colgate, WI
-11
F
-4
70
67
68
 
205
 
2
Hunter Eichhorn

  

Carney, MI
-9
F
-3
73
65
69
 
207
 
T3
Thomas Longbella

  

Chippewa Falls, WI
-7
F
-6
75
68
66
 
209
 
T3
Matt Tolan

  

Eau Claire, WI
-7
F
-6
75
68
66
 
209
 
T3
Samuel Anderson

  

Stoughton, WI
-7
F
-1
68
70
71
 
209
 
T6
Michael Harris

  

Brookfield, WI
-5
F
-3
69
73
69
 
211
 
T6
Jacob Beckman

  

Middleton, WI
-5
F
E
69
70
72
 
211
 
8
Matthew Bachmann

  

Milwaukee, WI
-4
F
E
70
70
72
 
212
 
T9
Christopher Colla

  

Fond du Lac, WI
-2
F
-5
72
75
67
 
214
 
T9
Tyler Leach

  

Spring Valley, WI
-2
F
-2
74
70
70
 
214
 
T9
Cameron Huss

  

Kenosha, WI
-2
F
-3
73
72
69
 
214
 
T9
Piercen Hunt

  

Hartland, WI
-2
F
-2
72
72
70
 
214
 
T13
Johnny Decker

  

Madison, WI
-1
F
-5
70
78
67
 
215
 
T13
Garrett Jones

  

Madison, WI
-1
F
-1
70
74
71
 
215
 
15
Pete Kuhl

  

Madison, WI
E
F
+3
69
72
75
 
216
 
T16
Cal Meyers

  

Richfield, WI
+1
F
E
70
75
72
 
217
 
T16
Jamozzy Skenandore

  

De Pere, WI
+1
F
E
73
72
72
 
217
 
T18
Drake Wilcox

  

Sheboygan, WI
+2
F
-4
75
75
68
 
218
 
T18
Nate Thomson

  

Greendale, WI
+2
F
-1
71
76
71
 
218
 
T18
Austin Resop

  

Berlin, WI
+2
F
-1
76
71
71
 
218
 
T18
George Kneiser

  

Oconomowoc, WI
+2
F
E
74
72
72
 
218
 
T22
Adam Garski

  

Wauwatosa, WI
+3
F
E
76
71
72
 
219
 
T22
Zak Kulka

  

Beaver Dam, WI
+3
F
+1
72
74
73
 
219
 
T24
Matt Polivka

  

Muskego, WI
+5
F
-3
81
71
69
 
221
 
T24
Adam Miller

  

Adams, WI
+5
F
-3
74
78
69
 
221
 
T24
P.J. Clemins

  

Cedarburg, WI
+5
F
-2
72
79
70
 
221
 
T24
Matthew Raab

  

Hartland, WI
+5
F
-2
72
79
70
 
221
 
T24
Emmet Herb

  

Middleton, WI
+5
F
-1
75
75
71
 
221
 
T24
Dylan Brown

  

Reedsburg, WI
+5
F
+2
76
71
74
 
221
 
T24
Nicholas Bauer

  

Oshkosh, WI
+5
F
+2
71
76
74
 
221
 
T31
Clayton Tribus

  

Madison, WI
+6
F
-3
73
80
69
 
222
 
T31
Nathan Daugherty

  

Lake Villa, IL
+6
F
-3
77
76
69
 
222
 
T31
Brady Sarauer

  

Fond du Lac, WI
+6
F
-1
79
72
71
 
222
 
T31
Joe DuChateau

  

Fond Du Lac, WI
+6
F
-1
76
75
71
 
222
 
T31
Jason Jahnke

  

Kewaskum, WI
+6
F
+5
72
73
77
 
222
 
T31
Jeremy Wesemann

  

Merton, WI
+6
F
+7
69
74
79
 
222
 
T37
Joseph Ploch

  

Oconomowoc, WI
+7
F
-1
77
75
71
 
223
 
T37
Russell Dettmering

  

Merrill, WI
+7
F
-1
76
76
71
 
223
 
T37
Robert Gregorski

  

Menasha, WI
+7
F
E
71
80
72
 
223
 
T37
Max Pasher

  

Mequon, WI
+7
F
+2
75
74
74
 
223
 
T41
Peter Flory

  

Glencoe, IL
+8
F
+4
77
71
76
 
224
 
T41
Cory Aune

  

Lake Geneva, WI
+8
F
+4
76
72
76
 
224
 
T43
Zach Dybul

  

Big Bend, WI
+9
F
+2
74
77
74
 
225
 
T43
Mike McDonald

  

West Bend, WI
+9
F
+2
75
76
74
 
225
 
T43
Derek Hilmershausen

  

Wausau, WI
+9
F
+2
73
78
74
 
225
 
T43
Todd Westrich

  

De Pere
+9
F
+2
77
74
74
 
225
 
T43
Sam Van Galder

  

Janesville, WI
+9
F
+2
76
75
74
 
225
 
T43
Grant Boyson

  

Neenah, WI
+9
F
+4
72
77
76
 
225
 
T43
Danny Sanicki

  

Menomonee Falls, WI
+9
F
+7
75
71
79
 
225
 
T50
Rocky Sperka

  

New Berlin, WI
+10
F
E
79
75
72
 
226
 
T50
Gabe Dahl

  

Green Bay, WI
+10
F
+2
76
76
74
 
226
 
T50
Joe Weber

  

Onalaska, WI
+10
F
+2
76
76
74
 
226
 
T50
Chris Wood

  

Mount Pleasant, WI
+10
F
+4
76
74
76
 
226
 
T50
Daniel Ozga

  

Edgerton, WI
+10
F
+5
76
73
77
 
226
 
T55
Daniel Benedum

  

Menomonee Falls, WI
+11
F
+1
78
76
73
 
227
 
T55
Christopher Weinfurt

  

Milwaukee, WI
+11
F
+2
78
75
74
 
227
 
T55
John Stravinski

  

Windsor, WI
+11
F
+6
75
74
78
 
227
 
58
Ben Gilles

  

Madison, WI
+12
F
+4
72
80
76
 
228
 
T59
Brent Bartels

  

Pinehurst, NC
+13
F
+3
81
73
75
 
229
 
T59
Jimmy Albright

  

Scottsdale, AZ
+13
F
+3
72
82
75
 
229
 
T59
Jack Anderson

  

Brookfield, WI
+13
F
+3
77
77
75
 
229
 
T59
Robert Hughes

  

Wauwatosa, WI
+13
F
+4
76
77
76
 
229
 
T59
Kenny Rucker

  

Madison, WI
+13
F
+3
78
76
75
 
229
 
T59
Connor Brown

  

Racine, WI
+13
F
+4
77
76
76
 
229
 
T59
Mark Laken

  

Kenosha, WI
+13
F
+4
76
77
76
 
229
 
T59
Derrick Meier

  

Waunakee, WI
+13
F
+11
72
74
83
 
229
 
T67
James Gunsalus

  

Brookfield, WI
+14
F
+5
79
74
77
 
230
 
T67
Garrett Gosh

  

Wauwatosa, WI
+14
F
+5
77
76
77
 
230
 
T67
Ben Nichols

  

Waukesha, WI
+14
F
+5
76
77
77
 
230
 
T70
Benjamin Shafer

  

Brookfield, WI
+15
F
+5
78
76
77
 
231
 
T70
Austin Gaby

  

Verona, WI
+15
F
+6
74
79
78
 
231
 
T70
Steven Sanicki

  

Menomonee Falls, WI
+15
F
+7
76
76
79
 
231
 
T73
Matt Fladten

  

Eau Claire, WI
+19
F
+9
79
75
81
 
235
 
T73
Jake Dunn

  

Trempealeau, WI
+19
F
+10
76
77
82
 
235