RIVER HILLS – Even with Hunter Eichhorn, Harrison Ott and Piercen Hunt missing from the field, the leaderboard after the first round of the 119th Wisconsin State Amateur Championship had the look and feel of an invitational for the state's top college players Monday.
Tyler Leach of Spring Valley, just weeks from starting his redshirt junior season at Marquette, fired a 3-under 67 at renowned Milwaukee Country Club to take a two-stroke lead over four others: Matt Tolan (University of South Dakota), Emmet Herb (University of St. Thomas-Minnesota), Thomas Longbella (University of Minnesota) and Nate Thomson (University of Toledo).
Eichhorn, Leach's teammate at Marquette and the defending State Amateur champion, is playing in the 118th Western Amateur this week, as are Vanderbilt's Ott, who won the State Am in 2018, and Hunt, a University of Illinois recruit. The Western Amateur, a national invitational, gets under way Tuesday at Crooked Stick in Carmel, Ind.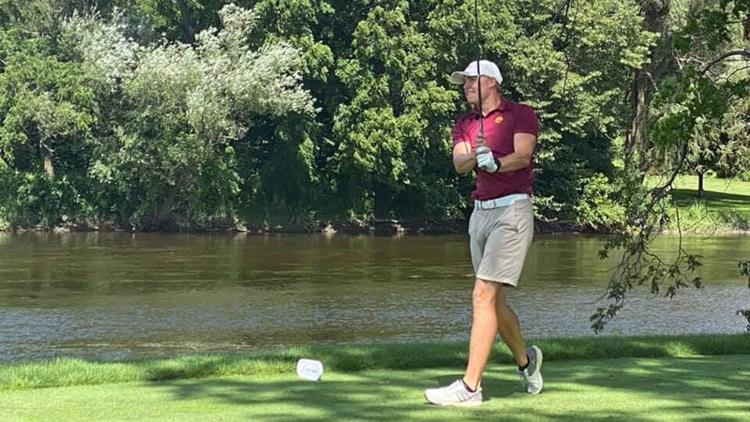 "Obviously, it probably does dilute the field a little bit not having them here," Leach said. "That's the short answer. But at the same time, you still have to hit good shots and go out and play well if you want to win, it doesn't matter what the field is. I think any of these players can win on any given week. It's unfortunate they're not here, but they're playing in a national tournament, so I don't blame them."
On a day that started muggy and overcast, turned sunny and breezy and ended with Milwaukee CC playing firm and fast, the course held up its end of the bargain as arguably Wisconsin's premier championship venue.
The Golden Age Colt-Alison design, tweaked in recent years by Tom Doak, is a demanding second-shot course, with slick greens protected by deep bunkers and run-offs.
In that way, it's a lot like Augusta National, where it's not just good enough to be somewhere on the green. A golfer must be in the correct portion of the green, depending on the hole location. Get careless or greedy on your approach and bogey becomes the goal, with double-bogey entering the equation.
"It's definitely a second-shot course," Herb said. "The fairways are super generous. But especially with some back pins, every green is kind of shaved down in the back. It makes it tough to be as aggressive as you want to be."
Leach, who tied for 10th in the 2019 State Am and won the Crooked Stick Invitational last fall for his first collegiate victory, was masterful at controlling the flight and distance of his iron shots.
"I felt like I did a really good job of being disciplined and sticking to my routine on every shot," he said. "I was able to pinpoint where exactly I wanted to land it on the green and pick specific targets, and I did a pretty good job of hitting those targets. I didn't really get myself in trouble at all. It was pretty stress-free, to be honest."
Leach made five birdies – tied for most in the field – against two bogeys. Starting on the back nine, he made a 15-footer on No. 11 and a 12-footer on No. 12 before bogeying the par-3 17th to make the turn in 34. Then he made three consecutive birdies starting on No. 3, where he hit the green in two on the par-5 and two-putted. A 7-iron that rode the wind on the par-4 fourth hole led to a 6-footer for birdie and he completed the run with another 6-footer on No. 5 to get to 4-under. He made his only other bogey on No. 6.
"Today, a lot of the pins were tucked," he said. "I don't know if it's going to be like that tomorrow or the rest of the week. I'm going to try to stick to my process and analyze everything I need to before each shot and just kind of take what the course gives me.
"I didn't force anything today, and I think if I can do that the next 54 holes, I like my chances at the end of the week."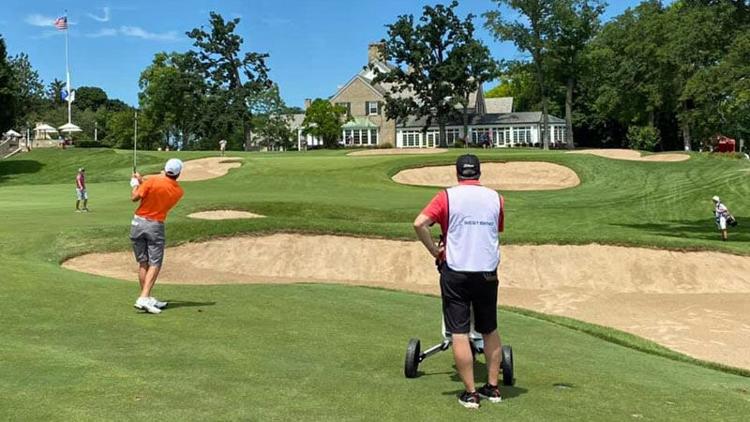 Tolan, of Eau Claire, led the morning wave with his 69. He won the State Am in 2017 and tied for second last year. He also tied for second in the Ray Fischer Amateur Championship last month, missing a playoff when he bogeyed the 72nd hole, and finished solo second in the 2018 Fischer.
"Mission accomplished," Tolan said. "Fairways and greens out here are really important. That's the ticket, hitting a lot of the middle of greens and two-putting for pars. You're not going to (lose ground) with pars. It's definitely a hard golf course."
Like Tolan, Longbella and Herb will return to their respective college teams this fall, taking advantage of the extra year of eligibility the NCAA awarded spring sports athletes whose 2020 seasons were canceled by the coronavirus pandemic.
Herb, a three-time NCAA Division III All-American from Middleton, plans to turn pro after he graduates in December and will try to qualify for the PGA Tour's MacKenzie Tour-Canada in the spring. Longbella's plan, for now at least, is to play for the Gophers in both the fall and spring seasons.
Thomson, a semifinalist in the WSGA Match Play Championship earlier this year, was alone in second place at 2-under until he bogeyed the 325-yard ninth hole, his 18th.
"I saw the scores earlier today and I saw there weren't very many low scores," he said. "I have never played out here. I think I played out here when I was 13 for a junior event, but I didn't play a practice round. It was good just to play conservative today and putt toward the pins from the middle of the greens. I'm really happy with it.
"The bogey on nine, I thought I hit a good shot and that pin is just crazy today."
Four players were tied for sixth place with even-par 70s: Josh Teplin of Mequon; Jack Schultz of Whitefish Bay; Marquette's Aidan Lafferty; and John Kryscio of Lake Forest, Ill., one of nearly two dozen qualifiers from Illinois who entered the Wisconsin State Amateur because the Chicago District Golf Association canceled or postponed all of its 2020 tournaments.
"I feel great," said Kryscio, 20, who is transferring from Miami of Ohio to Fordham University, where he'll try out for the golf team. "I got it to 3-under. I was playing really good and then I made a double on the par-5 (third hole). But overall, I'm really happy with my round. I'm right in there."
Teplin, 18, a Homestead High School graduate, switched his focus from soccer to golf as a freshman and has made rapid strides. He will attend the University of Wisconsin this fall and has talked to UW coach Michael Burcin about trying to walk on to the golf team.
"He said they're at roster maximum right now," Teplin said. "But I would love to try to have a chance to at least walk on or get a tryout."
---
POS

PLAYER

THRU

R1

R2

R3

R4

 

1
Tyler Leach

  

Spring Valley, WI
-3
F *
-3
67
 
 
 
67
 
T2
Matt Tolan

  

Eau Claire, WI
-1
F *
-1
69
 
 
 
69
 
T2
Emmet Herb

  

Middleton, WI
-1
F
-1
69
 
 
 
69
 
T2
Thomas Longbella

  

Chippewa Falls, WI
-1
F *
-1
69
 
 
 
69
 
T2
Nate Thomson

  

Greendale, WI
-1
F *
-1
69
 
 
 
69
 
T6
Josh Teplin

  

Mequon, WI
E
F *
E
70
 
 
 
70
 
T6
Jack Schultz

  

Whitefish Bay, WI
E
F *
E
70
 
 
 
70
 
T6
John Kryscio

  

Lake Forest, IL
E
F *
E
70
 
 
 
70
 
T9
Aidan Lafferty

  

Downers Grove, IL
+1
F
+1
71
 
 
 
71
 
T9
Matt Polivka

  

Muskego, WI
+1
F *
+1
71
 
 
 
71
 
T9
Matthew Buckley

  

Elmhurst, IL
+1
F
+1
71
 
 
 
71
 
T9
Nick Nelson

  

Milwaukee, WI
+1
F *
+1
71
 
 
 
71
 
T13
Kevin Van Rossum

  

Hartland, WI
+2
F
+2
72
 
 
 
72
 
T13
Brady Sarauer

  

Fond du Lac, WI
+2
F *
+2
72
 
 
 
72
 
T13
Matthew Bachmann

  

Sheboygan, WI
+2
F
+2
72
 
 
 
72
 
T13
Garrett Gosh

  

Wauwatosa, WI
+2
F
+2
72
 
 
 
72
 
T13
Jordan Less

  

Elmhurst, IL
+2
F *
+2
72
 
 
 
72
 
T13
Peter Flory

  

Glencoe, IL
+2
F *
+2
72
 
 
 
72
 
T13
Samuel Anderson

  

Stoughton, WI
+2
F *
+2
72
 
 
 
72
 
T13
Zach Place

  

Roselle, IL
+2
F *
+2
72
 
 
 
72
 
T21
Billy McKay

  

Milwaukee, WI
+3
F
+3
73
 
 
 
73
 
T21
Ryan Smith

  

Eatonton, GA
+3
F
+3
73
 
 
 
73
 
T21
Eddie Wajda

  

Windermere, FL
+3
F *
+3
73
 
 
 
73
 
T21
Jimmy Morton

  

Sugar Grove, IL
+3
F
+3
73
 
 
 
73
 
T21
Travis Engle

  

Kenosha, WI
+3
F
+3
73
 
 
 
73
 
T21
Michael Fastert

  

Wheeling, IL
+3
F *
+3
73
 
 
 
73
 
T21
Kyle Wille

  

Edgerton, WI
+3
F *
+3
73
 
 
 
73
 
T21
Jacob Beckman

  

Middleton, WI
+3
F *
+3
73
 
 
 
73
 
T21
Owen Butler

  

Stoughton, WI
+3
F
+3
73
 
 
 
73
 
T21
Austin Erickson

  

Sparta, WI
+3
F *
+3
73
 
 
 
73
 
T31
Jack (John) Blair

  

Wauwatosa, WI
+4
F
+4
74
 
 
 
74
 
T31
Jason Jahnke

  

Kewaskum, WI
+4
F *
+4
74
 
 
 
74
 
T31
Zach Dybul

  

Big Bend, WI
+4
F *
+4
74
 
 
 
74
 
T31
Zak Kulka

  

Beaver Dam, WI
+4
F
+4
74
 
 
 
74
 
T31
Joe Weber

  

Onalaska, WI
+4
F *
+4
74
 
 
 
74
 
T31
Evan Myers

  

Northbrook, IL
+4
F *
+4
74
 
 
 
74
 
T31
Nick Satina

  

Madison, WI
+4
F
+4
74
 
 
 
74
 
T31
Johnny Decker

  

Madison, WI
+4
F *
+4
74
 
 
 
74
 
T31
Kevin Cahill

  

Waukesha, WI
+4
F
+4
74
 
 
 
74
 
T31
Garrett Jones

  

Madison, WI
+4
F *
+4
74
 
 
 
74
 
T31
Michael Mattas

  

Streamwood, IL
+4
F
+4
74
 
 
 
74
 
T31
Isaac Prefontaine

  

New Franken, WI
+4
F
+4
74
 
 
 
74
 
T31
Carl Christiansen

  

Naperville, IL
+4
F *
+4
74
 
 
 
74
 
T31
Jim Doing

  

Verona, WI
+4
F
+4
74
 
 
 
74
 
T45
David Brock

  

Mequon, WI
+5
F *
+5
75
 
 
 
75
 
T45
Riley Bauman

  

Crystal Lake, IL
+5
F *
+5
75
 
 
 
75
 
T45
Ryonen Faris

  

Fond du Lac, WI
+5
F
+5
75
 
 
 
75
 
T45
Michael Kerns

  

Milwaukee, WI
+5
F *
+5
75
 
 
 
75
 
T45
Michael Bielawski

  

Waukesha, WI
+5
F
+5
75
 
 
 
75
 
T45
George Botts

  

Madison, WI
+5
F
+5
75
 
 
 
75
 
T45
P.J. Clemins

  

Cedarburg, WI
+5
F
+5
75
 
 
 
75
 
T45
Max Pasher

  

Mequon, WI
+5
F *
+5
75
 
 
 
75
 
T45
Michael Bastian

  

Milwaukee, WI
+5
F
+5
75
 
 
 
75
 
T45
Benjamin Pausha

  

Delafield, WI
+5
F *
+5
75
 
 
 
75
 
T45
Shaun Borre

  

La Crosse, WI
+5
F
+5
75
 
 
 
75
 
T45
Kevin Paek

  

Glenview, IL
+5
F *
+5
75
 
 
 
75
 
T45
Ben Skogen

  

Onalaska, WI
+5
F *
+5
75
 
 
 
75
 
T45
Gabe Dahl

  

Green Bay, WI
+5
F
+5
75
 
 
 
75
 
T59
Jamozzy Skenandore

  

De Pere, WI
+6
F
+6
76
 
 
 
76
 
T59
Jackson Bussell

  

Lincolnshire, IL
+6
F *
+6
76
 
 
 
76
 
T59
Derek Fiestadt

  

Kaukauna, WI
+6
F *
+6
76
 
 
 
76
 
T59
Tyler Reitz

  

Lombard, IL
+6
F
+6
76
 
 
 
76
 
T59
Brian Eitel

  

Racine, WI
+6
F
+6
76
 
 
 
76
 
T59
Joe Forsting

  

Edgerton, WI
+6
F *
+6
76
 
 
 
76
 
T59
Ryan Schmus

  

Brookfield, WI
+6
F
+6
76
 
 
 
76
 
T59
Hunter Pipik

  

New Berlin, WI
+6
F *
+6
76
 
 
 
76
 
T59
PJ Murphy

  

Middleton, WI
+6
F
+6
76
 
 
 
76
 
T59
Cole Stark

  

Eau Claire, WI
+6
F
+6
76
 
 
 
76
 
T59
Tim Ertmer

  

Orono, MN
+6
F
+6
76
 
 
 
76
 
T70
Danny Sanicki

  

Menomonee Falls, WI
+7
F
+7
77
 
 
 
77
 
T70
Ty Mueller

  

Mequon, WI
+7
F
+7
77
 
 
 
77
 
T70
Cal Meyers

  

Milwaukee, WI
+7
F
+7
77
 
 
 
77
 
T70
Travis Pronschinske

  

Oconomowoc, WI
+7
F
+7
77
 
 
 
77
 
T70
Chris Hoff

  

Hartland, WI
+7
F *
+7
77
 
 
 
77
 
T70
Tom Drill

  

Sheboygan, WI
+7
F *
+7
77
 
 
 
77
 
T70
Paul Koszarek

  

Waterford, WI
+7
F *
+7
77
 
 
 
77
 
T70
Joe DuChateau

  

Fond Du Lac, WI
+7
F *
+7
77
 
 
 
77
 
T70
Ben Resnick

  

Rice Lake, WI
+7
F *
+7
77
 
 
 
77
 
T70
Brad Finger

  

Waukesha, WI
+7
F
+7
77
 
 
 
77
 
T70
Christopher Weinfurt

  

Waukesha, WI
+7
F
+7
77
 
 
 
77
 
T70
Gregory Wagner

  

Cambridge, WI
+7
F *
+7
77
 
 
 
77
 
T70
Larry Blatt

  

Chicago, IL
+7
F
+7
77
 
 
 
77
 
T70
Brian Morris

  

Shorewood, WI
+7
F *
+7
77
 
 
 
77
 
T70
Rocky Sperka

  

New Berlin, WI
+7
F
+7
77
 
 
 
77
 
T70
Travis Meyer

  

River Falls, WI
+7
F *
+7
77
 
 
 
77
 
T70
Brian McCall

  

Middleton, WI
+7
F *
+7
77
 
 
 
77
 
T70
Todd Schaap

  

Kenosha
+7
F
+7
77
 
 
 
77
 
T70
Jeff Glisch

  

Middleton, WI
+7
F *
+7
77
 
 
 
77
 
T70
Aaron Gavin

  

South Milwaukee, WI
+7
F
+7
77
 
 
 
77
 
T70
Adam Miller

  

Nekoosa, WI
+7
F
+7
77
 
 
 
77
 
T91
Adam Garski

  

Wauwatosa, WI
+8
F
+8
78
 
 
 
78
 
T91
Phillip Johnson

  

Colgate, WI
+8
F *
+8
78
 
 
 
78
 
T91
Conner O'Neil

  

Green Bay, WI
+8
F *
+8
78
 
 
 
78
 
T91
Jakob Schroeckenthaler

  

Cottage Grove, WI
+8
F
+8
78
 
 
 
78
 
T91
Christopher Colla

  

Fond du Lac, WI
+8
F
+8
78
 
 
 
78
 
T91
Cameron Huss

  

Kenosha, WI
+8
F *
+8
78
 
 
 
78
 
T91
Brian Markle

  

Verona, WI
+8
F *
+8
78
 
 
 
78
 
T98
Nicholas Malahy

  

Wauwatosa, WI
+9
F *
+9
79
 
 
 
79
 
T98
Ryan Hughes

  

Cedarburg, WI
+9
F *
+9
79
 
 
 
79
 
T98
Cory Aune

  

Lake Geneva, WI
+9
F
+9
79
 
 
 
79
 
T98
Lukas Heckmann

  

Middleton, WI
+9
F *
+9
79
 
 
 
79
 
T98
Jacob Mayer

  

Delafield, WI
+9
F
+9
79
 
 
 
79
 
T98
Mike Roznowski

  

Leawood, KS
+9
F *
+9
79
 
 
 
79
 
T98
William Nummy

  

Winnetka, IL
+9
F *
+9
79
 
 
 
79
 
T98
Ricky Kuiper

  

Racine, WI
+9
F
+9
79
 
 
 
79
 
T98
Pete Kuhl

  

Madison, WI
+9
F *
+9
79
 
 
 
79
 
T98
Tommy Mohs

  

Madison, WI
+9
F
+9
79
 
 
 
79
 
T98
Jon Higley

  

Strum, WI
+9
F
+9
79
 
 
 
79
 
T109
Joseph Mazurek

  

Germantown, WI
+10
F
+10
80
 
 
 
80
 
T109
Daniel Hughes

  

Cedarburg, WI
+10
F
+10
80
 
 
 
80
 
T109
Benjamin Shafer

  

Brookfield, WI
+10
F
+10
80
 
 
 
80
 
T109
Logan Larrabee

  

Lake Mills, WI
+10
F
+10
80
 
 
 
80
 
T109
Mason Gardner

  

Waupaca, WI
+10
F *
+10
80
 
 
 
80
 
T109
Sean Murphy

  

Middleton, WI
+10
F *
+10
80
 
 
 
80
 
T109
Terry Flesch

  

Fond du Lac, WI
+10
F
+10
80
 
 
 
80
 
T109
Sam Cianciola

  

Nekoosa, WI
+10
F
+10
80
 
 
 
80
 
T109
Alex Okray

  

Stevens Point, WI
+10
F *
+10
80
 
 
 
80
 
T109
Tom Halla

  

Colgate, WI
+10
F *
+10
80
 
 
 
80
 
T109
Paul Zarek

  

Burlington, WI
+10
F
+10
80
 
 
 
80
 
T109
Braden Mork

  

Madison, WI
+10
F
+10
80
 
 
 
80
 
T109
Daniel Ozga

  

Edgerton, WI
+10
F
+10
80
 
 
 
80
 
T109
Ty Kretz

  

Marinette, WI
+10
F *
+10
80
 
 
 
80
 
T109
John Triller

  

Green Lake, WI
+10
F
+10
80
 
 
 
80
 
T109
Chip Savarie

  

Madison, WI
+10
F *
+10
80
 
 
 
80
 
T109
Thomas Wettstein

  

Milwaukee, WI
+10
F *
+10
80
 
 
 
80
 
T109
Kris VanSickle

  

Peshtigo, WI
+10
F *
+10
80
 
 
 
80
 
T127
Greg Bauman

  

Crystal Lake, IL
+11
F *
+11
81
 
 
 
81
 
T127
Adam Fazio

  

Wauwatosa, WI
+11
F
+11
81
 
 
 
81
 
T127
Mason Polivka

  

Muskego, WI
+11
F *
+11
81
 
 
 
81
 
T127
Mike McDonald

  

West Bend, WI
+11
F *
+11
81
 
 
 
81
 
T127
Matthew Raab

  

Hartland, WI
+11
F *
+11
81
 
 
 
81
 
T132
Daniel Romano

  

Darien, WI
+12
F *
+12
82
 
 
 
82
 
T132
Russell Dettmering

  

Merrill, WI
+12
F
+12
82
 
 
 
82
 
T132
Marc Shanks

  

Madison, WI
+12
F
+12
82
 
 
 
82
 
T132
Timothy DeMaster

  

Berlin, WI
+12
F
+12
82
 
 
 
82
 
T132
Michael Sierakowski

  

Sheboygan Falls, WI
+12
F
+12
82
 
 
 
82
 
T132
Adam McDonald

  

Waukesha, WI
+12
F
+12
82
 
 
 
82
 
T132
Bennett Swavely

  

Hudson, WI
+12
F
+12
82
 
 
 
82
 
T132
Collin Schroeder

  

Appleton, WI
+12
F *
+12
82
 
 
 
82
 
T140
Pat Boyle

  

Greendale, WI
+13
F *
+13
83
 
 
 
83
 
T140
Owen Covey

  

New Richmond, WI
+13
F
+13
83
 
 
 
83
 
T140
Ryan Hurab

  

Oconomowoc, WI
+13
F
+13
83
 
 
 
83
 
T140
Tom Schoewe

  

Sun Prairie, WI
+13
F *
+13
83
 
 
 
83
 
T144
Brian J. Kopinski

  

Chicago, IL
+14
F
+14
84
 
 
 
84
 
T144
John Uekert

  

West Bend, WI
+14
F
+14
84
 
 
 
84
 
T144
Robbie Morway

  

Mequon, WI
+14
F *
+14
84
 
 
 
84
 
T147
Chad Brennan

  

Eleva, WI
+15
F
+15
85
 
 
 
85
 
T147
Trey Hewuse

  

Tomah, WI
+15
F
+15
85
 
 
 
85
 
T147
Josh Kirkham

  

Hinsdale, IL
+15
F
+15
85
 
 
 
85
 
T147
Eric Christensen

  

Amery, WI
+15
F
+15
85
 
 
 
85
 
T151
Alexander Ho

  

Milwaukee, WI
+16
F *
+16
86
 
 
 
86
 
T151
Mike Murphy

  

Fitchburg, WI
+16
F
+16
86
 
 
 
86
 
153
Dylan Karvala

  

New Berlin, WI
+17
F *
+17
87
 
 
 
87
 
154
Chris Kostrewa

  

Wales, WI
+19
F *
+19
89
 
 
 
89
 
155
Scott Erickson

  

Sparta, WI
+23
F *
+23
93
 
 
 
93
 
MISSED CUT
WD
Drake Wilcox

  

Sheboygan, WI
+9