MEQUON – Dick Sucher is picking on a salad in the dining room at Ozaukee Country Club. It's a cold early November day, snow is on the ground and activity at the club has slowed. We're alone in the spacious room for the better part of an hour, the better to hear Sucher, whose voice occasionally trails off, tell stories.
And, oh, the stories he tells. Sucher, 82, of Mequon, is a living legend, a link to a Golden Era of golf in Wisconsin, when amateurs with homemade swings and weekday jobs battled for trophies and banner headlines in newspaper sports sections.
For 60 years, he had the competitive heart of a lion, but that heart is now regulated by a pacemaker. He lowers his head to show a hole in his thinning white hair. Skin cancer. The worst kind. The surgeon had to go down to the bone to get it all. He's had four back operations and has "wires going up my spinal cord to alleviate the pain." He's still recovering from recent hernia surgery.
"I have things going on," he says with a shrug. "But I'm sitting here talking to you. There's a lot of people that are not."
This is a man who once played to a plus-3 handicap at Ozaukee, where he has been a member for nearly 60 years and is a 16-time club champion.
"I'm an 18 handicap now, I think," he says. "A good day is (shooting) 80."
Sucher compiled one of the best amateur resumes in Wisconsin history. He won the State Amateur twice when the format was match play, beating Bobby Brue in the final in 1958 and 17-year-old Andy North in the final in '67, when Sucher finished birdie-birdie to win, 2-up. Brue would go on to earn more than $1 million on what is now the PGA Tour Champions and North, of course, would win the U.S. Open twice.
In 1987, a then-50-year-old Sucher made a bid for a third State Amateur title but finished two strokes behind future PGA Tour hotshot Skip Kendall (by then the championship had switched to stroke play).
"That was a heart-breaker," he says. "I double-bogeyed the 16th hole in the final round and lost by two."
Sucher played in the Milwaukee Open five times and was low amateur twice. He won the Horace Havemaker Invitational, a prestigious amateur tournament in New York. He won the Dorado Beach Invitational in Puerto Rico. He won the Ed Tutwiler Invitational in Georgia. He reached the semifinals of the North and South Amateur before losing to future Walker Cupper Charlie Smith.
In 1967, he and Brue, who by then had turned pro, finished second to Dale Douglass and then-amateur Hale Irwin in the U.S. Pro-Am in Cincinnati. It was a huge national tournament at the time, featuring PGA Tour pros who partnered with amateurs.
"Bobby won $2,200, which was the most he'd ever won in his life," Sucher says. "He never drank, but on the plane back home, he had two beers. He kept taking out the check and looking at it."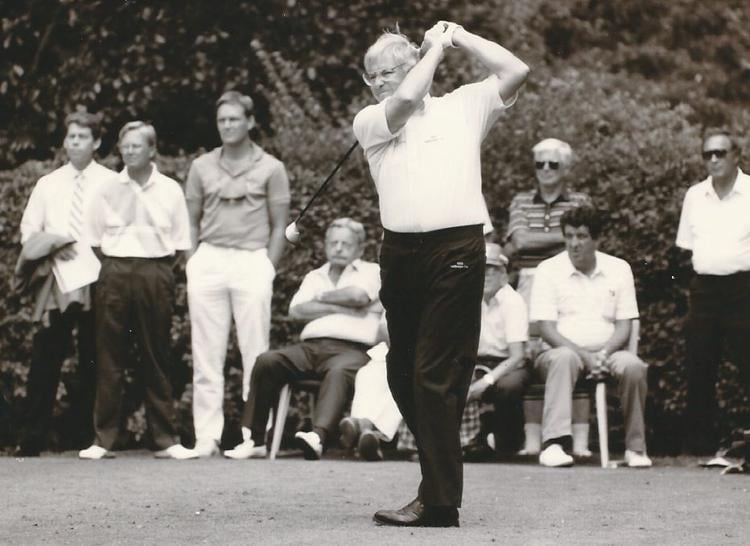 On a whim, Sucher once entered the Canadian Amateur and advanced all the way to the quarterfinals, where he lost to South African Bobby Cole.
Cole was married to LPGA star Laura Baugh, whose father, Hale Baugh, once lost to Sucher in a collegiate match. Sucher, then a sophomore at Rollins College – he would finish his collegiate career at Northwestern – chipped in for birdie on the final hole and the hot-tempered Baugh, playing for the University of Florida, whirly-birded his putter toward the clubhouse in a fit of anger.
"Hale Baugh had never lost a match," Sucher says, chuckling at the memory. "His coach made him go get his putter and putt out. Of course, he didn't make it."
Other players may have been able to stay with Sucher off the tee and hit better fairway woods and iron shots, but few could match his touch on and around the greens. He's one of the best putters ever to come out of Wisconsin.
Tour quality?
"No question about it," he says matter-of-factly.
During the 1958 Milwaukee Open, Sucher was paired with a PGA Tour rabbit for the first two rounds and matched him stroke for stroke, getting up and down from everywhere and rolling in 12-footers like they were tap-ins. Several years later, the rabbit was established on the tour and came to Boston Store in downtown Milwaukee as part of a promotional tour for Munsingwear.
Sucher, who worked in Merrill Lynch's downtown office, walked over and stood in the back of the room as the pro gave a clinic. At one point, the pro looked up, saw Sucher and without missing a beat said, "… and if I could putt like Dick Sucher, I'd probably win a lot more tournaments."
"It was Tony Lema," Sucher says of the 1964 British Open champion, who died in a 1966 plane crash.
In the 1988 WSGA Best-ball tournament, Sucher and partner Bruce Boegel knocked off a young Steve Stricker and Stricker's late brother, Scott, in the semifinals and went on to win (it was Sucher's third title in the event; he'd won it twice previously with partner Alex Antonio).
"Steve hit all the par-5s in two," Sucher says. "I would bounce one up near the green, chip on and make the putt to halve Steve's birdie. When we finished, Stricker went up to Gene Haas (then the WSGA executive director) and said, 'Who is that guy?'"
In addition to winning his share of tournaments around the state, Sucher qualified for 20 United States Golf Association championships and reached the quarterfinals of the U.S. Amateur four times, once losing to amateur legend Harvie Ward.
Asked how many holes-in-one he made, he says, "Guess."
Six?
"You're only 14 short," he says.
That's right, 20 aces, one of them with a 4-wood in the semifinals of the Milwaukee District Match Play Championship (which he won four times).
"I played Mark Bemowski in the finals that year," Sucher says. "It went 19 holes. I won and he turned around and walked in. Never shook my hand."
These were the days when rivalries between top players could be bitter. Sucher's fiercest rival was Archie Dadian, named the national public links player of the decade in the 1970s. They came from different sides of the tracks, Dadian the son of a tavern owner who grew up in South Milwaukee and never left, Sucher a country clubber from Whitefish Bay who lived for a time in New York City.
"No question, Archie was my biggest rival," Sucher says. "We had a lot of respect for each other."
Sucher beat Dadian in the semifinals of the 1958 State Amateur, a victory he describes as "my most satisfying." He came from four shots back to beat Dadian in the 1995 State Senior Amateur (which he won on two other occasions). On the other hand, his 8 and 7 loss to Dadian in the match play final of the 1967 Milwaukee Sentinel tournament still stings, more than 50 years later.
"Archie beat the s--- out of me," he says flatly.
They were a little like Palmer and Jack Nicklaus, wary of each other during their primes but close friends later in life. Last summer, Dadian and Sucher partnered in the WSGA Senior Best-ball Championship. They finished dead last in the Super Senior Division.
"We were terrible," Sucher says, "but it was nice to be there. The players thank you for coming. It was great."
Speaking of Nicklaus, Sucher, then the captain of the Northwestern team, beat him in a college match when Nicklaus was a freshman at Ohio State. "He was not on that day," Sucher says. "It was probably the worst day he ever had. I scraped by him."
Unlike Dadian and other contemporaries such as Brue and Tommy Veech, Sucher never turned pro. Instead, he worked at Merrill Lynch for 14 years and Baird for 26 more, making a handsome living that allowed him and his wife, Jean, to winter for the last two decades in Palm Springs, Calif., where they are members of Tradition Golf Club. Early on, they befriended its founder, one Arnold Daniel Palmer.
"Oh, yeah, I was close to Arnold," says Sucher, who played dozens of rounds with the King in the desert. "It was fun playing with him. Great guy."
Once, when their golf balls wound up in the same bunker, Sucher bet Palmer he could hit it closer to the hole. Sucher won the bet and still has Palmer's $1 bill, autographed and framed.
Another time, Palmer was getting ready to play in a Senior Skins Game in Hawaii and was testing a dozen drivers on the range at Tradition. All of them had heavy, stiff shafts and Palmer, now in his 70s, was struggling. Sucher asked Palmer's caddie to retrieve Jean Sucher's driver from the clubhouse.
"I said, 'Here, Arnold, hit this,'" Sucher says. "It's got a pink shaft and he kind of looks sideways at it, but he hits that thing – thwack, thwack, thwack. He hands it back to me and says thanks. The next day, I was talking to the Callaway rep and he said, 'Arnold really likes his new driver.' I said, 'What driver?'
"It turns out Arnold asked for a driver to be made up like Jean's, but he wanted the shaft painted black and he took his Sharpie and crossed out the 'L' (for ladies) on the shaft."
Sucher thinks he saw Palmer hit his final golf ball. The King was in poor health in 2016 (he would die on September 25 of that year), but desperately wanted to fulfill his role as an honorary starter at the 2017 Masters with Nicklaus and Gary Player.
"Russ Meyer, probably his closest friend – Russ was the former chairman of the board of Cessna – said, 'Arnold, you can't play,'" Sucher says. "Arnold was stubborn. He said, 'Well, sure I can.' So, they go out to the range and Arnold tees up a driver and cold tops it. I believe that was the last time he hit a ball."
Sucher may not have turned pro, but like many others he played in big-money games around Milwaukee that attracted skilled players and inveterate gamblers. In one regular weekly game at North Hills, he and partner Billy Schaller beat a couple pigeons "like a drum" over a period of two or three years.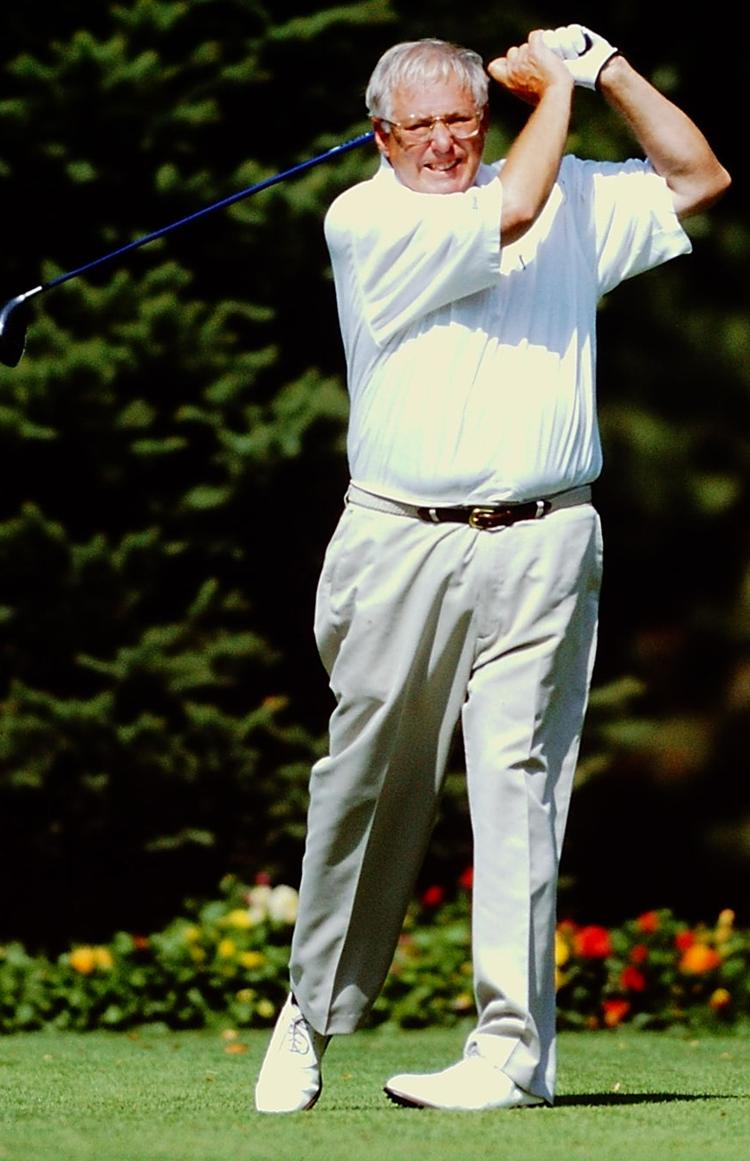 "We would play either a $25 or $50 Nassau, automatic one-down presses, individual and team," Sucher says. "I won a lot of money. I bought my parents a new refrigerator, bought a new car, paid my Ozaukee dues. They kept trying to beat us.
"Finally, one of the guys, who had quite a temper, says, 'I can't play you anymore, Dick. You're just too good for me.' I agreed with that and I said, 'I appreciate everything you've given me. I've got a new car. It's out in the parking lot. If you'd like to drive it, I'll give you the keys.' He got mad, of course, and said, 'Alright, $50 Nassau today!'"
One early spring, when Sucher was just out of college and working at Manpower, he got a phone call from Ben Poblocki, the founder of Poblocki Sign Company.
"He asked if I could come down to Palm Beach, Florida, for a golf game," Sucher says. "I'm in the sales department and I said, 'Sure, I can get away.' He said, 'But have you played any golf?' This was right before Easter. But a month before that I had been working for Manpower in New Orleans and I had an arrangement to hit balls anytime I wanted at New Orleans Country Club."
When Sucher arrived in Florida, Poblocki pointed at him and said in no uncertain terms, "You're a 3 (handicap)," which was about six strokes higher than his plus-3. Sucher knew something was up but said, 'OK, whatever, I'm a 3.'"
The match was set for Easter Sunday. Sucher wanted to see the course, so he played it on Good Friday and shot a 67. Not bad for a "3 handicap."
"So, it's the morning of the match and we're waiting on the tee and this big, ornate golf car comes up," Sucher says. "On the back is this huge golf bag and sitting next to the guy is this gorgeous woman. The guy looks at me and says, 'I hear you shot a 67 the other day.'
"I said, 'Yes sir, I did. But I'm not a hustler, Mr. Gleason, though I enjoyed it when you used that line in your movie with Paul Newman.' We played a $1,500 Nassau, automatic one-down press. I had no part of it. Poblocki took on the money. Jackie Gleason was very nice. I think he knew he was getting hustled. He couldn't care less. He told me he was making $50,000 a week for the Jackie Gleason Show, which was being taped down in Miami. Poblocki wound up winning $4,000 or $5,000.
"The reason I was asked to come down there was Gleason, a few weeks before that, had carved up the guy who lived next door to Poblocki. So Poblocki said, 'I know a kid, he doesn't have a tan …'"
***
Sucher has long since stopped picking at his salad. The interview is well into its third hour when an Ozaukee staff member approaches our table and says, "Mr. Sucher, Mrs. Sucher just called and said you missed a 2:45 eye appointment."
Oh-oh. Sucher sighs and struggles to his feet. On the way out, we stop at a glass trophy case, which contains golf clubs donated to Ozaukee by members who have won significant tournaments. At the top is Sucher's sand wedge from his 1958 State Amateur victory.
"I've had a wonderful life," Sucher says.
He opens the door and steps out into the cold.