WEST BEND — The qualifying medalist lost in the first-round of match play. The defending champion fell during the second round Tuesday afternoon.
Six matches Tuesday went extra holes, six made it to No. 18 and eight more were settled with handshakes on the 17th green. And now the big question: What kind of drama will unfold next Wednesday with the Wisconsin State Golf Association Match Play Championship down to its final 16 golfers?
One day after strong winds and a tough course set-up made it tough to get into the 64-player field for match play, the storyline shifted and it became more difficult to stay there. Just ask Patrick Treichel and Michael Bielawski.
Treichel, a Fond du Lac golfer and the qualifying medalist Monday with a 71, fell in the first round to UW-Green Bay golfer Max Pasher, 4-and-3. After surviving his opener in 20 holes over Neenah's Dylan Kline, Bielawski's title defense came to an end with a 19-hole loss to Kenosha's Travis Engle.
That leaves an interesting assortment of golfers for the Round of 16.
There are at least five current college golfers: UW-Green Bay's Pasher of Mequon, South Dakota's Matt Tolan of Eau Claire, Marquette's Tyler Leach of Spring Valley, Viterbo's Jake Schroeckenthaler and Stetson's Ben Resnick of Rice Lake. Matt Polivka, who started the 2018-19 school year on the roster at Cardinal Stritch but wound up on the club team at Grand Canyon University, is also in the final 16 along with the likes of recent college golfers Joe DuChateau of Fond du Lac (UW-Green Bay) and Jakob Garstecki of Germantown (Missouri-Kansas City), who will face Leach.
Matches start Wednesday at 7:30 a.m. with Pasher against du Chateau in a battle of a current Phoenix golfer against a former one. Quarterfinal matches are schedule to get underway at noon.
---
First-round results

---
Second-round results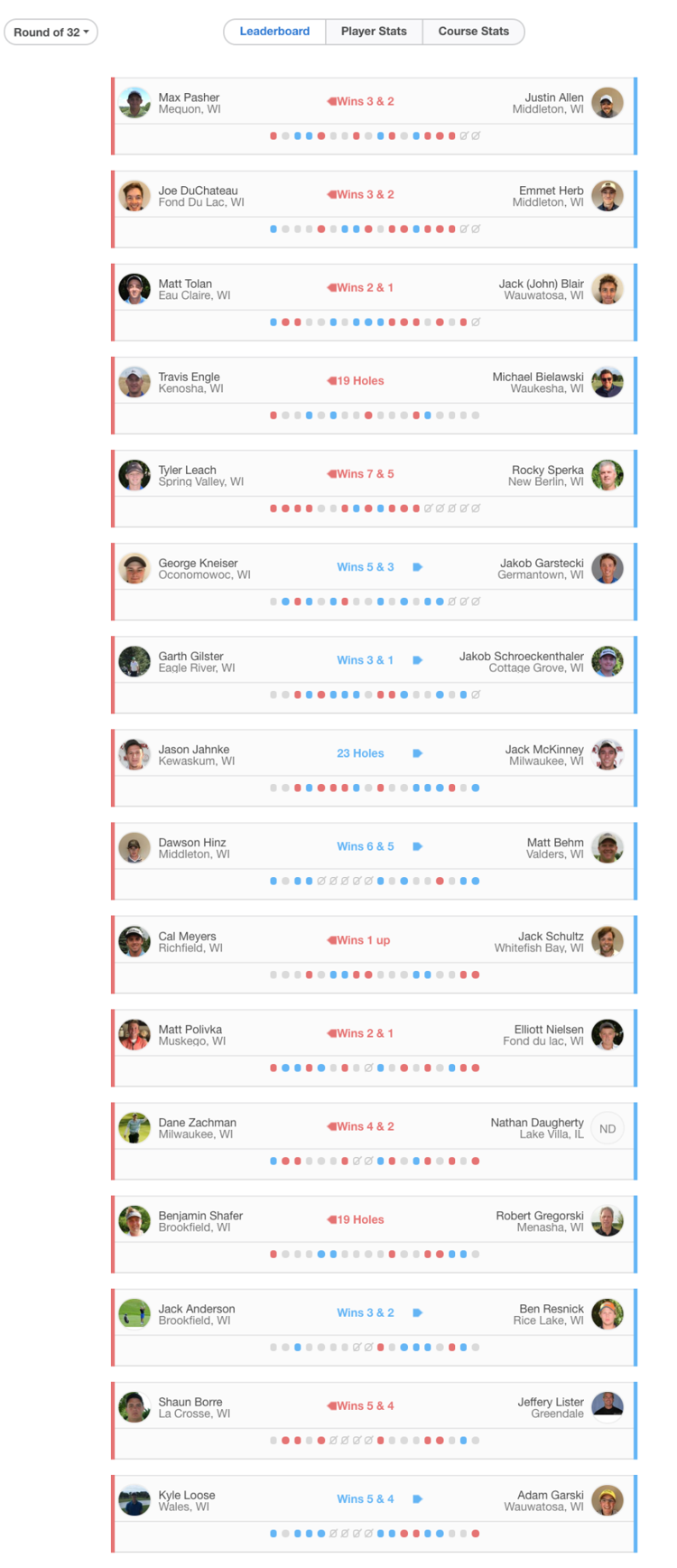 ---
Third-round pairings