Mike Murphy took care of his business Monday at Minocqua Country Club and then retreated to one of the local lakes to go kayaking with his wife Lori.
By the time they returned to their campsite for dinner, the juxtaposition of the Fitchburg golfer's day could not have been more striking.
Away from the golf course, the Murphy's day was the epitome of alone time. Atop the leaderboard at the Wisconsin State Senior Amateur Championship, things could not have been much more crowded for Murphy and four other golfers who shot matching 2-under-par 70s and shared the first-round lead.
Murphy was nearing the end of his 90-minute kayak excursion when he wound up atop the leaderboard after Pewaukee's John Kestly, playing in the fourth-to-last group off the front nine, bogeyed No. 18. That dropped Kestly into a share of the lead with Murphy, Minocqua's Brian Drerup, 2019 WSGA Senior Player of the Year Jim Doing of Verona and 2018 WSGA Senior Player of the Year Rocky Sperka of New Berlin, none of whom have ever won this championship (though Sperka did come close in 2017 and '18, finishing second both years).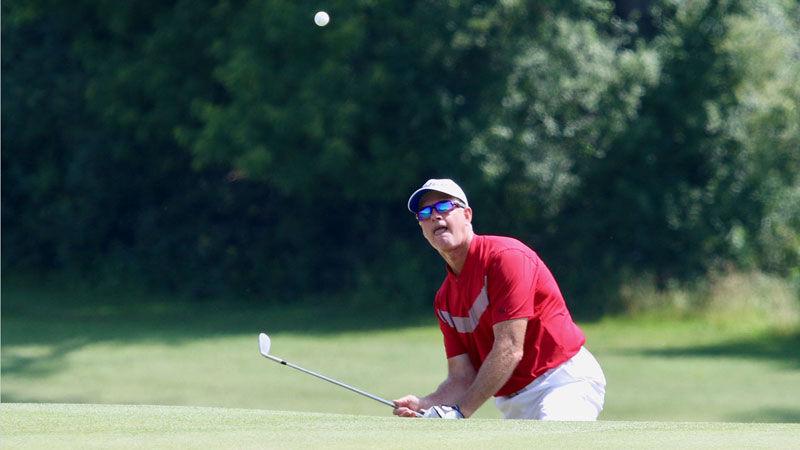 "(I) haven't checked the leaderboard yet, but I'm sure I'll have a late tee time (Tuesday)," Murphy wrote in a text to Wisconsin.Golf before finding out that he will join Drerup, Doing and Sperka in the final group off No. 1 at 2:15 p.m.  
Waukesha's Kevin Cahill, a three-time WSGA Senior Player of the Year, shot 1-under 71 and joined Neosho's John Lonergan in a tie for sixth place. Three other golfers, including two-time State Amateur champion Bob Gregorski of Menasha, shot even-par 72s and were tied for ninth as 27 golfers remained within five shots of the lead entering Tuesday's final round.
"Lots of good golfers and guys who know each other pretty well," Sperka wrote in a text to Wisconsin.Golf after getting a look at the leaderboard after first-round play finished. "(The) winner will play a real good round (Tuesday)."
The five guys at 2-under each had opportunities to go lower Monday.
Drerup, 56, who retired from the Rockford (Ill.) Fire Department as a division chief in 2018 after 31 years on the force, now calls Minocqua home and looked the part starting on the back nine Monday. He birdied two of his first three holes and added another birdie at No. 18 to make the turn in 3-under 33 before a bogey-birdie-bogey stretch starting at No. 5 left him at 2-under.
"The key for me (Monday) was solid iron play and good putting," Drerup wrote in a text to Wisconsin.Golf. "One of the keys to playing MCC is being able to keep the ball in play off the tee and understanding the undulating green complexes. It's becoming easier as I gain more course knowledge.
"I've only been a member here for two years. However, I've played here for years with my wife's family."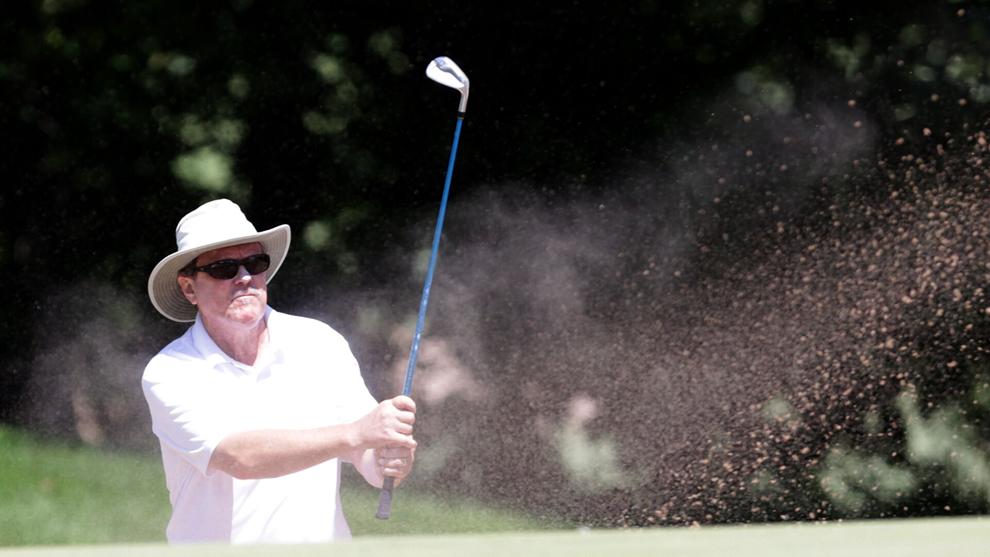 Doing, who played with defending champion John Uekert (79) and Cahill, also got off to a fast start, birdieing No. 1 and holing out for an eagle on the par-4 eighth hole to make the turn in 3-under 33. He made four bogeys and three birdies on the back nine, the last birdie coming at No. 18 to tie for the lead.
Murphy, meanwhile, started on the back nine and went par-birdie-bogey-birdie before making five straight pars to turn in 1-under 35. Three birdies — the last two coming back-to-back starting at No. 6 — and two bogeys on the front nine helped the 65-year-old earn his share of the lead before hitting the water.
"(The) best part of my game (Monday) was my driving," Murphy wrote. "(I) only missed one fairway (by a couple of feet) so I always had a clear shot at the green.  My putting was hot and cold (he had two three-putts) and I found myself in between clubs a bunch.
"But I'm happy with the results."
So, too, was Sperka, 58, who is in the middle of a solid summer.
Sperka, who played college golf in the 1980s at Ball State, won the WSGA Senior Four-Ball Championship with partner Brad Niswonger, made the cut at the Wisconsin State Amateur at Milwaukee CC and qualified for last week's Wisconsin State Open at Blue Mound G&CC in Wauwatosa, where he shot a pair of 76s and missed the 36-hole cut by just three shots. He owned a share of the lead after an opening 69 two years ago at Thornberry Creek at Oneida GC near Green Bay, only to shoot 75 the second day and finish second to Paul Zarek.
He started the slowest of any of the eventual leaders, playing the back nine first and making bogeys at Nos. 11 and 13 and turning in 2-over 38. The front nine was a different story, however, as he birdied No. 1 and — after going birdie-bogey at Nos. 4 and 5 — birdied three of his final four holes for his 70.
"I played pretty well in the State Am two years ago when it was at Minocqua CC," Sperka wrote in a text to Wisconsin.Golf, referring to the 2018 State Am where he shot 75-74-74-75 and tied for 36th. "Each of those three birdies in last four holes (Monday) was inside 3 feet. (I) hit driver really well and my short irons very aggressively into soft greens. ... (I) have been hitting ball well but have not putted well. Making a few putts (Monday) helps the confidence."
Meanwhile, Kestly did not seem the least bit rattled despite his bogey on No. 18, which cost him the outright lead. The 58-year-old vice president of Boehm-Madisen Lumber Co. in Pewaukee seemed right at home among Minocqua CC's tree-lined fairways most of the day, making four birdies, one bogey and 12 pars — including a "miraculous" save at No. 16 — before his bogey to finish.
"I putted well ... and kept my drives in the fairway," Kestly wrote in a text to Wisconsin.Golf. "I have been playing pretty good this year, but the 70 is my best so far. ... I was getting a little loose coming into 18, but hit a good drive and pushed my approach shot. It was a tough up and down and I missed my par putt. ... (I'm) not upset, it's a very cool course and I am just happy to be playing it well."
POS

 

PLAYER

TUESDAY

TEE TIME

 

R1

R2

 

T1
-
Brian Drerup

  

Minocqua, WI
-2
2:15p
70
 
70
 
T1
-
Mike Murphy

  

Fitchburg, WI
-2
2:15p
70
 
70
 
T1
-
Jim Doing

  

Verona, WI
-2
2:15p
70
 
70
 
T1
-
Rocky Sperka

  

New Berlin, WI
-2
2:15p
70
 
70
 
T1
-
John Kestly

  

Pewaukee, WI
-2
2:05p
70
 
70
 
T6
-
John Lonergan

  

Neosho, WI
-1
2:05p
71
 
71
 
T6
-
Kevin Cahill

  

Waukesha, WI
-1
2:05p
71
 
71
 
T8
-
JT Johnson

  

Eden Prairie, MN
E
2:05p
72
 
72
 
T8
-
Robert Gregorski

  

Menasha, WI
E
1:55p
72
 
72
 
T8
-
Tom McClintock

  

Onalaska, WI
E
1:55p
72
 
72
 
T11
-
Mark Dalebroux

  

Madison, WI
+1
1:55p
73
 
73
 
T11
-
Bob Zarter

  

Wrightstown, WI
+1
1:55p
73
 
73
 
T11
-
Tom Zastrow

  

Greendale, WI
+1
1:45p
73
 
73
 
T11
-
Ramiro Romo

  

Burlington, WI
+1
1:45p
73
 
73
 
T11
-
Bill Crinzi

  

New Berlin, WI
+1
1:45p
73
 
73
 
T16
-
Daniel Moore

  

Nekoosa, WI
+2
1:45p
74
 
74
 
T16
-
John Hogan

  

Rhinelander, WI
+2
1:35p
74
 
74
 
T16
-
Jim Frusher

  

DePere, WI
+2
1:35p
74
 
74
 
T16
-
Todd Westrich

  

De Pere
+2
1:35p
74
 
74
 
T16
-
Ron Stortz

  

Delafield, WI
+2
1:35p
74
 
74
 
T21
-
Larry Searl

  

Weyauwega, WI
+3
1:25p
75
 
75
 
T21
-
Robert Pyle

  

Green Bay, WI
+3
1:25p
75
 
75
 
T21
-
Dick Ohme

  

Appleton, WI
+3
1:25p
75
 
75
 
T21
-
Greg Moser

  

Madison, WI
+3
1:25p
75
 
75
 
T21
-
Randy Warobick

  

North Lake, WI
+3
1:15p
75
 
75
 
T21
-
Mitch Bowers

  

Mineral Point, WI
+3
1:15p
75
 
75
 
T21
-
Michael Fischbach

  

Milwaukee, WI
+3
1:15p
75
 
75
 
T28
-
Chuck Garbedian

  

Waukesha, WI
+4
1:15p
76
 
76
 
T28
-
Dan Wubbels

  

Madison, Wi
+4
1:05p
76
 
76
 
T28
-
Pat Boyle

  

Greendale, WI
+4
1:05p
76
 
76
 
T28
-
Terry Flesch

  

Fond du Lac, WI
+4
1:05p
76
 
76
 
T28
-
Ed Dzirbik

  

Brookfield, WI
+4
1:05p
76
 
76
 
T28
-
Mike Smith

  

Pewaukee, WI
+4
12:55p
76
 
76
 
T34
-
David Preboske

  

Eagle River, WI
+5
12:55p
77
 
77
 
T34
-
Robert Lehninger

  

Wauwatosa, WI
+5
12:55p
77
 
77
 
T34
-
Paul Zarek

  

Burlington, WI
+5
12:55p
77
 
77
 
T34
-
Scott Skogen

  

Onalaska, WI
+5
12:45p
77
 
77
 
T34
-
John Haines

  

Mequon, WI
+5
12:45p
77
 
77
 
T34
-
John Aufderhaar

  

Watertown, WI
+5
12:45p
77
 
77
 
T40
-
Bill Schneider

  

Appleton, WI
+6
12:45p
78
 
78
 
T40
-
Charles Weber

  

Milwaukee, WI
+6
12:45p *
78
 
78
 
T40
-
Brian Buss

  

Eau Claire, WI
+6
12:45p *
78
 
78
 
T40
-
Bruce Hansen

  

Racine, WI
+6
12:45p *
78
 
78
 
T40
-
Curt Lumpp

  

Cambridge, WI
+6
12:45p *
78
 
78
 
T40
-
Bart Ott

  

Brookfield, WI
+6
12:55p *
78
 
78
 
T40
-
Jamie Young

  

Kenosha, WI
+6
12:55p *
78
 
78
 
T40
-
Brian Brugger

  

Franklin, WI
+6
12:55p *
78
 
78
 
T40
-
Jim Scharnberg

  

Franklin, WI
+6
12:55p *
78
 
78
 
T40
-
Dave Ullenberg

  

Brown Deer, WI
+6
1:05p *
78
 
78
 
T40
-
Bruce Henning

  

Brookfield, WI
+6
1:05p *
78
 
78
 
T40
-
Paul Bryant

  

Wauwatosa, WI
+6
1:05p *
78
 
78
 
T40
-
Marv Nelson

  

Burlington, WI
+6
1:05p *
78
 
78
 
T53
-
James Anderson

  

Abrams, WI
+7
1:15p *
79
 
79
 
T53
-
Dave Massey

  

Cottage Grove. Wi.
+7
1:15p *
79
 
79
 
T53
-
Richard Pfeil

  

Lake Geneva, WI
+7
1:15p *
79
 
79
 
T53
-
Brad Houghton

  

Rice Lake, WI.
+7
1:15p *
79
 
79
 
T53
-
Brian Maloney

  

Green Bay, WI
+7
1:25p *
79
 
79
 
T53
-
Steve Babcock

  

Brodhead, WI
+7
1:25p *
79
 
79
 
T53
-
Martin Cherney

  

Brookfield, WI
+7
1:25p *
79
 
79
 
T53
-
Jeff Corcoran

  

Waukesha, WI
+7
1:25p *
79
 
79
 
T53
-
Bill Cunningham

  

Madison, WI
+7
1:35p *
79
 
79
 
T53
-
Mike Wemmert

  

West Bend, WI
+7
1:35p *
79
 
79
 
T53
-
John Uekert

  

West Bend, WI
+7
1:35p *
79
 
79
 
T53
-
Ed Stremlow

  

Germantown, WI
+7
1:35p *
79
 
79
 
T53
-
David Freeborg

  

Green Bay, WI
+7
1:45p *
79
 
79
 
T53
-
Joe Blommel

  

Muskego, WI
+7
1:45p *
75
 
75
 
T67
-
Guy Roe

  

Minocqua, WI
+8
1:45p *
80
 
80
 
T67
-
Martin Buehler

  

Hinsdale, IL
+8
1:45p *
80
 
80
 
T67
-
Jim Barry

  

Waukesha, WI
+8
1:55p *
80
 
80
 
T67
-
Ken Heffel

  

Racine,WI
+8
1:55p *
80
 
80
 
T67
-
John Siebert

  

Madison, WI
+8
1:55p *
80
 
80
 
T67
-
Robb Brodbeck

  

Waunakee, WI
+8
1:55p *
80
 
80
 
T67
-
Steve Rottler

  

Hartland, WI
+8
2:05p *
80
 
80
 
T67
-
Jim Rollefson

  

Franklin, WI
+8
2:05p *
80
 
80
 
T67
-
Eric Peter

  

Elm Grove, WI
+8
2:05p *
80
 
80
 
T67
-
Carl Anderson

  

Brookfield, WI
+8
2:05p *
80
 
80
 
T67
-
Patrick Moynahan

  

Egg Harbor, WI
+8
2:15p *
80
 
80
 
T78
-
James Ritchay

  

De Pere
+9
2:15p *
81
 
81
 
T78
-
Steve Etrheim

  

Plover, WI
+9
2:15p *
81
 
81
 
T78
-
Tracey Ahlborn

  

Minocqua, WI
+9
2:15p *
81
 
81
 
T78
-
Paul Foegen

  

Marshfield, WI
+9
2:25p *
81
 
81
 
T78
-
Ron Hyde

  

Waukesha, WI
+9
2:25p *
81
 
81
 
T78
-
Scott Semingson

  

Strum, WI
+9
2:25p *
81
 
81
 
T78
-
Dan Wucherer

  

Waupun, WI
+9
2:25p *
81
 
81
 
T85
-
Tom Paulson

  

Longboat Key, FL
+10
9:35a
82
 
82
 
T85
-
John Golden

  

Verona, WI
+10
9:35a
82
 
82
 
T85
-
Kurt Hoppe

  

Wisconsin Rapids, WI
+10
9:35a
82
 
82
 
T85
-
Dominic Carini

  

Greenfield, WI
+10
9:35a
82
 
82
 
T85
-
Bill Kaether

  

McFarland, WI
+10
9:25a
82
 
82
 
T85
-
Marc Casper

  

Okauchee, WI
+10
9:25a
82
 
82
 
T85
-
Jim Covelli

  

Racine, WI
+10
9:25a
82
 
82
 
T85
-
Pat Leahy

  

Hartland, WI
+10
9:25a
82
 
82
 
T85
-
Terry Peterson

  

Green Bay, Wisconsin
+10
9:15a
82
 
82
 
T85
-
Keith Wood

  

Milwaukee, WI
+10
9:15a
82
 
82
 
T85
-
Thomas Hau

  

Kiel, WI
+10
9:15a
82
 
82
 
T85
-
Mike Kehoe

  

South Milwaukee, WI
+10
9:15a
82
 
82
 
T85
-
Chuck Silkey

  

Cedarburg, WI
+10
9:05a
82
 
82
 
T85
-
Jim Hein

  

Pewaukee, WI
+10
9:05a
82
 
82
 
T99
-
Joe Stangel

  

Green Bay, WI
+11
9:05a
83
 
83
 
T99
-
Steve Nibbe

  

Madison, WI
+11
9:05a
83
 
83
 
T99
-
Paul Schwarz

  

Appleton
+11
8:55a
83
 
83
 
T99
-
Mark Asplund

  

Birnamwood, WI
+11
8:55a
83
 
83
 
T99
-
Keith Luedtke

  

South Milwaukee, WI
+11
8:55a
83
 
83
 
T99
-
Bob Rogowski

  

Muskego
+11
8:55a
83
 
83
 
T105
-
Tom Thompson

  

DePere, WI
+12
8:45a
84
 
84
 
T105
-
Joe Wirth

  

Mequon, WI
+12
8:45a
84
 
84
 
T105
-
Dick Regenberg

  

Madison, WI
+12
8:45a
84
 
84
 
T105
-
Steve Rajek

  

Mosinee, WI
+12
8:45a
84
 
84
 
T105
-
Gary Gustavson

  

Green Lake, WI
+12
8:35a
84
 
84
 
T105
-
Tom Krause

  

Waukesha, WI
+12
8:35a
84
 
84
 
T105
-
Greg Johnson

  

Black River Falls, WI
+12
8:35a
84
 
84
 
T105
-
Larry Henry

  

Lake Geneva, WI
+12
8:35a
84
 
84
 
T105
-
Glen Reinke

  

Marinette, WI
+12
8:25a
84
 
84
 
T105
-
James Lansing

  

West Allis, WI
+12
8:25a
84
 
84
 
T115
-
Didier Ibar

  

New Berlin, WI
+13
8:25a
85
 
85
 
T115
-
Bill Tensfeldt

  

Madison, WI
+13
8:25a
85
 
85
 
T115
-
John Swanson

  

Brookfield, WI
+13
8:15a
85
 
85
 
T115
-
Joe Sherwood

  

Green Bay, WI
+13
8:15a
85
 
85
 
T115
-
Don Higgins

  

Madison, WI
+13
8:15a
85
 
85
 
T115
-
Larry Anderson

  

Lindenhurst, IL
+13
8:15a
85
 
85
 
T115
-
Bob Kohl

  

Pewaukee, WI
+13
8:05a
85
 
85
 
T115
-
Brian Hale

  

Sherwood, WI
+13
8:05a
85
 
85
 
T115
-
Jim Stangel

  

Algoma, WI
+13
8:05a
85
 
85
 
T124
-
Fran Hewuse II

  

Tomah, WI
+14
8:05a
86
 
86
 
T124
-
Preston Irwin

  

Bartlett, IL
+14
7:55a
86
 
86
 
T124
-
Mark Olsen

  

Pleasant Prairie
+14
7:55a
86
 
86
 
T124
-
Dan Rajek

  

Merrill, WI
+14
7:55a
86
 
86
 
T124
-
Dan Jelinek

  

Iron Ridge, WI
+14
7:55a
86
 
86
 
T124
-
Jim Socha

  

Onalaska, WI
+14
7:45a
86
 
86
 
T124
-
Jerry Gitlewski

  

Sussex
+14
7:45a
86
 
86
 
T124
-
Bill Feehan, Jr.

  

La Crosse
+14
7:45a
86
 
86
 
T132
-
Bill Zuiker

  

Marshfield, WI
+15
7:45a
87
 
87
 
T132
-
David Gursoy

  

Conover, WI
+15
7:45a *
87
 
87
 
T132
-
Andrew Osowski

  

Germantown, WI
+15
7:45a *
87
 
87
 
T132
-
Tim McKeough

  

Green Bay, WI
+15
7:45a *
87
 
87
 
T132
-
Ron Long

  

Ripon, WI
+15
7:55a *
87
 
87
 
T132
-
Mike Sorgi

  

Milwaukee, WI
+15
7:55a *
87
 
87
 
T132
-
Dan Wick

  

Waukesha, WI
+15
7:55a *
87
 
87
 
T132
-
Todd Cook

  

Beaver Dam, WI
+15
7:55a *
87
 
87
 
T140
-
Tom Roy

  

Eleva, WI
+16
8:05a *
88
 
88
 
T140
-
Mike Meyers

  

Minocqua, WI
+16
8:05a *
88
 
88
 
T140
-
John Thorpe

  

Appleton, WI
+16
8:05a *
88
 
88
 
T140
-
Patrick Hogan

  

Green Bay, WI
+16
8:05a *
88
 
88
 
T140
-
Steve Jaeger

  

Brookfield, WI
+16
8:15a *
88
 
88
 
T140
-
Bill Paul

  

Casco, WI
+16
8:15a *
88
 
88
 
T140
-
Tom Felch

  

Ringle, WI
+16
8:15a *
88
 
88
 
T140
-
Daniel Mueller

  

Kenosha, WI
+16
8:15a *
88
 
88
 
T140
-
Brian Westcott

  

Hartland, WI
+16
8:25a *
88
 
88
 
T140
-
Andrew Schuelke

  

Franklin, WI
+16
8:25a *
88
 
88
 
150
-
Scott Smith

  

Oneida, WI
+17
8:25a *
89
 
89
 
T151
-
Bob Thompson

  

Highland Park, IL
+18
8:25a *
90
 
90
 
T151
-
Erik Johnson

  

Hazelhurst, WI
+18
8:35a *
90
 
90
 
T151
-
Brian Spychalla

  

Waukesha, WI
+18
8:35a *
90
 
90
 
T151
-
Rick Theiler

  

Grafton, WI
+18
8:35a *
90
 
90
 
T151
-
Robert Becker

  

Madison, WI
+18
8:35a *
90
 
90
 
T151
-
Mike Gerrits

  

Green Bay, WI
+18
8:45a *
90
 
90
 
T157
-
David J. Butzen

  

Mequon, WI
+19
8:45a *
91
 
91
 
T157
-
Steve Sevals

  

Rice Lake, WI
+19
8:45a *
91
 
91
 
T157
-
Patrick Garvens

  

Milwaukee, WI
+19
8:45a *
91
 
91
 
T157
-
Jeff Kjorlien

  

Hubertus, WI
+19
8:55a *
91
 
91
 
T161
-
Seve Weiher

  

Hubertus, Wi.
+20
8:55a *
92
 
92
 
T161
-
James Winistorfer

  

Mequon, WI
+20
8:55a *
92
 
92
 
T163
-
Craig Peachy

  

Fond Du Lac, WI
+21
8:55a *
93
 
93
 
T163
-
Mike Greenhalgh

  

Madison, WI
+21
9:05a *
93
 
93
 
T163
-
Neal Weitermann

  

Germantown, WI
+21
9:05a *
93
 
93
 
T166
-
Thomas Gordon

  

Plymouth, WI
+22
9:05a *
94
 
94
 
T166
-
Terry Schilz

  

Cambridge, WI
+22
9:05a *
94
 
94
 
T168
-
Jim Appelgren

  

Minocqua, WI
+23
9:15a *
95
 
95
 
T168
-
Byron Olson

  

Menomonee Falls, WI
+23
9:15a *
95
 
95
 
T168
-
James Dicks

  

Ottawa, WI
+23
9:15a *
95
 
95
 
T168
-
Krys Komornicki

  

Elm Grove, WI
+23
9:15a *
95
 
95
 
T172
-
Harry Markos

  

Shorewood, WI
+24
9:25a *
96
 
96
 
T172
-
John Upson

  

Woodbury, MN
+24
9:25a *
96
 
96
 
T172
-
Al Walschinski

  

Appleton, WI
+24
9:25a *
96
 
96
 
T175
-
Tim Filtz

  

West Bend, WI
+28
9:25a *
100
 
100
 
T175
-
Greg Moline

  

Mequon, WI
+28
9:35a *
100
 
100
 
177
-
James Olson

  

Egg Harbor, WI
+31
9:35a *
103
 
103
 
T178
-
Bob Warpinski

  

Green Bay, WI
+33
9:35a *
105
 
105
 
T178
-
Doug Bader

  

Grafton, WI
+33
9:35a *
105
 
105
 
DID NOT FINISH
WD
-
Eric Hjortness

  

Menasha
+18
 
 
90
 
90
 
WD
-
Mike Jr. O'Connor

  

West Bend, WI
+31
 
 
103
 
103
 
NS
-
Peter Grefsheim

  

Madison, WI
 
 
 
 
 
 
 
JWD
-
Dennis Priest

  

Greenfield, WI