KENOSHA – Chadd Slutzky credited a "15th club" for his victory Thursday in the Wisconsin State Golf Association Match Play Championship.
It wasn't a club in his golf bag, though. It was the thing to which his bag was strapped.
"Without the golf cart, I wouldn't have lasted two days," Slutzky said. "The golf cart was huge. That was my most valuable club."
The 43-year-old Slutzky, who said he "popped three or four Aleve" as part of his pre-match routine, played seven matches and 116 holes over four days at The Club at Strawberry Creek. But the resident of Deer Park, Ill., had plenty of fuel left in the tank, beating Joe Weber of Onalaska, 4 and 3, in the championship match.
"I know I can play with anyone when I'm playing good, and I was on this week so I was pretty confident," said Slutzky, who was a combined 14-under par in his four single-elimination matches. "I just kept it going."
He is believed to be the first golfer from Illinois to win a WSGA event. Non-resident golfers are allowed to play in WSGA tournaments providing they agree not to play in "major amateur championships" in their home states. The coronavirus pandemic wiped out most of the 2020 Chicago District Golf Association tournament schedule.
Photos: 2020 WSGA Match Play Championship: Semifinals, Final
"They run a great tournament up here," Slutzky said of the WSGA. "They hold it at great courses. This course is fantastic. I never even heard of it before. It's gorgeous. And then they're having the State Am at Milwaukee (County Club). They really do a great job up here with their state association."
Slutzky reached the championship match by beating Michael Mattas of Streamwood, Ill., in 21 holes in the semifinals. Weber, 36, a former Marquette University player, needed 20 holes to get past University of Toledo golfer Nate Thomson of Greendale.
That set up a final between a pair of mid-amateurs, a rarity in a tournament that is always loaded with talented college players. Slutzky is a two-time Illinois Mid-Amateur champion and a seven-time U.S. Mid-Amateur qualifier. Weber won the 2017 WSGA Mid-Amateur title.
"This doesn't happen too often," Slutzky said to Weber on the first tee.
Weber went 2-up with a 15-foot birdie putt on the third hole, but Slutzky chipped away, getting one hole back when he hit his tee shot to within 5 feet on the par-3 fourth and drawing even when Weber three-putted from the front fringe on the drivable par-4 sixth; Slutzky hit an exquisite flop shot from right of the green and made the 3-footer for birdie.
Weber, who made a handful of clutch 10- and 12-footers in his match against Thomson, missed a six-footer for par on the par-3 eighth and Slutzky went 1-up when he hit a beautiful pitch to within a foot after his tee shot came up well short of the green.
The key hole was the 468-yard par-4 ninth. Slutzky hooked his tee shot into the junk and then had to take a lost-ball penalty after his second shot hit a tree and caromed into the hazard. Weber split the fairway and hit the green in regulation.
But Slutzky hit a good fourth shot to within 15 feet and rolled in the putt. Weber left his 35-foot birdie attempt some 10 feet short and then missed, and the players tied the hole with bogeys – one good and one bad.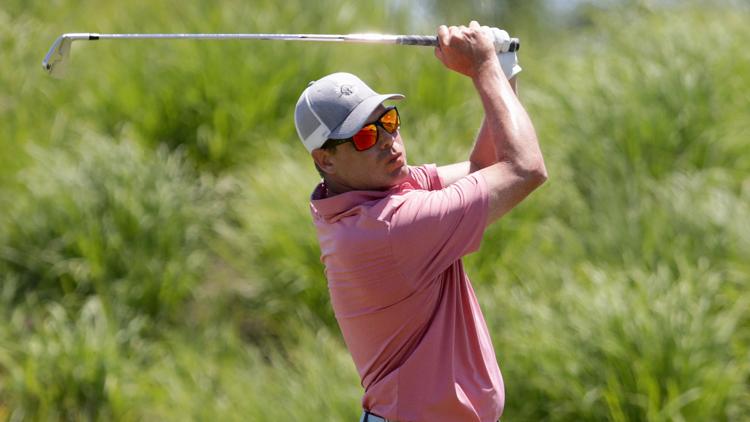 "That was huge," Slutzky said. "Oh, man. I was going to give him that hole three separate times."
Said Weber, "I think the match really kind of turned on nine when I three-putted after he hit it in the hazard."
On the par-5 11th, Slutzky's second shot found a bunker but he got up and down, rolling in a 20-footer for birdie to go 2-up. On the par-3 12th, Slutzky had honors and hit his tee shot into a greenside bunker. Instead of seizing the opening, Weber hit his shot into the same bunker; Slutzky got up and down and Weber did not.
"In match play, you've got to take advantage when (your opponent) hits bad shots," Weber said. "When he puts it in the bunker on 12, I can't put it right next to him. You've got to put that on the green. It's an opening and then I end up sticking it in the bunker, too, and then he gets up and down and I don't. I don't know if it was mental or physical or what."
Weber had a chance to win the par-5 14th when he hit the green in two and Slutzky faced an awkward third shot from the right rough. But Weber three-putted from 60 feet and Slutzky hit a good pitch to 10 feet and rolled in the birdie putt – his fifth in 11 holes – to go 4-up and dormie.
Needing to win the par-3 15th hole to extend the match, Weber's birdie attempt slid past the hole. Slutzky knocked in a 3-footer for par and it was over.
"The putter just was not there, especially down the stretch," Weber said. "I couldn't see where I wanted to hit it and I wasn't hitting it where I wanted to hit it. It was a lot different than it has been the last couple days. That's unfortunate, but he played really well and my hat's off to him.
"He made a lot of really good putts and when your (opponent is) making putts it's tough to claw back. You've got to hit it close and make putts, and I wasn't doing either."
Slutzky, a Philadelphia native, tried to walk onto the golf team at the University of Arizona 25 years ago. He was the low scorer in tryouts but didn't make the team. The deck was stacked against him, he said, because he wasn't on scholarship.
"So, I joined a fraternity," he said with a laugh, "and drank a lot of beer."
His golf game has aged well, but he said he likely would not play in the Wisconsin State Amateur next month because it conflicts with one of his favorite tournaments, a four-ball event in Illinois.
"My partner and I have a good time in that four-ball stuff," he said. "I try to stay away from the college kids as much as possible."
Weber, a dentist and a member at the La Crosse Country Club, won't get much of a break. He is playing in the Ray Fischer 72-Hole Amateur Championship, which gets underway Friday at Janesville Riverside.
"Obviously, I didn't want to lose so this will burn for a while," he said. "I'm sure in a couple days I'll feel a little bit better about finishing second. You don't get very many opportunities to win so you want to capitalize when you do."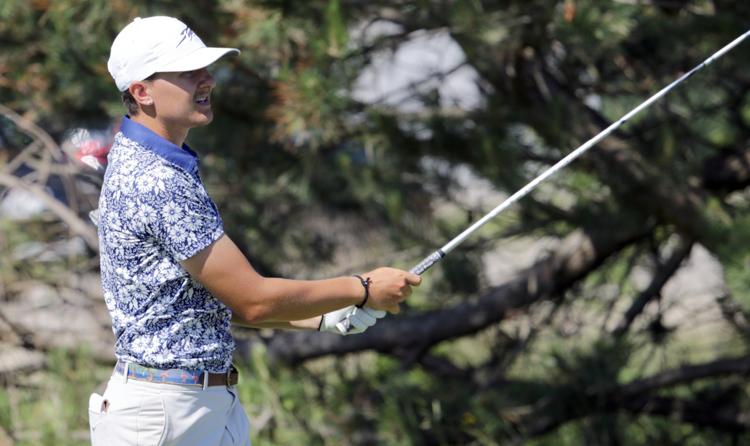 Thomson finished third by beating Mattas, 7 and 6, in the consolation match.
"I was sad about the loss (in the semis) and kind of just played speed golf," he said. "I wasn't really thinking about it. I played really well. I struck the ball well. I was 5-under through 12 holes. I just wish it had been the other way around in the first match, but that's golf.
"I'm still happy with how I played. This whole week, I was under par every single round. I can't really do much more than that. It's been a great week. Strawberry is definitely one of my favorite courses in Wisconsin."