MILWAUKEE – The record will show that Bob Gregorski of Menasha won the Wisconsin State Golf Association Senior Amateur Championship with a par on the first hole of a sudden-death playoff Tuesday at the Wisconsin Club.
What the numbers won't reflect is how well Brookfield's Bruce Henning played for 35 holes, three years after beating leukemia. What they won't reflect is how many quality shots Gregorski hit in the final round, while limping on a bad ankle, and how many times Henning matched him.
What they won't reflect is the intensity of a hard-fought battle that ended, as so many battles do, with one golfer's celebration muted by another's bitter disappointment.
"Bruce played great," Gregorski said. "I hit a lot of good irons and it seemed like every time I hit a good iron, he hit a good iron on top of me. Coming in the last five, six holes, we kind of knew how tight it was. Every time I hit a good shot, he hit a better shot or as good of a shot."
Gregorski, one of the winningest amateurs in Wisconsin history, and Henning, who has never won a state-level title, both shot 1-under 71s to break out of a logjam at the top of the leaderboard. They finished the 36-hole tournament at even-par 144, two strokes clear of Brian Drerup of Minocqua.
Drerup held the lead after shooting a 33 on the front nine but was done in by five bogeys on the back. He shot a 73 and finished third alone at 146. Rocky Sperka of New Berlin finished fourth at 147.
It shouldn't have come down to a playoff. Henning birdied the 17th hole and took a two-shot lead to the par-5 18th, only to three-putt from the front fringe for a bogey. A shaky first putt stopped 5 feet short of the hole, and he missed that one after watching Gregorski bury a 15-footer for birdie – the first putt of any length that he made all day.
"I just couldn't read it very well," Henning said of the first putt. "I thought it was going to go downhill a little bit and it didn't. The second putt, I got out of my routine. The stroke was not what it had been all day. It was 5 or 6 feet. I had made every one of those all day."
On the first playoff hole, the 389-yard, par-4 10th, Gregorski and Henning both hit the fairway and the green in regulation. Henning's downhill, 40-foot birdie attempt rolled some 10 feet past the hole. Gregorski cozied his 35-footer down the hill for a tap-in par. Henning missed, and it was over.
Afterward, Henning, 56, smiled through his disappointment and talked about being grateful to be able to play golf, let alone at an elite senior amateur level, after battling leukemia.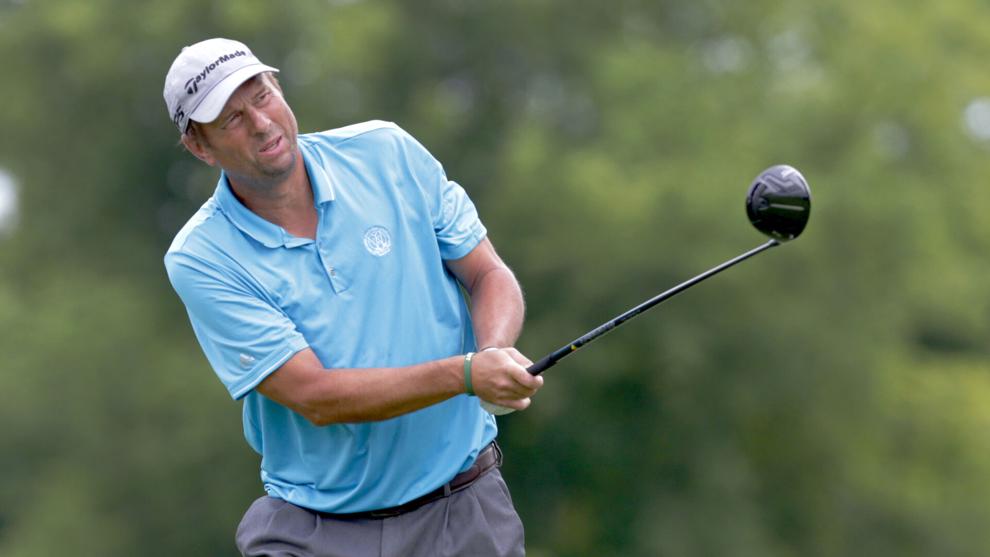 "I've worked so hard to come back from cancer," he said, fighting back tears. "To be here and play that well, it's awesome. It's very emotional. If I was going to lose to somebody, Bob's the guy. It was fun. It was great. I was so proud of myself for 17 holes."
Henning's son, Kyle Henning, the 2015 Wisconsin State Open champion, was the donor for his father's bone marrow transplant.
"My son was my donor, so we have a special bond now even more than we ever have," Bruce Henning said. "I'm sure he's going to give me crap about this because he's got a title and I don't."
Said Gregorski, "Bruce hung in there. I was rooting for him. I was rooting for myself, obviously, trying hard, but I was rooting for him, too. I know he's got some (health) issues going on. He didn't play like it, that's for sure."
Gregorski went into the tournament with his own issues. He turned 60 last week and, hard as it is to believe, was still searching for his first individual victory as a senior. He had won virtually everything else in his Wisconsin Golf Hall of Fame career, including the WSGA Senior 2-Man Team and Senior Four-ball titles. But the state Senior Open and Senior Amateur titles had eluded him.
What's more, he was wearing a sleeve on his left ankle and limping noticeably, the lingering effects of a Lisfranc injury he suffered when he fell out of a boat last summer.
"I took a lot of Advil today," he said with a laugh. "It was fine. I said to my wife, I came here, my foot hurts, but I really wanted to play. And then as I'm walking to the range, I see 50 percent of the field is limping. Nobody is going to shed a tear if you have a bad foot, right?"
At the start of the day, 15 players were within two shots of the lead. Kevin Cahill of Waukesha and Drerup took turns atop the leader board early, but after Drerup faltered, Gregorski and Henning were left to fight for the title.
Gregorski birdied the par-5 third and fifth holes and then made eight consecutive pars, missing a 5-foot birdie putt on No. 8, lipping out an 8-footer on No. 10 and failing to convert on a couple of others in the 12- to 18-foot range.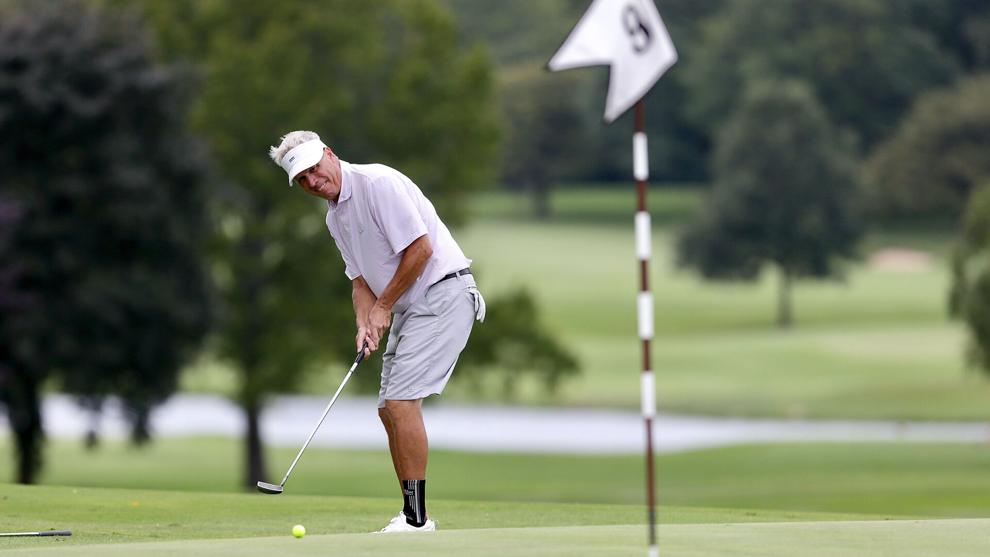 "I was hitting fairways. I was hitting greens. I was hitting a lot of good irons," he said. "I just figured I was going to make a birdie at some point. And, truthfully, I hit a lot of good putts. A lot of them hit the hole and it was just one of those days where they weren't going in."
Henning took a one-shot lead when Gregorski bogeyed No. 14 after hitting his only bad shot of the day, an approach that finished well short of the green. Then, Henning rolled in a 10-footer on the short par-4 17th to stretch his lead to two.
Gregorski figured he needed to eagle the 504-yard, par-5 closing hole and blasted a drive that split the fairway. He had 230 yards left, hit a perfect 5-wood and grabbed his putter, figuring his ball had to be on the green. Except it wasn't. It rolled off the back and down a steep hill, about 25 yards from the hole.
"I thought I hit my second shot in the middle of the green, so I was kind of surprised where I was," he said.
He elected to putt up the steep hill and through some 20 feet of fringe, but his ball stopped 15 feet short of the cup.
"It was kind of wet down there and getting a little dark and that's why I putted it," he said. "The lie was tight, the grain was going into me and as the sun goes down, my eyesight isn't quite as good, you know? And so, I thought my best chance was putting it. I didn't hit a very good first putt, but obviously I hit a good second putt."
It was a gut punch to Henning, who then missed his 5-footer for par.
"I knew if I gave Bob a chance, I was in trouble," he said.
And so, Gregorski has his first individual senior amateur title. And Henning has something nearly as precious – the satisfaction of battling one of the state's best down the stretch and nearly coming out on top.
"Three years ago, I was in a hospital bed, dreaming about being able to do this," he said. "Every day is a blessing. To play golf good, too? That's just icing on top. I hope I can just keep playing this way and enjoying it. Every day, I'm going to go out there and enjoy life, no matter what it is."
POS

 

PLAYER

THRU

R1

R2

 

1

Robert Gregorski

  

Menasha, Wi 

(p)

E
F
-1
73
71
144
 
2

Bruce Henning

  

Brookfield, Wi
E
F
-1
73
71
144
 
3

Brian Drerup

  

Minocqua, WI
+2
F
+1
73
73
146
 
4

Rocky Sperka

  

New Berlin, Wi
+3
F
+1
74
73
147
 
5
-
Charles Weber

  

Milwaukee, WI
+4
F
+3
73
75
148
 
6

Steve Broadwell

  

New Berlin, WI
+5
F
+3
74
75
149
 
T7

Kevin Cahill

  

Waukesha, WI
+7
F
+6
73
78
151
 
T7

Mike Murphy

  

Minocqua, WI
+7
F
+4
75
76
151
 
T7

Chuck Garbedian

  

Waukesha, WI
+7
F
+3
76
75
151
 
T7

Tom Cabush

  

Waukesha, WI
+7
F
+1
78
73
151
 
T11

John Wittkowske

  

Shorewood, Wi
+8
F
+7
73
79
152
 
T11

Dave Ullenberg

  

Milwaukee, Wi
+8
F
+7
73
79
152
 
13

JT Johnson

  

Eden Prairie, MN
+9
F
+4
77
76
153
 
T14

Dan Wucherer

  

Waupun, WI
+10
F
+6
76
78
154
 
T14

Paul Zarek

  

Burlington, Wi
+10
F
+5
77
77
154
 
T14

Todd Westrich

  

De Pere
+10
F
+4
78
76
154
 
T17

Mike Greb

  

Racine, WI
+11
F
+9
74
81
155
 
T17

Jeff Knudtson

  

Delafield, WI
+11
F
+5
78
77
155
 
T19

Scott Semingson

  

Strum, WI
+12
F
+4
80
76
156
 
T19

Brian Buss

  

Eau Claire, WI
+12
F
+10
74
82
156
 
T19

Paul Bryant

  

Wauwatosa, WI
+12
F
+6
78
78
156
 
T19

Pat Boyle

  

Greendale, WI
+12
F
+6
78
78
156
 
T23

John Golden

  

Verona, WI
+13
F
+11
74
83
157
 
T23

Ron Stortz

  

Delafield, WI
+13
F
+11
74
83
157
 
T23

John Kestly

  

Pewaukee, WI
+13
F
+8
77
80
157
 
T23

Keith Luedtke

  

South Milwaukee, Wi
+13
F
+8
77
80
157
 
T23

Charlie Baumann

  

Madison, WI
+13
F
+7
78
79
157
 
T23

Todd Cook

  

Beaver Dam, WI
+13
F
+7
78
79
157
 
T23

Randy Shultz

  

Hartland, WI
+13
F
+6
79
78
157
 
T23

Ramiro Romo

  

Waterford, Wi
+13
F
+5
80
77
157
 
T31

Bill Crinzi

  

New Berlin, WI
+14
F
+5
81
77
158
 
T31

Bob Pyle

  

Green Bay, WI
+14
F
+10
76
82
158
 
T31

John Bechard

  

Wind Lake, WI
+14
F
+8
78
80
158
 
T31

Scott Gleason

  

Oshkosh, Wisconsin
+14
F
+7
79
79
158
 
T31

Dick Regenberg

  

Madison, WI
+14
F
+7
79
79
158
 
T36

Michael Fischbach

  

Milwaukee, WI
+15
F
+10
77
82
159
 
T36

Jeffery Lister

  

Greendale
+15
F
+7
80
79
159
 
T36

John Thorpe

  

Appleton, FL
+15
F
+7
80
79
159
 
T36

Mike Smith

  

Pewaukee, Wi
+15
F
+12
75
84
159
 
T36

Steve Etrheim

  

Plover, WI
+15
F
+10
77
82
159
 
T36

Brian Brugger

  

Franklin, WI
+15
F
+8
79
80
159
 
T42

Kurt Hoppe

  

Wisconsin Rapids, WI
+16
F
+9
79
81
160
 
T42

Bob Kohl

  

Pewaukee, WI
+16
F
+8
80
80
160
 
44
-
Paul Schwarz

  

Appleton
+17
F
+9
80
81
161
 
T45

Robert Garren

  

Kenosha, WI
+18
F
+6
84
78
162
 
T45

Bill Feehan, Jr.

  

La Crosse
+18
F
+15
75
87
162
 
T45

John Uekert

  

West Bend, WI
+18
F
+12
78
84
162
 
T45

Bill Schneider

  

Appleton, WI
+18
F
+12
78
84
162
 
T45

Chuck Silkey

  

Cedarburg, WI
+18
F
+11
79
83
162
 
T50

Dan Gibbon

  

West Bend, WI
+19
F
+8
83
80
163
 
T50

James Lansing

  

West Allis, WI
+19
F
+8
83
80
163
 
T50

Stu Bloom

  

Waukesha
+19
F
+11
80
83
163
 
T50

Tom Thompson

  

DePere, WI
+19
F
+9
82
81
163
 
T50

Jim Socha

  

Onalaska, WI
+19
F
+14
77
86
163
 
T55

Allan Zuleger

  

Winneconne, WI
+20
F
+9
83
81
164
 
T55

Marv Nelson

  

Burlington, WI
+20
F
+9
83
81
164
 
T55

John McNeil

  

Hartland, WI
+20
F
+8
84
80
164
 
T55

Jerry Gitlewski

  

Sussex
+20
F
+8
84
80
164
 
T59
-
Brian Hale

  

Sherwood, Wi
+21
F
+10
83
82
165
 
T59

Jeff Kjorlien

  

Hubertus, WI
+21
F
+9
84
81
165
 
T59

Jim Rollefson

  

Franklin, WI
+21
F
+13
80
85
165
 
T62

Jim Maas

  

Milwaukee, WI
+22
F
+14
80
86
166
 
T62

Jamie Young

  

Kenosha, WI
+22
F
+8
86
80
166
 
T62

Glenn Dahl

  

Verona, WI
+22
F
+12
82
84
166
 
T65

Dan Mroczenski

  

Nashotah, WI
+23
F
+12
83
84
167
 
T65

Pat Hintze

  

New Berlin, WI
+23
F
+12
83
84
167
 
T65

Mike Filkouski

  

Marshall, WI
+23
F
+11
84
83
167
 
T65

Mike Kehoe

  

South Milwaukee, WI
+23
F
+13
82
85
167
 
T65

Michael Borgen

  

Onalaska, WI
+23
F
+17
78
89
167
 
T65

Bill Bull

  

Oregon, WI
+23
F
+15
80
87
167
 
71

Steve Jaeger

  

Brookfield, WI
+24
F
+10
86
82
168
 
72

James Deuster

  

Mukwonago, WI
+25
F
+12
85
84
169
 
73

Didier Ibar

  

New Berlin, WI
+27
F
+15
84
87
171
 
T74

Mike Schoonveld

  

Middleton, WI
+28
F
+17
83
89
172
 
T74

Guy Roe

  

Minocqua, WI
+28
F
+13
87
85
172
 
76
-
Steven Junger

  

Fox Point, WI
+29
F
+15
86
87
173
 
T77

Patrick Garvens

  

Milwaukee, WI
+30
F
+18
84
90
174
 
T77

Tom Wilson

  

LaCrescent, MN
+30
F
+17
85
89
174
 
T79

Mark Cuthbert

  

Hartland, WI
+31
F
+11
92
83
175
 
T79
-
Stephen Grimm

  

Kenosha, WI
+31
F
+16
87
88
175
 
T79

Ron Long

  

Ripon, WI
+31
F
+21
82
93
175
 
T82

Tim Filtz

  

West Bend, WI
+35
F
+18
89
90
179
 
T82

Kevin Entwistle

  

Oregon, WI
+35
F
+17
90
89
179
 
84

James Winistorfer

  

Mequon, WI
+37
F
+14
95
86
181
 
85

Tom Krause

  

Waukesha, WI
+39
F
+21
90
93
183
 
T86

Gene McDaniel

  

Pewaukee, WI
+41
F
+24
89
96
185
 
T86
-
Derek Felske

  

Milwaukee, WI
+41
F
+22
91
94
185
 
T88

Harry Markos

  

Shorewood, WI
+42
F
+25
89
97
186
 
T88

Timothy Terry

  

Mequon, Wi
+42
F
+22
92
94
186
 
90

Michael Galezio

  

Hartford, WI
+44
F
+24
92
96
188
 
91

Dan Jelinek

  

Iron Ridge, WI
+45
F
+22
95
94
189
 
DID NOT FINISH
WD
-
Ed Stremlow

  

Germantown, WI
+10
 
 
82
 
82
 
WD
-
Jim Scharnberg

  

Franklin, WI
+11
 
 
83
 
83
 
WD
-
Pat Griffin

  

Madison, WI
+17
 
 
89
 
89
 
WD
-
Jim Hein

  

Pewaukee, WI
+19
 
 
91
 
91
 
WD
-
Scott Smith

  

Oneida, WI
 
 
 
 
 
 
 
(p)
 denotes won playoff, * denotes a 10th hole start