MADISON — There will be a new WSGA Senior Match Play champion.
De Pere golfer Todd Westrich, who turned 55 in May to qualify for this event for the first time, knocked off defending champion Kevin Cahill of Waukesha, 3-and-1, in a second-round match at Blackhawk Country Club. Westrich won three of four holes starting at No. 5, two on the strength of birdies, to take a 3-up lead, which he still maintained seven pars later before he bogeyed No. 16. Back-to-back pars helped him close out the match on the 17th hole.
His victory came on the heels of a 1-up win over Jamie Young of Kenosha in the first round and sent Westrich into Wednesday's quarterfinals against Dick Regenberg of Madison. Regenberg, 61, a former Blackhawk CC member who now plays out of Odana Hills Golf Course in Madison, reached the quarterfinals with a 4-and-3 win over Bob Fishbune of Lake Geneva in the first round and a 3-and-2 victory over John Wittkowske of Shorewood in the second round.
Regenberg and Westrich will square off in the last of the four quarterfinals Wednesday at 8 a.m. Burlington's Marv Nelson will play JT Johnson of Eden Prairie, Minn., in the first quarterfinal at 7:30 a.m.; Joe Davis of Belmont, N.C., will follow against Todd Bramson of Madison at 7:40 a.m.; and Ed Dzirbik Jr. of Brookfield takes on Charles Weber of Milwaukee at 7:50 a.m.
Nelson, the No. 32 seed, surprised qualifying medalist Paul Zarek, also of Burlington, with a 1-up win in the first round. Nelson was 3-down with four holes to play before winning the final four holes with a birdie, two bogeys and a par to avenge an 8-and-7 loss to Zarek in the 2019 second round.
Johnson made six birdies and six bogeys during regulation in his second-round match with Kevin Pratt before winning in 20 holes. He made five birdies in his 4-and-3 victory over Jim Doing in the opening round.
In the Super Senior division, 71-year-old Jim Rollefson took out defending champion Mike Hilton of Muskego 5-and-4 in the quarterfinals. Rollefson will face an all-Madison bracket once the quarterfinals are finished Wednesday.
He will face the winner of the quarterfinal between Hal Black and Don Higgins. Black is 1-up through 13 holes in that match.
Madison's Dan Wubbels reached the semifinals with a 5-and-4 win over Thomas Hau of Kiel. Wubbels will face the winner of the all-Madison quarterfinal that Gary Prisbe leads 2-up through 13 holes over Greg Moser.
Semifinal (8:15 a.m.) and championship (12:30 p.m.) matches in the Super Senior division will be completed Wednesday. Play in the Seniors division will continue Wednesday with quarterfinals at 7:30 a.m. and semifinals starting at noon while the championship match is scheduled for Thursday morning.
Seniors
Second round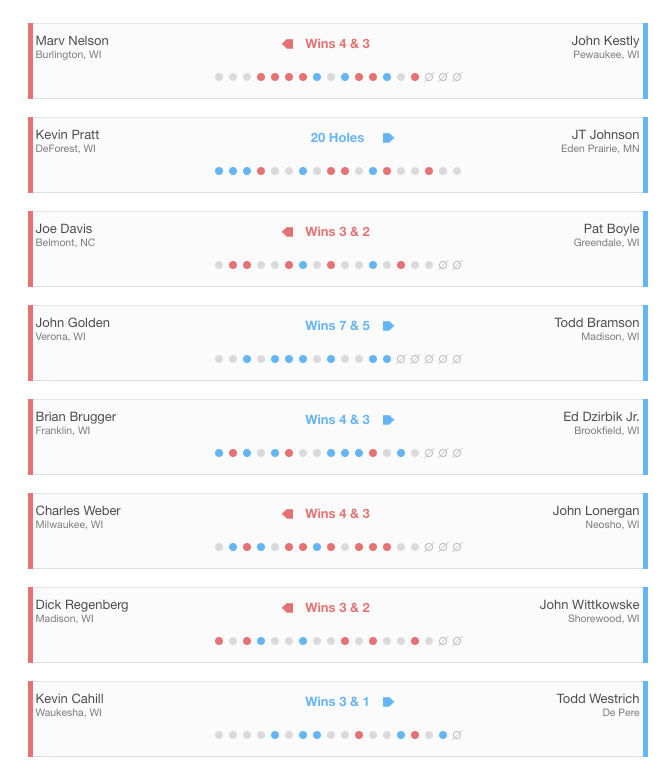 First round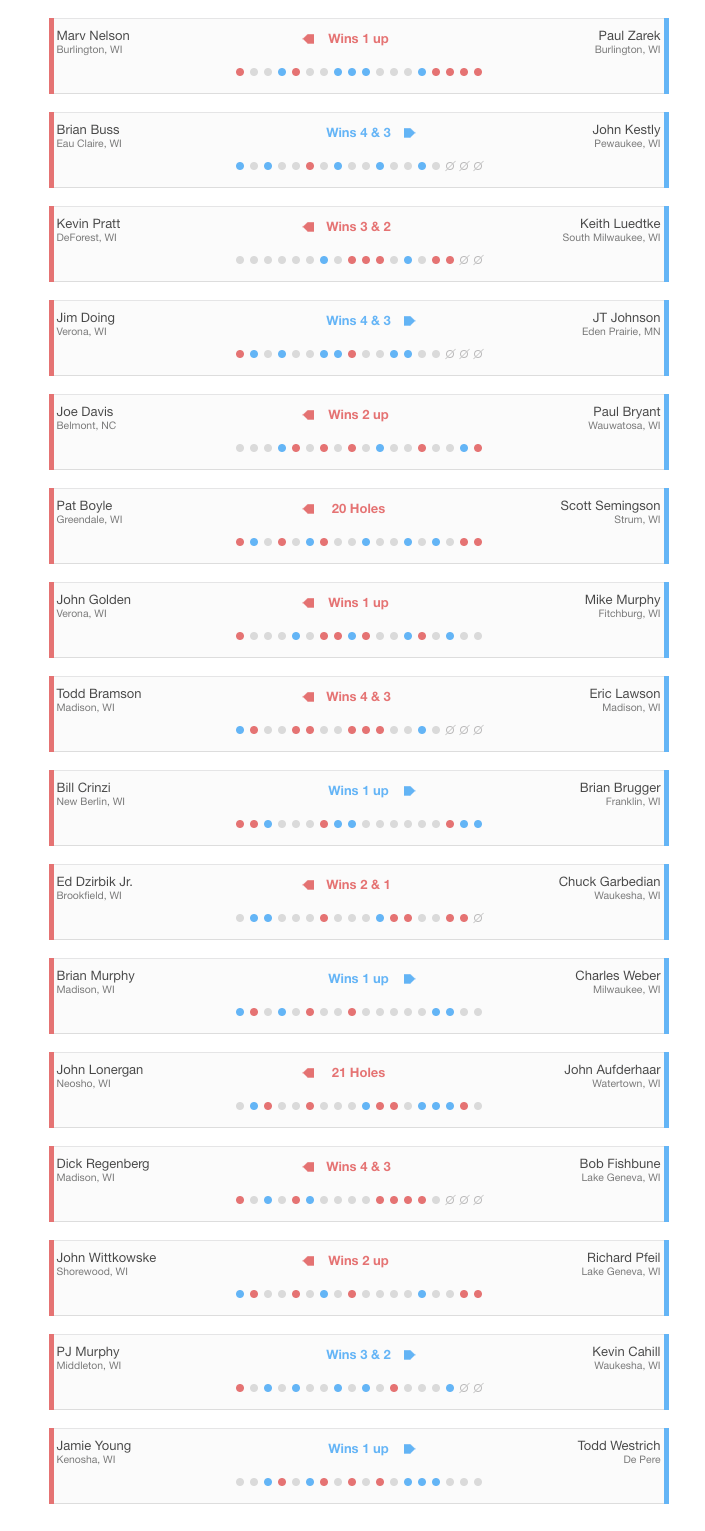 Super Seniors
Quarterfinals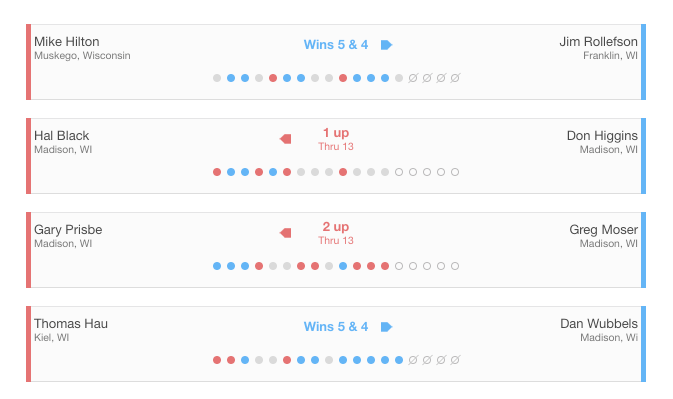 First round