Growing up in tiny Shell Lake in northwestern Wisconsin, Jim Reinhart couldn't have imagined, in his wildest dreams, where golf would take him.
The game took him to the United States Golf Association's Executive Committee. It took him, as chair of the USGA Rules Committee, to numerous major championships. It took him to Augusta National, where he not only became a member but serves, with Chairman Fred Ridley, on the Masters Tournament Rules Committee.
It took him to Erin Hills, where he helped persuade close friend Andy Ziegler to buy the course from Bob Lang, became a minority partner and went on serve as general chair of the 2011 U.S. Amateur and the 2017 U.S. Open.
And now, it has taken him to the Wisconsin Golf Hall of Fame.
Reinhart and longtime Monroe Country Club head golf professional Mike Muranyi, who won the 1983 Wisconsin State Open and qualified for the Greater Milwaukee Open seven times, were elected at the annual meeting of the Hall of Fame committee. They will be inducted later this year.
Reinhart, 66, of Mequon, the president and CEO of Reinhart Partners Inc., has been one of the most influential figures in Wisconsin golf, and he's done all of it as a volunteer and behind the scenes, which fits his low-key personality.
If he hadn't gotten Ziegler and Lang together, the U.S. Amateur and the U.S. Open would have been played elsewhere, because Lang had run out of money and the course, still in its relative infancy, needed an infusion of capital to bring it up to USGA standards.
"A lot of pieces of the puzzle had to be put together for all of that to come to fruition," Reinhart said. "I think being involved in working out the sale of Erin Hills from Bob to Andy, and my relationship with the USGA, was pretty integral. So, all of that together helped a lot, along with the fact that the USGA really wanted to come back to the Midwest for the first time in many years.
"That was a really exciting time and I'm proud of the fact that we were able to pull that off and have a successful U.S. Open."
Reinhart served on the USGA's powerful Executive Committee from 2001-'07 and was USGA secretary from 2004-'05 and vice president from 2006-'07.
"When I went on the USGA Executive Committee in the fall of 2000, that was like an out-of-body experience for me," he said. "I was just hoping to one day serve on the WSGA board and possibly a USGA committee and all of a sudden, the skies opened up.
"I've been very fortunate to be in the right place at the right time and do some things in golf that in my wildest dreams I never would have imagined. To be recognized in this way is very flattering, but you're being recognized for doing something that you're incredibly passionate about and really fortunate to do. So many others I know that love golf would love to do some of the same things. So, I don't take it for granted. I just realize how fortunate I've been."
Reinhart has been a member of the Wisconsin State Golf Association board of directors since 2000 and served as WSGA president from 2013-'14. He also has been a WSGA Foundation director since 2013. In addition, he chairs the course set-up committee for the Masters Tournament.
"One of the best things about all of it are the friendships you make," he said. "Really, from around the world, because I've been lucky enough to work several Open Championships back when I was with the USGA. Anywhere I go, to any type of golf event, I know several people and they're all friends of mine. That part of it is truly amazing."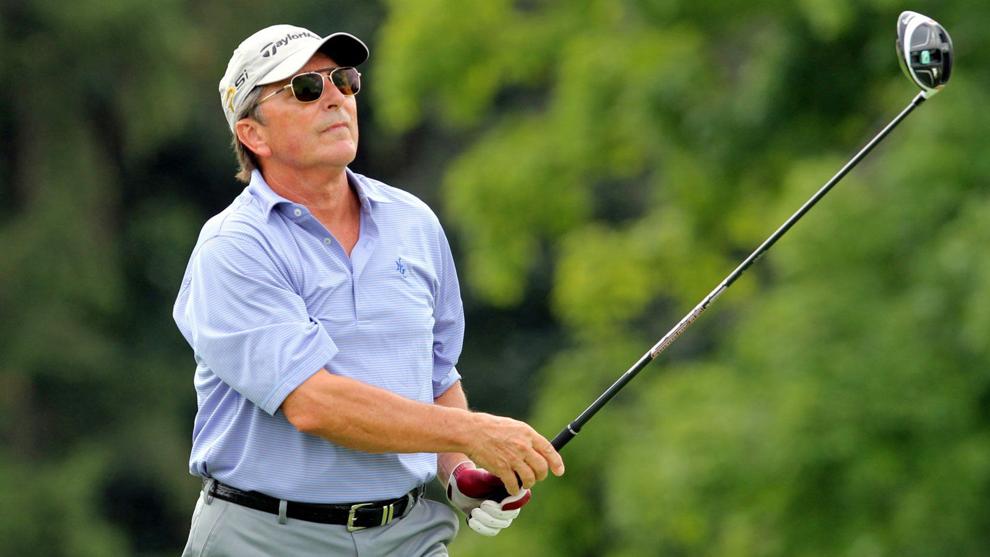 Muranyi, 70, was the head pro at Monroe CC for 30 years, until his retirement in 2009, and has long been one of the most popular members of the Wisconsin PGA Section.
For more than two decades, he was one of the section's top players, too. He won the Wisconsin Assistant Golf Professionals Association title in 1978 and 25 years later won the Wisconsin State Senior Open. In between, he won the '83 State Open at Meadowbrook Country Club in Racine.
"When I went to that tournament, I really hadn't been playing spectacularly," he said of the State Open. "I went there with a thought of trying to get better each round and that's what happened. I played better each round and all of a sudden in the last round I got it going for four or five holes in a row, with four birdies, and all of a sudden, I was there."
In the State Senior Open, he shot 69-67 at Ozaukee Country Club to beat Rich Tock on Tock's home course.
"I'm going to tell you, that was even more satisfying in a lot of ways (than the State Open)," Muranyi said. "In the second round, I birdied the first three holes, then I parred the fourth hole and birdied the fifth. To be under the gun, leading going into the second day, it was nice to have a really nice round."
Muranyi also participated numerous times in the PGA National Club Professional Championship and the Senior CPC and qualified for the U.S. Senior Open in 2004. He holds the Monroe CC course record (62) and competed in the Nelthorpe Cup – an annual tournament for the state's top club professionals and amateurs – 24 times.
He also played in the GMO seven times over a 20-year period, qualifying for the first time in 1980 and for the last time in 2000, when he was 49 and the oldest player in the field. Though he never made the 36-hole cut, he came close on two occasions, missing by two shots in 1984 and by three in 1995.
In 1996, Muranyi played two groups behind Tiger Woods, who was making his professional debut at Brown Deer Park.
"The GMO was always fun, but it was always tough," he said. "It was always the day after my big Ladies Day (at Monroe CC). So, you'd leave your Ladies Day on Wednesday, drive up there Wednesday afternoon and chip and putt a little bit and then tee off on Thursday morning. It was kind of a little overwhelming."
When asked about the greatest source of pride in his career, Muranyi pointed to his longevity as a player.
"I would think it's staying competitive for as many years as I have," he said. "I won the assistants championship at Milwaukee Country Club in the '70s. To go on and win the State Open and the (WPGA) Match Play and a bunch of tournaments and then to win the senior stuff, too, is pretty cool."