GREEN LAKE — If the eclectic leader board proved anything as Round 1 of the 118th Wisconsin State Amateur Championship crawled to a finish at dusk Monday, it was that predicting a winner is just about impossible.
Just about every type of player was represented. There were bombers, fairway splitters, limber college players and not-so-limber mid-amateurs. Even 57-year-old Bob Gregorski, a member of the Wisconsin Golf Hall of Fame who won the most recent of his two State Amateur titles 21 years ago, was in the mix.
The Links Course at The Golf Courses of Lawsonia, relatively short at 6,715 yards but with a set of massive, bedeviling greens, definitely doesn't play favorites.
"The thing about the State Amateur at a place like this, there's so many ways to play links golf," said Pete Kuhl, a member of the University of Wisconsin golf team. "You're going to get some bombers that can hit it a mile up there and have wedges in. Maybe the senior ams that are playing well here plot their way around the golf course, hit drivers straight as an arrow, hit fairways and get it up there.
"It's definitely a course where you can see anybody play well."
The leader at the end of a hot, windy day on which pace of play became an issue in the afternoon – some threesomes took more than 6 hours to finish – was Stoughton's Sam Anderson, a rising junior at Wisconsin.
Anderson shot a 4-under-par 68 on the 1930 William Langford-Theodore Moreau gem. He made seven birdies and three bogeys and moved into the solo lead with a birdie on the par-5 18th.
"It was pretty solid," said Anderson, who moved to Florida for his junior and senior years of high school but did not play prep golf there. "My game plan today was to hit as many shots off the tee that would give me wedges or short irons into the greens from the fairway, so I could control the spin. I only hit drivers on the par-5s today."
There was a four-way tie at 69: Kuhl, 41-year-old reinstated amateur Michael Harris of Brookfield, 38-year-old Jeremy Wesemann of Merton and Jacob Beckman of Middleton High School, ranked No. 1 in the state's class of 2021 by Wisconsin.golf.
The group at 70 included former UW player Johnny Decker of Madison; Matthew Bachmann of Sheboygan Falls, a rising senior at Marquette University; Cal Meyers of Richfield, a Bentley University graduate; former University of Dayton golfer Phillip Johnson of Colgate; and reinstated amateur and former UW golfer Garrett Jones of Madison.
Gregorski was one of three players who shot 71 and they were followed by a large group of 11 at even-par 72, including recently crowned Western Junior champion Piercen Hunt of Hartland.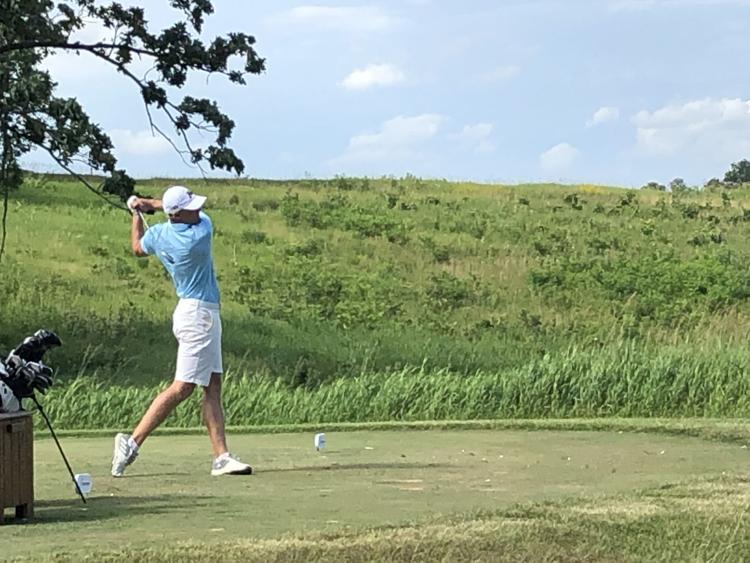 It's possible that someone could separate from the pack over the next three days, but the leader board after Day 1 was as bunched as the start of a marathon, with 32 players within five shots of the lead.
Anderson moved to Florida early in the college recruiting process because he wanted to work on his game in a warm-weather state. He played a heavy junior tournament schedule, though not in high school, and it paid off when UW coach Michael Burcin offered him a scholarship.
Anderson said the key to his round was a good par save from short-right of the green on the par-3 10th hole. Coming off a birdie on the par-5 ninth, he rolled in a 12-footer to avoid a momentum-killing bogey, then birdied Nos. 11 and 12.
"Overall, it was a really consistent day," he said. "I knew I couldn't get out of position, so I knew I needed to give myself opportunities from the fairways, which I did."
If there were first-round surprises, they were probably the 69 posted by Wesemann and the 70 posted by Decker.
Wesemann, an IT manager for GE Healthcare, played basketball at Cardinal Stritch University and didn't get serious about golf until he was about 30. He described himself as a "working man who loves to play golf on the weekends."
He made five birdies and a rolled in a 40-foot bomb on No. 9 for eagle.
"Overall, I drove the ball really well and kept it in play," he said. "I made some long putts and got up and down a couple times from some tough spots."
Asked if he was comfortable being one stroke off the lead, Wesemann said, "I'm in it for the fun of it. I'm not worried about trying to win it. I'm just playing each hole and trying to execute my strategy. I've got two kids to go home to, anyway, so it doesn't really matter."
Decker, 23, works in the pharmaceutical department at UW Health and has barely touched his clubs this summer. Last year, he led the State Amateur with an opening 66 and finished in a tie for ninth.
Can he keep it going?
"I have no idea," he said. "I hope so. I'm just ready for lunch. I'm not going to push anything. If I've learned anything over my years, it's one shot at a time. There's so much golf left. I could screw it up or win it."
The same could be said for just about everyone else.
---
Pos

Player

Thru

R1

R2

R3

R4

 

1
Samuel Anderson

  

Stoughton, WI
-4
F
-4
68
 
 
 
68
 
T2
Michael Harris

  

Brookfield, WI
-3
F
-3
69
 
 
 
69
 
T2
Pete Kuhl

  

Madison, WI
-3
F
-3
69
 
 
 
69
 
T2
Jeremy Wesemann

  

Merton, WI
-3
F
-3
69
 
 
 
69
 
T2
Jacob Beckman

  

Middleton, WI
-3
F
-3
69
 
 
 
69
 
T6
Johnny Decker

  

Madison, WI
-2
F
-2
70
 
 
 
70
 
T6
Matthew Bachmann

  

Milwaukee, WI
-2
F
-2
70
 
 
 
70
 
T6
Cal Meyers

  

Richfield, WI
-2
F
-2
70
 
 
 
70
 
T6
Phillip Johnson

  

Colgate, WI
-2
F
-2
70
 
 
 
70
 
T6
Garrett Jones

  

Madison, WI
-2
F
-2
70
 
 
 
70
 
T11
Nicholas Bauer

  

Oshkosh, WI
-1
F
-1
71
 
 
 
71
 
T11
Robert Gregorski

  

Menasha, WI
-1
F
-1
71
 
 
 
71
 
T11
Nate Thomson

  

Greendale, WI
-1
F
-1
71
 
 
 
71
 
T14
Zak Kulka

  

Beaver Dam, WI
E
F
E
72
 
 
 
72
 
T14
Jakob Garstecki

  

Germantown, WI
E
F
E
72
 
 
 
72
 
T14
Ben Gilles

  

Madison, WI
E
F
E
72
 
 
 
72
 
T14
Jimmy Albright

  

Scottsdale, AZ
E
F
E
72
 
 
 
72
 
T14
Christopher Colla

  

Fond du Lac, WI
E
F
E
72
 
 
 
72
 
T14
Matthew Raab

  

Hartland, WI
E
F
E
72
 
 
 
72
 
T14
Grant Boyson

  

Neenah, WI
E
F
E
72
 
 
 
72
 
T14
P.J. Clemins

  

Cedarburg, WI
E
F
E
72
 
 
 
72
 
T14
Derrick Meier

  

Waunakee, WI
E
F
E
72
 
 
 
72
 
T14
Jason Jahnke

  

Kewaskum, WI
E
F
E
72
 
 
 
72
 
T14
Piercen Hunt

  

Hartland, WI
E
F
E
72
 
 
 
72
 
T25
Clayton Tribus

  

Madison, WI
+1
F
+1
73
 
 
 
73
 
T25
Jamozzy Skenandore

  

De Pere, WI
+1
F
+1
73
 
 
 
73
 
T25
Nick Satina

  

Portage, WI
+1
F
+1
73
 
 
 
73
 
T25
Patrick Treichel

  

Fond du Lac, WI
+1
F
+1
73
 
 
 
73
 
T25
Derek Hilmershausen

  

Wausau, WI
+1
F
+1
73
 
 
 
73
 
T25
Cameron Huss

  

Kenosha, WI
+1
F
+1
73
 
 
 
73
 
T25
Hunter Eichhorn

  

Carney, MI
+1
F
+1
73
 
 
 
73
 
T25
Billy Peterson

  

Eau Claire, WI
+1
F
+1
73
 
 
 
73
 
T33
Austin Gaby

  

Verona, WI
+2
F
+2
74
 
 
 
74
 
T33
Noah Monty

  

Wauwatosa, WI
+2
F
+2
74
 
 
 
74
 
T33
Zach Dybul

  

Big Bend, WI
+2
F
+2
74
 
 
 
74
 
T33
George Kneiser

  

Oconomowoc, WI
+2
F
+2
74
 
 
 
74
 
T33
Tyler Leach

  

Spring Valley, WI
+2
F
+2
74
 
 
 
74
 
T33
Adam Miller

  

Adams, WI
+2
F
+2
74
 
 
 
74
 
T39
Danny Sanicki

  

Menomonee Falls, WI
+3
F
+3
75
 
 
 
75
 
T39
Jakob Schroeckenthaler

  

Cottage Grove, WI
+3
F
+3
75
 
 
 
75
 
T39
Max Pasher

  

Mequon, WI
+3
F
+3
75
 
 
 
75
 
T39
Emmet Herb

  

Middleton, WI
+3
F
+3
75
 
 
 
75
 
T39
Mike McDonald

  

West Bend, WI
+3
F
+3
75
 
 
 
75
 
T39
Jack Schultz

  

Whitefish Bay, WI
+3
F
+3
75
 
 
 
75
 
T39
John Stravinski

  

Windsor, WI
+3
F
+3
75
 
 
 
75
 
T39
Alex Brandt

  

Chilton, WI
+3
F
+3
75
 
 
 
75
 
T39
Matt Tolan

  

Eau Claire, WI
+3
F
+3
75
 
 
 
75
 
T39
Thomas Longbella

  

Chippewa Falls, WI
+3
F
+3
75
 
 
 
75
 
T39
Jamie Young

  

Kenosha, WI
+3
F
+3
75
 
 
 
75
 
T39
Drake Wilcox

  

Sheboygan, WI
+3
F
+3
75
 
 
 
75
 
T51
Austin Resop

  

Berlin, WI
+4
F
+4
76
 
 
 
76
 
T51
Craig Anderson

  

West Bend, WI
+4
F
+4
76
 
 
 
76
 
T51
Steven Sanicki

  

Menomonee Falls, WI
+4
F
+4
76
 
 
 
76
 
T51
Dylan Brown

  

Reedsburg, WI
+4
F
+4
76
 
 
 
76
 
T51
Brock Hlinak

  

Kaukauna, WI
+4
F
+4
76
 
 
 
76
 
T51
Joe DuChateau

  

Fond Du Lac, WI
+4
F
+4
76
 
 
 
76
 
T51
John Kestly

  

Pewaukee, WI
+4
F
+4
76
 
 
 
76
 
T51
Daniel Ozga

  

Edgerton, WI
+4
F
+4
76
 
 
 
76
 
T51
Robert Hughes

  

Wauwatosa, WI
+4
F
+4
76
 
 
 
76
 
T51
Gabe Dahl

  

Green Bay, WI
+4
F
+4
76
 
 
 
76
 
T51
Adam Garski

  

Wauwatosa, WI
+4
F
+4
76
 
 
 
76
 
T51
Ben Nichols

  

Waukesha, WI
+4
F
+4
76
 
 
 
76
 
T51
Cory Aune

  

Lake Geneva, WI
+4
F
+4
76
 
 
 
76
 
T51
Mark Laken

  

Kenosha, WI
+4
F
+4
76
 
 
 
76
 
T51
Sam Van Galder

  

Janesville, WI
+4
F
+4
76
 
 
 
76
 
T51
Joe Weber

  

Onalaska, WI
+4
F
+4
76
 
 
 
76
 
T51
Jake Dunn

  

Trempealeau, WI
+4
F
+4
76
 
 
 
76
 
T51
Russell Dettmering

  

Merrill, WI
+4
F
+4
76
 
 
 
76
 
T51
Todd Samarzia

  

Stillwater, MN
+4
F
+4
76
 
 
 
76
 
T51
Chris Wood

  

Mount Pleasant, WI
+4
F
+4
76
 
 
 
76
 
T51
Kevin Cahill

  

Waukesha, WI
+4
F
+4
76
 
 
 
76
 
T72
Joseph Ploch

  

Oconomowoc, WI
+5
F
+5
77
 
 
 
77
 
T72
Matt Roadhouse

  

Germantown, WI
+5
F
+5
77
 
 
 
77
 
T72
Alec Sheaffer

  

Pewaukee, WI
+5
F
+5
77
 
 
 
77
 
T72
Samuel Nielsen

  

Fond Du Lac, WI
+5
F
+5
77
 
 
 
77
 
T72
Peter Flory

  

Glencoe, IL
+5
F
+5
77
 
 
 
77
 
T72
Nathan Joy

  

Franklin, WI
+5
F
+5
77
 
 
 
77
 
T72
Ed Dzirbik Jr.

  

Brookfield, WI
+5
F
+5
77
 
 
 
77
 
T72
Michael Jensen

  

Hartford, WI
+5
F
+5
77
 
 
 
77
 
T72
Mike Mueller

  

Whitefish Bay, WI
+5
F
+5
77
 
 
 
77
 
T72
Connor Brown

  

Racine, WI
+5
F
+5
77
 
 
 
77
 
T72
Todd Westrich

  

De Pere
+5
F
+5
77
 
 
 
77
 
T72
Jack Anderson

  

Brookfield, WI
+5
F
+5
77
 
 
 
77
 
T72
Quinn Schultz

  

Chaseburg, WI
+5
F
+5
77
 
 
 
77
 
T72
Garrett Gosh

  

Wauwatosa, WI
+5
F
+5
77
 
 
 
77
 
T72
Nathan Daugherty

  

Lake Villa, IL
+5
F
+5
77
 
 
 
77
 
T72
Paul Zarek

  

Burlington, WI
+5
F
+5
77
 
 
 
77
 
T72
Jared Delveaux

  

Cedarburg, WI
+5
F
+5
77
 
 
 
77
 
T89
Christopher Weinfurt

  

Milwaukee, WI
+6
F
+6
78
 
 
 
78
 
T89
Daniel Benedum

  

Menomonee Falls, WI
+6
F
+6
78
 
 
 
78
 
T89
Adam Fazio

  

Wauwatosa, WI
+6
F
+6
78
 
 
 
78
 
T89
Alex Okray

  

Stevens Point, WI
+6
F
+6
78
 
 
 
78
 
T89
Nathan Pronschinske

  

Neenah, WI
+6
F
+6
78
 
 
 
78
 
T89
Marc Shanks

  

Madison, WI
+6
F
+6
78
 
 
 
78
 
T89
Kenny Rucker

  

Madison, WI
+6
F
+6
78
 
 
 
78
 
T89
Joel Preeshl

  

Onalaska, WI
+6
F
+6
78
 
 
 
78
 
T89
Benjamin Shafer

  

Brookfield, WI
+6
F
+6
78
 
 
 
78
 
T98
Jack Lutze

  

Brookfield, WI
+7
F
+7
79
 
 
 
79
 
T98
Brady Sarauer

  

Fond du Lac, WI
+7
F
+7
79
 
 
 
79
 
T98
Rocky Sperka

  

New Berlin, WI
+7
F
+7
79
 
 
 
79
 
T98
James Gunsalus

  

Brookfield, WI
+7
F
+7
79
 
 
 
79
 
T98
Adam Austreng

  

Cedarburg, WI
+7
F
+7
79
 
 
 
79
 
T98
Matt Fladten

  

Eau Claire, WI
+7
F
+7
79
 
 
 
79
 
T104
Jim Doing

  

Verona, WI
+8
F
+8
80
 
 
 
80
 
T104
Cullen Maricque

  

Edgerton, WI
+8
F
+8
80
 
 
 
80
 
T104
Ethan Geidel

  

Germantown, WI
+8
F
+8
80
 
 
 
80
 
T104
Derek Michalski

  

Marshfield, WI
+8
F
+8
80
 
 
 
80
 
T104
Aaron Gavin

  

South Milwaukee, WI
+8
F
+8
80
 
 
 
80
 
T104
Ben Resnick

  

Rice Lake, WI
+8
F
+8
80
 
 
 
80
 
T104
Logan Lillehaug

  

Frederic, WI
+8
F
+8
80
 
 
 
80
 
T104
Eric Christensen

  

Clear Lake, WI
+8
F
+8
80
 
 
 
80
 
T112
Addison Raimer

  

West bend, WI
+9
F
+9
81
 
 
 
81
 
T112
Adam McDonald

  

Waukesha, WI
+9
F
+9
81
 
 
 
81
 
T112
Brent Bartels

  

Pinehurst, NC
+9
F
+9
81
 
 
 
81
 
T112
Nicholas Zellmer

  

Milwaukee, WI
+9
F
+9
81
 
 
 
81
 
T112
Travis Engle

  

Kenosha, WI
+9
F
+9
81
 
 
 
81
 
T112
Matt Polivka

  

Muskego, WI
+9
F
+9
81
 
 
 
81
 
T112
Maxwell Schmidtke

  

Sheboygan, WI
+9
F
+9
81
 
 
 
81
 
T112
Jeremy Banaszewski

  

New Richmond, WI
+9
F
+9
81
 
 
 
81
 
T112
Kevin Van Rossum

  

Hartland, WI
+9
F
+9
81
 
 
 
81
 
T112
Tyler Dove

  

Hudson, WI
+9
F
+9
81
 
 
 
81
 
T122
Benjamin Monty

  

Wauwatosa, WI
+10
F
+10
82
 
 
 
82
 
T122
Preston Cedergren

  

Green Bay, WI
+10
F
+10
82
 
 
 
82
 
T122
Thomas Wettstein

  

Neenah, WI
+10
F
+10
82
 
 
 
82
 
T122
Bryce Lindsley

  

Green Bay, WI
+10
F
+10
82
 
 
 
82
 
T122
Brennan Fairbairn

  

De Pere, WI
+10
F
+10
82
 
 
 
82
 
T122
Steven Young

  

Milwaukee, WI
+10
F
+10
82
 
 
 
82
 
T122
Michael Sierakowski

  

Sheboygan Falls, WI
+10
F
+10
82
 
 
 
82
 
T122
Matthew Davidson

  

Mcfarland, WI
+10
F
+10
82
 
 
 
82
 
T122
Charles Maleki

  

Mequon, WI
+10
F
+10
82
 
 
 
82
 
T131
Justin Rowe

  

Brookfield, WI
+11
F
+11
83
 
 
 
83
 
T131
George Botts

  

Madison, WI
+11
F
+11
83
 
 
 
83
 
T131
Bradley Hill

  

Menomonee Falls, WI
+11
F
+11
83
 
 
 
83
 
T131
Bryce Jacobson

  

Peshtigo, WI
+11
F
+11
83
 
 
 
83
 
T131
Pat Boyle

  

Greendale, WI
+11
F
+11
83
 
 
 
83
 
T131
James DeBoer

  

Onalaska, WI
+11
F
+11
83
 
 
 
83
 
T131
Jim Walkley

  

Onalaska, WI
+11
F
+11
83
 
 
 
83
 
T138
Jeff Budd

  

Waupun, WI
+12
F
+12
84
 
 
 
84
 
T138
Nathan Schwarz

  

Hutto, TX
+12
F
+12
84
 
 
 
84
 
T138
Bennett Gilsinger

  

Sussex, WI
+12
F
+12
84
 
 
 
84
 
T138
Jonathan Duggan, Jr.

  

Lake Geneva, WI
+12
F
+12
84
 
 
 
84
 
T138
Alexander Fons

  

Milwaukee, WI
+12
F
+12
84
 
 
 
84
 
T143
Sam Cianciola

  

Nekoosa, WI
+13
F
+13
85
 
 
 
85
 
T143
Jared Christensen

  

Sussex, WI
+13
F
+13
85
 
 
 
85
 
T143
Cody Dirks

  

Holmen, WI
+13
F
+13
85
 
 
 
85
 
T143
Shawn Maszk

  

Milwaukee, WI
+13
F
+13
85
 
 
 
85
 
T147
Chris Kleine

  

Middleton, WI
+14
F
+14
86
 
 
 
86
 
T147
Richie Burke

  

Milwaukee, WI
+14
F
+14
86
 
 
 
86
 
T147
Tyler DeMeuse

  

Waukesha, WI
+14
F
+14
86
 
 
 
86
 
T147
Mark Dalebroux

  

Madison, WI
+14
F
+14
86
 
 
 
86
 
T147
Mike Loftus

  

Grafton, WI
+14
F
+14
86
 
 
 
86
 
T147
Eric Van Tubbergen

  

Racine, WI
+14
F
+14
86
 
 
 
86
 
153
Wyatt Wilderman

  

Waukesha, WI
+16
F
+16
88
 
 
 
88
 
154
Matthew Phelan

  

Fitchburg, WI
+19
F
+19
91
 
 
 
91
 
155
Kevin Kuklinski

  

Waukesha, WI
+22
F
+22
94
 
 
 
94