GREEN LAKE — Hunter Eichhorn had been playing so poorly in the weeks leading up to the 118th Wisconsin State Amateur Championship that he gave serious consideration to withdrawing from the state's signature event for amateurs.
A wunderkind who'd dominated the junior ranks in the Upper Peninsula and won the Big East title as a freshman at Marquette University, Eichhorn had never struggled so badly for so long. Family members had to talk him into teeing it up on the Links Course at The Golf Courses of Lawsonia.
It's a good thing he decided to play, after all.
Eichhorn, a rising junior at MU from Carney, Michigan, followed his opening 73 with a course-record 7-under 65 in the second round Tuesday to vault into contention. He made eight birdies and a lone bogey, on the par-4 17th.
He goes into the third round Wednesday trailing leader Phillip Johnson of Colgate by one shot. Johnson, who played at the University of Dayton, added a 67 to his first-round 70 and was at 7-under 137 at the tournament's halfway point.
Eichhorn was tied for second at 138 with Stoughton's Sam Anderson (70), a rising junior at Wisconsin.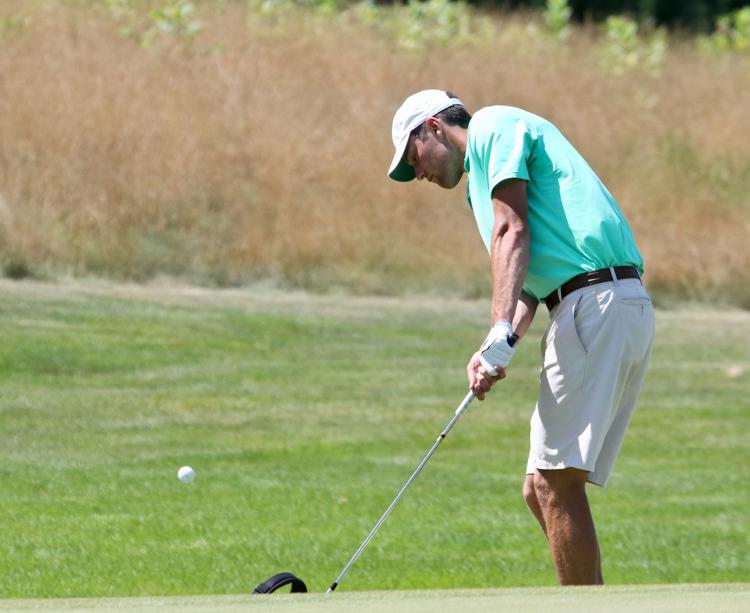 "I've been playing terrible for a few months now," Eichhorn said. "My ball-striking has been pretty bad. I've just been trying to figure that out and get it together. I've just been struggling and I was just kind of wore out. I thought about withdrawing. I took five days off before (the first round) and the first ball I hit was about 20 minutes before my tee time yesterday."
Eichhorn got off to a red-hot start Tuesday, rolling in a 35-foot birdie putt on No. 1, a 10-footer on No. 2 and a 30-footer on No. 3.
"It was kind of a crazy start, and from there it was pretty solid," he said.
He was 7-under after 13 holes and didn't miss a green until No. 17, then failed to get up and down. It was his only 5 on a scorecard that included eight 3s and nine 4s. He birdied all five par-5s, including the 18th, which gave him the course record.
Jim Schuman shot a 63 on the Links Course in the 2001 Wisconsin PGA Stroke Play Championship, but several new tees have been built since and Lawsonia is calling Eichhorn's round the "modern" course record.
"Pretty cool," he said. "It's never a bad thing to have a course record."
He shot a 66 on the Links Course in a WPGA junior event several years ago, but from different tees.
Johnson played a bogey-free second round, made three birdies and eagled the par-5 fifth hole. He has hit 30 of 36 greens in regulation and has saved par each time he has missed a green. His two bogeys in the first round were the result of three-putts.
"There were a couple stressful moments on the back nine but the first 11 holes was pretty smooth sailing," he said. "I was 5-under at that point, but it wasn't like I was firing at flags. I was pretty conservative. I didn't miss a green until No. 15."
Anderson, the first-round leader with a 68, played with Eichhorn and 2018 State Amateur runner-up Thomas Longbella. The trio combined to shoot 13-under, with Longbella playing the back nine in 32 and posting a 68.
Photos: Wisconsin State Am field battles heat, humidity on famed Links Course at GCs of Lawsonia
"Yeah, I had the worst score in my group," Anderson said of his 70. "Absolutely, you feed off each other. I guess we proved it today. We got some juices flowing there on the back nine. We kind of fed off each other and had some good momentum going."
Jacob Beckman of Middleton, ranked No. 1 in the 2021 boys' high school class by Wisconsin.golf, shot a 70 and was in fourth place alone at 139. Matthew Bachmann of Sheboygan Falls, a rising senior at Marquette, shot a second consecutive 70 and was alone in fifth at 140.
Anderson said he anticipated a slightly easier course set-up for the third round and would adjust his game plan accordingly.
"I assume they're going to set the course up a little shorter tomorrow," he said. "That's kind of how they've done it in the past – give some guys the opportunity to go low. On a couple holes, I may change up the game plan and play them a little more aggressively. But if I stick to my game plan and play the same way I did the past two days and make a few more putts I shouldn't have any issues."
---
Pos

Player

Thru

R1

R2

R3

R4

 

1
Phillip Johnson

  

Colgate, WI
-7
F
-5
70
67
 
 
137
 
T2
Samuel Anderson

  

Stoughton, WI
-6
F
-2
68
70
 
 
138
 
T2
Hunter Eichhorn

  

Carney, MI
-6
F
-7
73
65
 
 
138
 
4
Jacob Beckman

  

Middleton, WI
-5
F
-2
69
70
 
 
139
 
5
Matthew Bachmann

  

Milwaukee, WI
-4
F
-2
70
70
 
 
140
 
6
Pete Kuhl

  

Madison, WI
-3
F
E
69
72
 
 
141
 
7
Michael Harris

  

Brookfield, WI
-2
F
+1
69
73
 
 
142
 
T8
Jeremy Wesemann

  

Merton, WI
-1
F
+2
69
74
 
 
143
 
T8
Matt Tolan

  

Eau Claire, WI
-1
F
-4
75
68
 
 
143
 
T8
Thomas Longbella

  

Chippewa Falls, WI
-1
F
-4
75
68
 
 
143
 
T11
Piercen Hunt

  

Hartland, WI
E
F
E
72
72
 
 
144
 
T11
Garrett Jones

  

Madison, WI
E
F
+2
70
74
 
 
144
 
T11
Tyler Leach

  

Spring Valley, WI
E
F
-2
74
70
 
 
144
 
T14
Cameron Huss

  

Kenosha, WI
+1
F
E
73
72
 
 
145
 
T14
Jamozzy Skenandore

  

De Pere, WI
+1
F
E
73
72
 
 
145
 
T14
Cal Meyers

  

Richfield, WI
+1
F
+3
70
75
 
 
145
 
T14
Jason Jahnke

  

Kewaskum, WI
+1
F
+1
72
73
 
 
145
 
T18
Zak Kulka

  

Beaver Dam, WI
+2
F
+2
72
74
 
 
146
 
T18
Danny Sanicki

  

Menomonee Falls, WI
+2
F
-1
75
71
 
 
146
 
T18
George Kneiser

  

Oconomowoc, WI
+2
F
E
74
72
 
 
146
 
T18
Derrick Meier

  

Waunakee, WI
+2
F
+2
72
74
 
 
146
 
T22
Adam Garski

  

Wauwatosa, WI
+3
F
-1
76
71
 
 
147
 
T22
Austin Resop

  

Berlin, WI
+3
F
-1
76
71
 
 
147
 
T22
Nicholas Bauer

  

Oshkosh, WI
+3
F
+4
71
76
 
 
147
 
T22
Dylan Brown

  

Reedsburg, WI
+3
F
-1
76
71
 
 
147
 
T22
Jakob Garstecki

  

Germantown, WI
+3
F
+3
72
75
 
 
147
 
T22
Christopher Colla

  

Fond du Lac, WI
+3
F
+3
72
75
 
 
147
 
T22
Jack Schultz

  

Whitefish Bay, WI
+3
F
E
75
72
 
 
147
 
T22
Nate Thomson

  

Greendale, WI
+3
F
+4
71
76
 
 
147
 
T30
Cory Aune

  

Lake Geneva, WI
+4
F
E
76
72
 
 
148
 
T30
Johnny Decker

  

Madison, WI
+4
F
+6
70
78
 
 
148
 
T30
Peter Flory

  

Glencoe, IL
+4
F
-1
77
71
 
 
148
 
T33
Max Pasher

  

Mequon, WI
+5
F
+2
75
74
 
 
149
 
T33
Daniel Ozga

  

Edgerton, WI
+5
F
+1
76
73
 
 
149
 
T33
Grant Boyson

  

Neenah, WI
+5
F
+5
72
77
 
 
149
 
T33
John Stravinski

  

Windsor, WI
+5
F
+2
75
74
 
 
149
 
T37
Drake Wilcox

  

Sheboygan, WI
+6
F
+3
75
75
 
 
150
 
T37
Chris Wood

  

Mount Pleasant, WI
+6
F
+2
76
74
 
 
150
 
T37
Emmet Herb

  

Middleton, WI
+6
F
+3
75
75
 
 
150
 
T40
Derek Hilmershausen

  

Wausau, WI
+7
F
+6
73
78
 
 
151
 
T40
Todd Westrich

  

De Pere
+7
F
+2
77
74
 
 
151
 
T40
Sam Van Galder

  

Janesville, WI
+7
F
+3
76
75
 
 
151
 
T40
Zach Dybul

  

Big Bend, WI
+7
F
+5
74
77
 
 
151
 
T40
Mike McDonald

  

West Bend, WI
+7
F
+4
75
76
 
 
151
 
T40
Joe DuChateau

  

Fond Du Lac, WI
+7
F
+3
76
75
 
 
151
 
T40
Brady Sarauer

  

Fond du Lac, WI
+7
F
E
79
72
 
 
151
 
T40
Robert Gregorski

  

Menasha, WI
+7
F
+8
71
80
 
 
151
 
T40
Matthew Raab

  

Hartland, WI
+7
F
+7
72
79
 
 
151
 
T40
P.J. Clemins

  

Cedarburg, WI
+7
F
+7
72
79
 
 
151
 
T50
Gabe Dahl

  

Green Bay, WI
+8
F
+4
76
76
 
 
152
 
T50
Joe Weber

  

Onalaska, WI
+8
F
+4
76
76
 
 
152
 
T50
Matt Polivka

  

Muskego, WI
+8
F
-1
81
71
 
 
152
 
T50
Russell Dettmering

  

Merrill, WI
+8
F
+4
76
76
 
 
152
 
T50
Adam Miller

  

Adams, WI
+8
F
+6
74
78
 
 
152
 
T50
Steven Sanicki

  

Menomonee Falls, WI
+8
F
+4
76
76
 
 
152
 
T50
Joseph Ploch

  

Oconomowoc, WI
+8
F
+3
77
75
 
 
152
 
T50
Ben Gilles

  

Madison, WI
+8
F
+8
72
80
 
 
152
 
T58
Connor Brown

  

Racine, WI
+9
F
+4
77
76
 
 
153
 
T58
Ben Nichols

  

Waukesha, WI
+9
F
+5
76
77
 
 
153
 
T58
Mark Laken

  

Kenosha, WI
+9
F
+5
76
77
 
 
153
 
T58
James Gunsalus

  

Brookfield, WI
+9
F
+2
79
74
 
 
153
 
T58
Garrett Gosh

  

Wauwatosa, WI
+9
F
+4
77
76
 
 
153
 
T58
Jake Dunn

  

Trempealeau, WI
+9
F
+5
76
77
 
 
153
 
T58
Nathan Daugherty

  

Lake Villa, IL
+9
F
+4
77
76
 
 
153
 
T58
Christopher Weinfurt

  

Milwaukee, WI
+9
F
+3
78
75
 
 
153
 
T58
Austin Gaby

  

Verona, WI
+9
F
+7
74
79
 
 
153
 
T58
Clayton Tribus

  

Madison, WI
+9
F
+8
73
80
 
 
153
 
T58
Robert Hughes

  

Wauwatosa, WI
+9
F
+5
76
77
 
 
153
 
T69
Kenny Rucker

  

Madison, WI
+10
F
+4
78
76
 
 
154
 
T69
Jack Anderson

  

Brookfield, WI
+10
F
+5
77
77
 
 
154
 
T69
Matt Fladten

  

Eau Claire, WI
+10
F
+3
79
75
 
 
154
 
T69
Benjamin Shafer

  

Brookfield, WI
+10
F
+4
78
76
 
 
154
 
T69
Jimmy Albright

  

Scottsdale, AZ
+10
F
+10
72
82
 
 
154
 
T69
Rocky Sperka

  

New Berlin, WI
+10
F
+3
79
75
 
 
154
 
T69
Daniel Benedum

  

Menomonee Falls, WI
+10
F
+4
78
76
 
 
154
 
T69
Brent Bartels

  

Pinehurst, NC
+10
F
+1
81
73
 
 
154
 
MISSED CUT
MC
Jamie Young

  

Kenosha, WI
+11
F
+8
75
80
 
 
155
 
MC
Billy Peterson

  

Eau Claire, WI
+11
F
+10
73
82
 
 
155
 
MC
Eric Christensen

  

Clear Lake, WI
+11
F
+3
80
75
 
 
155
 
MC
Kevin Cahill

  

Waukesha, WI
+11
F
+7
76
79
 
 
155
 
MC
Nick Satina

  

Portage, WI
+12
F
+11
73
83
 
 
156
 
MC
Charles Maleki

  

Mequon, WI
+12
F
+2
82
74
 
 
156
 
MC
Paul Zarek

  

Burlington, WI
+12
F
+7
77
79
 
 
156
 
MC
Craig Anderson

  

West Bend, WI
+12
F
+8
76
80
 
 
156
 
MC
Benjamin Monty

  

Wauwatosa, WI
+12
F
+2
82
74
 
 
156
 
MC
Addison Raimer

  

West bend, WI
+12
F
+3
81
75
 
 
156
 
MC
Alec Sheaffer

  

Pewaukee, WI
+12
F
+7
77
79
 
 
156
 
MC
Nathan Schwarz

  

Hutto, TX
+12
F
E
84
72
 
 
156
 
MC
Samuel Nielsen

  

Fond Du Lac, WI
+12
F
+7
77
79
 
 
156
 
MC
Jakob Schroeckenthaler

  

Cottage Grove, WI
+12
F
+9
75
81
 
 
156
 
MC
John Kestly

  

Pewaukee, WI
+12
F
+8
76
80
 
 
156
 
MC
Steven Young

  

Milwaukee, WI
+12
F
+2
82
74
 
 
156
 
MC
Mike Mueller

  

Whitefish Bay, WI
+13
F
+8
77
80
 
 
157
 
MC
Jonathan Duggan, Jr.

  

Lake Geneva, WI
+13
F
+1
84
73
 
 
157
 
MC
Aaron Gavin

  

South Milwaukee, WI
+13
F
+5
80
77
 
 
157
 
MC
Ben Resnick

  

Rice Lake, WI
+13
F
+5
80
77
 
 
157
 
MC
Jim Walkley

  

Onalaska, WI
+13
F
+2
83
74
 
 
157
 
MC
Jim Doing

  

Verona, WI
+13
F
+5
80
77
 
 
157
 
MC
Noah Monty

  

Wauwatosa, WI
+13
F
+11
74
83
 
 
157
 
MC
George Botts

  

Madison, WI
+13
F
+2
83
74
 
 
157
 
MC
Jack Lutze

  

Brookfield, WI
+13
F
+6
79
78
 
 
157
 
MC
Thomas Wettstein

  

Neenah, WI
+13
F
+3
82
75
 
 
157
 
MC
Brennan Fairbairn

  

De Pere, WI
+13
F
+3
82
75
 
 
157
 
MC
Michael Jensen

  

Hartford, WI
+13
F
+8
77
80
 
 
157
 
MC
Marc Shanks

  

Madison, WI
+14
F
+8
78
80
 
 
158
 
MC
Joel Preeshl

  

Onalaska, WI
+14
F
+8
78
80
 
 
158
 
MC
Jared Delveaux

  

Cedarburg, WI
+14
F
+9
77
81
 
 
158
 
MC
Adam Fazio

  

Wauwatosa, WI
+14
F
+8
78
80
 
 
158
 
MC
Nathan Joy

  

Franklin, WI
+14
F
+9
77
81
 
 
158
 
MC
Ed Dzirbik Jr.

  

Brookfield, WI
+14
F
+9
77
81
 
 
158
 
MC
Alex Brandt

  

Chilton, WI
+15
F
+12
75
84
 
 
159
 
MC
Matthew Davidson

  

Mcfarland, WI
+15
F
+5
82
77
 
 
159
 
MC
Adam Austreng

  

Cedarburg, WI
+16
F
+9
79
81
 
 
160
 
MC
Logan Lillehaug

  

Frederic, WI
+16
F
+8
80
80
 
 
160
 
MC
Matt Roadhouse

  

Germantown, WI
+16
F
+11
77
83
 
 
160
 
MC
Nicholas Zellmer

  

Milwaukee, WI
+16
F
+7
81
79
 
 
160
 
MC
Travis Engle

  

Kenosha, WI
+17
F
+8
81
80
 
 
161
 
MC
Quinn Schultz

  

Chaseburg, WI
+17
F
+12
77
84
 
 
161
 
MC
Jeff Budd

  

Waupun, WI
+17
F
+5
84
77
 
 
161
 
MC
Adam McDonald

  

Waukesha, WI
+17
F
+8
81
80
 
 
161
 
MC
Alex Okray

  

Stevens Point, WI
+17
F
+11
78
83
 
 
161
 
MC
Bryce Lindsley

  

Green Bay, WI
+17
F
+7
82
79
 
 
161
 
MC
Nathan Pronschinske

  

Neenah, WI
+17
F
+11
78
83
 
 
161
 
MC
Alexander Fons

  

Milwaukee, WI
+18
F
+6
84
78
 
 
162
 
MC
Bradley Hill

  

Menomonee Falls, WI
+18
F
+7
83
79
 
 
162
 
MC
Jared Christensen

  

Sussex, WI
+19
F
+6
85
78
 
 
163
 
MC
James DeBoer

  

Onalaska, WI
+19
F
+8
83
80
 
 
163
 
MC
Tyler Dove

  

Hudson, WI
+19
F
+10
81
82
 
 
163
 
MC
Mike Loftus

  

Grafton, WI
+20
F
+6
86
78
 
 
164
 
MC
Bryce Jacobson

  

Peshtigo, WI
+20
F
+9
83
81
 
 
164
 
MC
Maxwell Schmidtke

  

Sheboygan, WI
+20
F
+11
81
83
 
 
164
 
MC
Shawn Maszk

  

Milwaukee, WI
+20
F
+7
85
79
 
 
164
 
MC
Preston Cedergren

  

Green Bay, WI
+20
F
+10
82
82
 
 
164
 
MC
Pat Boyle

  

Greendale, WI
+21
F
+10
83
82
 
 
165
 
MC
Bennett Gilsinger

  

Sussex, WI
+22
F
+10
84
82
 
 
166
 
MC
Mark Dalebroux

  

Madison, WI
+22
F
+8
86
80
 
 
166
 
MC
Eric Van Tubbergen

  

Racine, WI
+22
F
+8
86
80
 
 
166
 
MC
Cullen Maricque

  

Edgerton, WI
+22
F
+14
80
86
 
 
166
 
MC
Wyatt Wilderman

  

Waukesha, WI
+22
F
+6
88
78
 
 
166
 
MC
Cody Dirks

  

Holmen, WI
+23
F
+10
85
82
 
 
167
 
MC
Jeremy Banaszewski

  

New Richmond, WI
+24
F
+15
81
87
 
 
168
 
MC
Justin Rowe

  

Brookfield, WI
+24
F
+13
83
85
 
 
168
 
MC
Chris Kleine

  

Middleton, WI
+24
F
+10
86
82
 
 
168
 
MC
Ethan Geidel

  

Germantown, WI
+24
F
+16
80
88
 
 
168
 
MC
Michael Sierakowski

  

Sheboygan Falls, WI
+25
F
+15
82
87
 
 
169
 
MC
Richie Burke

  

Milwaukee, WI
+25
F
+11
86
83
 
 
169
 
MC
Tyler DeMeuse

  

Waukesha, WI
+26
F
+12
86
84
 
 
170
 
MC
Kevin Kuklinski

  

Waukesha, WI
+35
F
+13
94
85
 
 
179
 
MC
Matthew Phelan

  

Fitchburg, WI
+35
F
+16
91
88
 
 
179
 
WD
Kari Hannula Jr

  

De Pere, WI
+4
 
 
 
 
 
 
 
 
WD
Brock Hlinak

  

Kaukauna, WI
+5
 
 
 
 
 
 
 
 
WD
Todd Samarzia

  

Stillwater, MN
+8
 
 
 
 
 
 
 
 
WD
Kevin Van Rossum

  

Hartland, WI
+9
 
 
 
 
 
 
 
 
WD
Derek Michalski

  

Marshfield, WI
+11
 
 
 
 
 
 
 
 
WD
Sam Cianciola

  

Nekoosa, WI
+13
 
 
 
 
 
 
 
 
WD
Tom Halla

  

Colgate, WI
 
 
 
 
 
 
 
 
 
DQ
Patrick Treichel

  

Fond du Lac, WI
+3
 
 
 
 
 
 
 
 
JWD
Oliver Maleki

  

Mequon, WI