Round of the day
GREEN LAKE — Phillip Johnson knows a two-stroke lead going into the final round of the 118th Wisconsin State Amateur is hardly safe, especiall…
Christopher Colla. The rising senior at Chico (Calif.) State did something none of the other 73 golfers who made the 36-hole cut at the 118th Wisconsin State Amateur Championship did during the third round: Play the famed Links Course at The Golf Courses of Lawsonia bogey-free. Oh, there were chances, though, according to the former Winnebago Lutheran Academy golfer from Fond du Lac. "(I) was just trying to hold on to the golf club on the back nine," he said via text to Wisconsin.golf. "(I got) up-and-down on 15. I was in hole 12's greenside bunker on 16. I had to pitch out sideways from the fescue on 17. So I was thrilled with pars on those holes, but definitely left some out there." As for his secret to avoiding any length of ride on the bogey train? "Pins were gettable if you left it below the hole," Colla wrote, "but every one had a spot where you cannot hit it and expect to make a par. With slick greens, (being) above the hole is dangerous. I did a good job avoiding those spots today."
Shot of the day
Nate Thomson. The 452-yard, par-4 sixth hole played harder than any other during Wednesday's third round — so difficult, in fact, that Thomson was the only golfer among the 74 on the course Wednesday to birdie it. "I hit a good drive down the left side of the fairway and had 175 in," Thomson wrote in a text to Wisconsin.golf. "I was actually in a divot in the fairway so I hit 8-iron but I hit it really well and it ended up stopping three feet. (I) was very happy leaving with a 3 on that hole." The birdie helped Thomson, a Greendale native who has transferred from Marquette to the University of Toledo for his senior year, shoot 1-under 71 and move into a tie for 18th at 2-over 218.
Best comebacks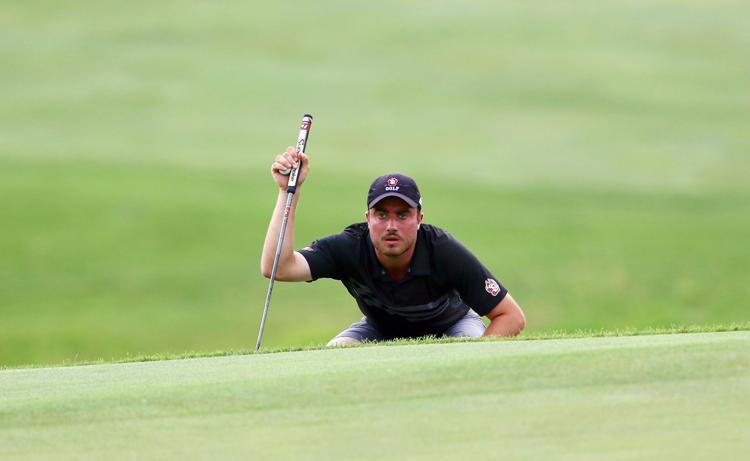 Johnny Decker and Clayton Tribus.  The former Madison Edgewood golfers (Tribus spent his final three years of high school at IMG Academy in Florida) both improved 11 shots over their second-round showings. Decker, a former University of Wisconsin golfer, went 78-67 thanks to a 5-under 31 on the back nine of the third round that featured six birdies, two pars and a bogey (on the par-3 12th). Tribus, who will be a sophomore this fall at Davidson University, went 80-69 by playing his final 11 holes Wednesday in 4-under. After his second bogey of the day at No. 7, he parred No. 8 and then rattled off four birdies in a row — joining Hartland's Piercen Hunt (Nos. 8 through 11 in Round 2) for the best birdie streak of the week — before ending his day with six straight pars.
Best start
Thomas Longbella. The University of Minnesota golfer from Chippewa Falls picked up where he left off during Tuesday's second round, when he shot 4-under 68 thanks to a 32 on the back nine featuring three birdies, an eagle and a bogey. This time, the Gophers' rising senior got things going on the front nine with a 3-under 33 that included one eagle (No. 5), one birdie (No. 9, the other par-5) and seven pars. He pumped out another 33 on the back and his 6-under 66 moved him into a tie for third at 7-under 209. 
Best finish 
Matt Tolan. The University of South Dakota golfer from Eau Claire stuck his second shot on the par-5 11th hole to a foot and that proved to be the start of a special back nine for the 2017 State Amateur champion. Tolan tapped in for eagle, added birdies at Nos. 12 and 13 and — after a bogey at the par-4 15th hole — finished birdie-birdie to match Longbella's 66 and join him in a tie for third, four shots off the lead. Both golfers have gone 75-68-66 this week.
---
'Chain Saw' Johnson
Leader Phillip Johnson of Colgate and Bill Linneman, the WSGA's director of rules and competitions, had a funny exchange on the par-5 fifth hole.
Johnson blew his tee shot way right and had to hit a provisional ball, but spectators found his first ball on the shoulder of a road, inches from the pavement (and what would have been out of bounds). The problem was, a huge tree was directly in his line.
As Johnson approached the ball, Linneman reminded him to identify it.
"Thanks, Bill," Johnson said."Can you chop that tree down real quick?"
Linneman laughed and replied, "Tell you what. If you can cut it down in five seconds, I'll let you."
Johnson pitched his ball back into the fairway and went on to make a par.
---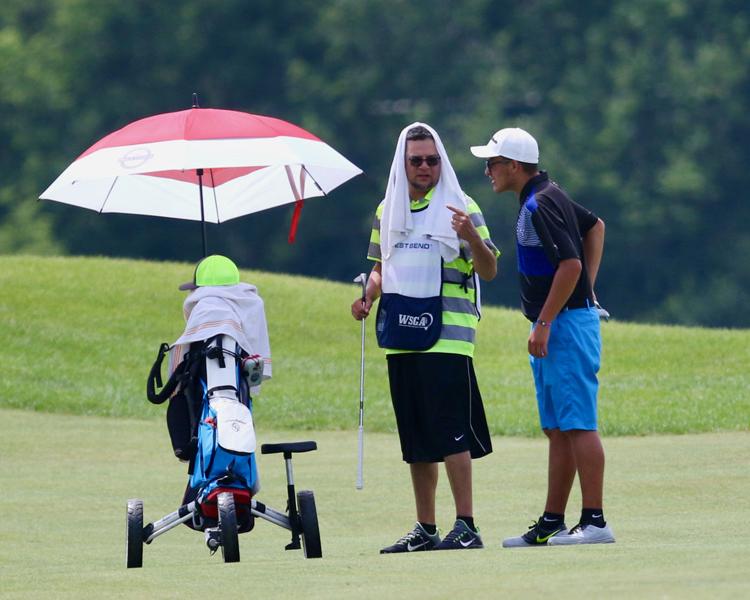 Quotable
Jamozzy Skenandore gets a lot of questions about his first name. To pronounce it correctly, think Pearl Jam-Ozzy Osbourne. Seriously. "I'm just a fan of Pearl Jam and Ozzy Osbourne," said Jamozzy's father, Shoney Skenandore. "I happened one year to go to a Pearl Jam concert and an Ozzy Osbourne concert back-to-back, so that's where the name comes from."
Crossing the tees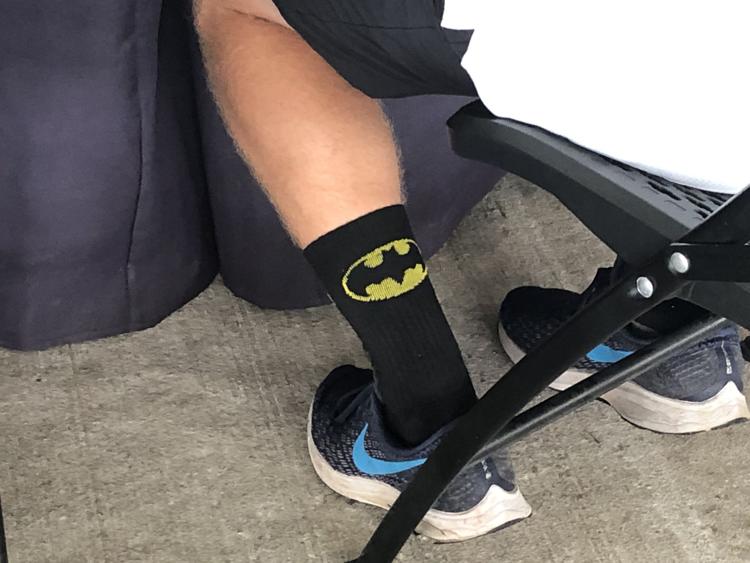 Daniel Benedum of Menomonee Falls and former Madison resident Brent Bartels, on leave from Fort Bragg, North Carolina, were first off the tee at 8 a.m. and played in 3 hours 40 minutes. Benedum shot a 73 and Bartels a 75. ... A high school golfer has never won the Wisconsin State Amateur, although Kaukauna's Brock Hlinak (third) and Hartland Arrowhead's Piercen Hunt (fourth) came close last year at Minocqua Country Club. This year, there are five high schoolers in the top 20 entering the final round: Middleton's Jacob Beckman (tied for sixth), Kenosha Tremper's Cameron Huss, a University of Wisconsin recruit; and Hunt, a two-time WIAA state champ from Arrowhead (tied for ninth), West De Pere's Jamozzy Skenandore (tied for 16th) and reigning WIAA Division 3 state champion  Drake Wilcox of Sheboygan Lutheran (tied for 18th), whose 68 was the low round among that group. ... WIAA Division 1 state champion Russell Dettmering of Merrill, who ended Hunt's reign and is making his State Am debut, played his final 14 holes in 3-under (after a double-bogey on the par-3 fourth hole, his lone blemish) to shoot 1-under 71 and move into a tie for 37th place with two-time State Am champion Bob Gregorski of Menasha (72). ... UW high jumper Zach Dybul of Big Bend shot 74 and slipped into a tie for 43rd with 2011 State Am champion Mike McDonald of West Bend. ... The top 25 golfers plus ties after Thursday's final round are exempt from qualifying for the 2020 State Am, which will be played July 27 through 30 at Milwaukee Country Club. ... Two-time Ray Fischer champion Jack Schultz of Whitefish Bay withdrew after posting a third-round 76 which included double-bogeys on Nos. 15 and 18. Schultz told tournament officials he had to return to work Thursday. ... Marquette University golfer Tyler Leach was sporting snazzy Batman-logo black socks. "I knew some people would say a couple things to me and, of course, my teammates did," he said. "I do my own thing and I don't let what other people say bother me."