Round of the day
GREEN LAKE — Hunter Eichhorn had been playing so poorly in the weeks leading up to the 118th Wisconsin State Amateur Championship that he gave…
Hunter Eichhorn. The rising junior at Marquette University and Carney, Michigan, native bounced back from an opening 73 by making eight birdies and one bogey and breaking the "modern" course record on the Links Course at The Golf Courses of Lawsonia in Green Lake with his 7-under 65. Eichhorn had eight 3s and just one 5 on his card. The round overshadowed the bogey-free 67 from former University of Dayton golfer Phillip Johnson of Colgate, whose 7-under 137 total leads Eichhorn and first-round leader Sam Anderson of Stoughton by one shot.
Shot of the day
Tyler Leach. The magic man from Spring Valley did it again Tuesday, and this time he saved his best for last. Leach, a rising sophomore at Marquette University who earned our shot of the day Monday for his eagle on the par-4 sixth hole, "hit a really good tee shot" on the 567-yard 18th hole and had 279 yards to the green. "I knew if I landed something short right of the green it would chase up and I'd give myself a putt at eagle," Leach said, taking the story from there. "So I hit a 3-wood and my ball chased onto the back right fringe probably 60 feet from the hole. From there, I had a ridge about halfway to the hole to contend with. So rather than putting it, I decided to chip it and take the ridge out of play. I used a pitching wedge for a bump and run and read the chip to break about six feet from right to left. It looked like it was going in the entire way and thankfully it barely fell in the front edge." The eagle gave him a 2-under 70 and boosted him into a tie for 13th place at even-par 144. "It was definitely a great way to finish off the day," he said.
Best comeback
Matt Polivka. The 20-year-old from Muskego roared back from an opening 81 with a 1-under-par 71 on Tuesday to vault 62 spots up the leaderboard into a tie for 50th place and make the 36-hole cut by two shots. Unlike Monday, when he compounded six bogeys with a double-bogey and a quadruple-bogey, Polivka more than offset the four bogeys he made in the second round with five birdies, avoiding the big number altogether. Polivka, who transferred from Cardinal Stritch University in Milwaukee to Grand Canyon University near Phoenix and plays on the GCU club team, has only played one other event this summer, reaching the semifinals of the WSGA Match Play Championship before losing 4 and 3 to eventual champion Benjamin Shafer of Brookfield.
Best start
Eichhorn. No one was better out of the blocks Tuesday than Eichhorn, who birdied his first three holes, tacked on two more birdies before making the turn in 5-under 31 and then birdied the first two par-5s on the back nine to get to 7-under through 13 holes. It was a stark contrast to Monday, when Eichhorn made three birdies in a row starting at No. 3 in between bogeys at Nos. 1 and 6 and never made another birdie the rest of the day. After his lone bogey of the second round at No. 17, Eichhorn birdied No. 18 to finish off a 5-under performance on the five par-5s after playing them just 1-under Monday. 
Best finish 
Thomas Longbella. After struggling to a 75 in the opening round, the University of Minnesota golfer was going the wrong way in a hurry Tuesday when he bogeyed Nos. 2 and 3 to fall to 5-over for the week. Longbella, 21, a rising senior for the Gophers, recovered with back-to-back birdies at Nos. 4 and 5, made the turn in even-par 36 and the got back into the tournament on the back nine. He eagled No. 11 and after canceling out a birdie at No. 13 with a bogey at No. 16, finished birdie-birdie to close in 4-under 32 and finish off a 4-under 68 that boosted him into a share of ninth place at 1-under 143. 
---
Quotable
Phillip Johnson, the second-round leader who lived in Belfast, Northern Ireland from last August until the end of May, on the similarities between true seaside links golf and the Links Course at Lawsonia: "I do love Lawsonia. I like courses that are firm and fast. There are definitely some similarities. It's a golf course that looks wide open, but angles into the greens are very important."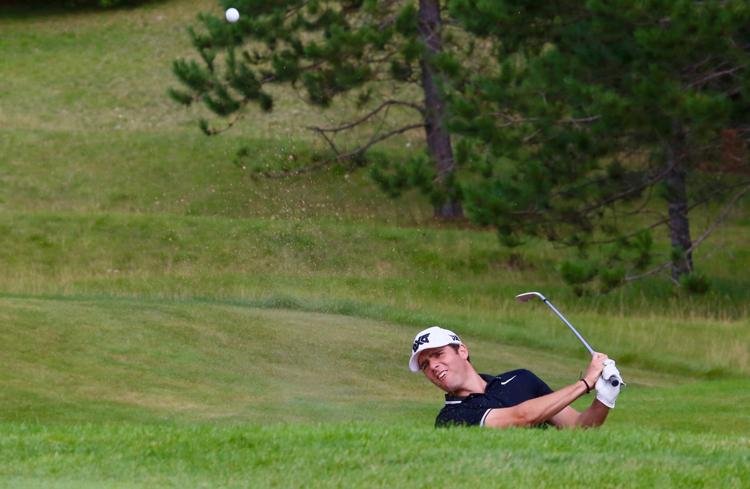 No State Open for Ott
The Wisconsin State Amateur will not be the only in-state championship that 2018 State Am champion Harrison Ott of Brookfield will miss this summer.
The Vanderbilt golfer confirmed via text message to Wisconsin.golf that he will be back at school by mid-August and won't be able to compete in the Wisconsin State Open, which is Aug. 19 through 21 at Geneva National Resort in Lake Geneva. Ott, who played in the Players Amateur in South Carolina over the weekend, returned to Milwaukee mid-morning Monday and made the tough decision to use this week to rest up for a grueling next two weeks.
He will compete Monday at Watertown Country Club in the 36-hole qualifier for the U.S. Amateur before leaving for New York and the Porter Cup at Niagara Falls Country Club. He'll play a practice round Tuesday before one of the nation's most enduring amateur events begins its 61st annual run the following day. Ott also hopes to earn a spot in the Western Amateur Championship, which runs July 29 through Aug. 3 at Point O'Woods Golf & CC in Benton Harbor, Michigan.
"I really wanted to play the State Am, though," Ott wrote. "They treat everyone so well and ... in State Am conditions, Lawsonia is probably amazing." 
Heat takes toll
With the temperature in the high 80s and precious little shade on the course, the unrelenting heat and humidity took a toll on another player.
Derek Michalski of Marshfield withdrew after hitting his tee shot on No. 16. He vomited on the par-5 ninth hole but made a birdie there to get back to 1-over for the day and 9-over for the tournament and kept playing, hoping to make the cut. But he missed a 2-foot par putt on No. 15 and "almost whiffed" his tee shot on No. 16.
"I was pretty wobbly," said Michalski, 20, who played golf at the University of Sioux Falls before transferring to UW-La Crosse, which does not have a men's golf team. "I fell to my knees and vomited again and that was it."
Michalski then spent a couple hours lying flat on his back in an air-conditioned room on the lower level of the clubhouse. A short time later, Kaukauna's Brock Hlinak, 18, third in this event last year at Minocqua CC, withdrew after 15 holes, but playing partner Joe DuChateau indicated Hlinak was bothered by back issues.
In the first round Monday, Kari Hannula Jr. of De Pere withdrew with similar symptoms, according to tournament officials. There have been six withdrawals from the tournament since it began early Monday.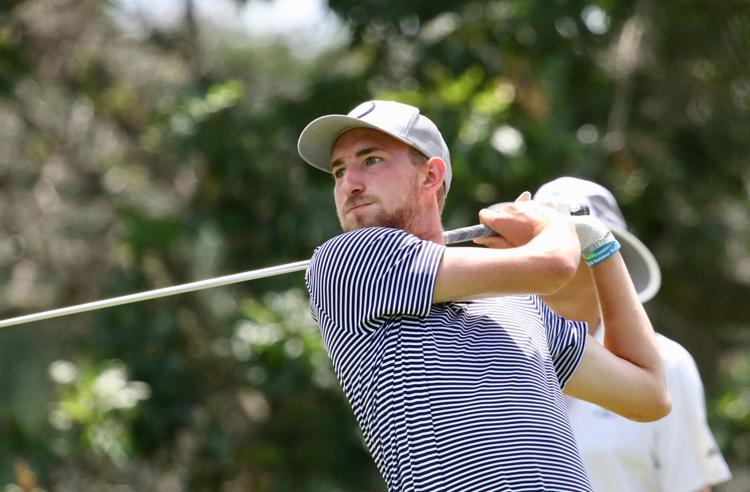 Crossing the tees
There are two University of Wisconsin golfers in the top 10 halfway through this 118th State Am — Samuel Anderson (tied for second) and Pete Kuhl (tied for sixth) — but they are not the only Badgers athletes to make the cut. Big Bend's Zach Dybul, 20, a high jumper on the UW men's track and field team, birdied the final hole to shoot 77 and, at 7-over 151 for 36 holes, finish two shots ahead of the cut line. ... Wisconsin PGA Junior champion Jacob Beckman, 15, a Middleton High School golfer who won the State Am qualifier at the Legend of Bergamont with a 2-under 70, continues to stay in contention after making four birdies and a double-bogey (on the par-3 seventh hole) in a second-round 70 that left him in fourth place at 5-under 139. .... Former Fond du Lac Springs golfer Patrick Treichel, 22, who spent last year on the club golf team at Arizona State, was disqualified for signing an incorrect scorecard. ... UW-Green Bay golfer George Kneiser of Oconomowoc, the Horizon League champion, birdied four of five holes early on his front nine, including three in a row starting at No. 4, to move back into the top 20 after a second-round 72. ... WIAA Division 1 state champion Russell Dettmering of Merrill, who is making his State Am debut, shot his second straight 76 and made the cut with an 8-over 152 total. ... Brown Deer Park Golf Club in Milwaukee rolled to victory in the Yule Cup competition. The team of Hunter Eichhorn, Michael Harris and Jack Schultz teamed up to shoot 5-under 427 and win the three-man team competition.