RIVER HILLS – Played on a course that demands patience and discipline and punishes impudence and bravado, the 119th Wisconsin State Amateur Championship is looking, at the halfway point, a lot like a U.S. Open.
Milwaukee Country Club, a carpet of perfection laid over a foundation of treachery, demands a golfer's full attention for four-plus hours, especially on shots into, around and on the greens. A momentary lapse in concentration, a poor decision or a miscalculation of wind or yardage brings swift retribution.
Only three players broke par Tuesday, and after 36 holes just two in the starting field of 156 were under par for the championship, while 88 failed to break 75 in either round. The average score in the second round was 77.42, or nearly 7½ strokes over par on the nearly century-old Harry Colt-C.H. Alison masterpiece. There have been no eagles, and 14-over made the 36-hole cut.
"I know, for me, I'm just kind of staying positive, honestly," said Thomas Longbella of Chippewa Falls, who grinded out a 67 and was the leader at 4-under 136. "If I do hit it in a bad spot where I have to chip it to 15 feet, that's what I'm going to do and I'm going to try to make those putts. I think a lot of guys get upset. As soon as you start firing at pins out here, you're going to make big numbers."
Longbella, headed back to the University of Minnesota for a fifth year of eligibility after the spring season was cut short by the coronavirus pandemic, made four birdies in an eight-hole stretch from No. 6 to No. 13, but the highlight of his round was spectacular par saves on the final two holes.
On the 230-yard par-3 17th, he missed the green right and was short-sided, but hit a superb flop shot to within 3 feet. On the 18th, his 7-iron from 200 yards finished well right of the green. With the pin on the far left and the green sloping away from him, he hit a good pitch some 15 feet past the hole and made the putt coming back.
"Those saves were massive," he said. "Massive. That was honestly kind of the polar opposite of yesterday, when I was giving myself so many opportunities and the momentum was always with me. Today, I was just grinding. I did not hit my driver well. It was good to see that I can still put up a number without hitting it well."
Tom Halla, one of Longbella's playing partners the first two days, concurred.
"In the wind yesterday, he didn't miss a fairway," Halla said. "Today, calm, he hit it all over the place off the tee. But he's a very confident swinger of the golf club and he putts exceptionally well. He's got a great disposition. He looks like he's having fun when he's playing. Maybe I learned something."
If Longbella is having fun, he doesn't have much company. Frivolity is not the first word that comes to mind at Milwaukee CC. In the second round, eight pins were just four paces from the left or right edge of the green and four more were five paces from the edge. Shades of Shinnecock Hills.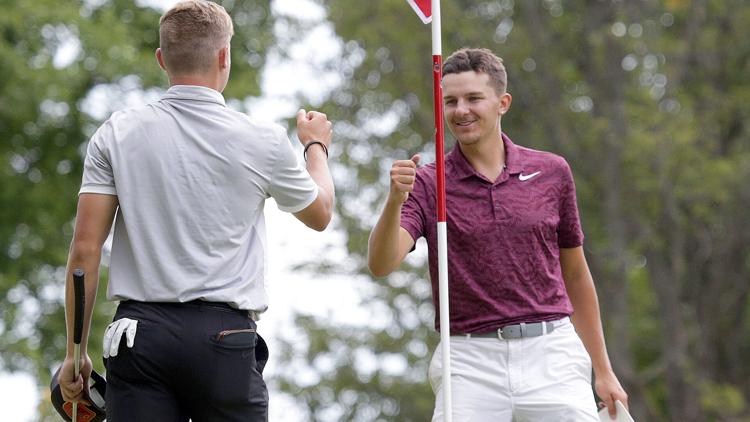 "There's no reason to go for them, honestly," said Nate Thomson of Greendale, who shot a 68 and trailed Longbella by one stroke at 3-under 137. "The pins are so tucked that if you miss on the wrong side, you're definitely going to be penalized at least one stroke, if not two.
"I've been playing really conservative and just trying to hit the middle of greens and putt from the middle out. It's been working really well so far."
Longbella, a two-time State Amateur runner-up, and Thomson, a member of the University of Toledo golf team, were the only players under par for the championship.
Zach Place of Roselle, Ill., a rising sophomore at Northern Illinois University, matched Thomson's 68 and was tied for third with Matt Tolan of Eau Claire at even-par 140. Place led a contingent of Illinois qualifiers who entered the State Amateur after the Chicago District Golf Association canceled or postponed all of its 2020 tournaments because of COVID-19.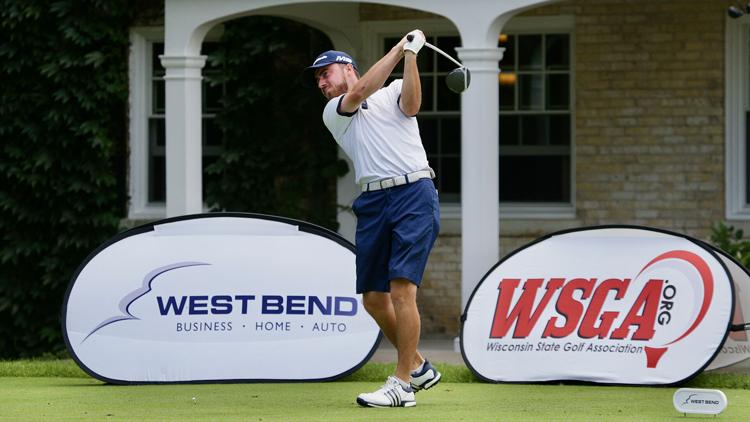 "This course is unreal," Place said. "It looks like a U.S. Open course. All the pins are tucked, which they should be. It's a good test. I'm just trying to hit to the middle of the green and hopefully you make the putt. Get it in the fairway first, then get it 25 feet from the hole and see if you can make it."
Tolan, a University of South Dakota golfer and the 2017 State Amateur champion, opened with a 69 but went backward on the front nine Tuesday with bogeys on Nos. 6, 8 and 9. He was frustrated walking to the 10th tee and credited his father and caddie, Dan Tolan, for calming him down.
"Walking off nine, my caddie told me to regroup and get a couple pars together," Matt Tolan said. "He's got some knowledge on the bag and knows my game. He basically calmed me down."
He made three consecutive pars, then rolled in a 15-foot birdie putt on the 13th and followed it with a 5-footer on No. 14 and a 7-footer on No. 15. The little run put him back in a good frame of mind and he finished with a 71, despite a bogey on the long par-3 17th.
"I feel like I'm in a great position," Tolan said. "I really haven't looked at the leaderboard. I'm not a big leaderboard watcher. I don't like to get those numbers in my head. I kind of just like to go play golf and have fun. I'm hitting the ball great and I feel like I'm in a good position going into the last 36 holes."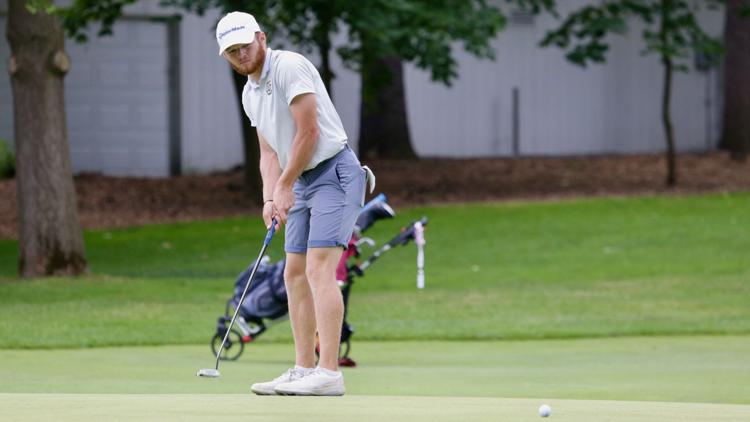 Tyler Leach of Spring Valley, the first-round leader with a 67, made a pair of double-bogeys en route to a 74 and was alone in fifth place at 1-over 141. The Marquette University golfer said he hit the ball well, but got a bad break or two and misjudged the wind on a couple of shots.
"I actually played better than I did yesterday," he said. "If I play this well tomorrow, I'll be fine."
The third round promises to be interesting. Bill Linneman, director of rules and competitions for the Wisconsin State Golf Association, set up the course so that the ninth hole will play as a 270-yard, drivable par-4, and the 17th will be a 268-yard, uphill par-3.
"Par is really irrelevant," said Hartland's Kevin Van Rossum, tied for 23rd at 147. "Everyone is going to play basically two similar holes."
As for Longbella, his game plan is simple: wash, rinse, repeat.
"I'm going to try to keep doing the same thing," he said. "That's the goal. Get the driver straightened out for tomorrow, hit some more fairways. I'm just thinking about playing the golf course and just plodding my way around it."
---
POS

 

PLAYER

THRU

R1

R2

R3

R4

 

1
-
Thomas Longbella

  

Chippewa Falls, WI
-4
F
-3
69
67
 
 
136
 
2
-
Nate Thomson

  

Greendale, WI
-3
F
-2
69
68
 
 
137
 
T3
-
Zach Place

  

Roselle, IL
E
F
-2
72
68
 
 
140
 
T3
-
Matt Tolan

  

Eau Claire, WI
E
F
+1
69
71
 
 
140
 
5
-
Tyler Leach

  

Spring Valley, WI
+1
F
+4
67
74
 
 
141
 
T6
-
Evan Myers

  

Northbrook, IL
+4
F
E
74
70
 
 
144
 
T6
-
Nick Nelson

  

Milwaukee, WI
+4
F
+3
71
73
 
 
144
 
T6
-
Travis Engle

  

Kenosha, WI
+4
F *
+1
73
71
 
 
144
 
T9
-
Ben Skogen

  

Onalaska, WI
+5
F
E
75
70
 
 
145
 
T9
-
Samuel Anderson

  

Stoughton, WI
+5
F
+3
72
73
 
 
145
 
T9
-
Carl Christiansen

  

Naperville, IL
+5
F
+1
74
71
 
 
145
 
T9
-
David Brock

  

Mequon, WI
+5
F
E
75
70
 
 
145
 
T9
-
Jack Schultz

  

Whitefish Bay, WI
+5
F
+5
70
75
 
 
145
 
T9
-
John Kryscio

  

Lake Forest, IL
+5
F
+5
70
75
 
 
145
 
T15
-
Kevin Paek

  

Glenview, IL
+6
F
+1
75
71
 
 
146
 
T15
-
Johnny Decker

  

Madison, WI
+6
F
+2
74
72
 
 
146
 
T15
-
Garrett Jones

  

Madison, WI
+6
F
+2
74
72
 
 
146
 
T15
-
Austin Erickson

  

Sparta, WI
+6
F
+3
73
73
 
 
146
 
T15
-
Brady Sarauer

  

Fond du Lac, WI
+6
F
+4
72
74
 
 
146
 
T15
-
Matthew Bachmann

  

Sheboygan, WI
+6
F *
+4
72
74
 
 
146
 
T15
-
Jordan Less

  

Elmhurst, IL
+6
F
+4
72
74
 
 
146
 
T15
-
Jimmy Morton

  

Sugar Grove, IL
+6
F *
+3
73
73
 
 
146
 
T23
-
Emmet Herb

  

Middleton, WI
+7
F *
+8
69
78
 
 
147
 
T23
-
Michael Mattas

  

Streamwood, IL
+7
F *
+3
74
73
 
 
147
 
T23
-
Adam Miller

  

Nekoosa, WI
+7
F *
E
77
70
 
 
147
 
T23
-
Josh Teplin

  

Mequon, WI
+7
F
+7
70
77
 
 
147
 
T23
-
Kevin Van Rossum

  

Hartland, WI
+7
F *
+5
72
75
 
 
147
 
T23
-
Joe Weber

  

Onalaska, WI
+7
F
+3
74
73
 
 
147
 
T23
-
Aidan Lafferty

  

Downers Grove, IL
+7
F *
+6
71
76
 
 
147
 
T30
-
Jack (John) Blair

  

Wauwatosa, WI
+8
F *
+4
74
74
 
 
148
 
T30
-
Eddie Wajda

  

Windermere, FL
+8
F
+5
73
75
 
 
148
 
T32
-
Gabe Dahl

  

Green Bay, WI
+9
F *
+4
75
74
 
 
149
 
T32
-
Isaac Prefontaine

  

New Franken, WI
+9
F *
+5
74
75
 
 
149
 
T32
-
Michael Bielawski

  

Waukesha, WI
+9
F *
+4
75
74
 
 
149
 
T32
-
Matt Polivka

  

Muskego, WI
+9
F
+8
71
78
 
 
149
 
T36
-
Jacob Beckman

  

Middleton, WI
+10
F
+7
73
77
 
 
150
 
T36
-
Ricky Kuiper

  

Racine, WI
+10
F *
+1
79
71
 
 
150
 
T36
-
Rocky Sperka

  

New Berlin, WI
+10
F *
+3
77
73
 
 
150
 
T36
-
Kevin Cahill

  

Waukesha, WI
+10
F *
+6
74
76
 
 
150
 
T36
-
Owen Butler

  

Stoughton, WI
+10
F *
+7
73
77
 
 
150
 
T36
-
Danny Sanicki

  

Menomonee Falls, WI
+10
F *
+3
77
73
 
 
150
 
T36
-
Chris Hoff

  

Hartland, WI
+10
F
+3
77
73
 
 
150
 
T36
-
Jason Jahnke

  

Kewaskum, WI
+10
F
+6
74
76
 
 
150
 
T36
-
Derek Fiestadt

  

Kaukauna, WI
+10
F
+4
76
74
 
 
150
 
T36
-
P.J. Clemins

  

Cedarburg, WI
+10
F *
+5
75
75
 
 
150
 
T36
-
Phillip Johnson

  

Colgate, WI
+10
F
+2
78
72
 
 
150
 
T47
-
Lukas Heckmann

  

Middleton, WI
+11
F
+2
79
72
 
 
151
 
T47
-
William Nummy

  

Winnetka, IL
+11
F
+2
79
72
 
 
151
 
T47
-
Nick Satina

  

Madison, WI
+11
F *
+7
74
77
 
 
151
 
T47
-
Travis Meyer

  

River Falls, WI
+11
F
+4
77
74
 
 
151
 
T47
-
Ty Mueller

  

Mequon, WI
+11
F *
+4
77
74
 
 
151
 
T47
-
George Botts

  

Madison, WI
+11
F *
+6
75
76
 
 
151
 
T47
-
Kyle Wille

  

Edgerton, WI
+11
F
+8
73
78
 
 
151
 
T54
-
Matthew Buckley

  

Elmhurst, IL
+12
F *
+11
71
81
 
 
152
 
T54
-
Christopher Colla

  

Fond du Lac, WI
+12
F *
+4
78
74
 
 
152
 
T54
-
Todd Schaap

  

Kenosha
+12
F *
+5
77
75
 
 
152
 
T54
-
Ty Kretz

  

Marinette, WI
+12
F
+2
80
72
 
 
152
 
T54
-
Michael Kerns

  

Milwaukee, WI
+12
F
+7
75
77
 
 
152
 
T54
-
Billy McKay

  

Milwaukee, WI
+12
F *
+9
73
79
 
 
152
 
T54
-
Joe DuChateau

  

Fond Du Lac, WI
+12
F
+5
77
75
 
 
152
 
T54
-
Ryan Smith

  

Eatonton, GA
+12
F *
+9
73
79
 
 
152
 
T54
-
Max Pasher

  

Mequon, WI
+12
F
+7
75
77
 
 
152
 
T54
-
Shaun Borre

  

La Crosse, WI
+12
F *
+7
75
77
 
 
152
 
T64
-
Jeff Glisch

  

Middleton, WI
+13
F
+6
77
76
 
 
153
 
T64
-
Chip Savarie

  

Madison, WI
+13
F
+3
80
73
 
 
153
 
T64
-
Adam Garski

  

Wauwatosa, WI
+13
F *
+5
78
75
 
 
153
 
T64
-
Zach Dybul

  

Big Bend, WI
+13
F
+9
74
79
 
 
153
 
T64
-
Benjamin Pausha

  

Delafield, WI
+13
F
+8
75
78
 
 
153
 
T64
-
Michael Bastian

  

Milwaukee, WI
+13
F *
+8
75
78
 
 
153
 
T70
-
Jacob Mayer

  

Delafield, WI
+14
F *
+5
79
75
 
 
154
 
T70
-
Cameron Huss

  

Kenosha, WI
+14
F
+6
78
76
 
 
154
 
T70
-
Pete Kuhl

  

Madison, WI
+14
F
+5
79
75
 
 
154
 
T70
-
Cole Stark

  

Eau Claire, WI
+14
F *
+8
76
78
 
 
154
 
T70
-
Jim Doing

  

Verona, WI
+14
F *
+10
74
80
 
 
154
 
T70
-
Aaron Gavin

  

South Milwaukee, WI
+14
F *
+7
77
77
 
 
154
 
T70
-
Cal Meyers

  

Milwaukee, WI
+14
F *
+7
77
77
 
 
154
 
T70
-
Jamozzy Skenandore

  

De Pere, WI
+14
F *
+8
76
78
 
 
154
 
T70
-
Zak Kulka

  

Beaver Dam, WI
+14
F *
+10
74
80
 
 
154
 
MISSED CUT
MC
-
Hunter Pipik

  

New Berlin, WI
+15
F
+9
76
79
 
 
155
 
MC
-
Brian McCall

  

Middleton, WI
+15
F
+8
77
78
 
 
155
 
MC
-
Jackson Bussell

  

Lincolnshire, IL
+15
F
+9
76
79
 
 
155
 
MC
-
Joe Forsting

  

Edgerton, WI
+15
F
+9
76
79
 
 
155
 
MC
-
Brad Finger

  

Waukesha, WI
+15
F *
+8
77
78
 
 
155
 
MC
-
Cory Aune

  

Lake Geneva, WI
+15
F *
+6
79
76
 
 
155
 
MC
-
Larry Blatt

  

Chicago, IL
+15
F *
+8
77
78
 
 
155
 
MC
-
Logan Larrabee

  

Lake Mills, WI
+15
F *
+5
80
75
 
 
155
 
MC
-
Jakob Schroeckenthaler

  

Cottage Grove, WI
+16
F *
+8
78
78
 
 
156
 
MC
-
Tom Halla

  

Colgate, WI
+16
F
+6
80
76
 
 
156
 
MC
-
Paul Zarek

  

Burlington, WI
+16
F *
+6
80
76
 
 
156
 
MC
-
Riley Bauman

  

Crystal Lake, IL
+16
F
+11
75
81
 
 
156
 
MC
-
Ryonen Faris

  

Fond du Lac, WI
+16
F *
+11
75
81
 
 
156
 
MC
-
Tom Drill

  

Sheboygan, WI
+16
F
+9
77
79
 
 
156
 
MC
-
Peter Flory

  

Glencoe, IL
+16
F
+14
72
84
 
 
156
 
MC
-
Ryan Schmus

  

Brookfield, WI
+16
F *
+10
76
80
 
 
156
 
MC
-
Brian Morris

  

Shorewood, WI
+16
F
+9
77
79
 
 
156
 
MC
-
Owen Covey

  

New Richmond, WI
+17
F *
+4
83
74
 
 
157
 
MC
-
Sean Murphy

  

Middleton, WI
+17
F
+7
80
77
 
 
157
 
MC
-
Mike McDonald

  

West Bend, WI
+17
F
+6
81
76
 
 
157
 
MC
-
Sam Cianciola

  

Nekoosa, WI
+17
F *
+7
80
77
 
 
157
 
MC
-
Travis Pronschinske

  

Oconomowoc, WI
+17
F *
+10
77
80
 
 
157
 
MC
-
Tyler Reitz

  

Lombard, IL
+17
F *
+11
76
81
 
 
157
 
MC
-
Michael Fastert

  

Wheeling, IL
+17
F
+14
73
84
 
 
157
 
MC
-
Mike Roznowski

  

Leawood, KS
+18
F
+9
79
79
 
 
158
 
MC
-
PJ Murphy

  

Middleton, WI
+18
F *
+12
76
82
 
 
158
 
MC
-
Collin Schroeder

  

Appleton, WI
+18
F
+6
82
76
 
 
158
 
MC
-
Robbie Morway

  

Mequon, WI
+18
F
+4
84
74
 
 
158
 
MC
-
Ryan Hughes

  

Cedarburg, WI
+18
F
+9
79
79
 
 
158
 
MC
-
Christopher Weinfurt

  

Waukesha, WI
+18
F *
+11
77
81
 
 
158
 
MC
-
Garrett Gosh

  

Wauwatosa, WI
+18
F *
+16
72
86
 
 
158
 
MC
-
Alex Okray

  

Stevens Point, WI
+19
F
+9
80
79
 
 
159
 
MC
-
Braden Mork

  

Madison, WI
+19
F *
+9
80
79
 
 
159
 
MC
-
Josh Kirkham

  

Hinsdale, IL
+19
F *
+4
85
74
 
 
159
 
MC
-
John Triller

  

Green Lake, WI
+19
F *
+9
80
79
 
 
159
 
MC
-
Russell Dettmering

  

Merrill, WI
+19
F *
+7
82
77
 
 
159
 
MC
-
Adam Fazio

  

Wauwatosa, WI
+19
F *
+8
81
78
 
 
159
 
MC
-
Mason Polivka

  

Muskego, WI
+19
F
+8
81
78
 
 
159
 
MC
-
Conner O'Neil

  

Green Bay, WI
+19
F
+11
78
81
 
 
159
 
MC
-
Adam McDonald

  

Waukesha, WI
+20
F *
+8
82
78
 
 
160
 
MC
-
Bennett Swavely

  

Hudson, WI
+20
F *
+8
82
78
 
 
160
 
MC
-
Paul Koszarek

  

Waterford, WI
+20
F
+13
77
83
 
 
160
 
MC
-
Brian Eitel

  

Racine, WI
+20
F *
+14
76
84
 
 
160
 
MC
-
Benjamin Shafer

  

Brookfield, WI
+20
F *
+10
80
80
 
 
160
 
MC
-
Tommy Mohs

  

Madison, WI
+21
F *
+12
79
82
 
 
161
 
MC
-
Matthew Raab

  

Hartland, WI
+21
F
+10
81
80
 
 
161
 
MC
-
Greg Bauman

  

Crystal Lake, IL
+21
F
+10
81
80
 
 
161
 
MC
-
Marc Shanks

  

Madison, WI
+21
F *
+9
82
79
 
 
161
 
MC
-
Ben Resnick

  

Rice Lake, WI
+21
F
+14
77
84
 
 
161
 
MC
-
Mason Gardner

  

Waupaca, WI
+22
F
+12
80
82
 
 
162
 
MC
-
Brian Markle

  

Verona, WI
+22
F
+14
78
84
 
 
162
 
MC
-
Daniel Ozga

  

Edgerton, WI
+23
F *
+13
80
83
 
 
163
 
MC
-
Jon Higley

  

Strum, WI
+23
F *
+14
79
84
 
 
163
 
MC
-
Kris VanSickle

  

Peshtigo, WI
+23
F
+13
80
83
 
 
163
 
MC
-
Nicholas Malahy

  

Wauwatosa, WI
+24
F
+15
79
85
 
 
164
 
MC
-
Daniel Romano

  

Darien, WI
+24
F
+12
82
82
 
 
164
 
MC
-
Chad Brennan

  

Eleva, WI
+25
F *
+10
85
80
 
 
165
 
MC
-
Michael Sierakowski

  

Sheboygan Falls, WI
+25
F *
+13
82
83
 
 
165
 
MC
-
Tom Schoewe

  

Sun Prairie, WI
+25
F
+12
83
82
 
 
165
 
MC
-
Eric Christensen

  

Amery, WI
+25
F *
+10
85
80
 
 
165
 
MC
-
Thomas Wettstein

  

Milwaukee, WI
+25
F
+15
80
85
 
 
165
 
MC
-
Joseph Mazurek

  

Germantown, WI
+25
F *
+15
80
85
 
 
165
 
MC
-
Daniel Hughes

  

Cedarburg, WI
+25
F *
+15
80
85
 
 
165
 
MC
-
Gregory Wagner

  

Cambridge, WI
+25
F
+18
77
88
 
 
165
 
MC
-
Mike Murphy

  

Fitchburg, WI
+26
F *
+10
86
80
 
 
166
 
MC
-
Ryan Hurab

  

Oconomowoc, WI
+26
F *
+13
83
83
 
 
166
 
MC
-
Pat Boyle

  

Greendale, WI
+26
F
+13
83
83
 
 
166
 
MC
-
John Uekert

  

West Bend, WI
+26
F *
+12
84
82
 
 
166
 
MC
-
Terry Flesch

  

Fond du Lac, WI
+27
F *
+17
80
87
 
 
167
 
MC
-
Timothy DeMaster

  

Berlin, WI
+28
F *
+16
82
86
 
 
168
 
MC
-
Brian J. Kopinski

  

Chicago, IL
+28
F *
+14
84
84
 
 
168
 
MC
-
Alexander Ho

  

Milwaukee, WI
+29
F
+13
86
83
 
 
169
 
MC
-
Scott Erickson

  

Sparta, WI
+29
F
+6
93
76
 
 
169
 
MC
-
Trey Hewuse

  

Tomah, WI
+30
F *
+15
85
85
 
 
170
 
MC
-
Dylan Karvala

  

New Berlin, WI
+30
F
+13
87
83
 
 
170
 
MC
-
Chris Kostrewa

  

Wales, WI
+34
F
+15
89
85
 
 
174
 
WD
-
Drake Wilcox

  

Sheboygan, WI
+9
 
 
 
 
 
 
 
 
WD
-
Tim Ertmer

  

Orono, MN
+14