We'd known each other since the mid-1980s, when I was working at the Racine Journal Times and Mark Bemowski was playing in a regular money game at H.F. Johnson Park (and winning a whole lot more than he lost).
I covered three of his six victories in the Wisconsin State Amateur and innumerable other tournaments in which he competed and often won. In 2007, Mark asked me if I wanted to caddie for him in a practice round for the U.S. Senior Open at Whistling Straits and I jumped at the opportunity.
Photos: Portrait of a champion -- six-time Wisconsin State Amateur champion Mark Bemowski
It was one of the best days I spent on a golf course, until he handed me his club after hitting his second shot on No. 15, turned and walked toward the green … and missed me tumbling backward into one of Pete Dye's cavernous bunkers, clubs flying everywhere. After the round, I asked him to grade me as a caddie and he gave me a C-plus. Disappointed, I asked why the low grade.
"Well," he said, eyeing the bent legs on his carry bag, "you broke my golf bag."
Over the years, we became more than reporter and subject. We became friends, attending high school basketball games together and meeting for the occasional lunch. I can't say we were best buddies, but I knew him well enough to get a lump in my throat when he told me, over a somber breakfast at one of his favorite restaurants in Mukwonago, about his cancer diagnosis.
Pancreatic. The worst kind. A death sentence.
"I'm going to fight this," he said, catching me off-guard with an uncharacteristic hug in the parking lot.
Fight, he most certainly did. He lost 50 pounds. He lost his sense of taste. He lost his balance when he tried to hit sidehill shots. The greatest amateur in Wisconsin history, once a sturdy 220-pounder who even in his late 60s could hit a golf ball 280 yards, became a skeletal shell of himself.
Nine months after his diagnosis, he entered the 2017 State Senior Best-ball with partner Paul Zarek, partly because they were the defending champions but mostly to be around the golfers he'd spent a lifetime playing with and against. Warming up on the range, he hit a few skanks, turned to me and said, "I never thought I'd know what it's like to be a 13-handicapper."
"You should have just asked me," I said. "I've been one my whole life."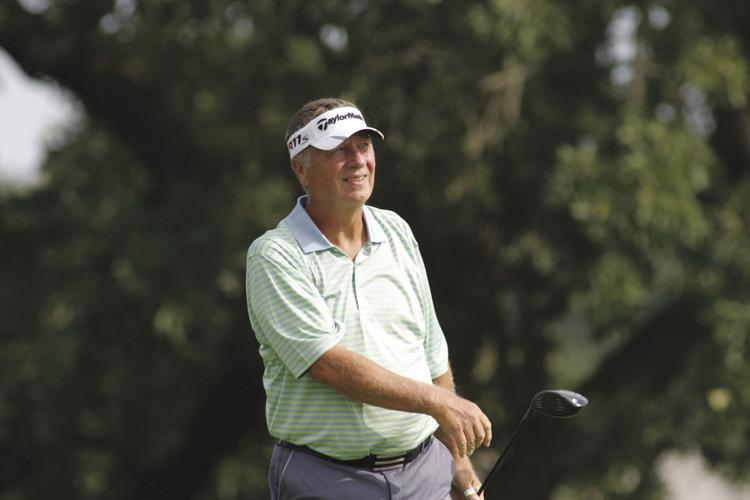 Mark was determined to gain back what he lost and believed he'd do it. He had chemo every other Monday, which wiped him out for the rest of the week. But the next week, he'd be on the practice green at Morningstar Golfers Club or, like a kid in a candy store, testing new TaylorMade clubs on the range. Then he'd have another round of chemo, followed by another "good" week.
He did this for months.
"I love the challenge of golf," he said, admitting that the game gave him incentive to fight the good fight against an unrelenting opponent. "I love tinkering with equipment, always trying to get better."
Amateur legend Archie Dadian said most golfers lose their desire to practice over time, but the opposite was true with Mark.
"That's what set him apart from the everybody else," Dadian told me. "He was always willing to do what others weren't. That's what the great ones do."
Mark never had anything handed to him. He earned everything he ever got on the golf course by outworking and out-thinking people. He was no rich country club kid. He fought in Vietnam. His wife, Sandy, suffered a terrible stroke a few years ago and is still recovering. He dealt with the hard knocks quietly and privately.
He was blunt and opinionated. He could be caustic and difficult to play with, mostly because he was trying to beat your brains in. Two-time State Amateur champion Bob Gregorski called him a "ferocious competitor" and that may have been an understatement. He had a Tour-quality short game and a quick wit and used both with equal aplomb.
He never stroked a putt he didn't think he would — or should — make. One year, when he was in contention in the State Amateur, I wrote that he was griping about all the putts he was missing and glossing over the fact that he was making 15-footers left and right. The next day, he approached me in the middle of his round and asked why I'd written that.
"Come on, Mark, you know it's true," I said.
He grumbled something and walked away, but I detected the hint of a smile.
In July, Mark asked me to be his partner in the two-day member-guest at Morningstar. I was flattered and frightened. He'd seen me hit a few shots over the years but we'd never played a round together. Nervous on the first tee, I snap-hooked my drive into a hazard and, well, let's just say it got worse from there.
Sometime late in the second round, I missed a 3-footer for bogey on a par-5, the ball never touching the cup. Embarrassed and exasperated, I mumbled, "What was that?"
"I believe," Mark said dryly, "that was a 7."
What was amazing to me was that even though he'd lost 50 yards off his driver, probably didn't hit half the greens in regulation and never made a birdie, he shot 74-78, thanks to his magical short game and his almost unbelievable ability to grind over every single shot.
"Mark never, ever gave up," Dadian said.
As far as I know, those were his final two "competitive" rounds, though I was of little help to him and we finished near the bottom of the pack, a place with which he was utterly unfamiliar. He offered to give me a chipping lesson, but I got busy with life and never took him up on it. Now it's too late.
Mark fought until the end, which came Friday afternoon. Cancer took him, but it didn't beat him. He lived 22 months with the worst disease imaginable.
And he went to the next world having gotten everything out of this one.
Rest in peace, my friend.