MADISON — It's hard to imagine more having gone wrong for Matt Tolan over the first five hours of the WSGA Match Play Championship.
The Eau Claire golfer lost his opening match in Group Play 1-up to Ben Putka after the Antioch, Ill., golfer made a 40-foot putt on the 14th hole for par to win the hole and square a match Tolan had led 2-up just two holes earlier. Before his afternoon match with JT Johnson of Eden Prairie, Minn., Tolan decided to get in a few swings with his driver at the practice tee.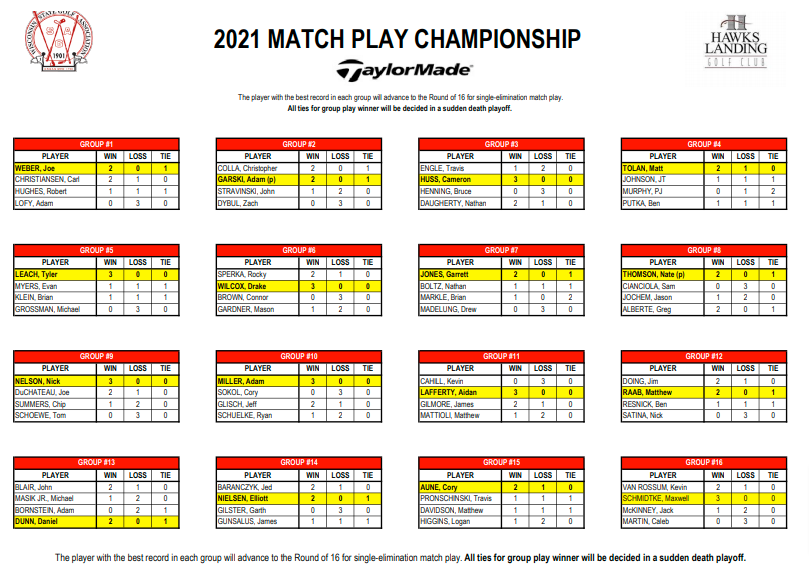 "The first driver swing I made had a big duck hook on it," Tolan wrote in a text message to Wisconsin.Golf. "I didn't think that was normal and thought maybe I toed the ball. But then I hit another driver and it got up in the air and nose-dived into the ground. At that point, I knew something was up so I felt on the face (of the driver) and it was cracked."
But that was Monday morning.
Fortunately for Tolan, he and his father/caddie, Dan, had packed a spare driver head for just this kind of predicament. Matt Tolan said they found the back-up TaylorMade M1 driver head and were able to screw it onto the shaft of the original and, by Tuesday afternoon, the 2017 Wisconsin State Amateur champion had played a 20-hole stretch of his second and third matches in 5-under-par to finish Group Play at 2-1 and earn a spot in the knockout rounds, which begin Wednesday at 7:30 a.m.
"Quite the fluke," Tolan wrote of his Group Play adventures, which got a required boost when Johnson won 3 and 2 over Putka, who fell to 1-1-1. "But stuff like that happens in life and you have to be able to adapt and adjust quickly."
Indeed, that's the spirit of match-play golf.
Tolan — the No. 4 seed by virtue of his 2020 WSGA men's player-of-the-year points standings in relation to others in the 2021 match-play field — will be taking on No. 13 seed Daniel Dunn, an Indiana Wesleyan University golfer from Oshkosh. A year ago, Tolan brought the No. 1 seed into the knockout rounds only to lose his first match in 20 holes to Kenosha's Todd Schaap.
"With (the) match play format, you never know what is going to happen," Tolan wrote. "Someone can get hot quickly and anything can truly happen. I played really solid golf my last two matches and am excited for what lies ahead. (I'm) fortunate to make it into the Round of 16 (and sort of have the marbles fall into place), but excited to grind it out and make this thing happen."
The former University of South Dakota golfer isn't alone.
The 16-player bracket for the knockout rounds includes two current Marquette golfers (Tyler Leach of Spring Valley and Aidan Lafferty of Downer's Grove, Ill.) and a former Golden Eagle (Nick Nelson). There is a current University of Wisconsin golfer (Cameron Huss of Kenosha) and a former Badger (Garrett Jones of Madison). There is a current South Dakota golfer (Max Schmidtke of Sheboygan) and a former Coyote (Tolan). There are NCAA Division II golfers from California (Dominican University's Elliott Nielsen of Fond du Lac) to North Carolina (Queens University of Charlotte's Drake Wilcox of Sheboygan). There are two semifinalists from a year ago (Greendale's Nate Thomson and Onalaska's Joe Weber, who beat Thomson in 20 holes before falling 4 and 3 in the championship match).
"The college guys can all hit it far and are most definitely talented players," Nelson, the 2016 State Amateur champion, wrote via text to Wisconsin.Golf. "But I speak for my fellow mid-ams when I say that what we might lack in distance we more than make up for with experience and mental grit. I look forward to challenging whoever I get paired against and, at a minimum, I will make them earn a victory."
The "college guys" are well aware of the seasoned veterans among those in the final 16, but the prospect of matching approaches with them would be an opportunity some relish.
"I'm really looking forward to the opportunity of playing against some of the best amateurs in Wisconsin," Leach wrote in a text message to Wisconsin.Golf. "I know the amount of work I've put in the last few months will help me and I want nothing more than to put my name on the trophy at the end of the week. However, all I can do is keep taking it one shot at a time and control the things I can control. If I can do that, I like my chances."
Ditto for Huss, who won Tuesday's battle of 2-0 golfers by default after a family obligation forced Nathan Daugherty to return home to Lake Villa, Ill.
"Nathan had let me know last night that he wouldn't be able to make our match," said Huss, who won both of his Monday matches by 3-and-2 margins. "I know him from where I work at Strawberry Creek in Kenosha so we'll have to make the match up there one of these days."