MADISON — A couple months ago, some of the state's top high school girls golfers got together at Devil's Lake State Park near Baraboo with big plans for a fun day away from the game.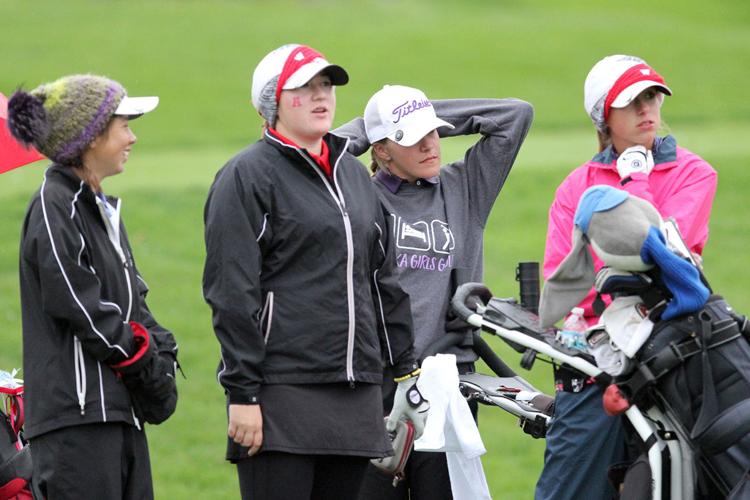 Mia Seeman of Milton. Emily Lauterbach of Hartland Arrowhead. Emily Balding of Brookfield Central. Speedy Kent of Mequon Homestead. Lorenza Martinez of Divine Savior Holy Angels.
No golf clubs. No push carts. No lululemon bags. (And, no, this wasn't their version of Justin, Jordan, Rickie and Smylie hanging out at the beach with their selfie stick for #SB2k17.)
Photos: Final-round action at the 2017 WIAA Division 1 state girls golf tournament
They were just a few junior golf rivals who have become pretty good friends spending some time together before their lives and their focus became consumed with chasing down golf goals.
"Speedy came up with these things for us to do," Lauterbach said. "But they never actually got done because while we were hiking we got lost and wasted all of our time, like, hiking."
Suffice it to say they found their way back to where they started because most of them were there behind the 18th green at University Ridge GC at the very end of the season Tuesday.
They were there to celebrate their friendship as much as they were Seeman's two-stroke victory over Kettle Moraine's Abby Cavaiani in the chase for medalist honors at the WIAA Division 1 state tournament. Or Lauterbach's repeat victory with the Warhawks for the team title.
A year ago, Lauterbach shot a final-round 72 and walked away with both gold medals. This time, the University of Wisconsin commit closed with a 76 as summer turned to fall in the matter of hours and finished third behind Seeman, a South Dakota State recruit who shot a final-round 74 despite a quadruple-bogey 8 on the final hole to edge Cavaiani (75) for her first state title.
It was impossible for Lauterbach to do anything but smile about the way things turned out.
She missed out on a chance to become the first repeat Division 1 state champion since 2013 when Verona's Jessica Reinecke did it. But Lauterbach did successfully help Arrowhead become the first repeat Division 1 team champion since Mequon Homestead did it in 2012.
And, besides, when someone has friends like Seeman, there are no enemies.
"It's all friendly competition," Lauterbach said. "Every time we play together, I play my worst because I can't focus. We're such good friends. I try to walk away. I'm like 'I need to distance myself. OK, I'm walking away.' She's like 'You'll come back in a minute.' And it's true."
For a long, long time Tuesday, it didn't look like Seeman would let anyone in her life.
She birdied two holes (Nos. 2 and 3) early in her round. After making back-to-back bogeys at Nos. 4 and 5, she added two more birdies at Nos. 8 and 9 to turn in 2-under-par 34 and extend what had been a one-stroke lead on Cavaiani and Lauterbach to four and eight, respectively.
Six strokes ahead of Cavaiani as she stood on the 18th tee, Seeman got in trouble off the tee, left a shot in the thick sand of a greenside bunker and eventually made a snowman, which -- despite her wintery outfit -- might have been too bold a statement about the lousy weather.
"On the 18th hole, for sure, I was super-nervous; more nervous than I've ever been in my life," said Seeman, whose coach Kirk Wieland didn't share with her the exact math needed to close out the win. "He kept telling me 'Just get it on the green and two-putt it and you've got this."
After tying for 19th as a freshman, tying for 32nd as a sophomore and tying for fourth as a junior, Seeman finally struck gold. Even with the 8, her closing 74 matched the low round of the day.
"I'm just really happy," Seeman said after becoming the Red Hawk's first state champion since Ashton Stair's record-setting march to victory in 2010. "It's always been a goal of mine. No matter what happened on the last hole, I'm still so proud of myself and happy."
Lauterbach was proud of her teammates and happy to hoist the gold team trophy.
"I don't know how different it is from last year," said Lauterbach, whose team shot 318 in the final round to win with a 54-over 630 total. "We lost two (players). We gained two. But it's not like the two that we gained brought us the title. The girls got better. Everyone kept getting better."
And what could be better than that? Lauterbach knew you'd ask.
She said the Devil's Lake crew is planning to get together again next weekend. This time, they'll get lost at Kent's house in memories of a golf season that was far more than par for the course.
---
Team/Player Leaderboard
University Ridge Golf Course - WIAA Girl's Championship D1 Par: 72 Yardage: 5216
Verona, WI US
Click on the round header, (Rd 1, Rd 2, etc), to view previous round data
Individuals
| | | | | |
| --- | --- | --- | --- | --- |
| Pos. | Player (Team) | Rd 1 | Rd 2 | Total |
| 4 | <!a href="javascript://" onclick="getScorecard(14909,2,342948,'05643A')">Lorenza Martinez (Divine Savior Holy Angels)<!/a> | 79 | 74 | 153 |
| T8 | <!a href="javascript://" onclick="getScorecard(14909,2,354972,'05643A')">Holly Murphy (Badger)<!/a> | 79 | 76 | 155 |
| T10 | <!a href="javascript://" onclick="getScorecard(14909,2,309398,'05643A')">Speedy Kent (Homestead)<!/a> | 80 | 76 | 156 |
| 14 | <!a href="javascript://" onclick="getScorecard(14909,2,309400,'05643A')">Isabelle Maleki (Homestead)<!/a> | 83 | 76 | 159 |
| T20 | <!a href="javascript://" onclick="getScorecard(14909,2,355019,'05643A')">Sam Soulier (Waunakee)<!/a> | 79 | 87 | 166 |
| T25 | <!a href="javascript://" onclick="getScorecard(14909,2,354974,'05643A')">Aubrie Torhorst (Waterford)<!/a> | 85 | 84 | 169 |
| T25 | <!a href="javascript://" onclick="getScorecard(14909,2,354981,'05643A')">Markie Ash (Waupaca)<!/a> | 82 | 87 | 169 |
| T25 | <!a href="javascript://" onclick="getScorecard(14909,2,354944,'05643A')">Kirsten Leonardi (Hamilton)<!/a> | 81 | 88 | 169 |
| T25 | <!a href="javascript://" onclick="getScorecard(14909,2,355018,'05643A')">Klairissa O'Reilly-Dye (Monona Grove)<!/a> | 81 | 88 | 169 |
| 32 | <!a href="javascript://" onclick="getScorecard(14909,2,354971,'05643A')">Sophia Dooman (Janesville Parker)<!/a> | 89 | 85 | 174 |
| T34 | <!a href="javascript://" onclick="getScorecard(14909,2,354942,'05643A')">Andrea Groendal (New Berlin Eisenhower/West)<!/a> | 87 | 89 | 176 |
| T36 | <!a href="javascript://" onclick="getScorecard(14909,2,355009,'05643A')">Lillian Knetter (Madison West)<!/a> | 90 | 88 | 178 |
| T38 | <!a href="javascript://" onclick="getScorecard(14909,2,354866,'05643A')">Molly Larsen (Tomah)<!/a> | 84 | 95 | 179 |
| T47 | <!a href="javascript://" onclick="getScorecard(14909,2,354867,'05643A')">Brooke Knutson (Westby/Viroqua)<!/a> | 87 | 98 | 185 |
| T47 | <!a href="javascript://" onclick="getScorecard(14909,2,354943,'05643A')">Cosette Schefelker (Menomonee Falls)<!/a> | 95 | 90 | 185 |
| T47 | <!a href="javascript://" onclick="getScorecard(14909,2,354865,'05643A')">Ginny Yahnke (Sparta)<!/a> | 89 | 96 | 185 |
| T54 | <!a href="javascript://" onclick="getScorecard(14909,2,342826,'05643A')">Emily Conard (Notre Dame)<!/a> | 96 | 92 | 188 |
| T54 | <!a href="javascript://" onclick="getScorecard(14909,2,354982,'05643A')">Brianna Zook (Shawno Community)<!/a> | 97 | 91 | 188 |