When
Monday: Division 1 — 8 a.m. (Individual qualifiers off No. 1; Team qualifiers off No. 10). Division 2 — 8:50 a.m. (off No. 1). Tuesday: Division 1 — 8 a.m. (Individual qualifiers off No. 10; Team qualifiers off No. 1). Division 2 — 8:50 a.m. (off No. 10).
Teams
Arrowhead (Hartland), Bay Port, Brookfield Central, Eau Claire Memorial, Franklin, Green Bay Preble co-op, Kaukauna, Kettle Moraine, Middleton, Milton, Onalaska, Verona.
Individuals
Holly Murphy, Badger (Lake Geneva); Lorenza Martinez, Divine Savior Holy Angels (Milwaukee); Kirsten Leonardi, Hamilton (Sussex); Speedy Kent, Homestead (Mequon); Isabelle Maleki, Homestead (Mequon); Sophia Dooman, Janesville Parker; Lillian Knetter, Madison West; Cosette Shefelker, Menomonee Falls; Klairissa O'Reilly-Dye, Monona Grove; Andrea Groendal, New Berlin Eisenhower/West; Emily Conard, Notre Dame Academy (Green Bay); Brianna Zook, Shawano; Ginny Yahnke, Sparta; Molly Larsen, Tomah; Aubrie Torhorst, Waterford; Sam Soulier, Waunakee; Markie Ash, Waupaca; Brooke Knutson, Westby/Viroqua.
2016 Story
With a tears rolling down her face and a concession speech in her head, Hartland Arrowhead's Emily Lauterbach emerged from the scoring tent behind the 18th green Tuesday at University Ridge GC and into the arms of her parents, whose demeanor was anything but somber.
They were the bearers of good news for their sophomore daughter, a hot scoop that would put the perfect bow on the Warhawks' efforts at the WIAA Division 1 state girls golf tournament. They were the ones who informed her that -- despite her first triple bogey of the season -- her final-round 72 was, indeed, good enough for what would be a five-stroke victory over first-round leader Alexis Thomas of Middleton (79), a North Dakota State recruit who three-putted five greens and shot 42.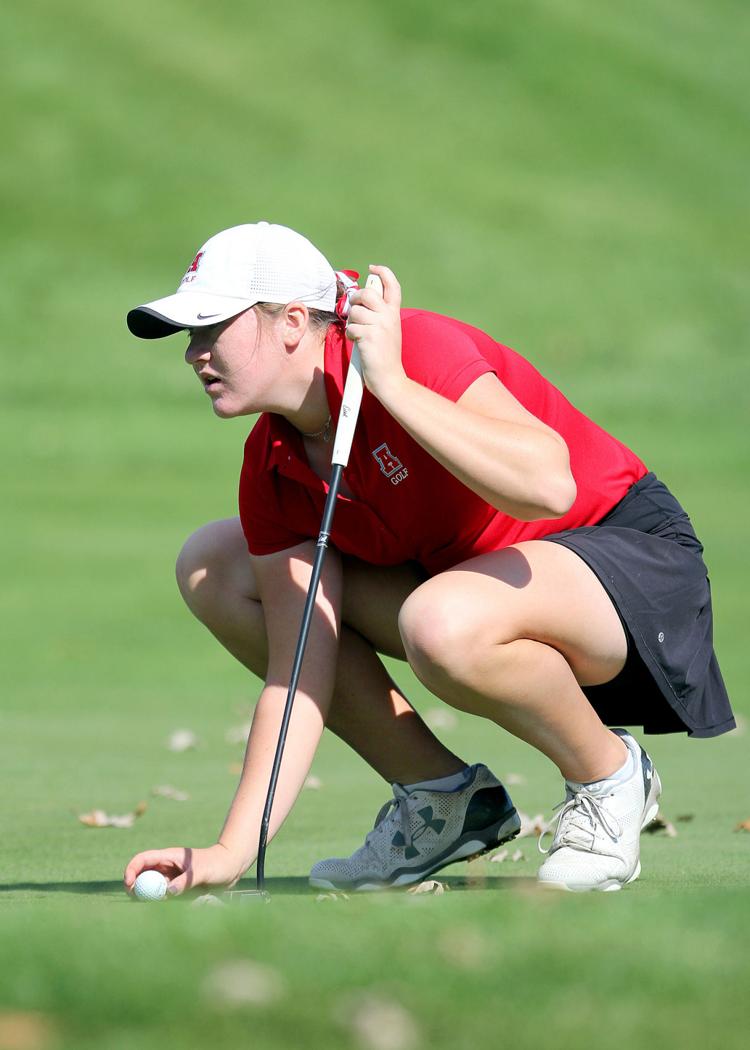 "I was like 'Are you kidding?' They're like 'No, you won!'" Lauterbach said. "When I turned in my scorecard, I thought I'd lost."
In fact, Lauterbach came away the big winner from this state meet.
Not only did her 2-under-par total of 142 make her the first indivdiual state champion in the history of the Arrowhead girls golf program, but the Warhawks' team title made her the first state champion to play on the winning team since Kenosha Bradford's Carly Werwie in 2005.
With a final-round 316, Arrowhead destroyed the Division 1 field in winning with a 624 total, which bettered by six shots the Division 1 scoring record set by Green Bay Notre Dame in 2008. In addition, the Warhawks switched places with 2015 champion Middleton, which shot 341 and took home a fifth runner-up trophy to go with its two golds.
"Hats off to Arrowhead and their two-day score," Middleton coach Becky Halverson said after her Cardinals held off Onalaska (683) and Mequon Homestead (687) in the scramble for the silver trophy. "I'm so proud of our girls for staying in there and hanging onto second place. There were a few times out there when ... we were getting close to third."
Lauterbach figured that she was closer to third than she was to first after taking a 7 on the 322-yard, par-4 14th hole. She had made four birdies and two bogeys to that point, but -- in the group ahead of Thomas -- wasn't sure where the two of them stood most of the day. 
"I thought after that, I was done," Lauterbach said.
Hers, however, was a temporary setback compared to what Thomas endured.
After tying the Division 1 tournament record with her opening-round 68, Thomas looked like she was going to be tough to catch with eight pars in a row to start her second round. She bogeyed No. 9 and then double-bogeyed the par-4 10th hole before making her only birdie at the par-5 11th, but putting problems led to five bogeys over the next six holes.
"My distance control was off on the back nine," said Thomas, who three-putted five greens. "I think I was getting a little anxious. I wanted to get it in the cup. So I think that messed me up a little bit."
-- Wisconsin.Golf (Oct. 12, 2016)
2017 Skinny
From its very first tournament of the fall at the Washington County Invitational to its next-to-last (the WIAA Fond du Lac sectional), Hartland Arrowhead's defense of its WIAA Division 1 state championship has been nothing short of exemplary.
The Warhawks won more than they lost and have developed into the same formidable squad they were a year ago, when they beat Middleton by 41 shots for the state title.
A third-place finish at the WPGA/Madison Edgewood Invitational in Arrowhead's second meet of the year was one wake-up call. A one-stroke loss to Kettle Moraine in a Classic 8 mini-meet Sept. 7 and a tie against the Lasers four days later were a reminder that the gap among the state's best is shrinking.
That will be one of the most fascinating storylines entering this 46th annual WIAA Division 1 state championship.
Arrowhead, Milton, Brookfield Central and Kettle Moraine are all capable of breaking 312 (that's four 78s — rapidly becoming an average round in the girls' ranks — for those curious on the math). It is also the average needed to match Arrowhead's Division 1 state meet scoring record (624) set a year ago.
But, as illustrated at the sectional level, teams such as No. 8 Franklin, which upset Brookfield Central at the Central sectional; and No. 9 Kaukauna, which slipped past No. 6 Mequon Homestead to grab the second state berth at Fond du Lac; canl be a factor should any or all of the top four not hit the 312 mark.
With good weather, the Division 1 individual scoring record (140) could be in jeopardy, too. (The forecast calls for a partly-cloudy sky and 69  Monday and a bit cooler with a 60 percent chance of afternoon rain  Tuesday.)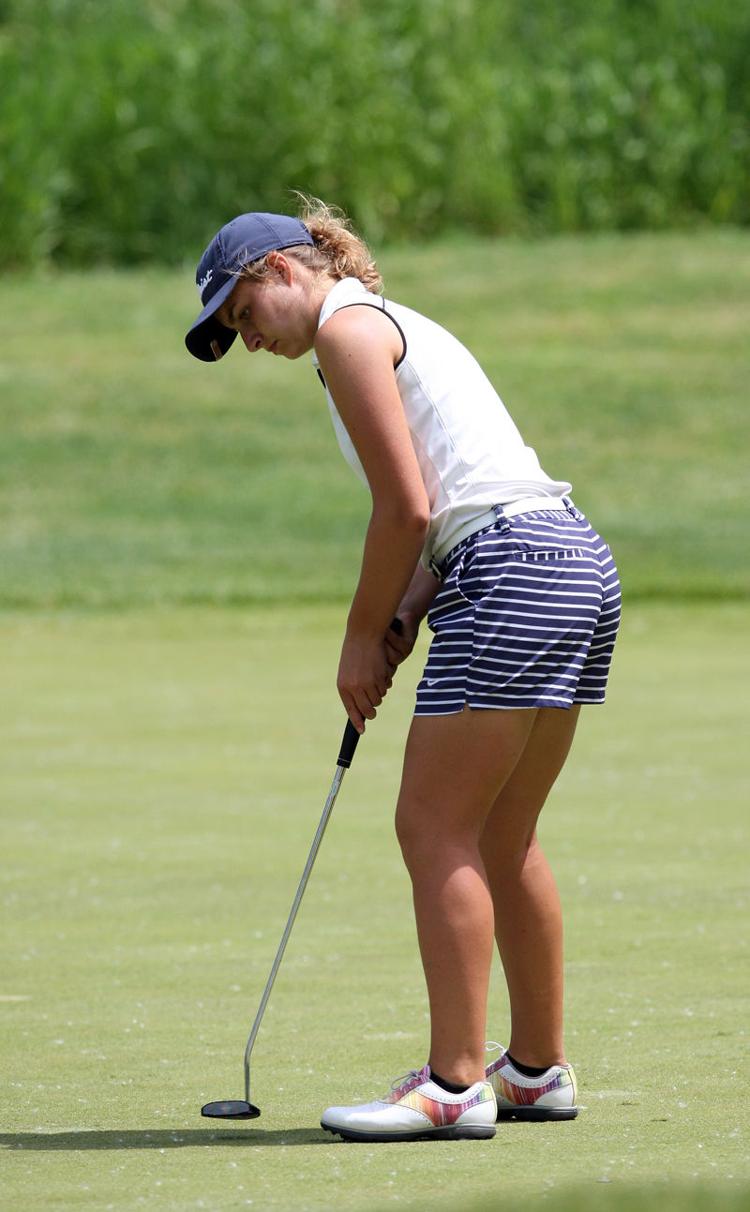 Since sending a buzz through the state with her 12-under-par 60 at the Classic 8 Conference Tournament at Broadlands GC in North Prairie three weeks ago, Kettle Moraine's Abby Cavaiani has broken par at both the regional (at Broadlands) and the sectional (at Edgewood GC in Big Bend). But she is among a half-dozen golfers who could threaten the Division 1 scoring mark of 140 set in 1993 by Erin Carney of La Crosse Central at Janesville Riverside GC and matched in 2010 by Ashton Stair of Milton.
Lauterbach, a junior and a University of Wisconsin commit, has shown no interest in relinquishing her individual state title and will be an important score in Arrowhead's efforts to repeat as team champion. South Dakota State recruit Mia Seeman of Milton, Loyola (Ill.) recruit Lorenza Martinez of Divine Savior Holy Angels, Wofford recruit Speedy Kent of Homestead and UW-Green Bay recruit Isabelle Maleki of Homestead are all looking to finish off their careers with a bang and pass the torch to Lauterbach, Taylor Hakala, a junior from Milton; and Jo Baranczyk, a freshman from Bay Port, who could also contend. 
Projected top three teams
Hartland Arrowhead, Milton, Kettle Moraine.
Projected top three individuals
Abby Cavaiani, Kettle Moraine; Emily Lauterbach, Arrowhead (Hartland); Speedy Kent, Homestead (Mequon).