MILWAUKEE — Casey Danielson and Austin Gaugert were just kids, hanging out at junior golf tournaments with their brothers and sisters and mutual friend Jordan Niebrugge, intense beyond their years on the course but fun-loving goofballs off it.
"We've known each other since we were 10 or 12," Gaugert said. "We always got along pretty well. I always joked with Casey, 'When are you going to caddie for me?' And she was like, 'After you caddie for me.' Little did we know."
Yes, flash forward a dozen years or so and Gaugert is Danielson's caddie on the Symetra Tour … when he's not looping for Niebrugge on the Korn Ferry Tour.
Close friends and kindred spirits, Danielson and Gaugert are a team this week at the Brown Deer Park Golf course, where Danielson shot a second successive 3-under 69 and moved into contention in the fifth annual PHC Classic.
At 6-under 138, she was tied for seventh place, five shots behind leader Robynn Ree of Redondo Beach, Calif., but just one shot out of second place going into the final round Sunday.
Ree, coming off a victory two weeks ago at the CDPHP Open and 11th on the Symetra Tour money list, added a 66 to her first-round 67 and was at 11-under 133.
Back in their junior golf days, whenever and wherever you found Danielson, her brother Charlie and their friend Jordan usually were close by. So, too, were Gaugert and his brother, Alex, and sister, Annie.
"There was always a group of us," Gaugert said. "We were always goofing around with each other. But Casey and I always were kind of the closest."
In this case, familiarity bred success. Casey would go on to help Stanford University win its first-ever NCAA title. Charlie was a four-time All-American at Illinois and recently tied for seventh in the PGA Tour's Barracuda Championship. Niebrugge starred at Oklahoma State, was low amateur in the 2015 British Open and has status on the Korn Ferry Tour. And Gaugert played at Valparaiso and recently qualified for the upcoming Wisconsin State Open.
Gaugert, 28, first caddied for the 24-year-old Danielson when she got into the 2017 Thornberry Creek LPGA Classic on a sponsor exemption shortly after turning pro.
"Right from the start, it worked," she said. "We're both super laid-back, kind of goofy. We like joking with each other and I think we both can take jokes pretty well. We both like to have a lot of fun. I think we have the same perspective on life."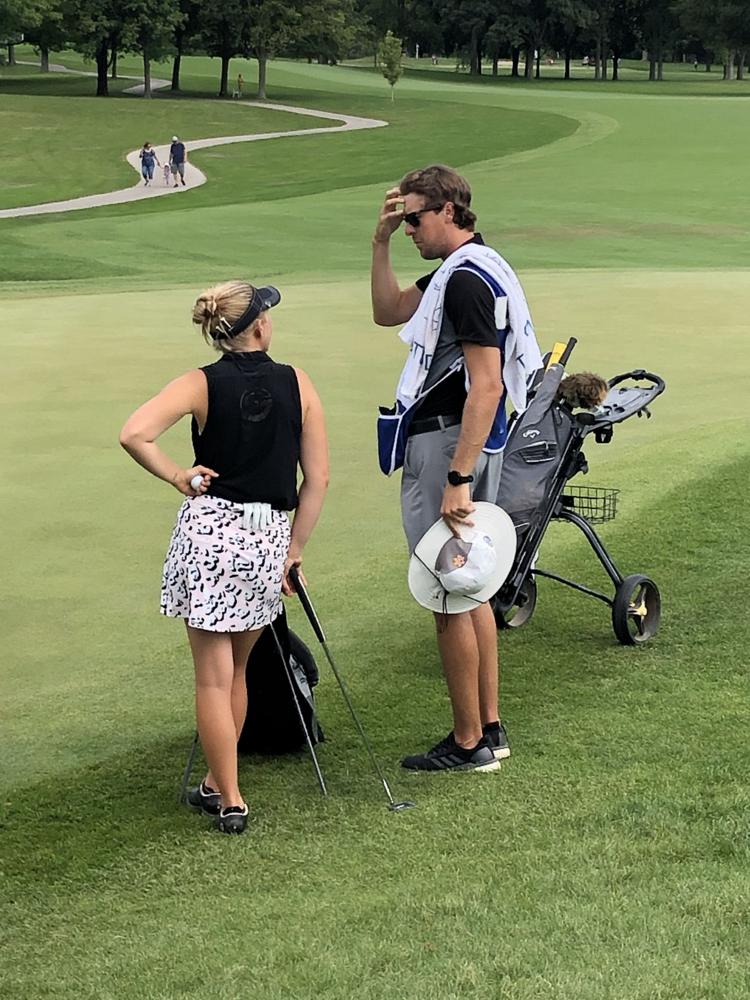 Gaugert caddies for her on the Symetra Tour whenever Niebrugge is not playing in a Korn Ferry event. He was on her bag in Morocco in December 2017, when she won the Ladies European Tour Qualifying Tournament, and early in 2018, when she played five tournaments in Australia and New Zealand.
"We spent five weeks together in Australia. The Scottish and the British (Opens) last year," Danielson said. "I'm just like, 'Whenever you can come out, come out.' He can do whatever he wants, whatever fits in his schedule. I'm super flexible because you don't need a caddie out here (on the Symetra Tour)."
They work well together because they have similar personalities and interests, though Gaugert's taste in music leans toward country and Danielson hasn't yet bought in 100 percent.
"I definitely don't know what she's thinking sometimes," Gaugert said with a laugh. "But we understand each other. There's a lot of respect for each other and a great line of communication between the two of us. Neither of us are scared to say anything to the other and I think that's what probably makes us somewhat successful so far."
Gaugert helps read putts and knows Danielson's swing inside and out, but his main job is to help keep her relaxed between shots. He's learned what to say and when to say it, which varies from player to player.
"Ninety-five percent of the time, if you'd mic us up you probably wouldn't care what we're talking about because it's totally pointless information," Gaugert said. "It's stories going back and forth, talking about other players, talking about what food she's making. She's turned into a foodie. She's cooking all the time. I'm going to put that in my contract, to make sure she cooks for me every week."
Though Danielson describes herself as laid-back, she's an intense competitor. She currently ranks 24th on the Symetra Tour money list; the top 10 at the end of the season earn LPGA cards, so every stroke is meaningful. After signing her scorecard Saturday, it was obvious she was still bothered by missing a 5-foot birdie putt on the 18th hole and needed a couple minutes to regroup.
Gaugert stood nearby, shouldering her golf bag. Sometimes, it's best to say nothing.
"Not only are you managing your own thoughts but then you're managing another person, so you're trying to make sure you're saying the right things," he said. "We've become so comfortable with each other and the communication is so good.
"We'll get done with a round and she'll say, 'Maybe you shouldn't say that' or 'Maybe we shouldn't talk about that.' But I think she knows deep down that I'm her biggest cheerleader out here and I'm going to help her as much as I can."
Gaugert will be on Danielson's bag next week at the FireKeepers Casino Hotel Championship in Battle Creek, Mich., and then will join her for the final three tournaments on the schedule, concluding with the Symetra Tour Championship, Oct. 3 through 6 in Daytona Beach, Fla.
Ferrell makes cut
It's been a tough week emotionally for Edgerton's Allyssa Ferrell, who attended the funeral service for her grandfather, George Strick, two days before the first round.
She thought about withdrawing, but decided to play and on Saturday shot her second successive even-par 72 to make the 36-hole cut. Ferrell made four birdies to offset a double-bogey and two bogeys and was tied for 49th place going into the final round.
Former University of Wisconsin player Jessie Gerry of Madison shot 78-75 and missed the cut.