After five years on the Symetra Tour, chasing her dream and never quite catching it, Allyssa Ferrell has arrived at the proverbial fork in the road.
Photos: Home cookin' for Wisconsin golfers at Symetra Tour PHC Classic in Milwaukee
In one direction, the siren song of the LPGA Tour still beckons, but has lost much of its appeal. In the other direction, the idea of starting a new chapter in her life has become the much stronger pull. She reserves the right to change her mind, but her path forward becomes clearer by the day.
"I do still love the game, but in a different way," Ferrell said Friday, before shooting an even-par 72 in the first round of the PHC Classic at the Brown Deer Park Golf Course. "It's like a love-hate relationship right now and there's just more bad days than good. When that happens, I feel like you need to walk away and do something different."
And so, Ferrell, an Edgerton native, is weeks away from pulling the plug on her golf career.
An elementary education major at Michigan State, she plans to obtain her Wisconsin teaching license and teach kindergarten. Before that happens, though, she'll put all her energy into her final few events on the Symetra Tour.
Ferrell ranks 140th on the money list with $2,746 in 12 starts and plans to play at least four more weeks, through the Garden City (Kan.) Charity Classic, where she'll be the defending champion. She would need a strong finish to qualify for the Symetra Tour Championship, October 3 through 6 in Daytona Beach, Fla.
"It just depends on do I stop in Garden City and make that my final one, or do I keep going and try to play the Tour Championship?" she said. "It's been such a rough year that I need to play well the next couple months to make it to the Tour Championship."
Normally, Ferrell would be excited for the PHC Classic, just 90 minutes from her hometown, but she came to Brown Deer Park with a heavy heart. Her grandfather, George Strick, died just days before the start of the tournament. She played in the Wednesday pro-am and then went straight to the visitation. Strick was buried Thursday and Ferrell was back at Brown Deer less than an hour before her 1:48 p.m. tee time Friday.
"Luckily, we're in Milwaukee this week," she said. "I thought about not playing, just because my emotions are all over the place. I'm trying to regroup. It's an exhausting process with so much family around."
Demi Runas of Torrance, Calif., fired a bogey-free 66 to take the first-round lead. Runas, who made 45 starts on the LPGA from 2015 through 2017, finished with a flourish with birdies on Nos. 15, 16 and 17.
"They were just 'patience' birdies," she said. "I wasn't really hitting a ton of greens on the back nine but I was scrambling really well. I kept telling myself, 'Stay in it. Just try and give yourself opportunities.'"
Five women were tied for second with 67s, including Maia Schechter of Chapel Hill, N.C., who started on the 10th tee and played the seven-hole stretch from No. 17 through No. 5 in 8-under. She made six birdies and an eagle.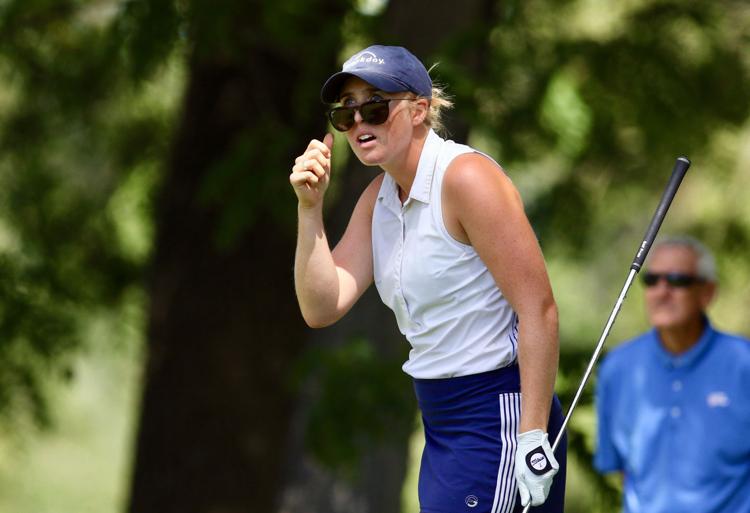 Casey Danielson of Osceola eagled the par-5 first hole en route to a 3-under 69 and a tie for 10th. Danielson has been struggling with her putting lately but had a lesson with Dennis Tiziani on Tuesday and was happy with the way she rolled the ball.
"Dennis got me squared away," she said. "I putted a lot better today."
Former University of Wisconsin player Jessie Gerry of Madison shot a 78.
Bobbi Stricker of Madison, a member of the UW golf team, would have been in the field on a sponsor exemption after repeating as champion of the Badger Mutual Insurance Women's Amateur on July 30, but withdrew with a wrist injury.
The 54-hole tournament continues Saturday, after which the field will be cut to the low 60 players and ties for the final round Sunday. The winner's share is $18,750 from the purse of $125,000.
Considering what she'd been through this week, Ferrell was happy with her 72.
"I feel like I hit the ball well," she said. "I couldn't get a putt to fall, which has been the story of my year. My ball-striking is as good as it's ever been. Eventually, they'll have to go in."
Sometimes, it seems like just yesterday Ferrell was a junior phenom playing an exhibition with Steve Stricker at their home course, Towne Country Club in Edgerton. But that was a lot of yesterdays ago.
After starring at Michigan State, where she led the Spartans to three consecutive NCAA Championship appearances and tied for 10th individually as a senior, Ferrell set out on the Symetra Tour with dreams of making it to the LPGA. She has $76,565 in career earnings and the victory in Garden City last year, but the rough patches have taken a toll.
She started the 2019 season with seven consecutive missed cuts and her best finish is a T-32 in the Four Winds Invitational in June.
"I feel like the travel has gotten to me and I'm ready for something different," she said. "I'm ready for a change. I don't know if anyone's ever really ready to be done. Sometimes, life changes and goes in a different direction and I feel that's kind of where I'm at."
In the meantime, she's savoring her final tournament appearances.
"I'm just going to try to enjoy the next month or two that I have, and then start the next chapter," she said. "At times I'm really excited, at times I'm really sad. Just like the little things – when they announce my name on the tee box, I'm really listening. I'm soaking it in.
"I think this experience has taught me a lot about myself and about life. So, I'm going to take those things with me and carry them and hope to impact people from the things that I learned out here."
Brooke update
Ferrell's younger sister, Brooke Ferrell-Parisi, was among a small group of friends and family in the gallery. Brooke, a former UW player, was wearing a soft cast on her right wrist after undergoing her seventh surgery on the wrist last month.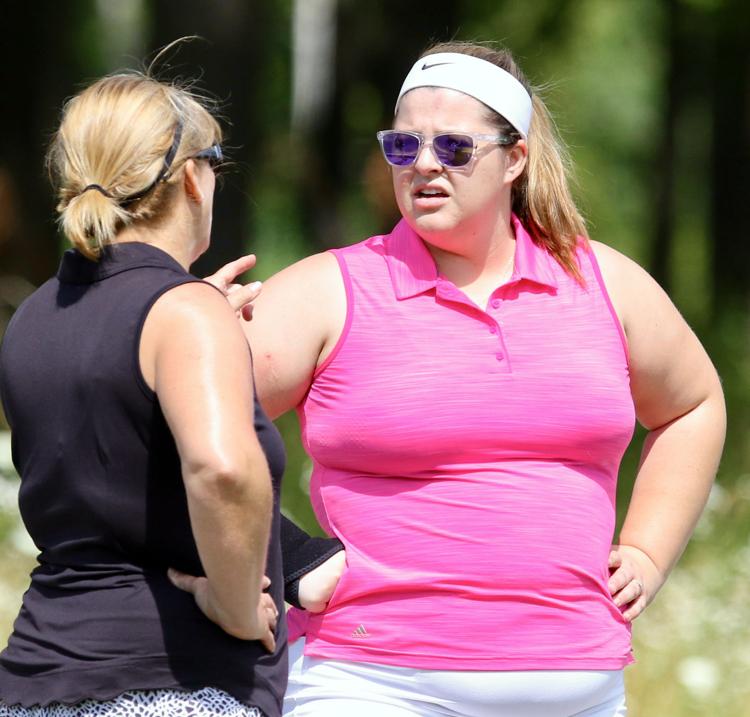 She originally hurt it when she hit a tree root during her senior year at Wisconsin. She graduated in May 2017 and had her first surgery that August. Since then, she's gone under the knife six more times.
"I've had torn cartilage, I've had pinched nerves," she said. "I had my tendon scraped during one surgery. I had a nerve removed from my hand in another."
Brooke said she hopes to resume her golf career at some point. She played in two Symetra Tour events before the first surgery.
"I made one cut, so I got to feel what it's like to make a cut and I got to feel what it's like to miss a cut," she said. "The doctor said it's possible that I'll play competitive golf again. That's the goal."
She added with a laugh, "I want to beat Allyssa again."