Sherri Steinhauer's new passion hasn't replaced golf, because nothing can compare with being a world-class player, which she was for the better part of three decades.
On the fun spectrum, though, this feels like back-to-back double-eagles. Her excitement comes across even over the phone. When it is suggested to her that she sounds totally geeked, she unabashedly pleads guilty.
"I am," she said, laughing. "I know, I know. I could go on and on."
On and on she goes about pickleball, a game she has embraced much the same way she embraced golf as a teen in Madison, when she was honing a swing at Nakoma Golf Club that would bring her eight victories on the LPGA Tour, including three Women's British Open titles, plus four berths on the U.S. Solheim Cup team and inductions into the Wisconsin Golf Hall of Fame and the Wisconsin Athletic Hall of Fame.
Pickleball isn't golf. But for Steinhauer, who admittedly struggled as a retired athlete, driven from golf by injuries, it's a stimulating challenge and a source of joy.
"I am wired, like, to compete," she said. "The bottom line is, really, I just need to stay active and this is my way of doing it. And it's fun."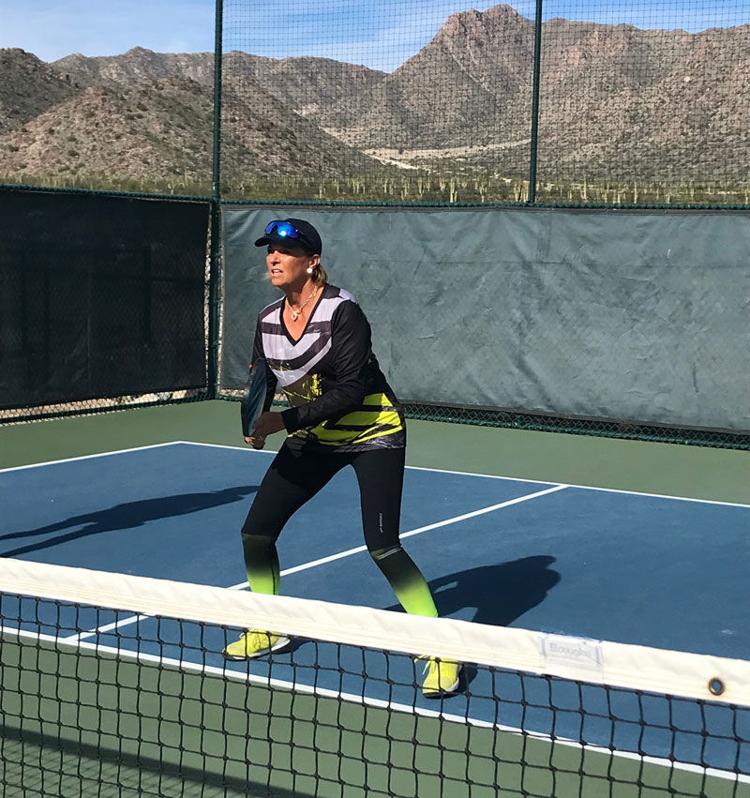 How much does she love the game? She has relocated from her longtime winter home in Palm Springs, Calif., to Phoenix in part because of the vibrant pickleball scene there. She's so committed to improve that she owns a ball machine and has recorded games with her GoPro so she can analyze her strengths and weaknesses. In golf parlance, she's gone from an 18-handicap to scratch in three years.
Even at 57, she plays virtually every day.
"I've got a great game this afternoon," she said. "I cannot wait."
Pickleball is a paddleball sport that combines elements of tennis, badminton and table tennis. Two or four players – doubles is the dominant format – use paddles to hit a plastic ball, similar to a Wiffle ball, over a net. The game was first played in 1965, but has exploded in popularity in recent years.
"It's absolutely insane," said Rob Barnes, co-founder of Selkirk Sport, which makes pickleball paddles and accessories. "The past five years has really been an amazing growth spurt. It's really kind of taken on a life of its own. When we first got into it, no one knew what the sport was. You'd say, 'I play pickleball,' or 'I make pickleball paddles,' and everybody's like, 'What's that?' "
Steinhauer has joined Selkirk's professional advisory staff and will play the company's Amped Epic paddle and wear Selkirk apparel in tournaments.
"Yeah, I'm getting paid to play with a paddle," she said, laughing at how strange it sounded to the longtime PING staff member in golf. "It's pretty cool."
Pickleball has taken off in golf circles, especially among LPGA players. Steinhauer was introduced to the game by Lisa DePaulo, a former teammate at the University of Texas. Sheboygan native Martha Nause, a three-time LPGA tour winner, recently won a doubles tournament in Sun City, Ariz., and posted about it on Facebook.
"Ninety percent of the people who start just fall in love with it," Steinhauer said. "There's a joke in pickleball: one more game. At the end of the day we're like, 'OK, let's just play one more.' And then we finish that and we say, 'Come on, let's switch partners and do just one more.'
"And the thing is, it's for everybody. Anybody can play."
Steinhauer said she turned down DePaulo's initial invitation to play pickleball because she was still playing golf. But surgery on both hips in 2009 failed to restore her ability to make a proper hip turn. Pain and unrelated putting problems effectively drove her from the game.
"My hips are, like, stuck," she said. "When I go to turn, rather than turning, my right hip goes up. Golf became very difficult. So now I don't play and I don't struggle over those putts and I go to bed happy."
When she finally did accept DePaulo's offer, she was hooked on pickleball "immediately."
"The thing with the game is the learning curve is really fast," she said. "And I think that's what's so addicting, is that you keep seeing this improvement and you just want to keep getting over the next hurdle. But, you know, once you get to like say a 10-handicap in golf, trying to go from there to scratch is hard."
Physically, she's able to play pickleball because the movement is forward, backward and lateral, as opposed to the rotation in a golf swing.
"With pickleball, it's just big movements," she said. "Yeah, I'm sore at night but I can still run around and play. And I probably play too much."
Pickleball uses a rating system to rank picklers from beginners to experts. Ratings go from Level 1.0 (beginner) to Level 5.0 (top players). In 2017, Steinhauer won a national 4.5 mixed-doubles title in her first year of competition, playing with partner Mike Moonan in the 55-and-over age group.
She made her first appearance in the U.S. Open Pickleball Championships in 2018 and won the bronze medal in mixed doubles with partner Jordan Hanisch. Because Hanisch has a 5.0 skill rating, she played up in skill level and down in age division (19-49). Now, she's a 5.0 player herself.
Steinhauer can accept prize money in the open division of tournaments, but she's more comfortable – for now – playing at the 5.0 level.
"I have played in pro tournaments and I decided I wasn't quite ready," she said. "So, I've backed off some of those. I'm going to the U.S. Open in April (in Naples, Fla.) and I decided I don't want to play the pro event. This is meant to be fun for me. I want to go and have fun and not go and get beat up.
"I would like to play on the tours eventually, but in the senior division. It's too hard to keep up with the (young players). These guys ask me to partner with them and they're young and I'm like, 'You're going to do the running.'"
Barnes, the vice president of product and relationships for Selkirk, said Steinhauer was a model ambassador for the sport because of her background as a world-class golfer. Among other Selkirk advisory staff members are 1977 Wimbledon doubles champion JoAnne Russell, former top-75 tennis player Cammy McGregor and former Professional Beach Volleyball player Kim Jagd.
"The goal of working with Sherri is to grow the game of pickleball and the awareness by having these athletes that have really prestigious pasts and great accomplishments like hers," Barnes said. "And then also, she's a very good player. She's been competing a lot and has been doing well. She's just so good for our brand and also for our game, in legitimizing it."
Steinhauer, who won twice on the Legends Tour before retiring from golf – her final victory was the 2013 Wendy's Charity Challenge – said she was grateful to have discovered pickleball at just the right time in her life.
"I play every day," she said. "It's good exercise and people might think it's crazy, but I really enjoy it, and I'm enjoying life. So, it's all good."