GREEN BAY – The Thornberry Creek LPGA Classic checks just about every box for a successful golf tournament.
In its first two years, it generated respective economic impacts of $7.1 million and $7.4 million, according to the Green Bay Convention and Visitors Bureau. Among sports events in the region, that's second only to the Green Bay Packers.
Last year, 64,000 spectators – up a couple thousand from the inaugural year – filled the Thornberry Creek at Oneida course and saw a ton of birdies. South Korea's Sei Young Kim shattered the LPGA's 72-hole scoring record en route to victory with rounds of 63-65-64-65 for a 31-under 257 total. Of the 78 players who made the cut, there were 179 rounds in the 60s and 20 rounds of 65 or better.
The 2018 tournament also generated significant funds for the Oneida Nation, with $11,000 going to tribal sports groups, $55,000 to Indigenous Games athletes and $28,000 to youth leadership initiatives.
"For me, personally, I think it's a great event and does a great job for the community," said Tehassi Hill, the Oneida Nation tribal chairman.
So why is the tournament's future in jeopardy?
The answer is simple: The event doesn't make financial sense for the Oneida, who are footing a large majority of the cost of putting it on, including the $2 million purse. The tournament has no title sponsor, and corporate support from the community has been lukewarm.
"It would be great if we got other community partners to help share in that cost," Hill said. "There are a lot of restaurants and hotels that get filled up during the event week and it would be nice to have more partners. That's probably the biggest thing we're looking for, is additional partners."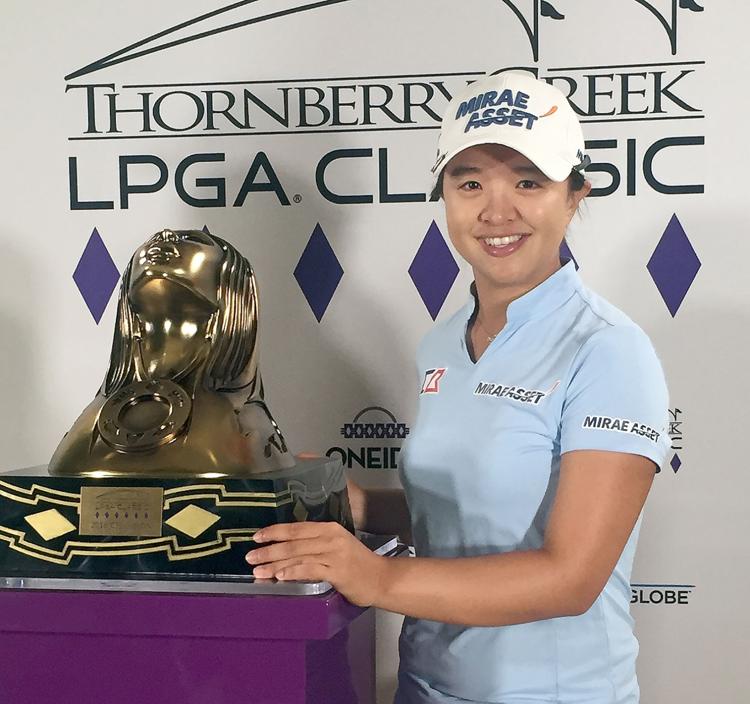 The 2019 event is scheduled for July 4-7, after which the Oneida will present the financials to the general tribal council. Approximately 1,700 members will vote on whether to continue the contract with the LPGA.
Asked if he was optimistic, Hill said, "Right now, I think it's 50-50. We're trying to make sure we get the word out there to our membership that this is a great event. There has been a lot of goodwill built in the community and it's opened doors with our other business partners, as well."
Those opened doors, however, so far haven't produced the kind of financial commitments it will take to ensure the tournament remains on the LPGA schedule.
Jon-Benet Genet, golf event manager for IMG, said his organization is working diligently to try to identify corporate partners.
"We see a lot of local support, which I think is fantastic," he said. "But it is trying to engage some of those larger sponsors that we could bring in at that high six-figure level of investment. We're certainly trying to engage some of those partners to see if they can start out maybe at a base level and work up.
"It's a very large financial commitment on behalf of the Oneida Nation and we do everything in our power to try to minimize that as much as humanly possible, whether that's corporate dollars or even reductions on tournament expenditures. We share the sentiment with Chairman Hill that we would love to see this event continue to move forward post-2019. We're certainly aggressively seeking out corporate partners for 2019 and beyond."
It would help if the Thornberry Creek Classic had a stronger field, but its dates over the Fourth of July and in the middle of a 12-week stretch of tournaments on the LPGA schedule are not favorable for attracting all of the top players.
Among the early commitments are Kim, 2017 champion Katherine Kirk, world No. 3 Sung Hyun Park and LPGA Hall of Famer and seven-time major winner Inbee Park.
One thing that could help is that this is a Solheim Cup year (Sept. 12-15 at Gleneagles in Scotland).
"With the Thornberry Creek LPGA Classic being one of the last few events where American and European players can earn points to get on those teams, it's going to be pretty exciting to see which players in those point standings are going to be in the field," Genet said.
Still, for the Oneida Nation, if the financials don't make sense it wouldn't be prudent to continue the tournament beyond this year no matter who's in the field.
"Personally, I would like to see it continue, but it's not up to just me," Hill said. "We have a constituency, also, to bring into the conversation. We'll get all the final numbers in, present it to our general tribal council and see if this is something they want to support."