GREEN LAKE — A wild turkey spent a hot, muggy Wednesday dancing through the edge of the pond in front of the 16th green on the Woodlands Course at the Golf Courses of Lawsonia. A mother deer and her fawn were spotted cooling themselves in a pond near the seventh fairway without a care in the world.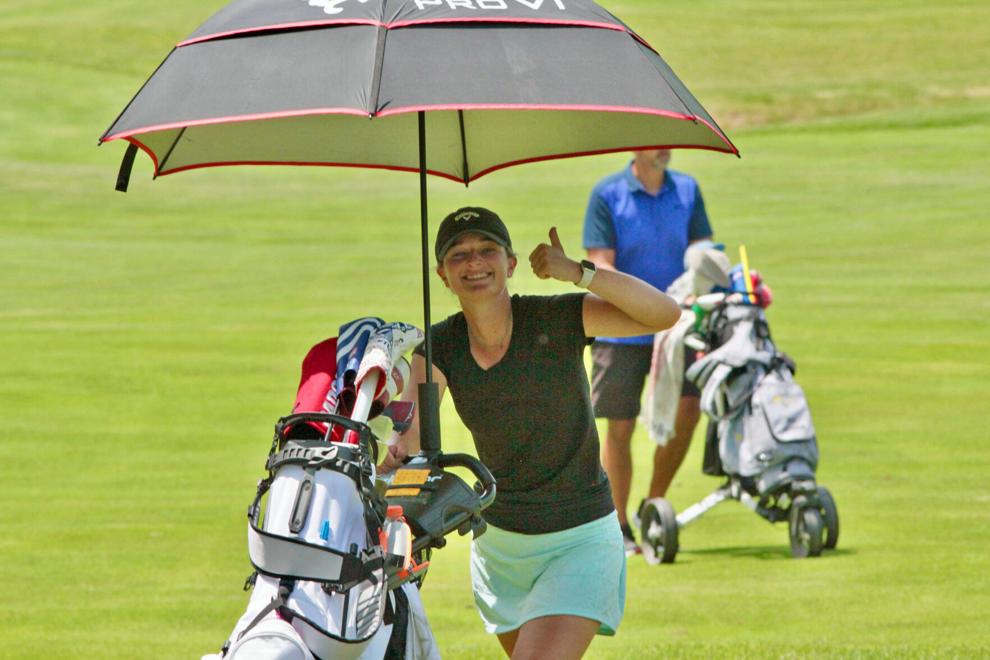 By day's end, the only creature seemingly immune to summer's sudden wet, sticky onslaught (and heat of competition)? The mighty badger — er, Badger.
Former University of Wisconsin golfer Bobbi Stricker rallied on the back nine with a 4-under-par 32 to shoot 2-under 70 and catch current Badger Emily Lauterbach for a share of the lead at the Wisconsin State Women's Open Championship. Lauterbach, who won this championship in 2020, shot a 4-under 68 to join Stricker at 2-under 142 — five strokes clear of former UW golfer Carly Werwie-Swartz of Kenosha, 33, the women's golf coach at Loyola (Ill.) University who shot 72 competing while 20 weeks pregnant.
Defending champion Mia Seeman of Milton, who shared the first-round lead with Stricker, birdied the 18th hole for a 77 that dropped her into sole possession of fourth place at 149. The 57-player field was cut to the low 24 golfers plus ties for Thursday's final round, which will begin at 7:30 a.m.
"I actually did know where I stood," said Stricker, who played one group behind Lauterbach in the final threesome of the day. "I saw she had birdied (No. 17) while I was out in the fairway. I was like 'I want to birdie this hole because I want to be one ahead of her.'  No, I knew what she was doing. 
"I love playing with her, too, It will be so much fun (Thursday)."
Wednesday proved to a bunch of fun for Stricker and Lauterbach — especially on the back nine, which they combined to play in 6-under without a bogey.
For Stricker, it was a stark contrast to her front nine where she three-putted the second green for the first of three consecutive bogeys at the start of her round. Things started to change at No. 8 where she made her first birdie and again at No. 9 where she made a scrambling par to turn in 2-over 38.
"I didn't make that putt (for par) on No. 4, which I was kind of bummed about, but I made a putt (for birdie) on No. 8, which kind of flipped my feeling," Stricker said. "Not so much my mentality because I stayed patient in those weird first few holes. I saw a ball go in the hole (on No. 8), which was just really nice. ... And then I got it up and down from the back of the green — I left it short and made like a 5-footer (for par) — on No. 9.
"After that, I felt like I was kind of rolling. I started hitting the ball a lot better on the back nine, also."
Lauterbach was rolling from the get-go Wednesday.
Photos: Day 2 action at the 2022 Wisconsin State Women's Open Championship
WPGA: 2022 Wisconsin State Women's Open Championship | Final-round pairings (GCs of Lawsonia/Woodlands Course-Green Lake)
| Time | Hole | Players |
| --- | --- | --- |
| 7:30 AM | 1 | Hannah Dunk, Janesville; Kylie Walker, Kenosha. |
| 7:40 AM | 1 | Maggie Leef, Pewaukee; Rachel Montaba (p), Elkhart Lake; Treva Dodd, Brookfield |
| 7:50 AM | 1 | Olivia Patrow, Altoona; Cassie Psuik, Greenfield; Ava Salay, Prescott |
| 8:00 AM | 1 | Caylie Kotlowski, Stoughton; Lorenza Martinez, Menomonee Falls; Elise Hoven, Grafton |
| 8:10 AM | 1 | Grace Suter, Oconomowoc; Isabelle Maleki, Mequon; Mackenzie Hahn (p), Spring Grove, Ill. |
| 8:20 AM | 1 | Rachel Kauflin, Wauwatosa; Sydney Brandt, Brookfield; Jenna Anderson, Dousman |
| 8:30 AM | 1 | Abby Cavaiani, Douseman; Britt McNett-Emmerich (p), Fitchburg; Carolyn Barnett-Howe (p), Appleton. |
| 8:40 AM | 1 | Mia Seeman, Milton; Taitum Beck (p), Waterford; Bella Dory, Menomonee Falls |
| 8:50 AM | 1 | Emily Lauterbach, Hartland; Bobbi Stricker (p), Madison; Carly Werwie-Swartz (p), Kenosha |
After making a double-bogey 7 on the first hole in Tuesday's opening round, she birdied it Wednesday and joked as she walked off the green that she was already three strokes ahead of pace from her first-round 74. Lauterbach made four straight pars before going birdie-bogey-birdie and turning in 2-under.
"I actually didn't miss any greens," said Lauterbach, whose lone bogey at No. 7 was the result of a three-putt from 20 feet. "I made some good putts for birdie. I missed a lot of (other) putts for birdie. ... Overall, it was pretty solid.
"I had, I think, four intense lip-outs, which is never fun especially when you're like 'Oh, that's in' and then it goes all the way around and you're like 'Oh, never mind.'"
That Lauterbach's emotions didn't hinge on the outcome of every putt speaks to the progress she's made in handling them in three years at UW.
"I had a good summer last year, I believe; I averaged 70.5 and that was pretty solid for me," Lauterbach said. "I'm striking it and hitting it way better than I ever have. Irons feel really good. The driver is straight and a lot further than I've ever hit it as well. Even my irons, I'm three full clubs (longer) right now than I was this January. This January, which is this year. ... I'm not really sure how, but I'm not mad about it at all. There are some holes out here where I'm hitting a 5-iron off the tee and a wedge in."
Hers is a different game from most in the field, but Werwie-Swartz still found a way to keep pace for much of the day.
Due with her first child in October, the Ramblers coach played in the next-to-last group with Lauterbach and served notice that she can still play on the very first hole — baby or no baby. Werwie-Swartz spun a wedge back about 3 feet below the hole and made the birdie putt to pull within two shots of the lead.
She was still two back after a birdie at No. 7 and a bogey at No. 9 left her with a 1-under 35 on the front. She added a birdie at No. 10 and five pars after that before making back-to-back bogeys at Nos. 16 and 17 to fall five shots off the pace set by Stricker and Lauterbach.
The future mom in Werwie-Swartz will probably accept sole possession of third place entering the final round of a championship in which she is quickly becoming one of its oldest participants. The competitor in her, however, has much loftier goals heading into the final round.
"Spot on," Werwie-Swartz said, when offered that assessment of her approach to the week. "Coming into the week, I was like 'I'm feeling OK; I can go and play.' But the competitor in me, yes, is fighting for the top spot still. I don't think that will ever leave me, but we'll see."
---
POS

 

PLAYER

THRU

R1

R2

R3

 

T1

Emily Lauterbach

  

Hartland, WI
-2
F
-4
74
68
 
142
 
T1
-
Bobbi Stricker (p)

  

Madison, WI
-2
F
-2
72
70
 
142
 
3

Carly Werwie-Swartz (p)

  

Kenosha, WI
+3
F
E
75
72
 
147
 
4

Mia Seeman

  

Milton, WI
+5
F
+5
72
77
 
149
 
5

Taitum Beck (p)

  

Waterford, WI
+6
F
+3
75
75
 
150
 
6

Isabella Dory

  

Menomonee Falls, WI
+7
F
+6
73
78
 
151
 
T7

Abby Cavaiani

  

Dousman, WI
+9
F
+2
79
74
 
153
 
T7

Brittany McNett-Emmerich (p)

  

Fitchburg, WI
+9
F
+4
77
76
 
153
 
9
-
Carolyn Barnett-Howe (p)

  

Appleton, WI
+10
F
+5
77
77
 
154
 
T10

Rachel Kauflin

  

Wauwatosa, WI
+11
F
+4
79
76
 
155
 
T10

Sydney Brandt

  

Brookfield, WI
+11
F
+6
77
78
 
155
 
T12

Jenna Anderson

  

Dousman, WI
+12
F
+5
79
77
 
156
 
T12

Grace Suter

  

Oconomowoc, WI
+12
F
+7
77
79
 
156
 
T14

Isabelle Maleki

  

Mequon, WI
+14
F
+3
83
75
 
158
 
T14

Mackenzie Hahn (p)

  

Spring Grove, IL
+14
F
+11
75
83
 
158
 
T14

Caylie Kotlowski

  

Stoughton, WI
+14
F
+12
74
84
 
158
 
T17

Lorenza Martinez

  

Menomonee Falls, WI
+15
F
+4
83
76
 
159
 
T17

Elise Hoven

  

Grafton, WI
+15
F
+4
83
76
 
159
 
T17

Olivia Patrow

  

Altoona, WI
+15
F
+8
79
80
 
159
 
T17

Cassandra Psuik

  

Greenfield, WI
+15
F
+9
78
81
 
159
 
T17

Ava Salay

  

River Falls, WI
+15
F
+10
77
82
 
159
 
22

Maggie Leef

  

Pewaukee, WI
+16
F
+5
83
77
 
160
 
T23

Rachel Montaba (p)

  

Elkhart Lake, WI
+17
F
+9
80
81
 
161
 
T23

Treva Dodd

  

Brookfield, WI
+17
F
+9
80
81
 
161
 
T23

Hannah Dunk

  

Janesville, WI
+17
F
+10
79
82
 
161
 
T23

Kylie Walker

  

Kenosha, WI
+17
F
+12
77
84
 
161
 
THE FOLLOWING PLAYERS DID NOT MAKE THE CUT: +17
MC
-
Mallory Swartz

  

Franklin, WI
+19
F
+10
81
82
 
163
 
MC
-
Ellie Frisch

  

Middleton, WI
+20
F
+6
86
78
 
164
 
MC
-
McKenna Nelson

  

Beaver Dam, WI
+20
F
+8
84
80
 
164
 
MC
-
Aj Powell

  

Appleton, WI
+20
F
+10
82
82
 
164
 
MC
-
Glenna Sanderson

  

Middleton, WI
+21
F
+9
84
81
 
165
 
MC
-
Kayley Sjoholm (p)

  

Menomonee Falls, WI
+22
F
+8
86
80
 
166
 
MC
-
Norah Roberts

  

Racine, WI
+24
F
+10
86
82
 
168
 
MC
-
Aliisa Helminen

  

Menasha, WI
+24
F
+14
82
86
 
168
 
MC
-
Katelyn Walker

  

Kenosha, WI
+25
F
+12
85
84
 
169
 
MC
-
Katelynn Warpinski

  

Green Bay, WI
+26
F
+9
89
81
 
170
 
MC
-
Grace Welch

  

Madison, WI
+26
F
+11
87
83
 
170
 
MC
-
Sydney Grimm

  

Waunakee, WI
+27
F
+12
87
84
 
171
 
MC
-
Vivian Cressman

  

Middleton, WI
+28
F
+7
93
79
 
172
 
MC
-
Kate Bogenschutz

  

Grafton, WI
+28
F
+13
87
85
 
172
 
MC
-
Amanda Karvala

  

New Berlin, WI
+28
F
+12
88
84
 
172
 
MC
-
Ashton Sinak

  

Whitewater, WI
+28
F
+15
85
87
 
172
 
MC
-
Abby Parsons (p)

  

Sheboygan, WI
+28
F
+15
85
87
 
172
 
MC
-
Riley Pechinski

  

Plover, WI
+28
F
+15
85
87
 
172
 
MC
-
Julie Pyne Van Hoosen (p)

  

Green Bay, WI
+29
F
+9
92
81
 
173
 
MC
-
Reagan Stuke

  

Delafield, WI
+29
F
+11
90
83
 
173
 
MC
-
Alyssa Schmidt

  

Oregon, WI
+29
F
+12
89
84
 
173
 
MC
-
Adalyn Johnston

  

Green Bay, WI
+31
F
+13
90
85
 
175
 
MC
-
Jolie Guyette

  

De Pere, WI
+32
F
+13
91
85
 
176
 
MC
-
Abigail Henriksen

  

DeForest, WI
+32
F
+15
89
87
 
176
 
MC
-
Jessie Gulden

  

Middleton, WI
+33
F
+15
90
87
 
177
 
MC
-
Madeline Kiley

  

Appleton, WI
+40
F
+14
98
86
 
184
 
MC
-
Bela Dodd

  

Brookfield, WI
+40
F
+17
95
89
 
184
 
MC
-
Anna Krieski

  

Reedsburg, WI
+43
F
+25
90
97
 
187
 
MC
-
Jenna Schumacher

  

Sherwood, WI
+57
F
+22
107
94
 
201
 
WD
-
Payton Dube

  

Hancock, MI
+35
 
 
107
 
 
107
 
WD
-
Elle O'Reilly

  

Kenosha, WI
 
 
 
 
 
 
 
 
WD
-
Jordan Shipshock

  

Waunakee, WI
 
 
 
 
 
 
 
 
NS
-
Zoe Gryniewicz

  

Wauwatosa, WI